Learn
Join the Mobile Action Network for Immigrant Rights!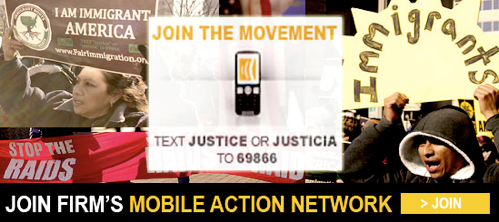 The Fair Immigration Reform Movement is a national coalition ofgrassroots organizations fighting for immigrant rights at the local,state and federal level. To learn more about the coalition, visit:
www.fairimmigration.org
.
Recently FIRM launched a Mobile Action Network. If you join, you can receive action alerts and updates directly on your cell phone. To join, text JUSTICE [of JUSTICIA for Spanish] to 69866.
For those of you on Facebook, follow this link
http://apps.facebook.com/center_for_change/
to join via their new Facebook application.
Be sure to invite your friends and help us get out the word!
Think this is good?1 person thinks this is good0 people think this is good