Learn
Shooting the Black Panthers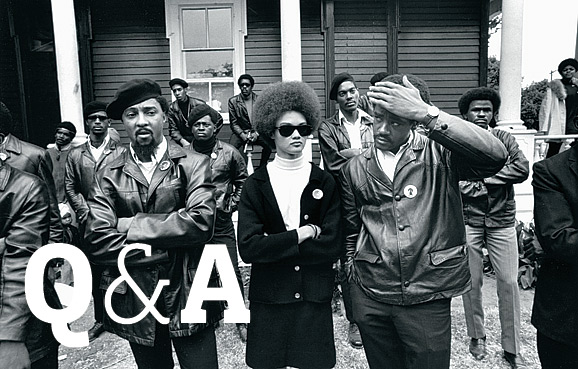 How history happens to the photographer Howard L. Bingham.
What do Pope John Paul II,
Nelson Mandela, The Beatles, Michael Jackson, Muhammad Ali, and George W. Bush all have in common? Each one has met-and in the particular case of Ali, made lifelong friends with-Howard L. Bingham, the affable and fun-loving photographer of the 20th century's most dynamic and seemingly unapproachable subjects. Malcolm X, Robert F. Kennedy, and César Chávez all fell under Bingham's penetrating gaze, as did countless other participants-both villains and victims-of the American Civil Rights Movement. Since first taking up the camera as a rookie photographer for the local Los Angeles black newspaper,
The Sentinel
, Bingham has had an uncanny ability to be in the right place at the right time when history was in the making.Howard L. Bingham's
Black Panthers 1968
(AMMO Books), a collection of photographs and essays chronicling Bingham's work while on assignment with the Black Panthers, is only one of the many fixtures on Bingham's historical mantle-but it's a pivotal piece of documentation. Solicited in 1968 by
Life
magazine to cover the infamous Black Panther party, Bingham and writer Gilbert Moore spent several months with the party's enigmatic leaders, including founders Huey P. Newton, Bobby Seale, and David Hilliard, as well as the contentious, out-spoken minister of information Eldridge Cleaver and his wife, Kathleen. Throughout the duration, Bingham captured both the loud displays of protest and the quiet, intimate moments before and after the public battles. GOOD spoke with Howard L. Bingham about the personalities of the Black Panthers, and why it pays, literally, to have a good name.
GOOD:
How did you choose which photographs to include in the book?
HOWARD L. BINGHAM:
Well, we edited out thousands of them. I had a book from
Life
magazine with a bunch of contact sheets. We went over and picked out a lot of photos. Early on, when we were shooting the Panthers in '68,
Time
would always send us prints after we sent them the photos-nice prints. They don't do that anymore. That's when printing was really "printing." But in compiling the book-well, when  you get other people involved, they have other ideas. They say, "Well, maybe you should have that and maybe you should have this." I'm easy sometimes, and I'm like, "Alright, alright."
G:
In the book, Gilbert Moore writes that he was nervous when he began the assignment, but that you were carefree and just happy to be taking photographs for money. Is this an accurate depiction?
HLB:
Sure, pretty much. Gilbert didn't know what to make of it at first. When I'm on a story, I don't know much of the history about what's going on. I just like to go take photos. I leave the history and the information to you writers. I'm the easy guy. I'm nonchalant. I just have fun taking pictures. I'm one of those people who likes to have fun.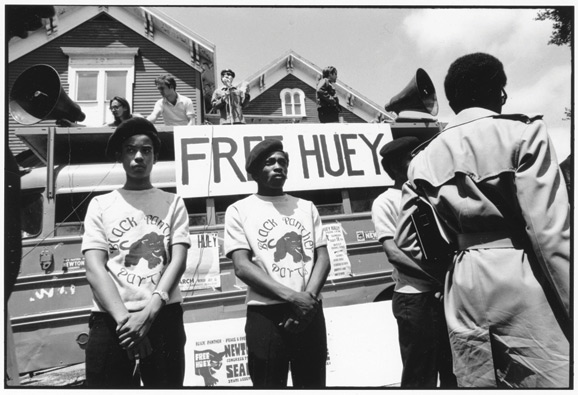 Black Panthers addressing the crowd at a "Free Huey" Rally at DeFremery Park, Oakland, California
G:
How were you chosen for the assignment?
HLB:
Time
magazine wanted to do an article on the Panthers. They had gone to Eldridge [Cleaver] to find out if they could do it and Eldridge said, "The only way I'll let you do this story is if Howard Bingham does the photos." And you see, at the time, I did not know Eldridge; Eldridge knew me. He had heard about me from Muhammad Ali and some other people and organizations-like the Muslims-because I was active in the Civil Rights Movement in the early '60s. So, everybody knew me and knew what kind of guy I was. I had a good name-and  some say I still do.
G:
Initially, were the Panthers suspicious about what you guys were doing?
HLB:
Well, once we got the OK, [Gilbert Moore] came out to meet me and we went and talked about it. Afterward, we went up to Oakland to meet Eldridge and [Kathleen Cleaver] and the Panthers. A couple of days later, Eldridge called me over and said, "Hey man, I know you, but this motherfucker over here-I think he's a pig, an informant for the cops." I said, "Nah, man. He's cool. He's just never been around people like you." Anyway, I said he was a cool cat. But this story turned Gilbert all around. He learned a lot. And at the end, when we went back to write the story
  ... Life
wanted him to write it one way, and he wanted to write it his way. And his way wasn't the right way. He said, "I want to write it the way I want." They never published his story, but later on, he wrote a book called
A Special Rage
in '71 that was all about his time with the Panthers.
G:
Before the Panthers assignment,
Life
had hired you for other stories as well.
HLB:
In march '66 there was a mini-riot in L.A. after the Watts riots. So, I called
Life
magazine and they told me to start taking pictures. Soon after that call,
Life
magazine sent all of their photographers who were in L.A.-all the big guys: Bill Ray, Ralph Crane, and others. The next week, when the issue came out, I had two full pages in there, and all those
Life
guys didn't have anything. And that made me feel good. I wasn't used to shooting for
Life
, and that was right before the Long Hot Summer of 1967, so they put me on "Riot Retainer." So, wherever riots were, Bingham went. That was my intro to
Life
magazine-I went to riots in Bakersfield; I went to riots in San Francisco; I went to riots in Detroit.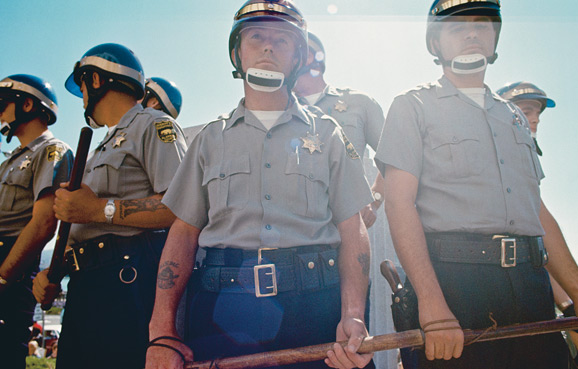 Police officers in front of Alameda County Courthouse, Oakland, California
G:
Were you ever fearful of government surveillance or being held for questioning while in such close proximity to the Panthers?
HLB:
Why would I be scared? I had been around Ali all these years and around all their government informants before. What did I have to worry about? I didn't do anything wrong. Nah... never.
G:
What was Eldridge Cleaver like? In your photos, he seems to have such a strong, brooding, calculating exterior
HLB:
Eldridge was cool. He always had a big crowd everywhere he went-thousands of people. He was one hell of a speaker. People loved to listen to him. He was very interesting. And I liked him as a man. I mean, I had no dislikes for him. I wasn't one of his followers-I don't follow anyone. I follow Bingham. I was just there to do the job. And Kathleen was a beautiful lady. She was incredible and the crowds loved her too.
G:
What's your approach to shooting journalistic photographs?
HLB:
I don't know-I am without any formal training in photography and even failed photography in community college. I mean, I don't just shoot to shoot. I just wait for something that makes sense and try not to waste any film.
G:
Are any of these photos in the book particularly special to you?
HLB:
They all are-I took them.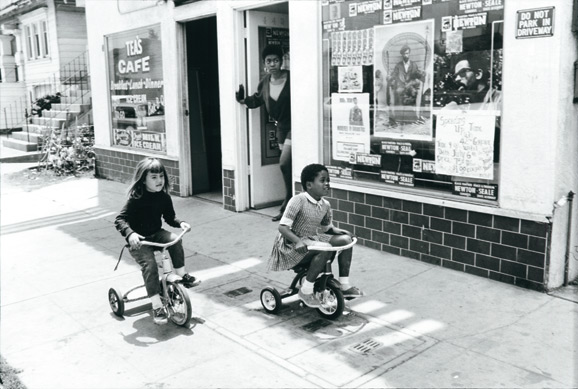 Two girls on tricycles in front of Panther Headquarters, Oakland, California All images (c) 2009 Howard L. Bingham - Courtesy of ammobooks.com