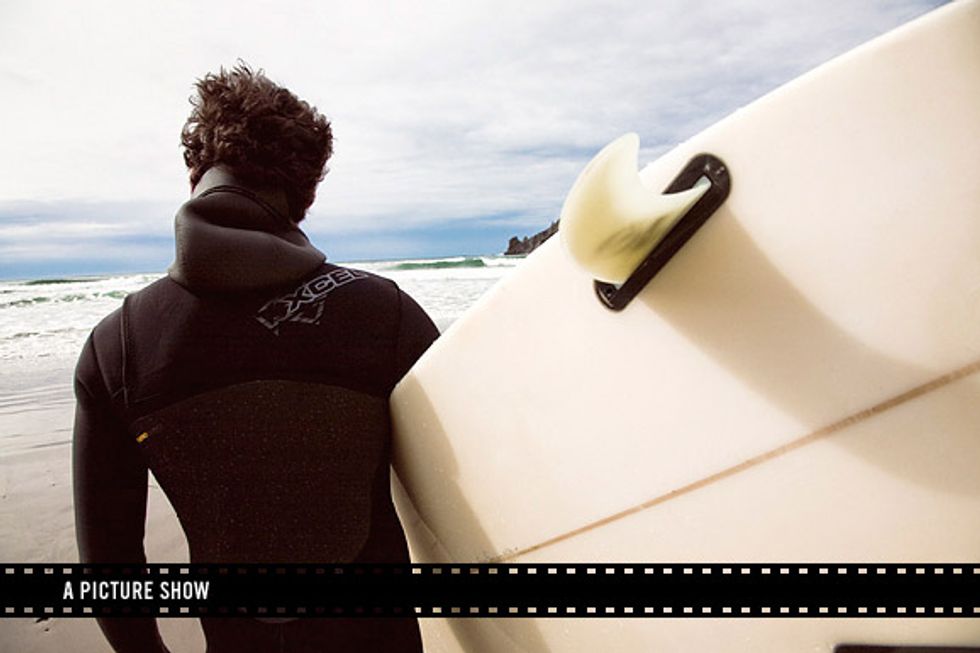 With rugged tree-lined
mountains that plummet directly into its oceanic waters—which tend to hover just over 50 degrees Fahrenheit—the Oregonian coast is cold, beautiful, and imposing. Yet all year long at beaches like Indian Head, a committed group of men and women regularly don thick neoprene wetsuits and brave the elements—for the joy of surfing and a love of the ocean.
The breathtaking images of Jake Stangel's ongoing photography project "The Pacific" provide a stunning look at surfing in Oregon. "It's cold," says Stangel, an East-Coast transplant who started photographing surfers in the area after a hike through the nearby forest lead him to Indian Head beach, "and thick westuits are mandatory."
<p> "The surfers are used to the cold," he adds, "but I feel like I'm still getting used to the rugged lushness of the ocean and mountains of Oregon. I'm constantly surprised by its beauty."</p><p> What follows is a selection from <a href="http://www.jakestangel.com/">Jake Stangel</a>'s ongoing project "<a href="http://www.jakestangel.com/index.php?/project/the-pacific/">The Pacific</a>."</p><p class="shortcode-media shortcode-media-rebelmouse-image"> <img class="rm-shortcode" data-rm-shortcode-id="c733ce238dca14cacab636f68e2c9d53" data-rm-shortcode-name="rebelmouse-image" id="c8c1f" type="lazy-image" data-runner-src="https://assets.rebelmouse.io/eyJhbGciOiJIUzI1NiIsInR5cCI6IkpXVCJ9.eyJpbWFnZSI6Imh0dHBzOi8vYXNzZXRzLnJibC5tcy8xOTkxNzMxOC9vcmlnaW4uanBnIiwiZXhwaXJlc19hdCI6MTYwNzcxOTcwMX0.vWr8zsR8Q31BblLZUd33bt-lDRvDMzYby6tySrJptEc/img.jpg?width=980"/> <small class="image-media media-caption" placeholder="add caption..."></small> <small class="image-media media-photo-credit" placeholder="add photo credit..."></small> </p><br/> <p class="shortcode-media shortcode-media-rebelmouse-image"> <img class="rm-shortcode" data-rm-shortcode-id="cf3205a4249fe78428ef2313318e7b9e" data-rm-shortcode-name="rebelmouse-image" id="efff0" type="lazy-image" data-runner-src="https://assets.rebelmouse.io/eyJhbGciOiJIUzI1NiIsInR5cCI6IkpXVCJ9.eyJpbWFnZSI6Imh0dHBzOi8vYXNzZXRzLnJibC5tcy8xOTg5NDg5MS9vcmlnaW4uanBnIiwiZXhwaXJlc19hdCI6MTYyOTYxMzkzN30.kkGHb3I3ceZOZk3xwWPrqgvQ5Krqu_Lj-lwjkKvTr8A/img.jpg?width=980"/> <small class="image-media media-caption" placeholder="add caption..."></small> <small class="image-media media-photo-credit" placeholder="add photo credit..."></small> </p><br/> <p class="shortcode-media shortcode-media-rebelmouse-image"> <img class="rm-shortcode" data-rm-shortcode-id="d0055b24bb9dba91a36d14f6c6559135" data-rm-shortcode-name="rebelmouse-image" id="3efe2" type="lazy-image" data-runner-src="https://assets.rebelmouse.io/eyJhbGciOiJIUzI1NiIsInR5cCI6IkpXVCJ9.eyJpbWFnZSI6Imh0dHBzOi8vYXNzZXRzLnJibC5tcy8xOTg5NDkxNy9vcmlnaW4uanBnIiwiZXhwaXJlc19hdCI6MTY1MTMwNDA3NH0.QUl3BKha1HFGRSEvq2rRMQyAKVNdJK_sP72o4O462B8/img.jpg?width=980"/> <small class="image-media media-caption" placeholder="add caption..."></small> <small class="image-media media-photo-credit" placeholder="add photo credit..."></small> </p><br/> <p class="shortcode-media shortcode-media-rebelmouse-image"> <img class="rm-shortcode" data-rm-shortcode-id="607b5f61aeb59cb029875d5043857f62" data-rm-shortcode-name="rebelmouse-image" id="6d7db" type="lazy-image" data-runner-src="https://assets.rebelmouse.io/eyJhbGciOiJIUzI1NiIsInR5cCI6IkpXVCJ9.eyJpbWFnZSI6Imh0dHBzOi8vYXNzZXRzLnJibC5tcy8xOTkyNDg3NS9vcmlnaW4uanBnIiwiZXhwaXJlc19hdCI6MTY1Njg0NDg2NH0.0FOa6X5bmeq6F77BBGmaBd7AcwWJw9Smq8NL7KXf11s/img.jpg?width=980"/> <small class="image-media media-caption" placeholder="add caption..."></small> <small class="image-media media-photo-credit" placeholder="add photo credit..."></small> </p><p class="shortcode-media shortcode-media-rebelmouse-image"> <img class="rm-shortcode" data-rm-shortcode-id="552ca3dfb5e3fc38a08b780ffc742483" data-rm-shortcode-name="rebelmouse-image" id="c0b80" type="lazy-image" data-runner-src="https://assets.rebelmouse.io/eyJhbGciOiJIUzI1NiIsInR5cCI6IkpXVCJ9.eyJpbWFnZSI6Imh0dHBzOi8vYXNzZXRzLnJibC5tcy8xOTg5NDkxNC9vcmlnaW4uanBnIiwiZXhwaXJlc19hdCI6MTYxOTY3MTQxOH0.vXCAnrq2IlDu12gNMuuN5cObWs7KoOZHnwATFyt2WqU/img.jpg?width=980"/> <small class="image-media media-caption" placeholder="add caption..."></small> <small class="image-media media-photo-credit" placeholder="add photo credit..."></small> </p><p class="shortcode-media shortcode-media-rebelmouse-image"> <img class="rm-shortcode" data-rm-shortcode-id="e771f36666be0bc0c3c5b0b296d81ed4" data-rm-shortcode-name="rebelmouse-image" id="bdc8e" type="lazy-image" data-runner-src="https://assets.rebelmouse.io/eyJhbGciOiJIUzI1NiIsInR5cCI6IkpXVCJ9.eyJpbWFnZSI6Imh0dHBzOi8vYXNzZXRzLnJibC5tcy8xOTg5NDg5Ny9vcmlnaW4uanBnIiwiZXhwaXJlc19hdCI6MTY0Njg4MDE0NX0.wDTZZtnGLoRdQ7PxW0oV3sodqTe13hRuSBzyinxvr3g/img.jpg?width=980"/> <small class="image-media media-caption" placeholder="add caption..."></small> <small class="image-media media-photo-credit" placeholder="add photo credit..."></small> </p><br/> <p class="shortcode-media shortcode-media-rebelmouse-image"> <img class="rm-shortcode" data-rm-shortcode-id="fcdc1d9d218f848c31213e5e89da3970" data-rm-shortcode-name="rebelmouse-image" id="85209" type="lazy-image" data-runner-src="https://assets.rebelmouse.io/eyJhbGciOiJIUzI1NiIsInR5cCI6IkpXVCJ9.eyJpbWFnZSI6Imh0dHBzOi8vYXNzZXRzLnJibC5tcy8xOTg5NDg5OC9vcmlnaW4uanBnIiwiZXhwaXJlc19hdCI6MTY1MDU5MDE3Nn0.LUguFwBaHXUual6ImEhoHlE56fZU-BnS5xxLfM0hLEI/img.jpg?width=980"/> <small class="image-media media-caption" placeholder="add caption..."></small> <small class="image-media media-photo-credit" placeholder="add photo credit..."></small> </p><br/> <p class="shortcode-media shortcode-media-rebelmouse-image"> <img class="rm-shortcode" data-rm-shortcode-id="79f4c909668cfd7ae4b2f320defb69d8" data-rm-shortcode-name="rebelmouse-image" id="02cd3" type="lazy-image" data-runner-src="https://assets.rebelmouse.io/eyJhbGciOiJIUzI1NiIsInR5cCI6IkpXVCJ9.eyJpbWFnZSI6Imh0dHBzOi8vYXNzZXRzLnJibC5tcy8xOTg5NDkwMC9vcmlnaW4uanBnIiwiZXhwaXJlc19hdCI6MTY0ODAwODA2NH0.apN2WQ5VUy4VXhAfKmEzxQH2Dswi7VsVw-DKC1DrlEg/img.jpg?width=980"/> <small class="image-media media-caption" placeholder="add caption..."></small> <small class="image-media media-photo-credit" placeholder="add photo credit..."></small> </p><br/><p class="shortcode-media shortcode-media-rebelmouse-image"> <img class="rm-shortcode" data-rm-shortcode-id="76316206105e069ee0f310a72892e87d" data-rm-shortcode-name="rebelmouse-image" id="e9f24" type="lazy-image" data-runner-src="https://assets.rebelmouse.io/eyJhbGciOiJIUzI1NiIsInR5cCI6IkpXVCJ9.eyJpbWFnZSI6Imh0dHBzOi8vYXNzZXRzLnJibC5tcy8xOTg5NDkwMi9vcmlnaW4uanBnIiwiZXhwaXJlc19hdCI6MTYxMTgzNzQ3MX0.cowtpF7CpuzBrGvKoYLGtKAOcfNGEoM2nXl92b73oB8/img.jpg?width=980"/> <small class="image-media media-caption" placeholder="add caption..."></small> <small class="image-media media-photo-credit" placeholder="add photo credit..."></small> </p><br/> <p class="shortcode-media shortcode-media-rebelmouse-image"> <img class="rm-shortcode" data-rm-shortcode-id="fcc303ed4e1a0101123d69f6382bcd52" data-rm-shortcode-name="rebelmouse-image" id="9dcc0" type="lazy-image" data-runner-src="https://assets.rebelmouse.io/eyJhbGciOiJIUzI1NiIsInR5cCI6IkpXVCJ9.eyJpbWFnZSI6Imh0dHBzOi8vYXNzZXRzLnJibC5tcy8xOTg5NDkwMy9vcmlnaW4uanBnIiwiZXhwaXJlc19hdCI6MTY0NTE2OTc3Nn0.KOTwoNpCSiUT2O7TL7IF3xH-FEFwXqYUMZvx-fmAJPk/img.jpg?width=980"/> <small class="image-media media-caption" placeholder="add caption..."></small> <small class="image-media media-photo-credit" placeholder="add photo credit..."></small> </p><br/> <p class="shortcode-media shortcode-media-rebelmouse-image"> <img class="rm-shortcode" data-rm-shortcode-id="f5ecb7c7323e77dc4f14144d3eb15220" data-rm-shortcode-name="rebelmouse-image" id="1b52b" type="lazy-image" data-runner-src="https://assets.rebelmouse.io/eyJhbGciOiJIUzI1NiIsInR5cCI6IkpXVCJ9.eyJpbWFnZSI6Imh0dHBzOi8vYXNzZXRzLnJibC5tcy8xOTg5NDkwNC9vcmlnaW4uanBnIiwiZXhwaXJlc19hdCI6MTYwMTU5NjkyN30.7Im1fnU-HiQ6C6ZYInn54COmEhBW47ZSNhBHa58E_eY/img.jpg?width=980"/> <small class="image-media media-caption" placeholder="add caption..."></small> <small class="image-media media-photo-credit" placeholder="add photo credit..."></small> </p><br/> <p class="shortcode-media shortcode-media-rebelmouse-image"> <img class="rm-shortcode" data-rm-shortcode-id="173fdee40a3d20a82a4a2f855bebd30d" data-rm-shortcode-name="rebelmouse-image" id="e3e36" type="lazy-image" data-runner-src="https://assets.rebelmouse.io/eyJhbGciOiJIUzI1NiIsInR5cCI6IkpXVCJ9.eyJpbWFnZSI6Imh0dHBzOi8vYXNzZXRzLnJibC5tcy8xOTkyNDg3Ni9vcmlnaW4uanBnIiwiZXhwaXJlc19hdCI6MTYzNDQ3MjM2OH0.UstX4BwqK5NqRHmNIefm0bsVepBgKjtjiAFW3BRhlb0/img.jpg?width=980"/> <small class="image-media media-caption" placeholder="add caption..."></small> <small class="image-media media-photo-credit" placeholder="add photo credit..."></small> </p><br/> <p class="shortcode-media shortcode-media-rebelmouse-image"> <img class="rm-shortcode" data-rm-shortcode-id="345f8525a4a9a89ef29d4b8b3d962ed7" data-rm-shortcode-name="rebelmouse-image" id="c0f49" type="lazy-image" data-runner-src="https://assets.rebelmouse.io/eyJhbGciOiJIUzI1NiIsInR5cCI6IkpXVCJ9.eyJpbWFnZSI6Imh0dHBzOi8vYXNzZXRzLnJibC5tcy8xOTg5NDkwNi9vcmlnaW4uanBnIiwiZXhwaXJlc19hdCI6MTYyODIyMjgxNn0.XZ07PhS9mm-spZ2az9EnRy8V3l0JQc8XnCZjomwS3-g/img.jpg?width=980"/> <small class="image-media media-caption" placeholder="add caption..."></small> <small class="image-media media-photo-credit" placeholder="add photo credit..."></small> </p><br/> <p class="shortcode-media shortcode-media-rebelmouse-image"> <img class="rm-shortcode" data-rm-shortcode-id="8a2d5315ff5627281c2e5e1bf4a51b08" data-rm-shortcode-name="rebelmouse-image" id="b0a3f" type="lazy-image" data-runner-src="https://assets.rebelmouse.io/eyJhbGciOiJIUzI1NiIsInR5cCI6IkpXVCJ9.eyJpbWFnZSI6Imh0dHBzOi8vYXNzZXRzLnJibC5tcy8xOTg5NDkwOS9vcmlnaW4uanBnIiwiZXhwaXJlc19hdCI6MTYzNDQ4ODA4MX0.E1UELcGQXO9JmZWpzHiwXFq7i9z1g6qp1Dv3Pb7yAcA/img.jpg?width=980"/> <small class="image-media media-caption" placeholder="add caption..."></small> <small class="image-media media-photo-credit" placeholder="add photo credit..."></small> </p><br/> <p class="shortcode-media shortcode-media-rebelmouse-image"> <img class="rm-shortcode" data-rm-shortcode-id="b00e8e6321df2aad8854528e76c1b8aa" data-rm-shortcode-name="rebelmouse-image" id="56818" type="lazy-image" data-runner-src="https://assets.rebelmouse.io/eyJhbGciOiJIUzI1NiIsInR5cCI6IkpXVCJ9.eyJpbWFnZSI6Imh0dHBzOi8vYXNzZXRzLnJibC5tcy8xOTg5NDkxMS9vcmlnaW4uanBnIiwiZXhwaXJlc19hdCI6MTYyNTE5NzE2Mn0.aR0-ZD2DJf8o-YfwdyQghliZ0jYWhO2n3q7UVUnr-i0/img.jpg?width=980"/> <small class="image-media media-caption" placeholder="add caption..."></small> <small class="image-media media-photo-credit" placeholder="add photo credit..."></small> </p><br/><br/><br/><br/><br/><br/><br/><br/><br/><br/><br/><br/><br/><br/>