Articles
Mixology Mailbag: Drink Through the Heat Portable Tequila Fizzes to Beat the Summer Heat
Mixing up portable cocktails to beat the heat.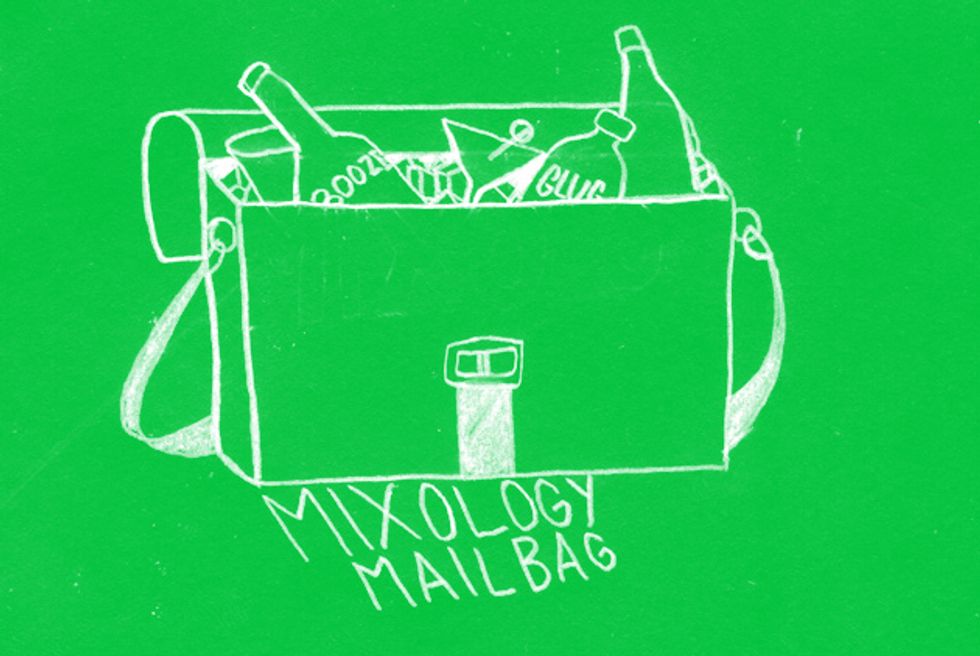 I admit I haven't done a lot of research, but my sense is that there aren't a lot of good casual tequila drinks. You can make margaritas if you want to bust out the blender and the ice. You can do tequila shots if you want to get hammered. But is there any tasty, relaxed tequila option? —Lazy Cuervo


---

Any suggestions for easy to make and carry cocktails to bring to hosts of dinner parties, picnics, or children's birthday parties? – Hold Her Drink

\n
The consensus from Mixology Mailbag readers is clear: It's too damned hot out there. Fortunately, I have a fool-proof, two-pronged strategy for dealing with extreme heat: (1) Drink lots of water to stay hydrated; (2) In between glasses of water, drink just enough booze to take your mind off the heat, without fully reversing the benefits of (1).
Think of it like drinking on a boat (in fact, think of boats as much as you can). The goal is to get just sozzled enough that your internal equilibrium cancels out the lurching motions of the craft—no more, no less. Of course, it doesn't hurt to mix drinks that are also refreshing enough to fool you into thinking you're hydrating (but seriously, don't forget the water). And if you can keep the actual prep work to a minimum, you may even be able to pull off summer drinking without working up a sweat.
Border Incident. I'd like to say my preferred recipe for the Paloma comes from some Jalisco cantina that I reached by means of a forgotten dirt road ... but really, it's from David Wondrich. Don't worry; it's still an impeccable drink (from an impeccable source). And if you feel the need to spin some similar yarn at your party, HHD, I promise not to blow your cover.
Paloma, from Killer Cocktails: An Intoxicating Guide to Sophisticated Drinking by David Wondrich

2 ounces reposado tequila

Juice of ½ lime (reserve the squeezed-out shell for garnish)

Pinch of coarse salt

To finish: grapefruit soda

Combine in a glass, add ice and the squeezed-out lime half, and top off with grapefruit soda.

\n
Most tequila producers bottle their juice at at least three ages—blanco ("white"), reposado ("rested"), and añejo ("old)"—and charge more for the older it gets. Reposado is a middle-ground choice that should give a little barrel-aged flavor to your cocktail without breaking the bank.I like Siete Leguas or Casa Noble, but as a rule of thumb, anything 100 percent blue agave is fine. Stay away from mixtos (Spanish for "not 100 percent blue agave, beware extreme hangover") if you can.
The soda selection, on the other hand, is a breeze: Just about any brand of grapefruit soda you can drum up will work. If you've got a soft-drink distributor on speed dial, Ting, from Jamaica, is excellent. (For leftovers, it also makes a potent yet sophisticated mixed drink when paired with Wray & Nephew overproof rum.) City dweller shopping on foot? Pick up whatever your closest bodega stocks. Suburbanite limited to the Stop 'n Shop "ethnic foods" aisle? Jarritos Toronja will work just fine. Shopping at the gas station on your way to the party? Grab some Squirt. To quote Mr. Wondrich: "Failing that, anything." Even lemon-lime soda with a splash of grapefruit juice makes for a palatable Paloma.
And that's the beauty of the Paloma. Like any good highball, it's delicious, refreshing, and doesn't require much in the way of effort beyond pouring a lot of fizzy liquid over a little bit of liquor.
Well—you are required to squeeze a few limes. Real ones. Put aside any thought of pumping a grenade of 99 cent "RealLemon" into this glass, no matter how balmy your squeezing hand is. Besides, limes are cheap and easy to plan around: Figure three-quarters to one ounce of juice per fruit.
And about those palms: You can chop your limes in half and squeeze them with your bare hands, but it's a slimy, painfully acidic experience, and in your picnic scenario, you won't want to repeat it as many times as you need to make a decent batch of drinks. Why not kick off your collection of cocktail equipment with a simple hand-juicer suitable for extracting juice from both lemons and limes? As the Paloma recipe suggests, it makes sense to own a juicer even before you secure a shaker.
Touch of Evil. Another advantage to batching up Palomas: you can bring extra soda to serve to the kiddies at your picnics/birthday parties, and extra lime garnishes to help them feel more "adult." Try cutting lime wheels for one set of drinks and lime wedges for the other, so as not to get the boozy drinks confused with the virgin ones. No one wants to explain to little Timmy's parents how he ended up drunk on tequila at his third birthday party.
Or better yet: make the adult beverages pink, to help them stand out from the soda-and-sodas:
Diablo, from Cocktail: The Drinks Bible for the 21st Century by Paul Harrington

1 ½ ounces tequila

¾ ounce crème de cassis

½ ounce lime juice

Ginger ale

Stir tequila, cassis, and lime juice with cracked ice; strain into chilled Collins glass filled with ice [or prepare in batches, as described below]. Top with ginger ale, and garnish with a lime wheel.

\n
I love a good Diablo, even in spite of my lasting grudge against black currants, the sinister fruit from which crème de cassis is made. During my semester abroad, I learned the hard way that certain European cultures allow black currant candies to infiltrate their assortments by posing as delicious grape candies. Disgusting. Thankfully, the horrid little buggers make for a perfectly tasty liqueur, and the dark berry flavors in a nice variety of cassis, like Massenez, balance the bite of tequila beautifully.
The Diablo has been around since at least the late 1940s (when tiki pioneer Trader Vic served them up), but you wouldn't know it—it rarely pops up on cocktail menus at retro drinking establishments. It's an underrated classic primed for rediscovery, and your slightly swankier summer dinner parties could provide the ideal stage for its comeback.
The Set-Up. Finally, a quick note on making drinks for groups. Hauling all of your ingredients over to the party, then holing up in the corner while you play bartender, is a great excuse to avoid awkward conversations with guests you don't like. But assuming you actually enjoy the company in attendance (or expect that you will after a drink or two), it's a good idea to batch up your cocktails beforehand.
To do that, mix everything but your sparkling liquids together. You can pour two to three cocktails a time into a shaker, then strain them all into an ice-filled pitcher. Alternately, you can convert a sealable, ice-filled plastic pitcher into a very large shaker, then strain the cocktails when you arrive at your party. The latter method will mean less watery cocktails—take that glass of water after your drink, not in it. So it's probably your best bet if you expect a long wait before people consume the drinks. For tall drinks, pour your mixture over fresh ice and then top with the fizzy stuff.
Once you've mixed and carried the drinks, get someone else to pour them for you. Maybe one of those kids toting a virgin Paloma. After all, it's ridiculously hot out there, and you shouldn't have to do everything yourself.
Are you looking for a "girlie" drink you can order without shame? A scotch that will impress your father-in-law without shocking your palate? In search of a two- or three-ingredient cocktail to upgrade your solo drinking from the realm of the Solo cup? Let us know! File your drinking problems in the comments, or hit up Ken directly at mixologymailbag@gmail.com.