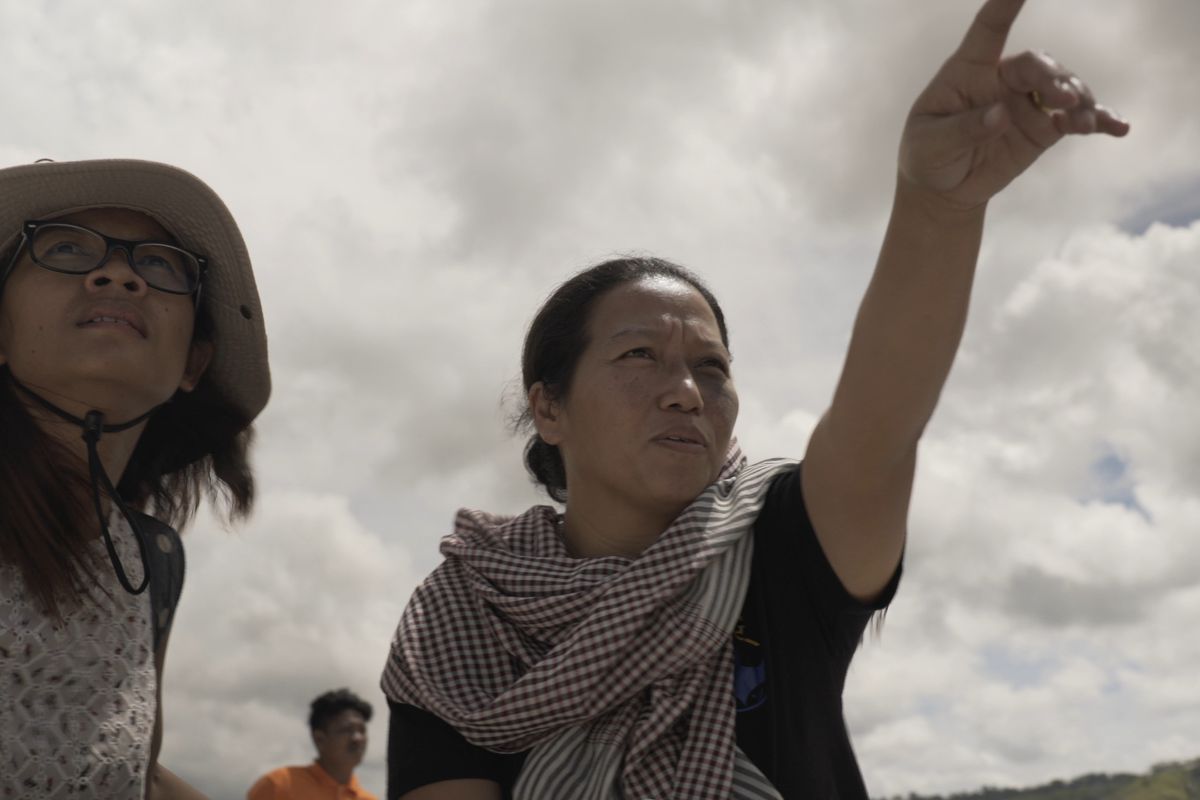 Editor's Note: This story is taken from the GOOD10 Ocean's Issue. You can download and read the entire digital magazine issue for free here.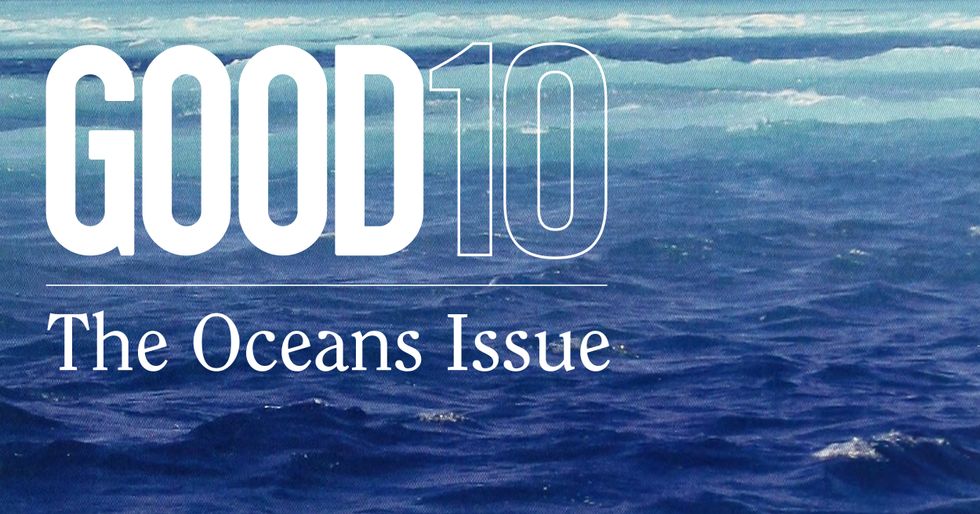 Labor activist Patima Tungpuchayakul waves to me over video chat from Thailand, but by the end of an exhausting day her ever-bright smile quickly fades. She looks down at her cell phone, clearly concerned that another heinous crime might slip through the cracks without her tireless vigilance. Her translator recounts the details of Patima's intensely demanding job. For a year now, she's helped a 16-year-old girl seek justice after she was abused, sexually assaulted and raped at the hands of her father since she was eleven. Her phone buzzes with the news the offender was arrested and placed into custody. A cloud of depression lifts from her face. She exhales, grinning again. In this split second, she knows this girl's life will be changed forever.
The girl Patima helped rescue came to Labour Protection Network (LPN), an advocacy organization Patima co-founded in 2004 with her husband Sompong Srakaew, which helps mistreated children and enslaved workers in Southeast Asia. Patima provided her teen client with safe refuge and rehabilitation from her father's sexual abuse, as well as legal advice and counseling. "He deserves to be in prison," Patima says. "I'm here to support the girl, talk to her attorney and help anyway I can. I want all women and men to feel protected and safe."

s3.amazonaws.com
The world's oceans are under attack from a litany of man made problems: over-fishing, ocean plastic and climate change. But humanity itself is just as often at risk on the open waters, where international law is often powerless to stop the illegal fishing and human trafficking that feels like something out of the 1800's.
Patima has devoted her life to saving others. Even if it means dodging the mafia, the police and government officials who have all attempted to kill her—more times than she can even count. After freeing thousands of men forced into lives of slave labor, her diplomatic efforts led to a Nobel Peace Prize nomination in 2017. Her plights and heroism are uniquely captured in the 2018 documentary, Ghost Fleet, directed by Shannon Service and Jeffrey Waldron, which reveals decades of illegal and unregulated fishing that has forced boats to travel further from Thai shores to garner a worthwhile catch. Companies hired traffickers to lure and kidnap migrant workers from rural Thailand or impoverished neighboring countries like Myanmar and Cambodia for little to no pay. They do this to solve their labor shortage and keep up with the demands of Thailand's sprawling seafood business, one of the largest in the world.

Some of the enslaved men jumped overboard to escape their harsh realities, while others are captured and locked up in prison or even killed. Patima often travels to Indonesia looking for captive men and attempts to bring them back to their homeland and free them. Her goal is to rescue, reunite them with their families and obtain wages for them. These men have spent years out in sea and often their families don't know they're still alive.
One survivor, Tun Lin, was kidnapped when he was 14 and forced to fish for 11 years off the coast of Somalia. He suffered years of abuse and trauma. "Slave was just a word I heard. I didn't think it existed anymore. I was forced to work around the clock," says Tun Lin in Ghost Fleet. He escaped by jumping off the fishing boat—until he was hunted down in a jungle, captured and thrown into an Indonesian prison.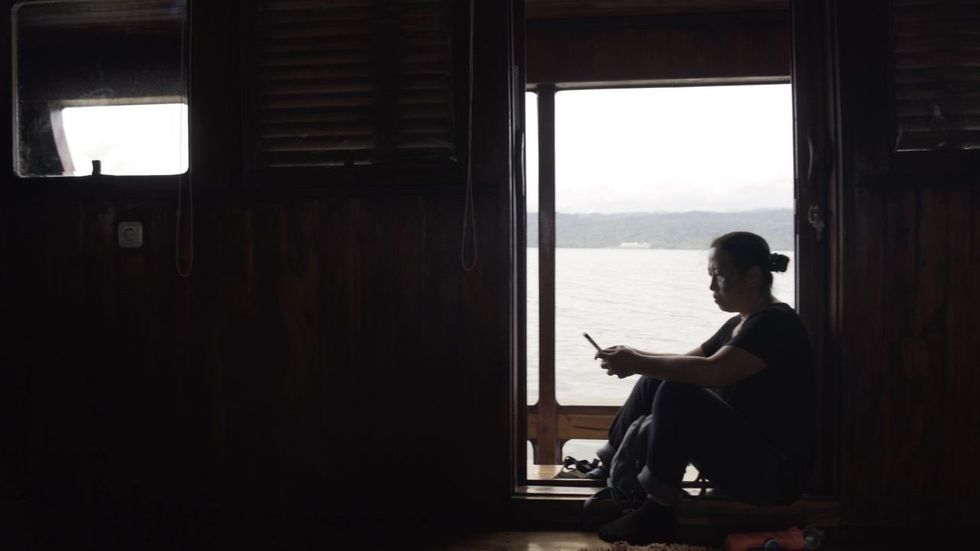 assets.rebelmouse.io
"Patima is the one who saved my life, says Tun Lin. She showed up at the prison and released him. "She's like family to me." Five months after his rescue, LPN helped him receive 300,000 baht, which is about $9,400. He's one of the only survivors who have been compensated. Together, they continue to rescue other trafficked fishermen and pursue justice for all.
Pong, another rescued survivor in Ghost Fleet, reunited with his father at the airport in Bangkok after being enslaved for three years. Patima and her team brought him back after he was stranded on Benjina Island. Today, he struggles with severe alcohol addiction from his harrowing experiences. Some of the men suffer from post-traumatic stress disorder, while others are still left homeless foraging for leaves and grass in Indonesia. Sometimes it takes years for Patima to find them. There are times when they don't want to leave their wives and kids and go back home. Despite what happens, these efforts are dangerous and almost always life-threatening.
"I never think I'm going to come back alive. I'm prepared to die," Patima says, shaking her head mournfully. "But to choose to work in this environment— I can't have fear. I'm more worried about the missions. You can't be careless and you have to be aware." She pauses, sinking into her chair. "You may be beaten or caught, but you just have to talk it out calmly. I may get hurt by bad people. They have weapons. They are angry. But I have to remain calm. I'll never stop. I want to always help people."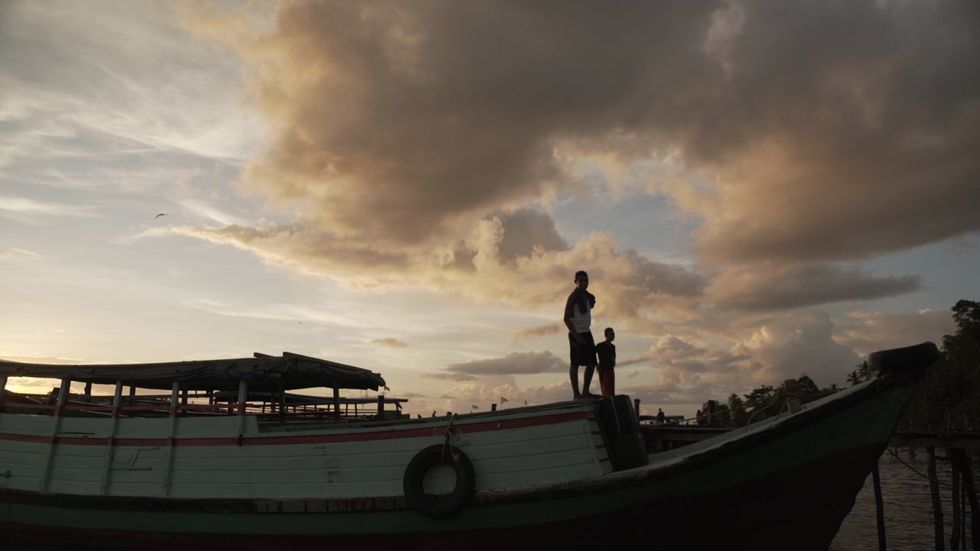 You mentioned in the film that fear is a kind of death. You've really never feared being hurt or killed while filming Ghost Fleet? What about any of your other missions?

I'm not afraid at all. While filming, the captain of the boat said to me, "You may get hurt." I told him, "It's okay, everybody dies, eventually." I'm more fearful of not doing things. The only thing I'm afraid of is that I won't be able to finish my work. I have to complete my missions. I'm scared that I'm unable to help other people. With fear or being afraid, you need to be cautious or mindful and not let your guard down.
You claimed in the documentary that hundreds of enslaved fishermen showed up on your doorstep one day and you decided to help them. How did they find you?

The fishermen are the parents of kids I've helped. I was working on one case in 2004, where a migrant child's relative was sick from Beriberi. I helped him to the hospital. He was a fisherman that went to work in Indonesia with 66 other men. Only 19 survived. He reported the incident to us because he barely lived. That was the first time I received a case of Thai fishermen in Indonesia, or what I call the Indonesian fishing crew. After that, people kept coming to report incidents to me. Then there was another case of 128 fishermen, mostly Burmese, who I helped rescue, as well. This was over ten years. Their boat traveled to places like Ambon Island and Benjina. That was probably the most tiring and difficult mission I've ever had. This disabled man who was part of the crew reported the incident in 2006. Half of his body was not functioning. He basically went to work on the boat and when he became disabled, he was abandoned in a temple. He was left in Indonesia for almost two years. He didn't get any wage or compensation either.
Is that what prompted you to help enslaved men in Indonesia?
I felt like I could no longer refer cases to the people who do rescue missions there. I knew I had to go myself. In 2013, I went to Indonesia. I thought there would be more cases that needed help in Indonesia than in Thailand. In the past, I've helped more than 1,000 fishermen within the Thai waters. I've helped them out of jail around the ports, which is where they are captured. I've been to Indonesia 18 times helping enslaved men.
Over the past 16 years, what has been the most concerning case?
The case that shook me the most was about another girl who got assaulted by her father. She wanted to die. She felt helpless because she had no one to turn to and she didn't have anywhere to go. I wanted to help her, make her feel better and safe. She was one of my first cases that I've worked on since 2005. She blamed everything on herself. I felt that we needed to heal her. I want every child to have a chance to get an education, especially so they can know their rights, have access to solutions and be able to find a safe place for themselves. I also felt really bad when I did not make it in time to help a fisherman in Indonesia. He ended up dying. I kept asking myself, "Why didn't I make it sooner?" I was so upset. I blamed myself. Sometimes when I go to help, it's too late. Sometimes these men are left on islands for decades. I feel so awful.
Have you ever been threatened?
Yes, like when I was in Indonesia, the police were trying to get us out of there. It was 11 p.m., and I was trying to find a solution by going to the immigration office. There were some mafia guys coming in with sticks threatening me. They wanted to kill me. I did not make a scene, I just looked at their faces. I didn't react. They were trying to take away my passport, but I didn't go anywhere with them. I knew better. I just sat down and was deep in thought. They were pretty confused as to why I did not respond or follow their orders. About an hour later, I told them that I was there to help people. They finally realized that it was an international matter. I believe in having dialogue. They eventually calmed down and we talked. But they hated me. They were saying terrible things. They brought in tons of people, trying to surround and intimidate me. I remained calm, and said, "Look at this person, he's missing. Have you seen him?" But the truth is that they were the ones that made the man disappear.
Have the police ever harmed you?
They've tried to lure me to be killed. They've tried to threaten me or use people to put pressure on me. They've tried to scare me. There's been people threatening me at my office. They bought in police to take photos like they were trying to use psychological threat. There's been hundreds of police cars surrounding me for intimidation. Three years ago, one of the fisherman went to collect his wages from work that he was owed. His employer wouldn't pay him, so he got angry and punched him in the face. The employer then hired police officers to severely beat him up. I went to clear the situation. There were 42 employees and employers and many business owners from the district who all came. They all surrounded the police station. No one would let me leave. The situation got dangerous. I got out of it by calling the military for help. Everybody thought I was going to die.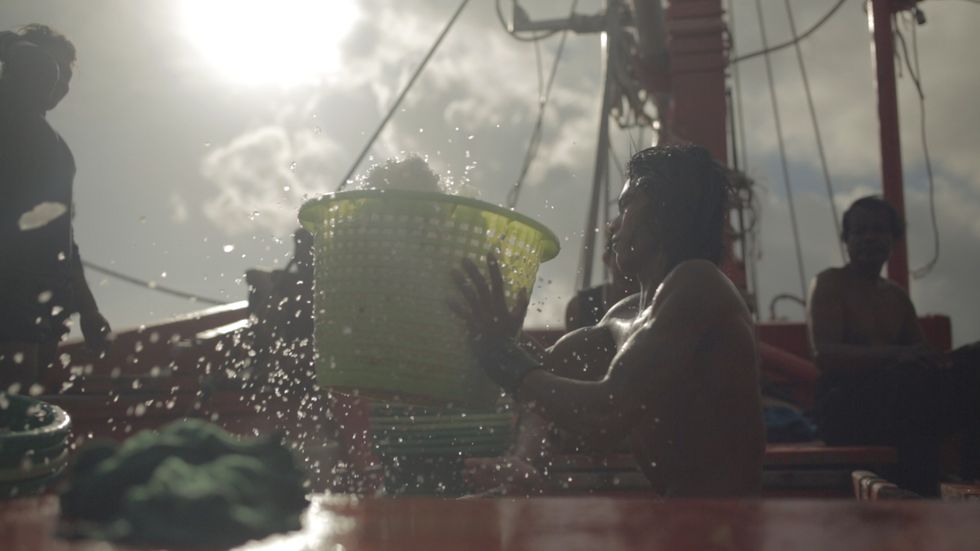 You mention in the film that the police, the mafia and the traffickers are working together to enslave fishermen. Is it all for money?

It's about benefits, corruption and business. There is so much corruption with our local authorities. It's like the same as a drug dealing. They invest very little, but the return is massive. For the drugs, you have to pay, but for human trafficking and slave trading, you just lure people. The buyer pays 5,000-10,000 baht per human life, which is only a few dollars. Then they can use that slave for life. They lure and deceive homeless, uneducated or unaware people, who want to work—they lie and say the work is easy and good pay. If they lure 10 people, and their prize per head is 15,000 baht, they earn 150,000 baht. Then they can use that money to build jails and the slaves wait to there to be placed on a boat. It's not just in Thailand, because in Indonesia, there's also slave usage throughout the country. They are not interested in helping people either.
You are crying a few times in Ghost Fleet. How does hearing all these stories affect you?
I think people have no right to do horrible things to other people. I don't like it. I try to fix and change it. I believe that the Thai government should be helping their citizens. They should take responsibility for the people who are not treating the citizens of neighboring countries well. I'm frustrated. The people who don't feel this way are the mafia. They don't worry about safety—for me or anyone else. I don't care that they are influential. It's wrong. I think there should be no power held over fellow human beings. They shouldn't be able to decide who lives or dies. The fishermen don't want to work, but yet, they force them to be there. They should be able to simply go home. They aren't making any money. What's the reason for this? What's the reason for them not being able to organize a funeral for a loved one who had died? I feel that it's not right at all.
Has the migrant forced labor situation improved or worsened since the film released?
I think the scale of using the full slavery has decreased. However, the exploitation of the workers still exists. At first there was no laws for protection. The best thing is that our laws have started to pass to protect the fishermen in the boats. Voices are being heard now. The movie is making people realize that slavery still exists in the world. It's never disappeared. I believe we should be looking out and helping in order to prevent these occurrences. Ghost Fleet helped open the eyes of people around the world. Slavery needs to end.
These fishing companies are ruining ecosystems and destroying lives. You are trying to stop it. Why doesn't the Thai government step in more?

The Thai authorities will never have the mindset about the conservation of fish or the ocean. The people are destroying it due to overfishing. There is no more fish in Thailand's ocean because they're using tools to destroy them. Then they use people as slaves to do all the work. The victims have no choice. The business owners only care about the most profit. There is nothing legal about this. They don't believe fishing needs to stop so that fish can grow. They don't have good plans for fishing and we don't have set times to do it. They never had the mindset of doing business sustainably. We only want to seek the most number of fish and hold the world record for being one of the biggest fish exporters. Then we get banned from exporting because we use slave labor.
Why doesn't the United States help?
America doesn't care either. They don't pay attention that there's actually modern slavery happening. With the sustainability of food consumption in this world, we've never thought about our children at all. Only 40% of the fish caught are actually being consumed. The rest is thrown away. I think this is the mindset of people around the world. We all want to consume good quality food, but we don't think about whether we will be able to eat seafood forever, or that enslaved men are catching it. Both countries just look at the economic value with the most returns and benefits, but they do not look at the environment or take human rights seriously.
Thailand's Prime Minister Prayut Chan-o-cha was featured in your documentary. He didn't address how the government is going to take action. Do you feel Thailand is committed to combating human trafficking and slave labor?
In the beginning, I think the government probably thought about the exports, and they're probably afraid of being boycotted. In this second phase, they started caring about labor rights more. I think they're trying. When you think about continuity, after they are able to correct the image, will they stop then? I'm worried about it. In reality, you have to do it continuously. The positive thing is that now the workers in the fishing boat actually started to learn their rights and aren't as afraid. Whereas before, they have been suppressed as if they're not human. People can now get together and exercise the power to negotiate. They can finally stand up and fight.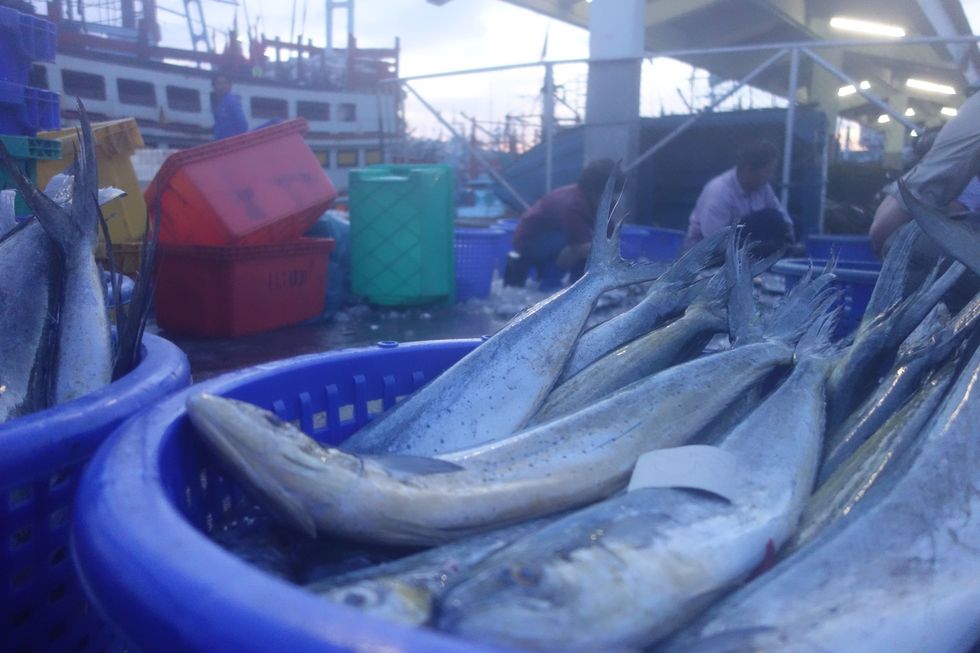 The U.S. imports more than 80% of the fish it consumes. It's been reported by the Guardian that Walmart, Carrefour, Costco and Tesco are allegedly the top four global retailers in buying forced labor seafood, with or without their knowledge. According to the Associated Press, Sysco is the biggest food distributor. They claim tainted fish also ends up in grocery stores like Kroger, Albertsons and Safeway. Do you think all these companies are aware of what's going on?

I think so. They don't put enough effort to build supply chains that have no slave trading. They're not trying. The pressure would have to come from the consumer. Instead of thinking about the fresh, clean good quality of fish that's advertised, people may want to ask if the fish are free from slavery within the product brand. If you really want to wipe the supply chain clean, there must be a lot of effort put in, so that you can scan the fish and make sure it's caught legitimately. But this can be expensive. In some places in Europe, they will tell you where the fish was caught and what ocean. Consumers may have to be responsible for the higher cost, but the people in the supply chain should be responsible too.
Do you think enslaved men get married and have kids while stranded to create some normalcy to their life? You are offering them a way back home, but some chose not to go. Why?
LPN's goal in meeting the fishermen is to tell them that we care about them and that they are able to contact their family. They can either go home or not because it's been a long time since they left. They might want to visit Thailand and re-connect with their loved ones. It's their decision. Some of the fishermen don't get married for love. It's for survival. In order to survive, you have to become a member of that community by getting married, otherwise they have to live in the forest eating potatoes. It's up to them. My first priority is that I'll try to tell their family that the person is still alive and living in Indonesia. Most families don't know they are still alive. If the phone is available, we connect them. For the people who come back to Thailand, we encourage them to fight for their wage so that they will have money to take care of their families in Indonesia. Some people work for 10 years and they never get paid. I encourage them to come back to file legal complaints to get the wages they deserve.
Why don't they bring their families back home to Thailand?
It's quite hard. The processing of the document is like passports and it takes a long time. It's not like you can do it within three days. It's not that easy. Two people have brought their families back so far. Being in Thailand is easier to survive than being in Indonesia. Even when you have nothing to eat, you can eat in the temple, but over there you don't have much.
In the beginning, LPN was primarily focused on protecting children from sweatshops. What is the child labor like in Thailand? How have you been helping them?
Child labor is terrible. They work more than 10 hours inside cold storage. The kids are 10 years old and younger. Some of the kids work on the fishing boat and are about 12 years old. My work is to pull them out of the workforce, fishing boat and in the factory and have them go to school. After doing this for 15 years, I've only rescued 15,000 kids—I've helped them get an education, but those numbers are considered very low. Only 4,000 children were able to attend the school system. We also went to raid the factories that kept children. We've rescued about 500 children who were raped, assaulted or became disabled from losing their limbs.
Today you heard that a father was arrested for sexually assaulting his 16-year old daughter. What happens next?
This girl she was raped every Sunday for years. She became pregnant and her mother took her for an abortion. Ten days later, she was abused again. She came to LPN in November last year. She's very strong. I'm helping to support her and talk about what happened. Now they are onto interrogation stages. She's been giving her testimonial through video calls. She's waiting to go to court to get the verdict against her father who has done terrible and violent things to her. I strongly believe that he will get what he deserves because he's been abusing her for so long and there's lots of evidence.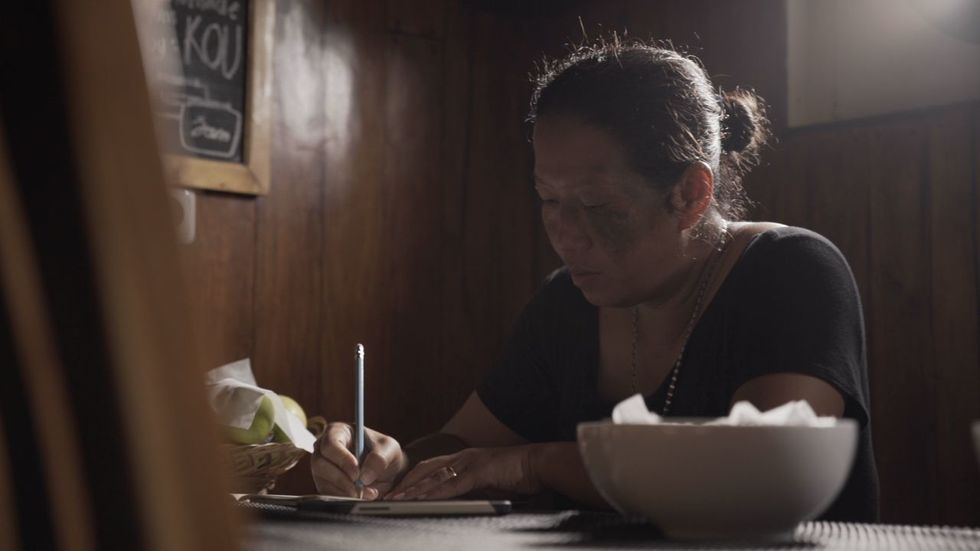 When you were 22-years-old, you were diagnosed with ovarian cancer. You've been in remission since. You claimed it made you think differently. Is that what prompted you to help others?

I've been helping people before I got cancer, but I wasn't as gentle then. I've been helping poor people or street kids for so long. It felt like I was out of it because you carry people's burden so much in order to change things. It wasn't possible all the time. I had no balance to my life. I was putting other people's lives before my own. But when I had cancer, I had to take a step back because I had to survive and take care of myself too. Before, I never took care of myself at all. That's why I've become more gentle now. I have a goal I set for the rest of my life. I help as many as I can, but I also have to make sure I'm okay. Two years ago, I found out I had a tumor. But it was non-cancerous. I tell myself it's okay— if I can't help people today, I'll think about a new way for tomorrow. When I realized that, all the burden was gone. Some people may feel like a failure because they didn't make it in time and then people are dead. I won't put pressure on myself anymore and stay up all night worrying so much. It's not healthy.
Someone left a boy outside your office and you adopted him. Has being a mother changed your perspective on life at all?
He is a gift in my life. I wanted to have children, but I can't because of the cancer. Then all of the sudden I had this baby Pui Mek. He will grow together in our lives. He also heals. On one hand, my husband Sompong and I might get swamped with work, and then my baby will come in and be like, "Mama, I want snacks, please!" Being with him makes my mind switch from work mode and makes me more relaxed. I don't have to talk work with my husband all day and night. We talk about our kid and we plan our lives. My boy never makes a fuss. He is very cute and understanding. Like in the film, he understands that "Mama is helping other people."
Is it a normal practice in Thailand to leave a child behind? Did you know the mother?
When I found Pui Mek, my husband didn't know I would bring him home. I told him, "You rent a lot of houses, right? I never tell you no. So, when I bring him home to raise, you can't say no either." It was quite funny. The first three days my husband was really confused. Pui Mek was sleeping in our room, but Sompong wasn't sure what to do. But when he started to hold him, he wouldn't give him to anyone. He said it was his son now. I think deep down he wanted to have a baby. When Pui Mek came, he became our main focus. We are both so happy. I know his birth mother. I've met her and talked to her. In the beginning, I told her, whenever she's ready, she can come for him. But I asked her if it's more than three months, please don't come because he would be confused. She never came. He knows that he has a birth mother. I'm not sure we will ever be able to find her again. My boy is also worried that if we do, he might have to go back to her. I told him, "You are staying with me." I never signed any documentation for adoption because she suddenly left. But it's okay, I'll always love him.
Some of these enslaved workers are very, very young. What's it like rescuing abused kids so close to your son's age?
It's heartbreaking. In the past, employers liked using kids under 18, since they were single and enjoyed challenges. But the kids don't know they are facing death or that they are a slave. Some kids get captured at 12 years old or younger, then when we find them and help them out, they are about 33. Mostly the fishermen who were stranded in Indonesia were the ones who were fishing on the boat since they were young. They would finish primary school, then they would be captured and found when they are older. In some boats in Thailand, when we go to check, we only find kids, but we are not the law enforcement officers. Government turned a blind eye to it and let them work on the boat. That was before the law changed, but now the law has passed, people under 18 can't work on the boat anymore.
Your husband Sompong Srakaew has helped strengthen the laws on human trafficking in Thailand. Do you work on the same cases together?
We honor each other. I let him lead, but in reality, I'm the one who tells him what to do. [Laughs.] It's like having a president, but the wife is very clever. I'm on the front lines like Hillary Clinton. We work on the same cases, but I like working in the field. I don't like to put my face out there and be on the news. Sompong is the one who's doing PR, talking to the states and government officials. He knows how to defend, which is something I don't like to do. Sompong is kind, has a good heart and gives everyone a chance. Working with him is great because we are so different in terms of our personalities and approach. But we have the same goals. There's a balance to it. I rush to go do things and sometimes I'm forgetful. Sompong is calm and always supports me. He's usually in the office coordinating things—he's like the chief of military staff, who plans, builds strategy and works with the government to help us. He sees the overall picture. For example, if I go to the field and I'm in danger or nearly die, he would be the one who coordinates finding someone to rescue me. Or If I get bombed, he'd be the one who reports the news. Hopefully, that never happens.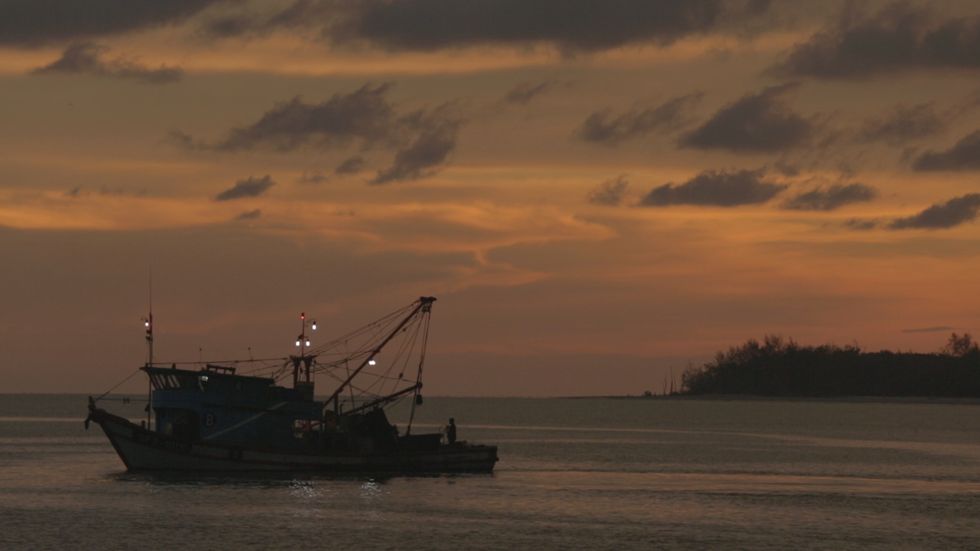 How many captive men have you reconnected with their families? What story has resonated with you?

It's been 2,968. I rescued six people who were jailed in Ambon Island many years ago. I thought I wouldn't be able to fight it. They would have probably been dead if we didn't help them home. After they were released, there were several thousand others. I wanted to help them home too. Eventually, the fishing crew was sent home on a plane. That's never happened before. That's the most memorable one because it's the first time that Thai fisherman received help and touched Thai ground through air travel. It meant that all these men had an identity. They weren't ghosts anymore. They were alive. One of the men looked exactly like my father. He talked like him too. I felt like I was helping my dad come home. It touched me. Honestly, my dad is actually at risk of being taken into the boat because he's a drunk. But the man I rescued was a monk before he got taken into the boat in Bangkok's Hua Lamphong station. I don't think he was mentally stable since he was young. It took us three days to be able to locate him. We found him three hours before the plane left. He said to me, "Help me, please take me home." I felt so happy that I was able to do that. Now he's back in his village in Ubon Ratchathani in Thailand.
After ten years, enslaved worker Pong was reunited with his father Ploy. What was that moment like?
Well, I brought back someone who thought his son was dead. I've experienced thousands of people who've had that moment. It's incredible. Pong's case was one of the later ones. My feeling was that the mission was successful and that I was able to bring Pong back home. That's the goal. He's been living with his father for over a year now. He has trauma that many suffer. Some people who get stuck on the island have a hard life. They have hallucinations of their abuse like when they were beaten or hurt while working on the boat. None of the fishermen ever go to a therapist or physiatrist and they rarely get treatment. The only thing they may get is money, but usually not. Pong started drinking a lot after his experiences in Indonesia. He was really stressed out. When he got back to Thailand, he was drinking again. Then he drove drunk and hit a parked car. He almost died.
Pong was able to be a witness for an enslaved monk in Ghost Fleet. Why aren't more workers compensated? Was Pong able to recoup any money?
Pong got his wage, but not the compensation money. Often times, the fishermen have already suffered from mental illness. They don't remember things. The documents they need for evidence are often concealed or destroyed. The names of the boats are changed. Or they ask victims to look for evidence themselves and they can't. The truth is that the government agencies have all the evidence for the boat registrations. That's why it's difficult. They're unwilling to help. It all goes back to corruption.
People don't get compensated for their pain and suffering and wasting years of their lives working for free?
No. None of them. The government is not putting any effort for paying compensation money. There was a recent case where this man was owed 13 months' worth of money and never get paid a cent. But it's not compensation for this struggle, just salary that was owed. For example, another man worked in a boat for six years. He also never got paid wages or pain and suffering. He was only handed money when the boat docked somewhere and he was ordered to buy snacks, toothpaste and things like that. They have to work extra to pay that back too. When they get to come back to Thailand, they are asking to get their wage. No one gets compensation money except when they lose their limbs from work.
The fishermen are beaten, whipped, chained and abused. The fishing company gives them methamphetamine to stay up. Do the men suffer from withdrawal?
Some are affected from taking a lot of drugs. Their speech is confusing and hard to comprehend. They seem groggy and not able to concentrate. But they insist that they want to stay with their employer because they want drugs. They hear voices—sometimes unable to talk because their tongue would stiffen and they think people are coming after them. They can't stay with their family because they get hallucinations at night, like yelling and seeing things and wanting to burn their houses down.
Have you witnessed this?
We sent a man back home to stay with his mom. He burned all the necessities we brought him. He'll hear voices. He believes that people are going to kill him and he'll start banging his head against things. He was on the roof one morning and we had to quickly save him. When he heavily hallucinates, he will dig holes in the dirt and bury himself. We had to get him out. Then we took him to get treatment. He received some meds, but he didn't continue going. The next time I saw him, he had brain surgery from hitting his head so hard. I haven't seen any government agencies take the men out of the workforce and get them into rehab. When I inspected the boats, about 5% of the fisherman are healthy. Most are in bad shape, homeless and messed up from the drugs. In the first two years, five of the men died after coming home. Some were drunk and got hit by a car, while others suffered mental illness and killed themselves. There is no concern from the government to help make their lives better or heal them. No one believes their trauma or that they were tortured and hurt. It's really sad.
Have you ever seen any beatings, torture or execution-style killings?
I've never seen the beatings. But I've seen the scars all over their bodies. They've all been tortured. I've only taken people out of the jail cells that they've been locked in. In Benjina, many of the stranded fishermen really want to go home, so they would hold onto my legs and beg me to take them back. At that time, I couldn't take them out of where they were kept. Many of them cried asking for help. Two of the slave fishermen swam to shore to escape. When they arrived, a boat manager sent someone to hurt them. One died, while the other survived. The fishing crew sent me to the cemetery where the victim was buried. I was a week too late in rescuing him. I wish I could have saved him.
How is this still happening today? Do fishing companies continue kidnapping men and children?
The middle man or agent kidnaps them. The companies will order how many people they want and these agencies will seek the men out, sometimes give them some money and then capture them. It's happening in Somalia, Iran and Malaysia. It's happening in the Indian Ocean. In Myanmar, for example, they would take them from the villages near borders like Bangladesh or China. They tend to go after less educated people who have no choice and suffer from poverty. We get requests to help people who want to get out of the bad work environment and suffer from mistreatment or kids who had been taken advantage of. I actually took in five kids who were 15 and 16 from Rakhine State that they planned to send to Malaysia. The number of neglected children are increasing. Vulnerable children are still getting abused.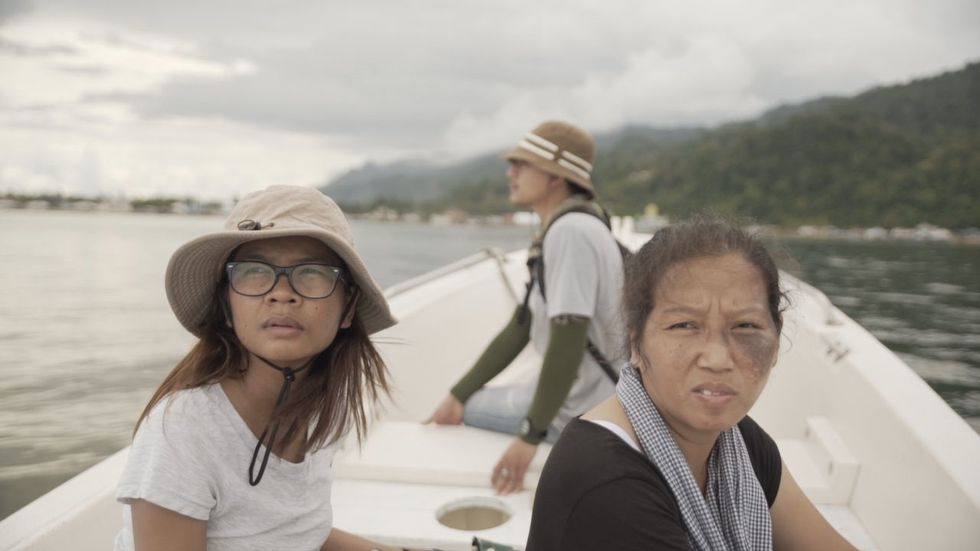 You and your team at LPN have rescued 5,000 men. You claim the fight will continue until the boats are free of slaves. Do you think this will ever happen?

Yes, but we have to work on educating people who have no choice. We also have to encourage the fishing crews to form coalitions to get the power of negotiation and be able to get access to their rights. This kind of mechanism should exist. It will take time. It's better than doing nothing at all. My team is strong and resilient. They fight and fight. Every one of them help support people getting home. The operation is successful because we have friends around the world that help us behind the scenes. Good things happen from people who are empowered and send that power out. There are a lot of people who help me. I could never do it alone.
You work with Tun Lin and Chairat Ratchapaki, who were both enslaved at one time. Do their experiences help with your activism?
When they share their own experiences with other people, it's more solid because I've never worked on a fishing boat. They are considered my colleagues. They're wonderful. I think they are strong and they survived without losing their minds. But in terms of vulnerability, I believe that the two of them should get help. A therapist should really listen to their burdens. A doctor should be the one who can help out and treat them. I listen to them, but I don't know if that's enough. I think they have difficulty trusting people because they have been suppressed for years and years. The fact that they share their hardships is very useful and impactful. It opens the eyes of everyone in the world to know that modern slavery still exists.
Do you have to pay or threaten fishing companies in order to rescue people? What about saving victims in factories or helping in abuse cases? How does it work?
I don't receive any funding from my mission projects. None. We have cooperation or trust from high ranked police officers who can make decisions and collaborate with us. We connect with them through social media and standby to make the raid. There are many people who are stranded and still waiting to come home. They have hope that one day they are able to get in contact with their families. In a factory setting, if we get tipped off or someone files a report, the owner must allow us to inspect the place. Media comes for some cases. We recently helped one rape case of a Pa'O tribe girl where her agent took her back to the employer in Myanmar who sexually assaulted her. I collected the information and filed a police report. I went down to Trat province in Thailand and the police made the arrest. Unfortunately, the agent escaped.
Clearly your work is changing the world. You were nominated for a Nobel Peace Prize after all.
When I was younger, I thought about changing the world. If you talk about change—the change without using slave labor— it's not just up to me alone to change it. Everybody needs to change. The mindset of people needs to change in order to live together with balance of taking care of the environment, taking care of fellow human beings and sharing. The supply chain needs to be transparent and no one should be taking advantage of each other. When I was younger, I thought about the Nobel Prize, playfully. But during the time, I had cancer and I realized that I can't change anything. I had to change myself first. But the thoughts came back when my friend nominated me. She wanted other people to see all the work I did. I think what I do is normal. I'm just happy to be alive and help people. I asked myself again recently, "Can you really change the world?" I believe I can.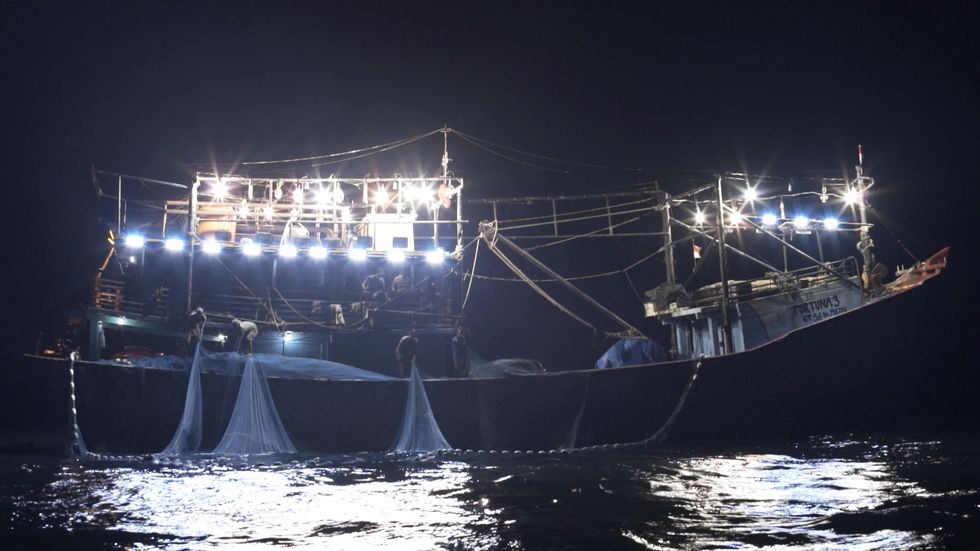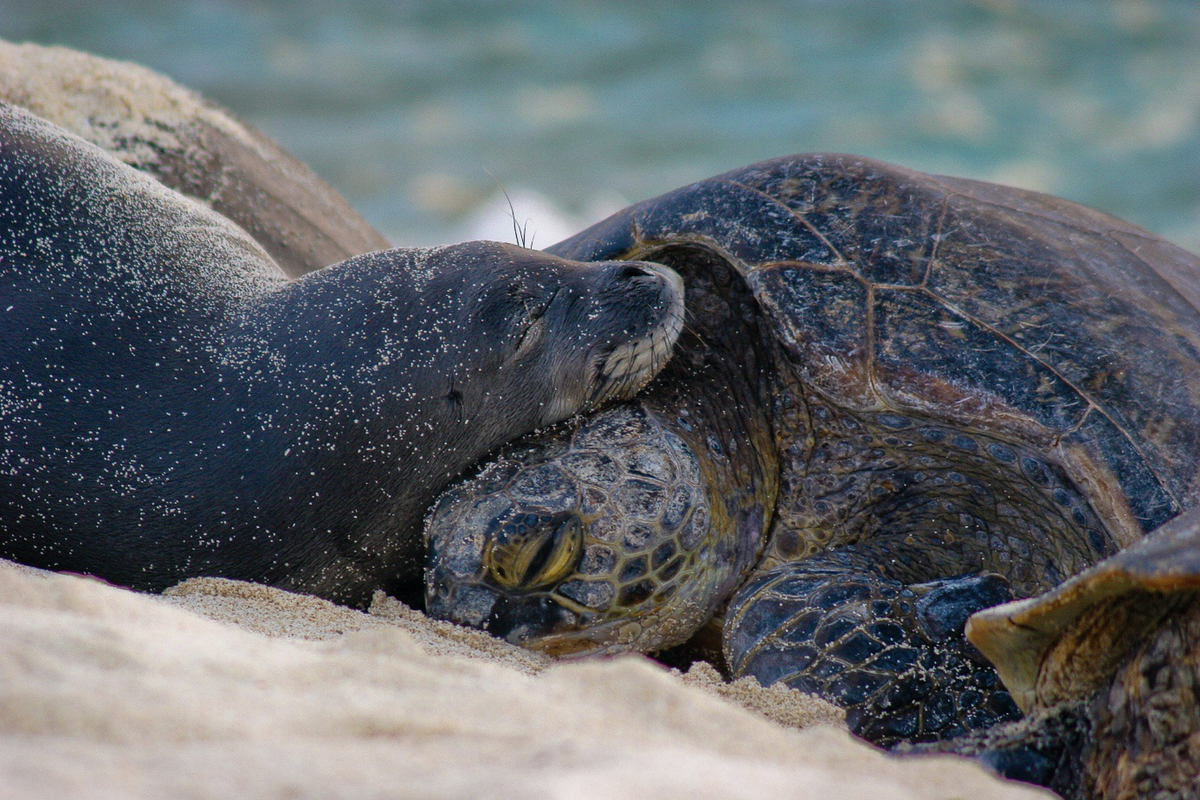 Mark Sullivan, NOAA Fisheries Hawaiian Monk Seal Research Program, 2007
Editor's Note: This story is taken from the GOOD10 Ocean's Issue. You can download and read the entire digital magazine issue for free here.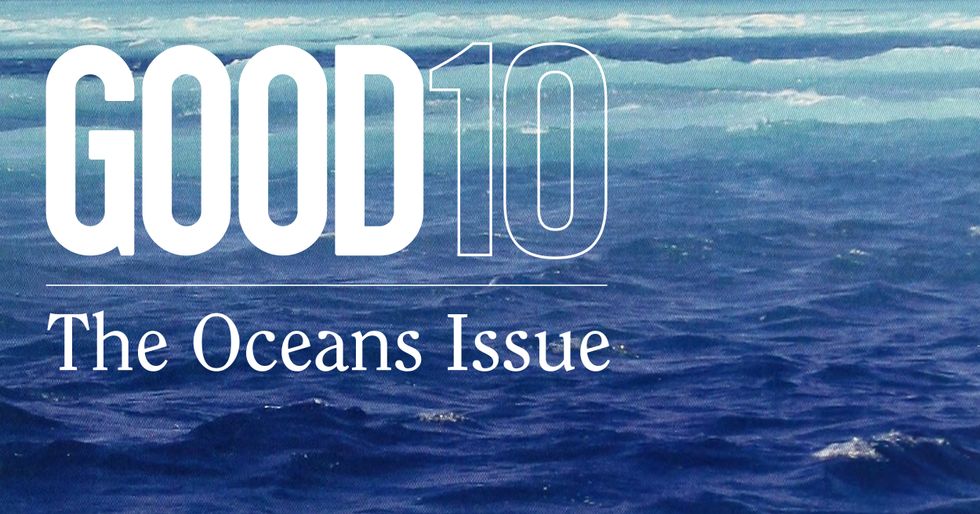 The largest protected natural area in the United States isn't just on land, it's primarily at sea. The Papahānaumokuākea Marine National Monument encompasses 583,000 square miles of protected waters, islands and atolls that make up the Northwest Hawaiian Islands and surrounding areas. Both a refuge for wildlife and a place of profound cultural importance to generation upon generation of the native peoples' of Hawaii—the region's significance stretches both physical distances and through time itself.
Athline Clark, NOAA Superintendent of the Papahānaumokuākea Marine National Monument, brings a wealth of history and passion to her job, while managing the conservation of the monument's resources. She previously worked for the U.S. Army Corps of Engineers and served as Hawai`i's co-manager for Papahānaumokuākea. She has over 20 years of experience working with the Office of National Marine Sanctuaries, first in the Florida Keys, then as a sanctuary advisory council member for Hawaiian Islands Humpback Whale National Marine Sanctuary.
In June 1998, when President Clinton signed an Executive Order directing Federal agencies to study, restore and conserve coral reef ecosystems, The U.S. Coral Reef Task Force was established, the largest nature preserve in the country, which addresses threats to coral reefs worldwide. Clark worked with the state of Hawaii to designate the Northwestern Hawaiian Islands Coral Reef Ecosystem Reserve, which President Clinton called "a bold and visionary action."
With the help of Clark and her team's diligent work, Papahānaumokuākea's marked as the largest fully protected conservation area in the United States. "We also worked to get the monument designated internationally because we felt that the only way that we could have the layers of protection and the layers of recognition that were needed up there was to also put this on all the maps of the world," says Clark. "This is one of those places as an area to be avoided but also appreciated. There's an international stamp on every nautical chart of every nation in the world for this monument. It confirms that it's recognized as an international and global treasure."
GOOD spoke with Athline Clark who shared her insight into the history, protection and administration of one of the most pristine environments on Earth.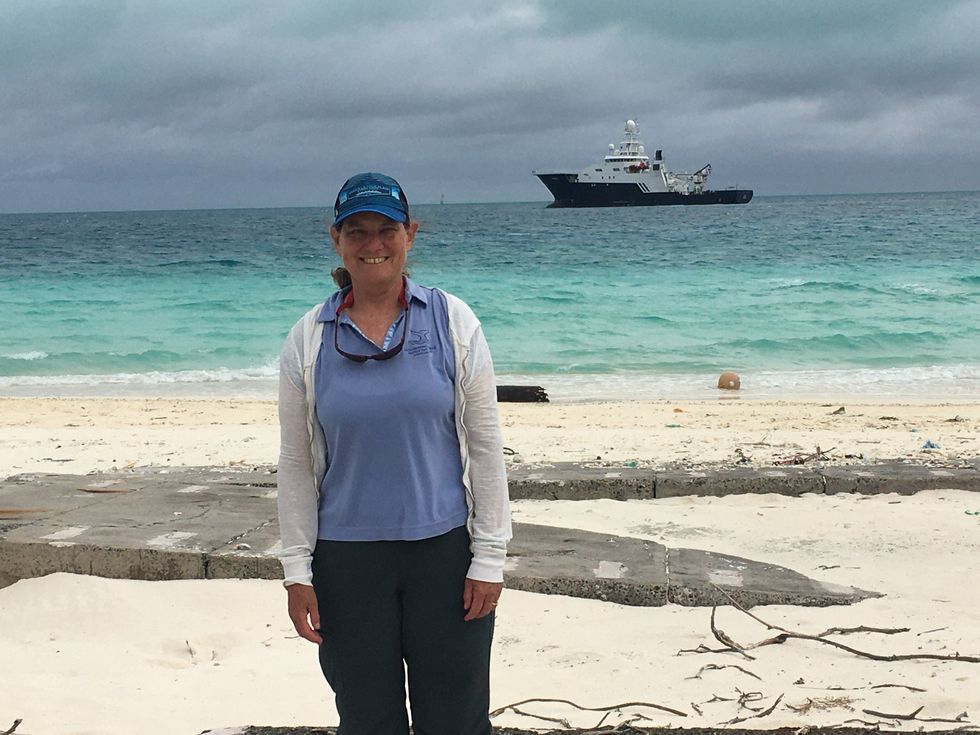 Athline Clark
Was the ocean something you always identified with?

It's in my blood. I am Keiki O Ka 'Aina—born and raised here in the islands. From my earliest days, I was always down at the beach. I learned how to bodysurf first. Then I started surfing. At Kailua High School, my teacher Ray Rounds turned me onto marine science. His way of teaching was interactive. He taught us how to collect an organism, how to study it and then eat it. He would roam the halls of some of these old Japanese department stores that we used to have in Hawaii to find things like dried jellyfish. He made sure everything we studied had all three senses incorporated as a part of our learning experience.
Were you always curious about the Northwestern Hawaiian Islands?
As a typical kid here in Hawaii, there were hard choices to make. I asked myself, "Do I stay here or do I leave? Do I go to college here? Do I try the mainland?" I actually decided to stay here for college and for graduate school. I had some really unique opportunities by doing that. I was in college when I first heard about the Leeward Islands, or what are now known today as Papahānaumokuākea, the Northwestern Hawaiian Islands. I was in a Marine Science program and I wanted to go on a research expedition to start to map out what all of the different organisms were within the Northwestern Hawaiian Islands. That's how I found out about the place and how amazing of a resource it was. Unfortunately, there wasn't enough space and I didn't get the chance to go. I swore that I was going to get there one day. It became one of my goals to learn more about it. That's how my journey started. Then I worked over 20 years to actually get a chance to get there and do something about protecting it.
Take us through the history of the monument. How did one of the largest protected areas on Earth come to be?
There's been six different presidents, starting with President Roosevelt and all the way through President Obama who have recognized the importance of it. President Roosevelt sent in Marines because of the impacts that were happening to the seabird populations in the early 1900s. Then it was designated as a bird refuge and later a wildlife refuge. President Obama expanded it to over 583,000 square miles. Part of this recognition is due to the unique set of islands and atolls in the area. They are the only atolls in the United States that have a fundamental importance for wildlife and wildlife conservation. Over the years, layer upon layer of protection has been put on this place.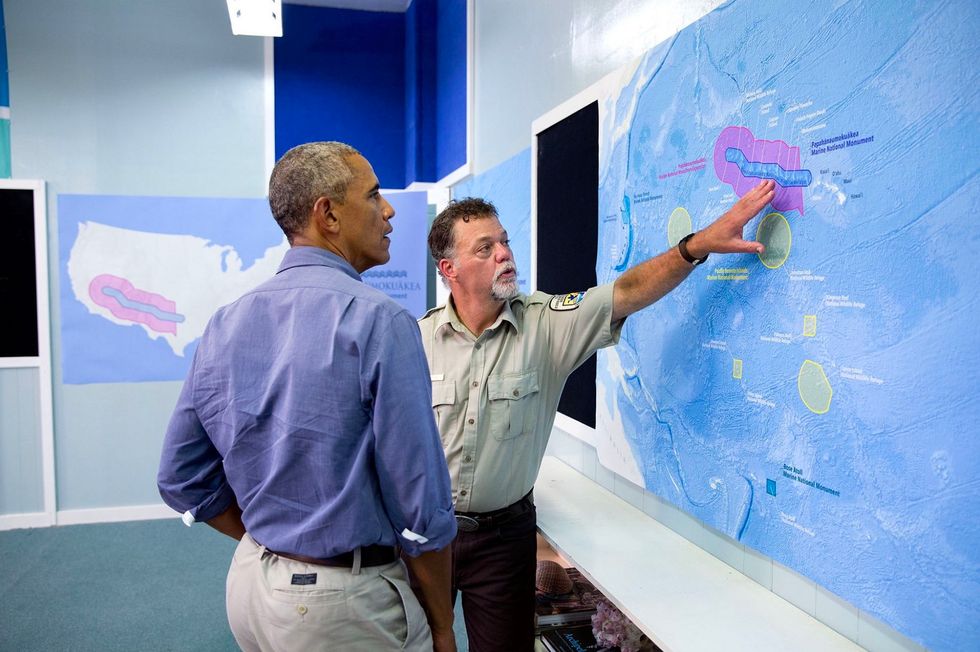 Official White House Photo by Pete Souza, 2016
You also nominated it as the only UNESCO World Heritage site in the U.S. that combines natural and cultural elements.
We pushed it through 10 years ago as a mixed site. You had six different presidents over 100 years, plus the International Maritime Organization, recognizing how important this place is. It is a World Heritage Site of global significance. It's recognized for both its natural and cultural importance to mankind. It's a particularly sensitive sea area on all the International Maritime Organization charts of the world. That legacy means it's a place that people know not to mess with.
What does it mean to steward a national monument that is bigger than all the national parks combined? How do you go about such a monumental task?
What makes us unique is that we're co-managed with the State of Hawaii, the U.S. Fish and Wildlife Service and the Office of Hawaiian Affairs. Each of us brings different values and skills to the table to help with the management focus and structure. Our motto is a place where nature and culture are one. We strive to look at ways to make that happen within our management regime and through our access and briefings. We learn, make cultural connections, revitalize the culture and carefully craft it to have access to this beautiful place.
How have native Hawaiians pushed forward protecting their environment?
There were a couple of really wise Hawaiian elders, one of them named Uncle Buzzy Agard, who had fished up there during the '70s. He had seen firsthand that using some fishing methods in some of the reef fisheries wasn't sustainable. With the help of environmental organizations and other native fishing experts like Tammy and Isaac Harp—they really helped push the movement along, raise concerns and believed that the fishery would open back up. We've had numerous access trips and mentorships that we have all collectively done to try to get Native Hawaiian community members up into Papahānaumokuākea and to work with them. In some cases, once they've returned, we've created Mele or new chants about the place created. Now we use it to start every meeting—to do protocol and to honor the monument.
You've made a concerted effort to get the community involved in preservation and education. What's happening right now?
We have archaeologists who have been on our staff and now review a number of the old chants to try to better identify all the Hawaiian names of the islands. We seek in all of our educational materials to recognize not just the English names, but the Hawaiian names of places too. We continue to work with educators on new and innovative ways to enhance the understanding both biologically and culturally with school children. We have supported several finding expeditions. Using traditional navigation skills with the vaka— the double hull sailing canoe—apprentice navigators go up to Nihoa and Mokumanamana and learn traditions. Day to day, we don't speak Hawaiian. I wish we did. We do our best to learn about it. We also look holistically at a place not from just the western perspective. I feel that it's important we all look holistically at any place to understand the importance of preservation.That's when we truly understand it.
What memories stick with you from spending time within the monument?
There's no way to explain what two million seabirds nesting on eggs at sunrise looks like. Hearing it, seeing it and being there for it. Or once the chicks are born and the little fluffy cannon balls start to flap their wings to fly—there's something just absolutely magical about that. I remember going to Kure Atoll on a marine debris cruise. We had been working on the back reef, which was on the backside of the island, just pulling out nets. We were trying to remove tons and tons of marine debris, which is one of the threats up there. The next day, we found out there was a 12-foot tiger shark in the area we were diving in. But we spent hours and hours getting towed around behind a boat looking for marine debris. It was almost this Zen-like state we were in just watching the corals and the benthic habitat go by and seeing what was there and how diverse it was.
You are working with one of the most remote, most pristine ocean regions in the world. You touched on marine debris. Is this something you still struggle with?
The National Fishery Service basically started pulling marine debris off of the reefs in the northwestern Hawaiian Island – for many years, it was actually a multi agency initiative in 1996. Since then, there's been a mission almost every year until about three years ago, when we just couldn't afford to spend as much time up there every year as we did previously. But we're at over 100,000 metric tons now. There's about 57,000 pounds a year that washes ashore in the northwestern Hawaiian Islands. Initially, it was almost all discarded fishing gear. Since then, it has changed and there's a lot more of it. It's made up of all the different types of plastics, bottles and bottle caps and every other kind of disposable plastic that you see in the world. But it washes up on the beaches and on coral reefs. Initially, they were finding—back before they banned the high seas drift nets—four tons of high seas drift gill nets. It would take days to cut those out and put it into a boat.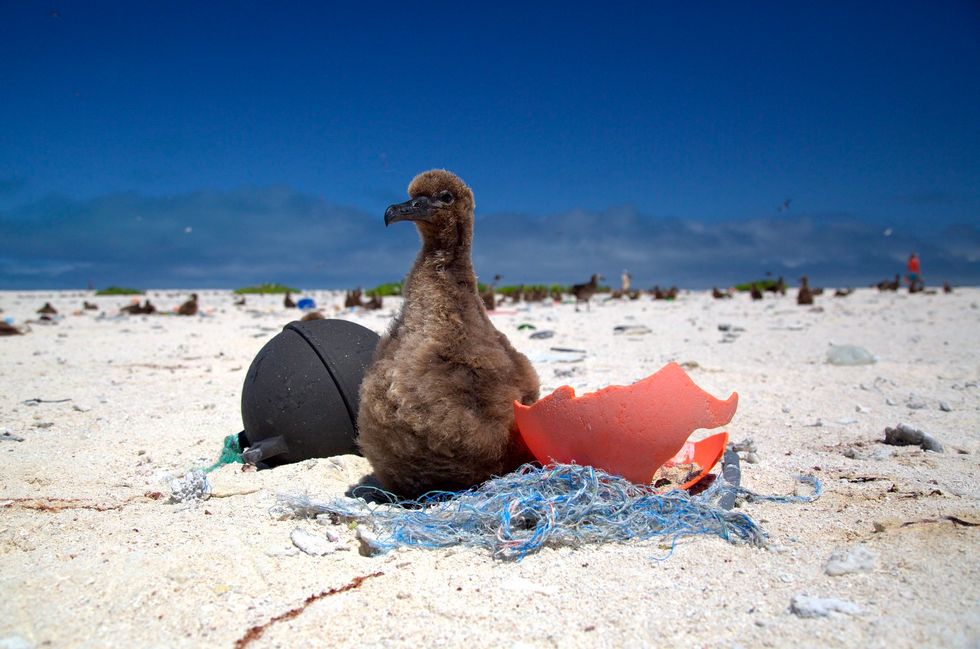 NOAA Coral Reef Ecosystem Program Marine Debris Team, 2016
What are some bizarre items that you've discovered?
TVs, computer screens, whole boats or parts of boats and wrecks. For a while, it was the place to get old Japanese fishing balls made of glass. That used to be one of the treasures of going up there. You can also find toothbrushes and cigarette lighters— stuff that you wouldn't think gets there, but is part of the biggest hazard, especially for the albatross and birds. They feed on food filled with plastics. They die by the hundreds every year.
How has the creation of this monument furthered the cause of science and understanding of the oceans?
Major understandings about reef resilience, what happens after reef bleaches and how quickly it will recover is all important in maintaining Hawaiian Islands.The ability to understand that and what happens in the stages of recovery that occur has been very useful. Understanding endemism and how endemism changes when you move across different latitudes and habitat types helps. We recently had this absolutely wonderful scientific journey that occurred with a wave glider. It's one of those autonomous vehicles that just goes on its own power. It journeyed 2,500 nautical miles from its home port in Kōwhai, all the way up to Laysan Atoll and back. We identified what kinds of whales we had and what species they were. We looked at some of the banks and shoals to see how important that area is for humpback whales and other cetaceans. We found whales in places that we never knew they existed before. It was remarkable.
Is it possible for the public to experience any areas within the monument? If not, does that present a challenge for creating that emotional and visceral connection between the public and the environment?
Midway was once open for visitors, it has been closed for a while because they just haven't had the resources to continue to sustain it. Ideally, when the monument was created, under George Bush, Midway was meant to be the window on the monument. It was never going to be a place where you could have hundreds of people go. It just isn't able to sustain it. It is first and foremost a wildlife refuge. So, wildlife first. But the ability to take people up there and visit would be desirable, but it's just trying to find the resources to make that happen. The ability to take National Geographic, PBS, Nature, BBC and all of the other types of groups go up there is all really important, so that we can bring the place to the people. We've also worked in partnership with Google and then Google Maps of most of the islands, so people can go do a Google Street View of what's up there. It's an incredibly fragile environment, and many of the atolls just can't sustain any access. There's bird burrows everywhere. You can't even walk without burying a bird. The fragility of the place won't sustain it in most areas. But there are opportunities to bring the place to the people and hopefully to take a few people up.
Why is investing in conservation so important?
Palauan President Tommy Remengesau Jr. was the Man of the Year in Time magazine because of the conservation initiatives that he put in place after his reefs bleached the first time. I think Papahānaumokuākea is a good example of that, as well. They're discovering all kinds of changes in the ecosystems of the places that tourism went to on a regular basis such as Hanauma Bay. There's been a few articles in the Honolulu Star Advertiser about what they're discovering about the reefs coming back and the behaviors of the fish without those people there. I think when you allow a place to have some quiet, it doesn't take very long. We're discovering that in national parks and other places all across the country right now. When they have a chance to rest—things repair. Do I think we should shut every place off all the time? No. I think we could come up with different conservation strategies where we could set aside places for rest in the future. Now with seeing what we've learned? Yes, that should become a part of our conservation success story and our management strategies toward the future.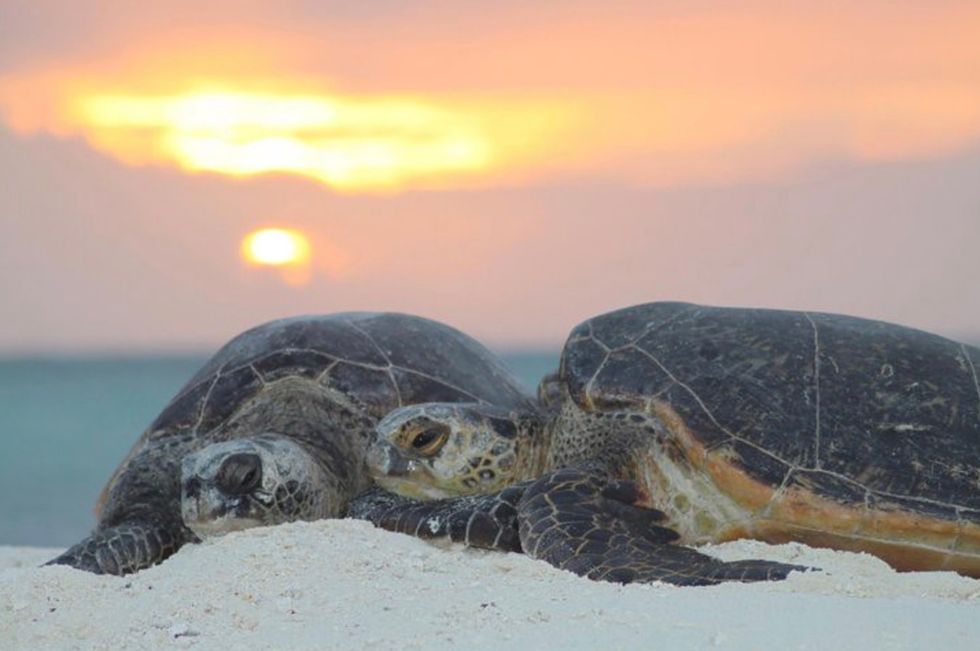 Mark Sullivan, NOAA Fisheries Hawaiian Monk Seal Research Program, 2012
What's your dream for the future of humanity's relationship with the oceans look like?
I think that it's important to understand that nothing globally we have is infinite— everything is finite. We're finding that out when it pertains to our atmosphere, to our planet as a whole and particularly to our oceans. I would like to see us do a better job recycling. I'd like us to think about how we can reuse items and rethink the way that we dispose of things. I go back to the glass balls that I collected when I was young on the beach. When I found a big one, it was the best day of my life. I was eight years old and I still have it in my possession to this day. What the Japanese fishing boats used to do is take the glass bottles that they were using—and they had their own glass making plants aboard—and they would just blow those into the glass balls to make floats for their fishing nets. Should we go back to some of that? I think we should.
How do you think our society can improve?
It's so easy to make everything out of plastic. I think plastic has its place, but not for everything. I'd like us to do a better job of understanding fisheries that are there and how finite they really are. I don't think we should overfish all of our species to the point that they won't recover. Coming up with new and innovative ways to ensure that that food supply exists into the future is smart. I also think that transporting goods and services on the ocean is fundamentally something that isn't going to change because it's the cheapest way to transport across the globe. But let's do it as economically as possible. Let's come up with ways to do it that doesn't cause so much pollution. That's what I want for our world.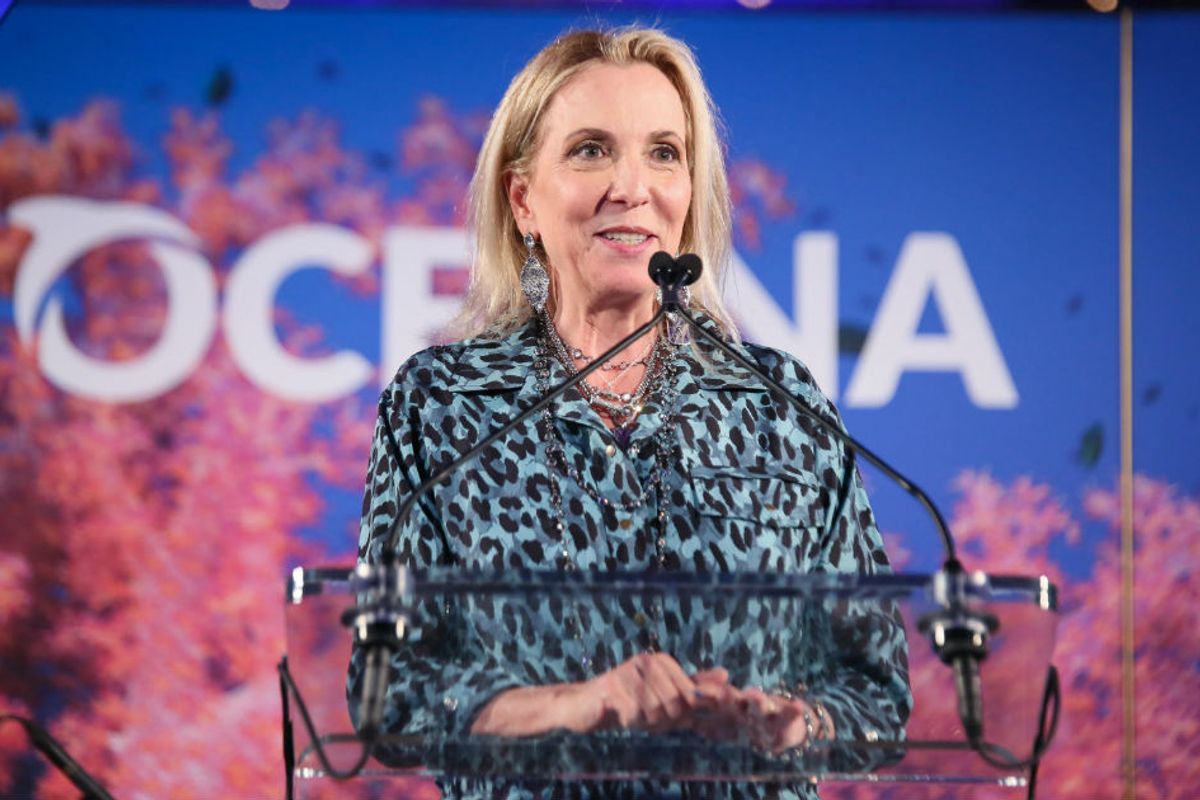 Editor's Note: This story is taken from the GOOD10 Ocean's Issue. You can download and read the entire digital magazine issue for free here.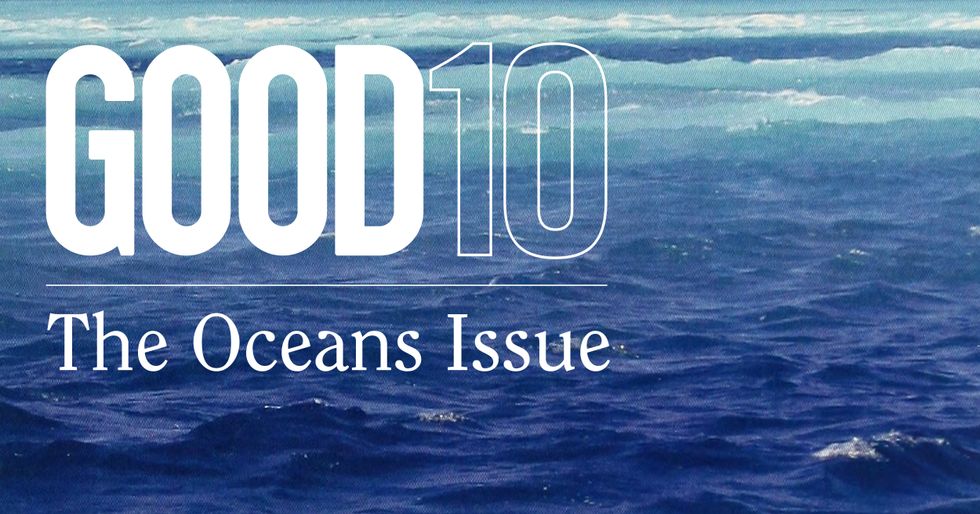 America and much of the world are still grappling with the coronavirus.. Helping people stay focused on ocean conservation during these times of global upheaval is critical. Susan Rockefeller is an essential voice in that effort.
She has been involved in everything from food education to producing films about protecting our planet's oceans from environmental disaster. Through her own publication Musings Magazine, Rockefeller also plays a role in spotlighting the efforts of people putting the principles of sustainability into the forefront of commerce and consumption. Rockefeller spoke to GOOD about a number of issues, including food education, activism and what needs to happen to ensure a healthy future for our oceans and the billions of people who rely on them for their own well-being.

GOOD: As a board member of the Stone Barns Center for Food & Agriculture, can you share about the importance of food education in healing our planet?
ROCKEFELLER: We vote, if we are lucky, three times a day with our forks or chopsticks. A plant based diet is better for human and planetary health. I would suggest to everyone to read We Are The Weather by Jonathan Safran Foer. He brilliantly outlines why climate change begins at breakfast and that we have choices about how we can repair our world. Stone Barns Center has a new initiative called ResourcED, where we are working with farms and fisherman and making sure the past 20 to 30 years of regional, regenerative and organic practices are not lost due to Covid-19. Stone Barns is creating markets for farms and farmers to sell their produce while restaurants and food services are closed. Supporting local farmers is key for a healthier regional and resilient food system. We don't want to see all this work of the past few decades go under due to bankruptcy. Stone barns is helping to create markets and also innovate as a research and development hub on extending farmers ability to sell their produce through fermentation and other methods of creating value from farm products.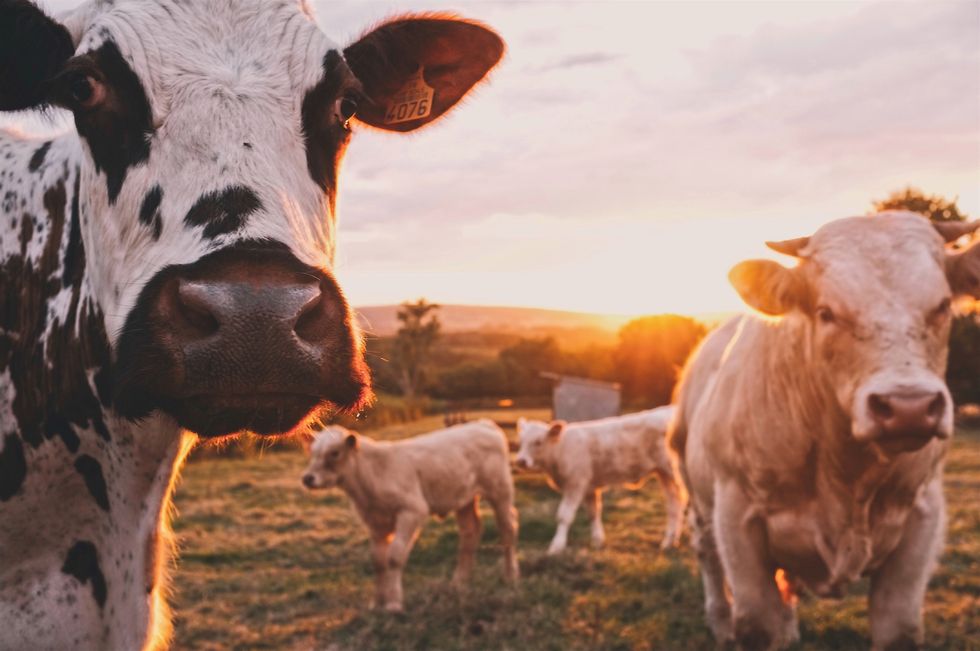 Photo by Stijn te Strake on
GOOD: You are also on the board of Oceana, which claims that restoring the ocean could feed one billion people a healthy seafood meal every day. Is this true?
ROCKEFELLER: Oceana works country by country to enforce fishing regulations, minimize by-catch and protect marine habitat. Wild fish can rebound by working country by country because of the EEZ or exclusive economic zones that are managed by each country. The best way to ensure that we have a bountiful ocean is to support the work of Oceana and work to protect where the majority of fish are which is in the 200 mile limit of our EEZ.
GOOD: How can seafood farming move forward in better harmony to meet the needs of a growing global population without destroying the very resources needed for our continued survival?
ROCKEFELLER: In terms of aquaculture, innovation must occur with fish and bivalves that do not use wild fish that usually use higher proportions of wild fish to the farmed fish. This is bad for the ocean and wastes protein that can be eaten from the wild for human consumption. Also, like industrialized agriculture, many aqua cultural fish operations use antibiotics— wild fish does not! It's better for the ocean and better for human health to eat wild fish. If you eat farmed fish, make sure it is herbivore or filtered bivalves.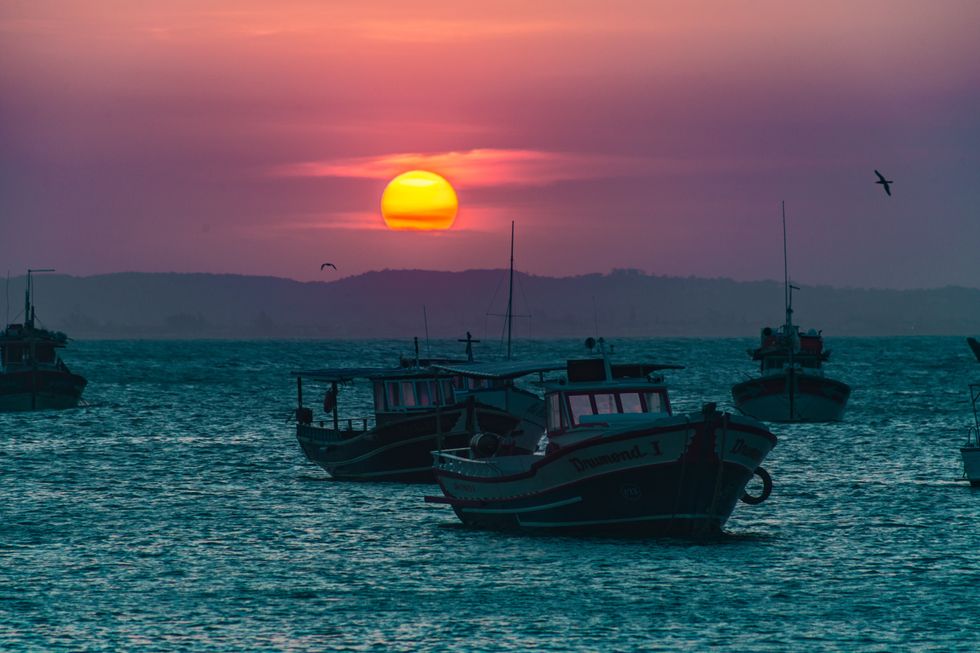 Photo by Tadeu Jnr on U
GOOD: Many people personally care about ocean conservation, but with limited time and financial resources, they often wonder what they can do to make a difference. Realistically, what is the single most important thing the average person can be doing right now for ocean conservation?
ROCKEFELLER: The most important thing anyone can do is join Oceana.org and become a wavemaker. It is free and you can get educated, activated and inspired to make a difference in your own country because it is global. Oceana works on legislative enforcement and upstream solutions to plastic pollution. If you care about your own health and planetary health, the one thing we all can do is support a healthy ocean for generations to come. Oceana is working and convening hundreds of smaller NGOs on plastic pollution initiatives and using science and advocacy to save our oceans and feed the world. By becoming a wavemaker, you can sign petitions and lend your voice to helping stop off shore drilling, saving the right whales, lessening plastic pollution and helping to be part of returning our oceans to a more bountiful state.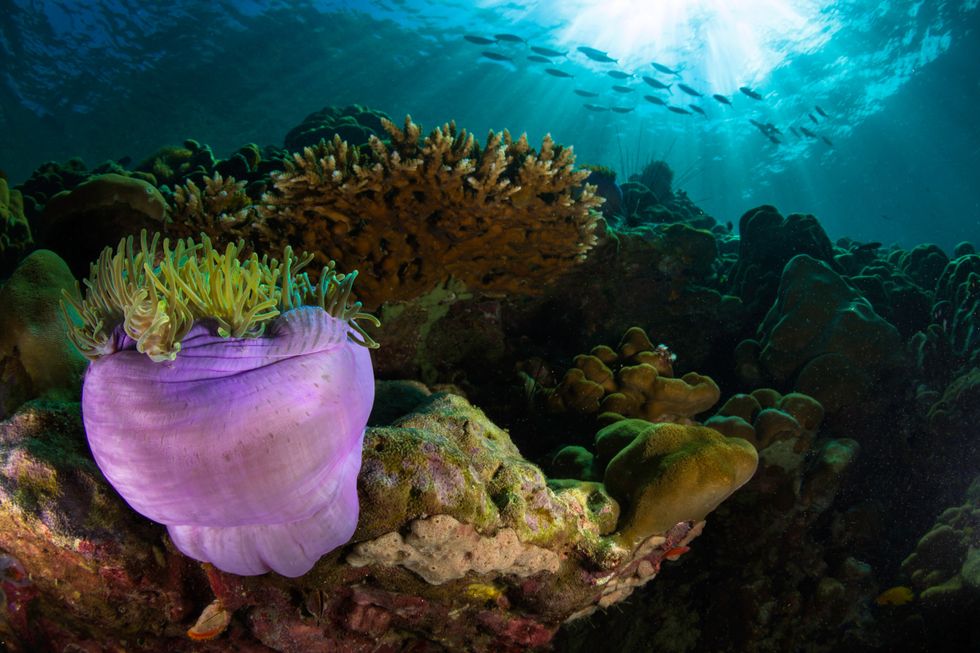 Photo by Milos Prelevic on

GOOD: A Sea Change, a film you co-produced over 10 years ago, examined the catastrophic effects of ocean acidification. Have you seen any progress on this front?
ROCKEFELLER: I think more and more people are connected to the work of ocean conservation due to films like these and so many others that have captivated millions of people through exposing them to the beauty and fragility of our oceans. We must transition to a green economy where we reduce carbon emissions. It is a global problem and we need global cooperation and mandates to reduce our carbon emissions. Only with a global effort will we see reductions in ocean acidification.
GOOD: Your publication, Musings Magazine, helps shine a spotlight on people and places making progress toward sustainability. How do you see entrepreneurs and consumers alike shaping this effort? Have you seen any patterns of success amongst those making inroads in this sector?
ROCKEFELLER: The innovators, artists and activists that are profiled in Musings give me hope for our future. The ingenuity and energy of these entrepreneurs and thought leaders are our next generation stewards. We profile leaders from We Are Family Foundation, which brings together teen leaders from around the world. I am inspired beyond my imagination when I meet these teen leaders! Our non profit and partners for musings including Food System 6, Parsons School of Design, Made Safe, We Are Family Foundation and Manna Tree Partners vet companies and provide cutting edge business leaders and influencers that keep our magazine humming. We need an ecosystem of designers and artists, entrepreneurs and activists, scientists and educators all working to create and inspire change. The patterns of success I see in all those we profile is the purpose driven passion they each possess to do the work they are doing.
GOOD: 2020 is obviously an election year in the United States. America's role as a defender of the environment has been in steep decline over the past three years but there have also been criticisms labeled at past administrations and congressional leaders for dropping the ball on combatting climate change. In many ways, the challenges are nothing new. Do you have any suggestions on how people can help raise the collective voice of urgency on ocean conservation as they head to the polls this November?
ROCKEFELLER: Most importantly, cast your vote. We need leaders who believe in science and empathy for human beings and nature and understand climate change, and social and environmental justice. Volunteer with organizations like National Volunteer Corps. Do what you can to get your friends to vote. This election is crucial not only for changing our current trajectory for our next president but for all positions in local state and national elections that can create a needed change in leadership and values. We must change the current trajectory. To do so, we must get everyone we know to vote and help those in need and assistance to cast their vote as well. Our country and our planet need better leadership!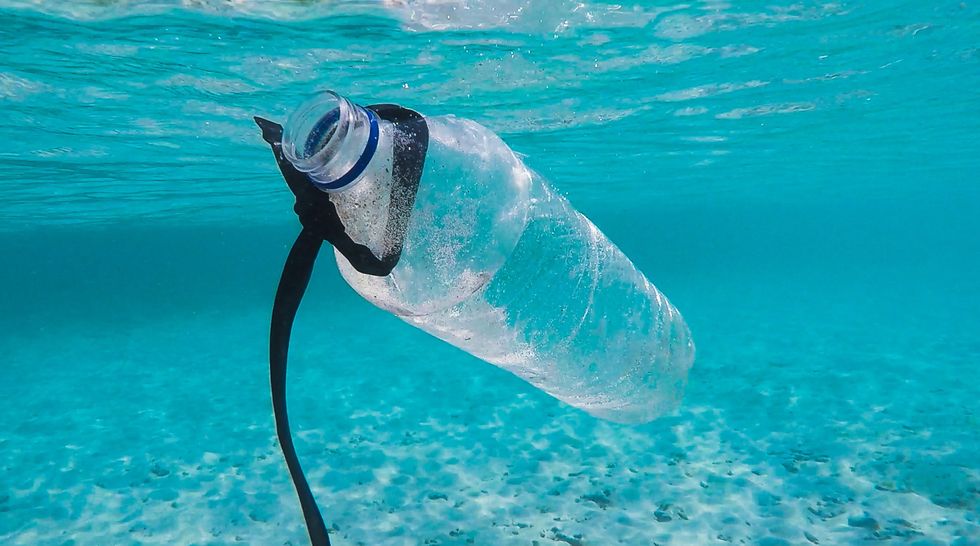 Photo by Brian Yurasits on
GOOD: In a time of such great turmoil both domestically and internationally, are there any people or stories that have emerged over the past year that have given you renewed hope for the future of ocean conservation?
ROCKEFELLER: I think Greta Thunberg is a key activist who catalyzed the youth movement. The protests over the killing of George Floyd have sparked an international movement for justice and a re-examining of our policies on racial justice. We are also aware as conservationists and activists—of the connection between racism, environmental and social injustice by air, water and other toxins disproportionately found in lower income and black neighborhoods. And part of our work as innovators, writers artists, educators, scientists and human beings is to understand and be part of a collective movement for justice. We have seen a rising up with protests all over our country and the world. Covid-19 has awakened a sense of our interconnectedness and my hope is that this awareness continues into action that brings on more than just policies, but more innovation with universal basic capital and more resources to lift people out of poverty, as well. I am encouraged by what I sense is an examination of our values, more empathy for others and outrage at a system that denigrates black lives. My hope is that the conversation about race and environmental justice and empathy deficit towards humans and non humans will continue and evolve policies that are more inclusive for our humanity and the planet.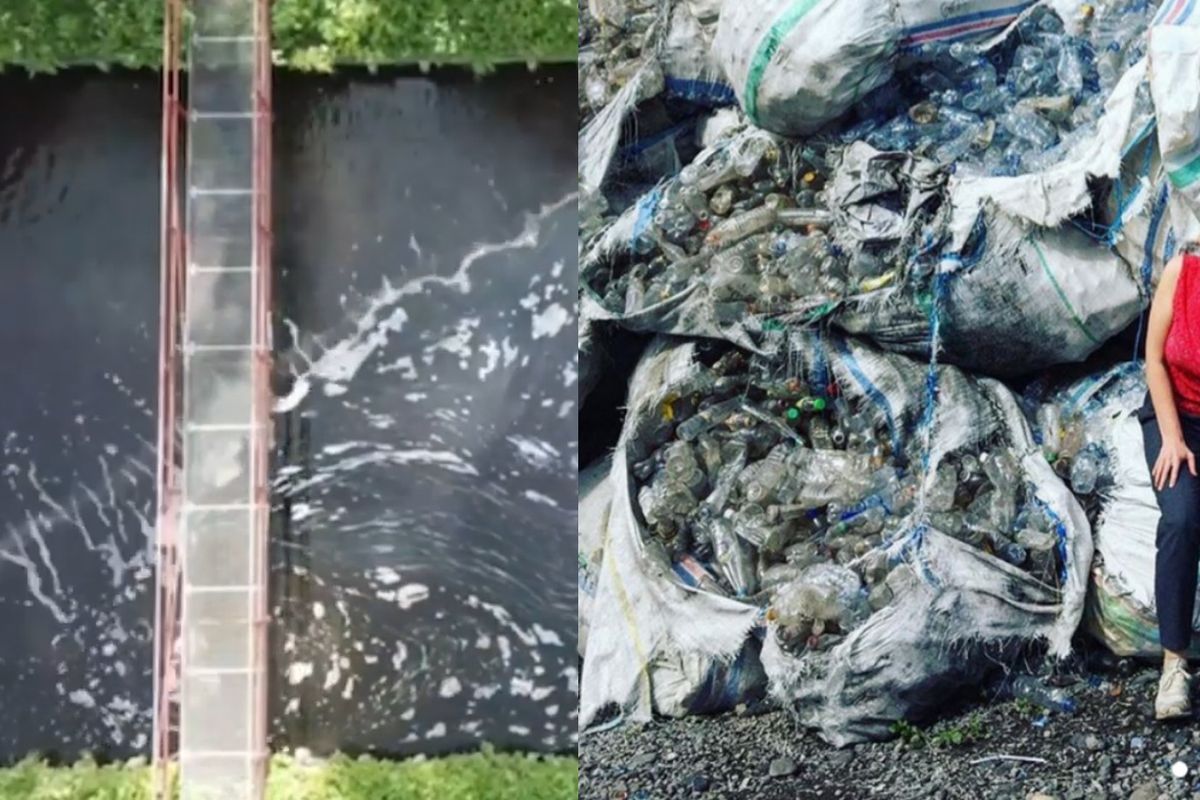 Editor's Note: This story is taken from the GOOD10 Ocean's Issue. You can download and read the entire digital magazine issue for free here.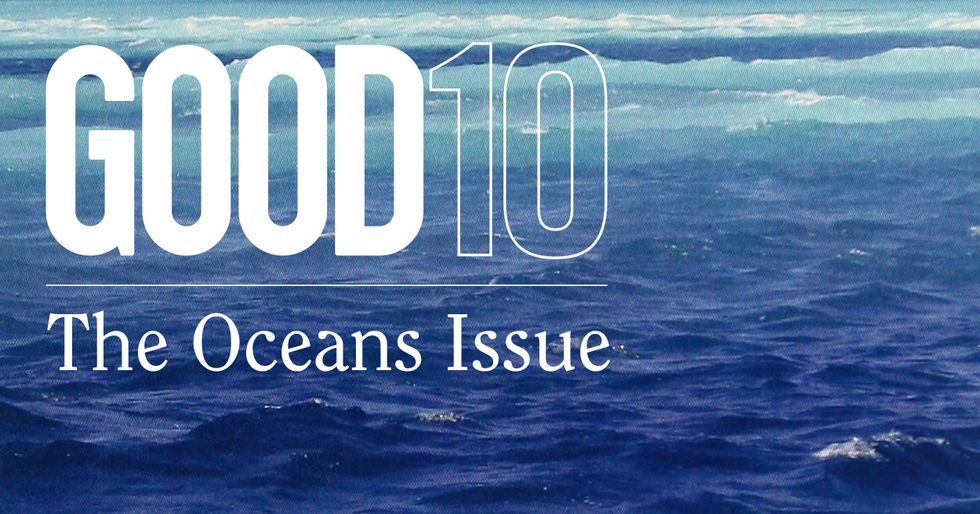 Plastic pollution is one of the world's most pressing ecological problems. Over 17 billion pounds of plastic are dumped in our oceans every year, killing over 100,000 marine mammals, a million sea birds and threatening the entire aquatic eco-system.
Humans may be the origin of plastic pollution, but we are also its victims. When microplastics are ingested by marine animals and it winds up on our dinner plates, it can potentially lead to numerous health issues including various cancers, a weakened immune system and birth defects, according to The Washington Post. One of the most common ways that plastic reaches the ocean is through rivers. Studies show that between 1.15 and 2.41 million metric tons of plastic are deposited into the oceans by rivers each year. Twenty of the world's 40,760 ocean-bound rivers, mostly in Asia, have been found responsible for two-thirds of the global plastic input.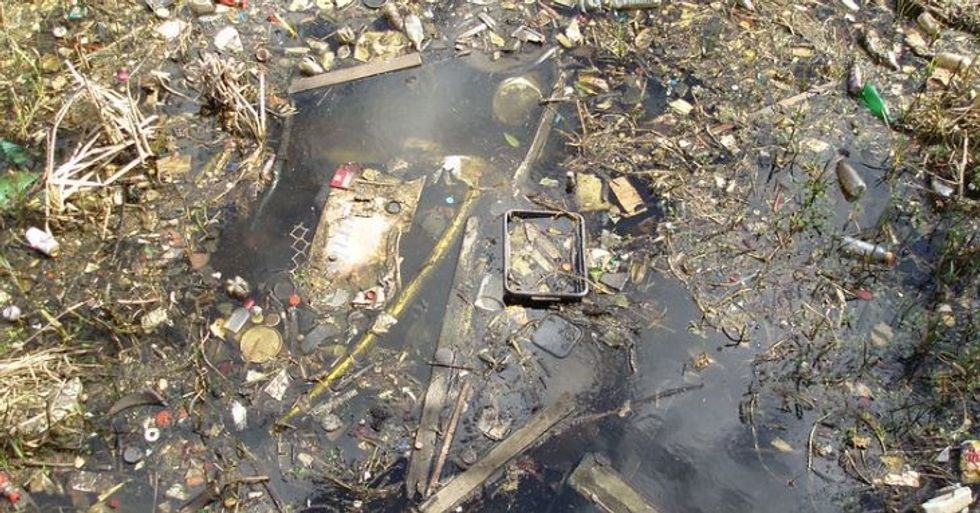 via Mark Salisbury / Flickr
Trapping the plastic that flows through these rivers with a net-like device would greatly reduce the problem of plastic pollution, but it also endangers marine life and makes it impossible for ships to pass through.
In 2015, Philip Ehrhorn, a German naval architect and ocean engineer, had a stroke of genius while touring a water treatment plant he saw in Australia. "At one stage they aerate the water, and on a big surface put air bubbles like a big Jacuzzi," he told The Guardian. Ehrhorn realized that aerating a river or canal could redirect the flow of plastic through the water way using the power of bubbles. The stream of bubbles are harmless, and it allows fish and boats to pass through unimpeded.
Around the same time, three Dutch amateur sailors and friends, Anne Marieke Eveleens, Francis Zoet and Saskia Studer, came up with the idea of creating a curtain of bubbles that sift waste without harming the fish. Ehrhorn and the sailors came together and engineered The Great Bubble Barrier and with the help of a €500,000 ($564,000) Postcode Lotteries Green Challenge award and other prizes.
"All four founders share a passion for sailing and surfing," says Sandy Reitsma, a spokesperson for the company. "It is due to this passion that they have an unstoppable drive to protect and care for the ocean and its wildlife."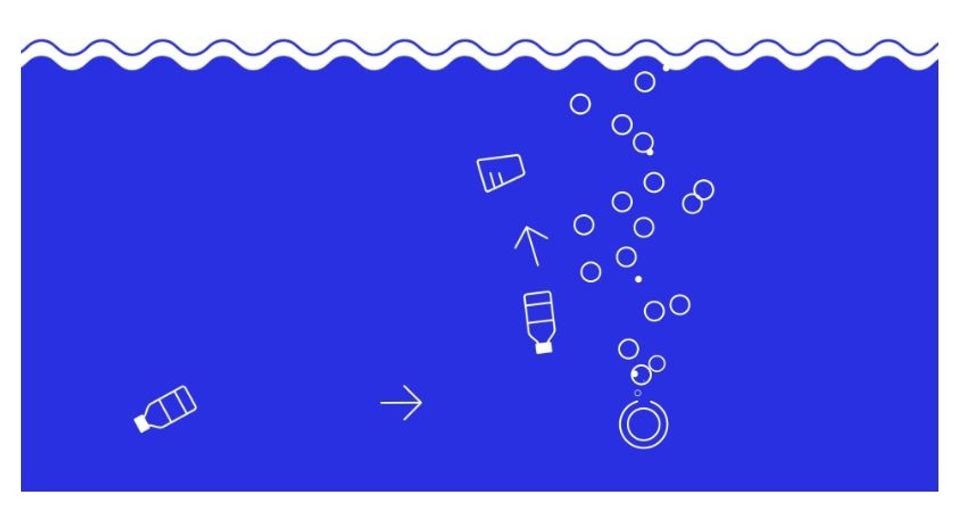 via The Great Bubble Barrier
The barrier is a simple solution to a vexing problem. It's a long perforated tube placed diagonally at the bottom of a canal or river. Compressed air is pumped through the tube and rises upward through the holes. The air works with the natural current of the river to direct trash to one side of the waterway where it can be collected in a bin. Early tests have found that the bubble barrier blocks 86% of test materials.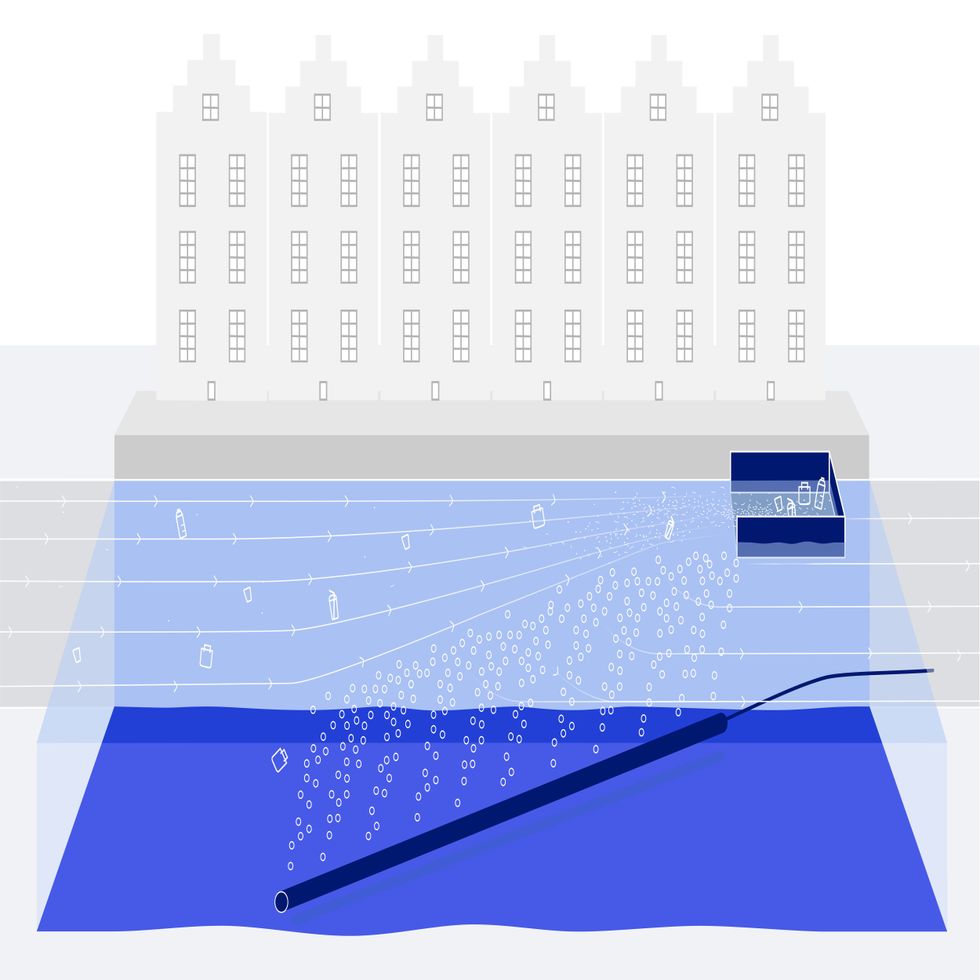 via The Great Bubble Barrier
In addition to preventing toxic trash from polluting the ocean, the Bubble Barrier stops the growth of toxic blue algae and increases the oxygenation of the water. The bubbles also work to dampen the noise pollution that's harmful to marine life. According to Reitsma, the barrier can catch plastic pieces as small as one milometer and can be installed in waterways as deep as 20 feet.
The Bubble Barrier's first major test was a smashing success. In the fall of 2019, the barrier was installed at the bottom of Amsterdam's Westerdok canal. The barrier's job was to prevent trash from flowing from the Westerdok into the North Sea. Every year, over 42 tons of plastic are removed from Amsterdam's inland waterways. But Amsterdam's trash collection boats can only pick up the trans at the water's surface and misses smaller pieces. Plus, unlike the bubble barrier, they don't work around the clock.
The company is hoping to install barriers in areas where the pollution is more severe. "Our goal is to eventually go to Asia where are the most polluted rivers, often in densely populated areas," Reitsma told GOOD. The company is in discussions with multiple parties and cannot reveal any future plans as of yet. But they assured us that the future looks "bright and bubbly."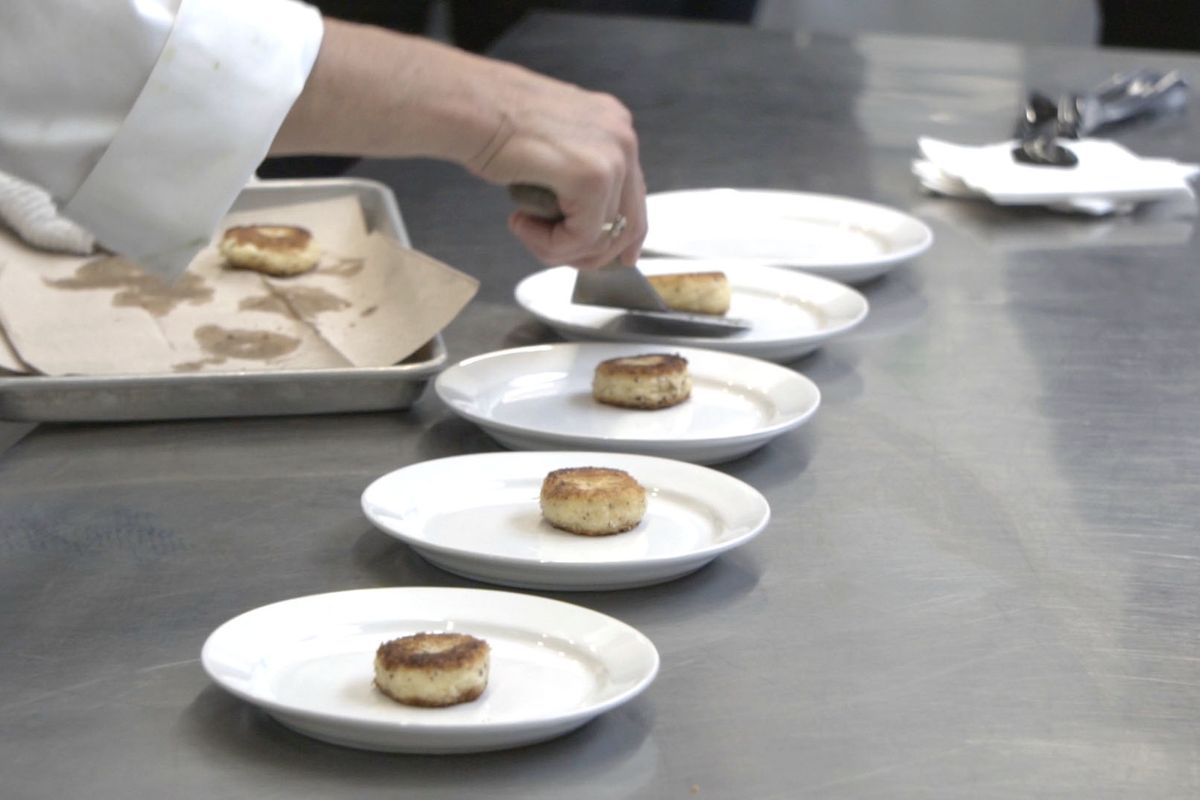 Editor's Note: This story is taken from the GOOD10 Ocean's Issue. You can download and read the entire digital magazine issue for free here.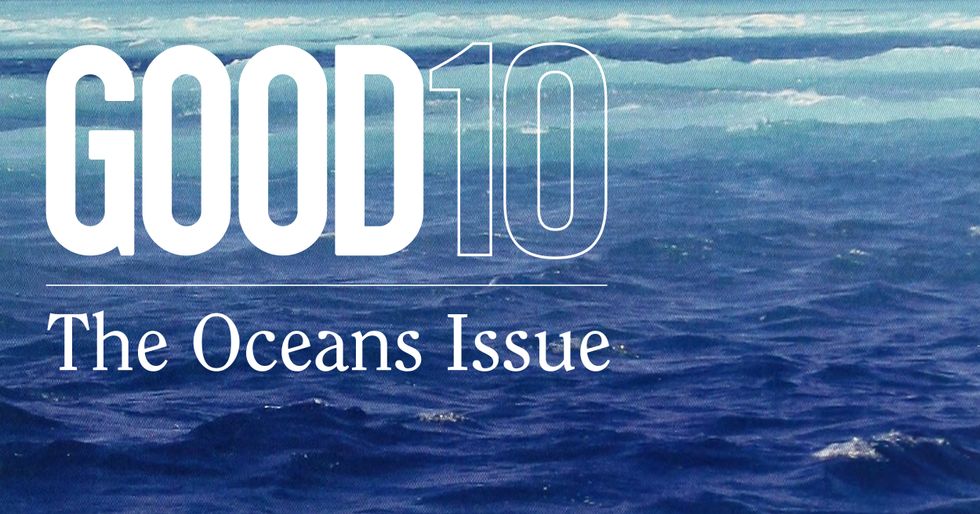 A few years ago, the concept of lab-grown meat became an overnight sensation in Silicon Valley and the media. Imagine being able to grow a delicious steak in a lab without the need to harm any animals. It's an idea that's so tantalizing that even PETA supported lab-grown meat as a viable alternative for those not willing or able to switch to a vegetarian diet. The headlines were a bit ahead of the science as the companies developing this new technology still have a ways to go before you can expect to find a lab-grown Wagyu steak at your local supermarket.
Nonetheless, the promise of this revolutionary technology could change the direction of our relationship with animals, help restore the natural order in the planet's ecosystems and virtually eliminate the threat of pandemics like those caused by the coronavirus. After all, a burger grown from animal cells can be effectively screened for the types of viruses and other sanitary risks that plague even the most modern food processing facilities.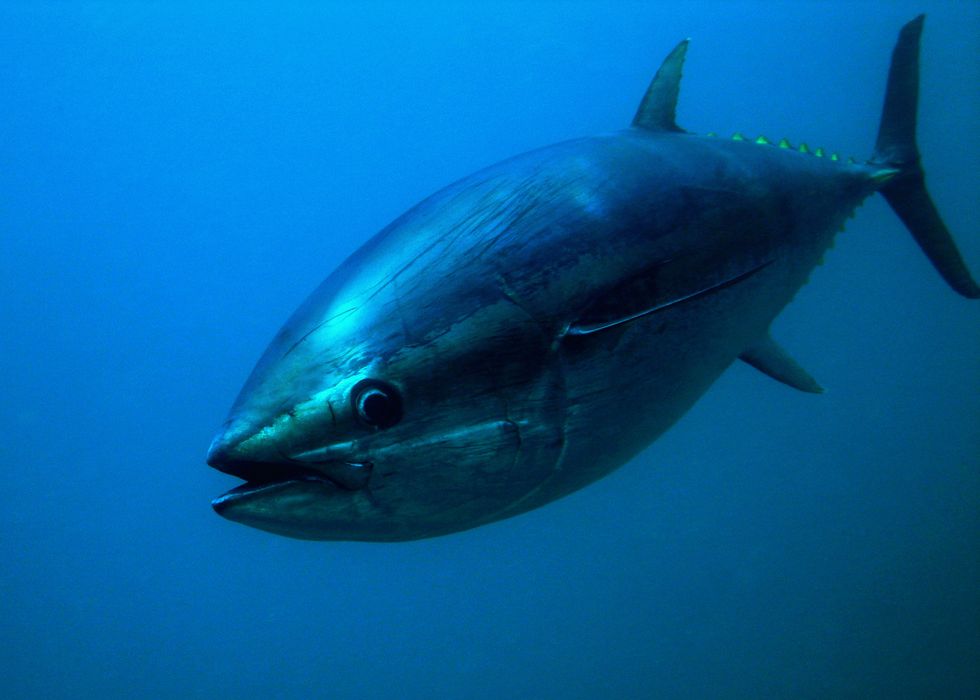 Enormous tuna fish in a blue background Getty Images/iStockphoto
One company has been forging a similar path into the development of lab-grown seafood. By all accounts, seafood offers a healthier alternative to animal meat. However, human pollution in the world's oceans has corrupted the value of fishing stocks and overfishing itself threatens the delicate stability of the environment where life on Earth began.

We spoke with Finless Foods CEO Michael Seldon about growing fish based proteins, the potential for lab-grown meat and what it could mean for the world beyond providing billions with a renewable food resource.
Can you give us an overview of how Finless Foods can help mitigate the damage being done to the environment and fish populations caused by excessive commercial fishing?
Seafood demand is growing, with global fish consumption projected to grow 18% from 2018 to 2030. Yet, in 2017, 34.2% of marine fish stocks were classified as overfished, 59.6% were maximally sustainably fished and only 6.2% were underfished (UN FAO, 2020). That means that we don't have much room to take more fish out of the ocean in a way that supports healthy fisheries and the ecosystems they are part of. Unfortunately, overfishing still remains a challenge, especially for highly demanded and heavily targeted fisheries, like bluefin tuna. Overfishing also affects other species like sharks, marine mammals and sea turtles in the form of incidental bycatch, which negatively affects biodiversity. We can't forget that there are other major stressors affecting global fisheries today like climate change, plastic pollution and habitat degradation.
How will we meet this growing demand and still have a thriving ocean?
In addition to responsible wild-caught fisheries and aquaculture, cell-based seafood will be key to supplying the growing demand for seafood in a sustainable way. This is especially true for highly sought-after species such as tuna cell-based seafood, which will be free of microplastics, mercury and antibiotics—so it's seafood that is good for us and good for the ocean.
What was the original inspiration for launching Finless Foods?

The original inspiration came from an Atlantic magazine article that I read in 2014, describing how a group of scientists discovered a way to create synthetic horseshoe crab blood without relying on their continued wild-harvest. Horseshoe crab blood contains a powerful chemical that pharmaceutical companies use to test for bacterial contamination. That means every shot, IV drip and implanted medical device depends on these ocean creatures. This scientific breakthrough reduced the need for over harvesting horseshoe crabs, thus protecting their declining population. I figured if we can do that, we should be able to make any kind of animal product without the continual need to harvest animals.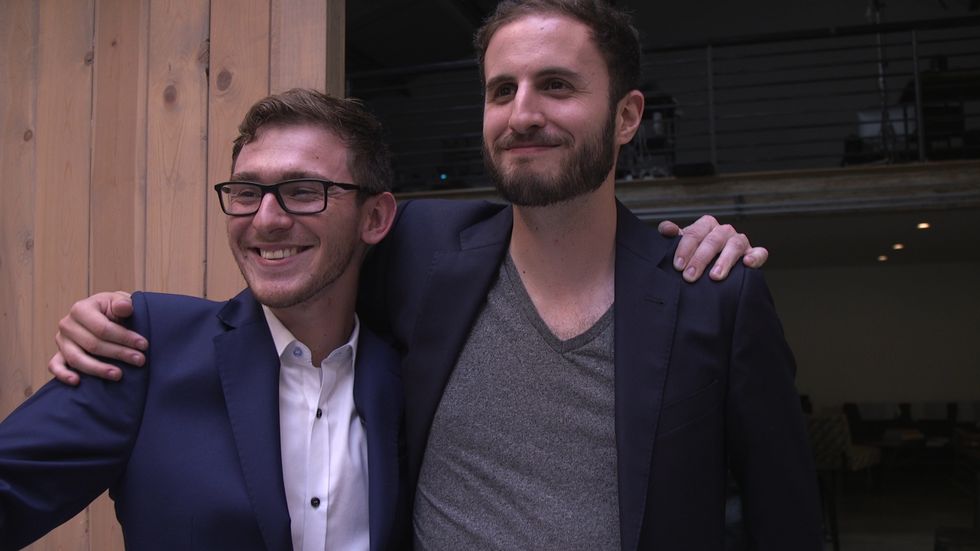 Commercial fishing aside, there are growing concerns about the health of seafood due to factors like mercury contamination. Can you walk us through some of the other benefits of lab-grown seafood that help minimize the risks of contamination and disease?

The health of our wild-caught fisheries are directly connected to—and reflect—the health of our ocean. Over the past decades, our ocean has been impacted by plastic and heavy metal (such as mercury) pollution, which in turn has increasingly shown up in our seafood, especially those fish at the top of the food chain like tuna. While it's hard to clean up the ocean of these pollutants, it's easier to produce cell-based seafood that doesn't contain mercury, microplastics or other toxins. Cell-based seafood also doesn't contain antibiotics, which is better for you as a consumer and for the ocean. Additionally, cell-based seafood is produced in a controlled environment, similar to a microbrewery. It will have to be transited less distance and through fewer supply chain points before it gets to your plate. This reduces the risk and waste from spoilage, which means it's safe and healthy for you and good for the environment.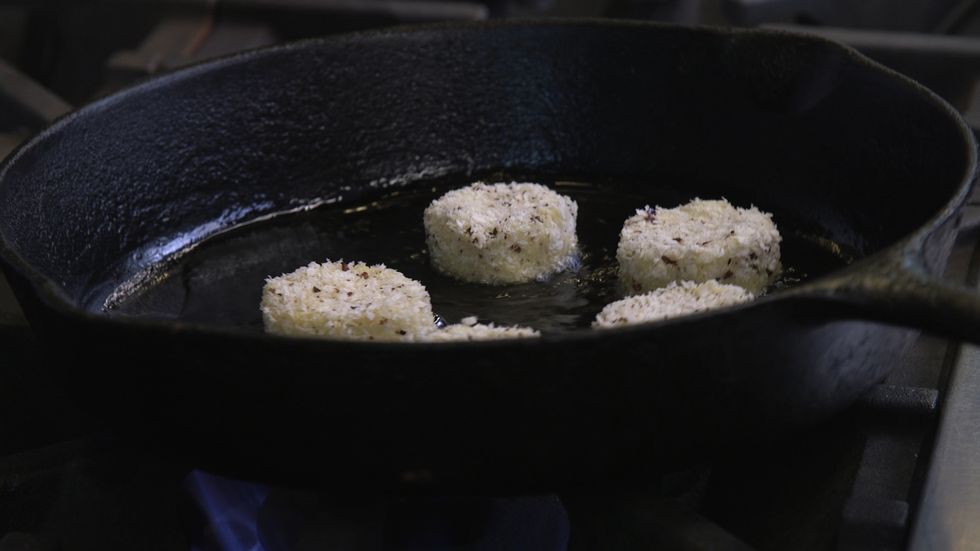 Representatives in the lab-grown meat industry have estimated about 20% of consumers will never be comfortable with the idea of lab-grown foods. Have you found similar passive resistance in your own experience? Or is there something potentially different (for better or worse) in the eyes of consumers when considering lab-grown seafood?

Consumers, especially millennials, increasingly understand the connection between the health and sustainability of our ocean and the seafood they consume. In fact, over 75% of American consumers are concerned about various issues related to seafood, and only slightly more concerned about heavy metals, mercury and plastics than issues like forced labor and overfishing (Seafood Source, May 2020). This growing awareness and concern also drives interest and excitement around positive solutions such as cell-based seafood. It's a way to have both sustainable seafood, without worry around these other health, social and environmental risks and challenges. We're excited to see cell-based seafood grow from the early adopter to mainstream consumers as folks see that it can perform on market metrics (delicious, fresh and affordable), as well as have added health, social, and sustainability benefits.
What seafood you are most excited to get to market? Are there current scientific obstacles to producing those types of dishes? For example, the lab-grown beef industry is currently working toward solutions in meat marbling and other challenges.

I'm personally really excited to get uni (sea urchin) to market because I love it. It's incredibly delicious, but also wildly expensive and raises sustainability and transparency questions. I think it'd be amazing to bring that unique flavor to a wider range of consumers and palettes, rather than just the few that can afford it and have experienced it already. But done in a sustainable, traceable way that's also good for the planet.
Animals rights groups like PETA have fully endorsed lab-grown meat. What kind of responses are you hearing from people in activist circles?

Similarly positive! They see the potential and range of benefits that cell-based meat can bring to the food system. It's not about relying on consumers to make really hard choices or sacrifices, but having a realistic pathway to making choices that are good for people, animals and the planet.
Is there anything you'd encourage people to do to help preserve and protect our world's oceans?

I think we often focus so much on individual actions and solutions that we don't invest our energy as heavily into the collective action that drives systematic change and achieves exponential impact. For example, instead of simply recycling at home, you also can invest energy into getting your local town to reduce the use of plastic, like plastic bags, which would have a wider spread impact. I encourage people to take the time to get involved, individually and through groups, to influence legislation and achieve a broad sphere of influence.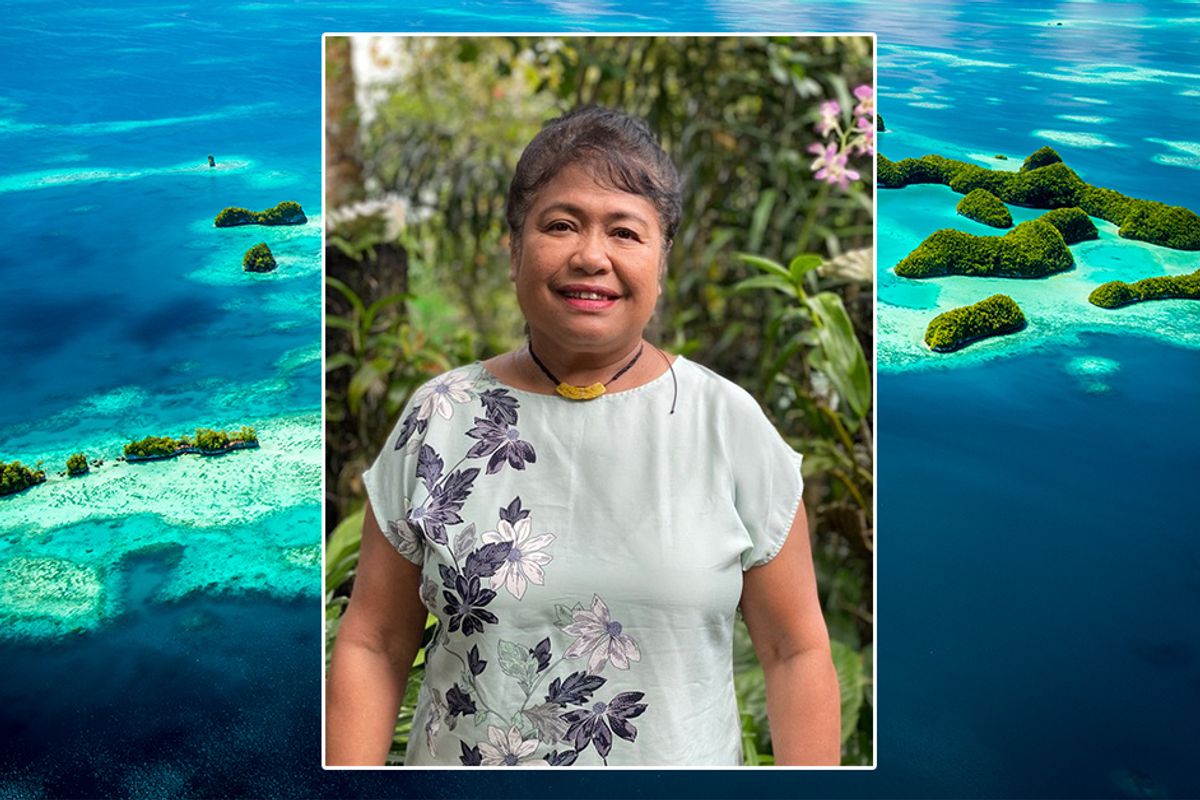 Editor's Note: This story is taken from the GOOD10 Ocean's Issue. You can download and read the entire digital magazine issue for free here.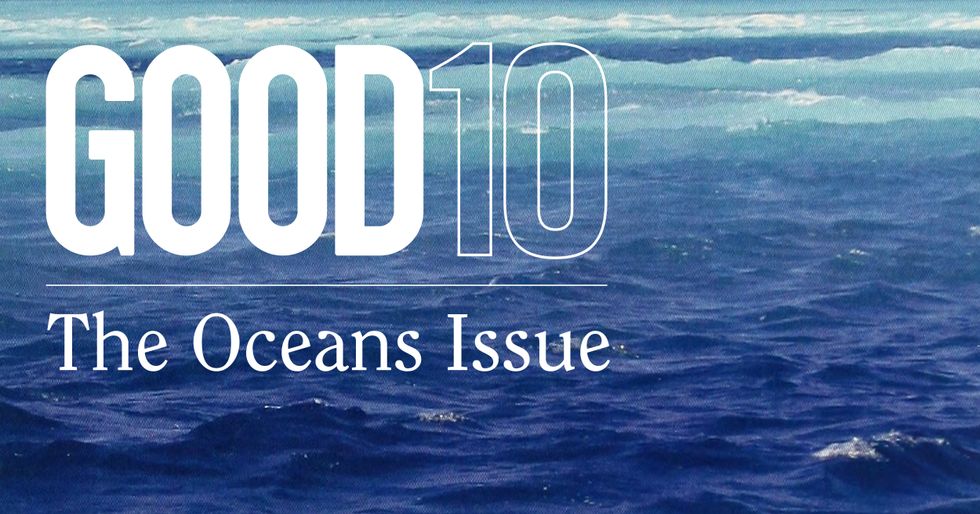 A place where 18,000 individuals reside on 177 square miles of land holds an outsized role in the conversation and policy around environmental protection. This place is Palau, the island nation located in the Western Pacific Ocean. Central to the championing of the country's ecological well-being is First Lady, Debbie Remengesau. Her work in developing the Palau Pledge—a vow of environmental responsibility every visitor to Palau must take upon entry—adds to the legacy of Palau's forward thinking policy which includes a nuclear-free constitution and the banning of devastating bottom trawling fishing in the nation's waters. Her leadership has helped shape a more sustainable future for Palauans while serving as an example to the rest of the world.

But certain issues, like runaway carbon emissions, don't respect international borders. This inherently places limits as to what one country can accomplish on its own when it comes to caring for our planet. Even though Palau is a small island nation in a remote location, Remengesau says, the vast ocean surrounding them is a constant reminder of how inextricably linked we all are. "Just like in a marriage, this link is for better or for worse," she says. "We find ourselves unexpectedly facing huge environmental challenges that are not of our making."
Speaking about their conservation efforts and encouraging other countries to follow suit is a vital part of the First Lady's mission each day. GOOD spoke with her about Palau's environmental initiatives, successes, current challenges and hopes for the future. "Every breath we take, we owe to our ocean," Remengesau says. "If it dies, we die. We need to act now. We can no longer continue to take from Mother Earth. We need to heal and give back."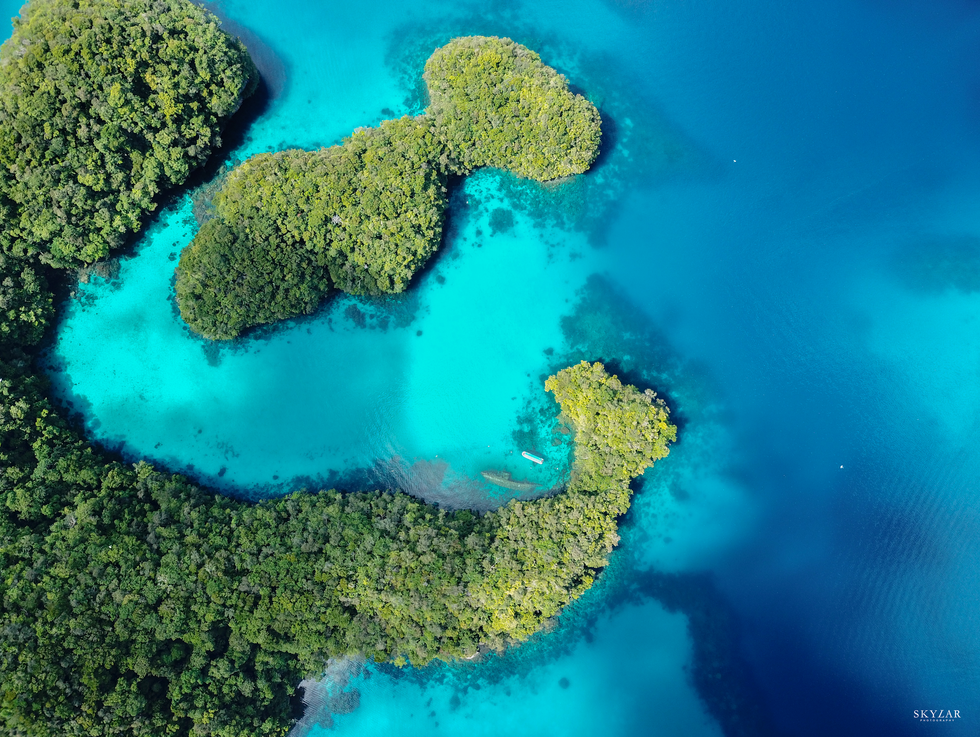 Photo via Palau Visitors' Authority
You describe Palau as a matrilineal society. How does that impact your approach as a First Lady?
Palau is one of the few matriarchal, matrilineal countries in the world. Women lead from behind the scenes, but make no mistake, they are in charge! We choose our male traditional chiefs and they make decisions on behalf of our community. If they are not doing a good job, then the women will dismiss them. Our traditional leadership runs in parallel and partnership with our democratically elected political system. The traditional chiefs and women leaders are advisors to the government in Palau. We work together to respect our culture and heritage, while maintaining our modern political system. Today, inspired by our matriarchal cultural identity, women are active contributors both traditionally and in our modern development as a young nation. Women hold many roles in government and private sector from judges, doctors, teachers and businesswomen to public officials, ministers in the president's cabinet and National Congresses. We are one of the only countries that has had a woman serve as vice president.
As a mother and grandmother, I am committed to preserving our precious culture and environment for future generations. My work in the community is centered on this. As First Lady, I have been given a unique opportunity to share my passions internationally in the hope to inspire governments, organizations and communities to prioritize environmental protection and cultural preservation. Our culture and languageare traditionally oral. Sadly, like so many ancient cultures globally, our language and culture are now under serious threat due to our young people's high exposure to westernized media, ideals and values. We must work hard to preserve our language and culture, not just for future generations of Palauans, but for everyone. We know that it can help play a crucial role in helping our planet heal.
The people of Palau view their environment as their cultural identity. Can you elaborate on how a relationship to the oceans and nature plays a critical role in shaping that?
Ancient Palauans long foresaw the critical value of the environment, the land and the ocean, to our survival and to our way of life. We rely on our environment to sustain us, so it was natural that it would shape who we were as people. Nature is in our DNA. It's inseparable from who we are. This is something innate in every Palauan and it's something taught to us from birth by our parents, grandparents and community. Traditionally, the inheritance we pass on to our children has always been in the form of healthy lands and oceans to nourish the next generation. Money was not part of the equation. We have long known what the rest of the world is fast discovering—without a healthy environment, none of us has a future.
Our culture is based around the philosophy of BUL, which is a tool our chiefs use in the community to signal that certain actions are needed. It can be loosely translated to a "moratorium." This can be likened to the western notion of letting the land, ocean or species "lie fallow" to replenish. In Palau, everyone understands and respects BUL. When outsiders came to Palau and the need for laws came about, it was natural—we'd base them on our traditional ways of life and our culture of conservation. We knew how to protect our children's environment and their natural inheritance.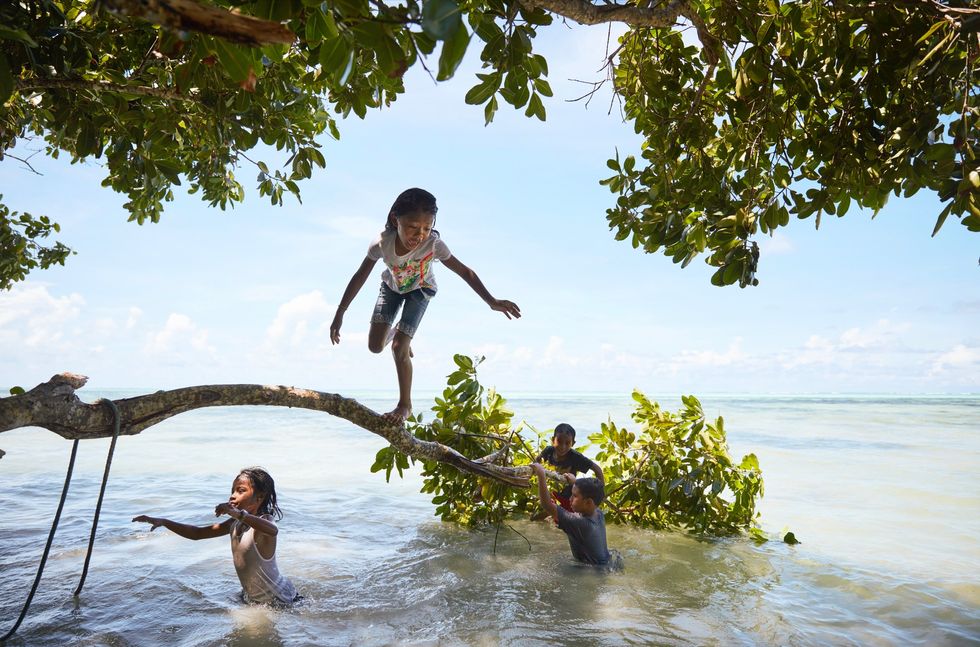 Photo via Pool Collective
What laws have you created based on BUL and your ideology?
We have created a lot of conservation world-first laws based on it. In 1980, we were the first nation to have a nuclear-free constitution. It's something I'm proud to say the women of Palau created and worked tirelessly to bring about. We were also the first country to ban the destructive practice of bottom trawling in our waters. In 2009, we were the first to declare our waters a national shark sanctuary. Not only are sharks a vital part of our fragile ecosystem, but the economics of it make sense. The value of a single shark over the course of its life for the tourism industry in Palau is $1.9 million, as opposed to the roughly $50 that a single shark fin yields in an Asian market.
In line with our culture, in 2015 my husband [current President of Palau Thomas Remengesau, Jr.], along with our Traditional Leaders announced the Palau National Marine Sanctuary: declaring 80% of our waters a fully no-take zone, and creating the largest percentage of fully-protected marine territory in the world. The remaining 20% is designated to our local fishers to supply food for our community and visitors to our islands. We did this because we saw a desperate need to protect the fish stocks, endangered species and biodiversity of our ocean; not just for us in Palau, but for the rest of the world.
In 2017, we launched The Palau Pledge: the world's first eco pledge stamped into the passport of every visitor to Palau (in their own language). The Pledge requires them to make a mandatory promise to our children not to damage or exploit Palau's natural resources or culture during their stay. The Pledge is backed up by comprehensive law and was written with the help of Palau's children. Every visitor to Palau must sign it before they can enter our country.
All these conservation initiatives are modern interpretations of our culture; just packaged in a way that everyone can understand. It's confusing to us that many parts of the world are so disconnected from nature and also from the harm that they are doing to this planet. We need to address that if we are going to heal that damage that has been done to our planet.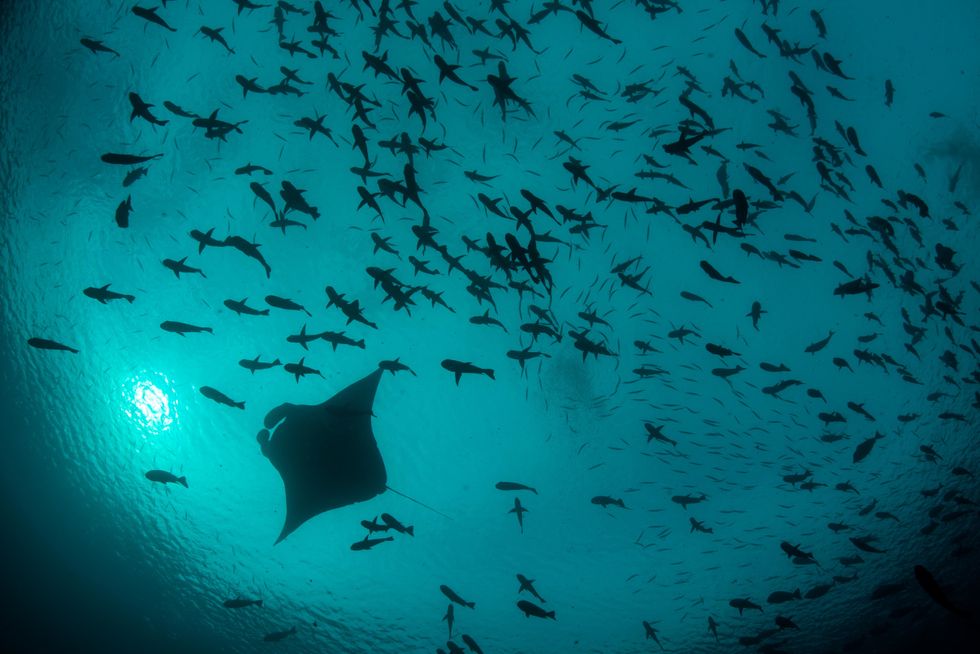 Photo by Enric Sala
What was the impetus behind the creation of The Palau Pledge, how did you come up with such an innovative approach?
In 2015 we experienced a huge shift in our tourism industry. This was something Palau and Palauans were unprepared for.We are a small nation of just 20,000 people and before 2015 we attracted around 80,000 visitors each year. In 2015 we received 160,000 visitors: a 100% increase. But it wasn't just the number of visitors causing the issue, the demographic of our visitors changed dramatically too. Prior to 2015 our visitors were primarily divers who wanted to visit Palau because it is a pristine natural paradise and one of the seven underwater wonders of the world. Divers tend to understand their responsibility to protect the environment they visit and know how to interact with our fragile marine life in a responsible fashion.
But in 2015 charter flights from developing tourism markets in Asia started bringing people to our country who had never even seen the ocean before. These people didn't share Palau's conservation culture and didn't understand it. Without education and new laws to protect our environment, this could have had a devastating impact on Palau and our way of life. That is why the Palau Pledge was necessary. As I mentioned, it was written in collaboration with the children of Palau and it allows visitors to understand the responsibility they have to our children when they are visiting.
We didn't have many resources to launch the Pledge, so we had to get creative and find new ways to communicate with our visitors. We worked with an international creative team to help us identify different cultural behaviors in our visitors and understand how to leverage these to change any careless or irresponsible behavior toward our environment and culture. We identified the crucial visitor touchpoints and worked together to translate the Palauan tradition of BUL into practical ways visitors could protect Palau. Education in language of our visitor is key at every stage of the journey. It was a huge effort that took three years to build, but it was worth it.
The Giant – Compulsory Inflight Movie Palau Pledgewww.youtube.com
The Pledge seems to be settling an example for the rest of the world as well.

It has already inspired other much larger nations and destinations to take on similar schemes. Hawaii, New Zealand and Finland announced they were following Palau's lead and introducing a similar Pledge of their own, inspired by their own ancient cultural wisdom. In the US, destinations like the Big Sur, Aspen and the Oregon town of Bend, have also implemented tourism pledges. None of the pledges are mandatory like Palau's yet. Visitors are just "encouraged" to sign them, but it sets the tone for their visit and helps locals educate them about the importance of personal responsibility and action in protecting the environment and culture of the destination.
It's heartening that we have also seen big businesses start to adopt pledge initiatives. Travel companies like The Travel Corporation, with a footprint in over 70 countries, used the Palau Pledge as a template to create a responsible tourism model for all their customers to adhere to. Now the Palau Pledge has also become an international rallying cry to protect the world for the next generation. It gives our children, and the children of the world, a voice and a platform to help them campaign for their rights.

What happens if visitors or residents of Palau don't adhere to the oath?
It's backed up by a comprehensive set of laws including the Responsible Tourism Education Act, which has our culture at its heart. Alongside placing the onus on business owners to educate their visitors about Palau's conservation laws. While we want to positively encourage and empower people to change their behavior with the Pledge, there are also laws and fines in place to substantiate it. Our state rangers are empowered to fine people who break it. The Palau Nationals Marine Sanctuary Act and other laws and initiatives such as the Shark Sanctuary, also back up the Pledge. For example, if someone kills a shark in our waters, they can be fined up to $1M USD. These fines act as a deterrent and give the oath legal legitimacy, but the project is first and foremost designed as an educational tool to promote responsible behavior.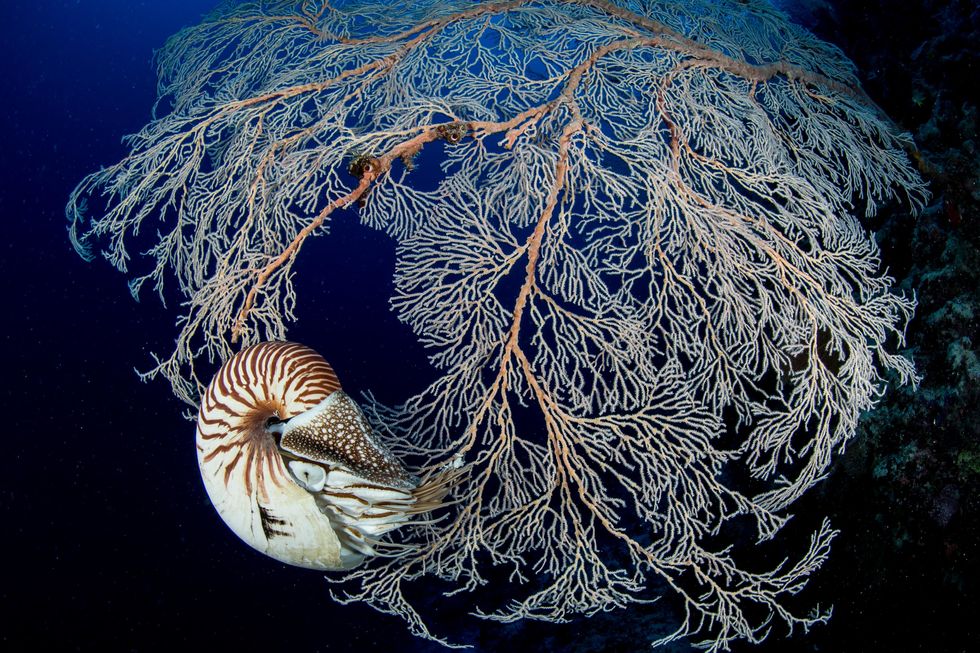 Photo by Enric Sala
Your husband President Tommy E. Remengesau, Jr. addressed the UN General Assembly in New York in 2017, stating that he was proud of his country for recognizing the threat of nuclear weapons and banning the use, test and storage of them. How has your country benefited from this change?
Without our Nuclear Free Constitution our ocean and lands could now be decimated by the nuclear fallout. We saw what happened in the Marshall Islands at the Bikini Atoll and we weren't going to allow that to happen in our homeland. Although scientists now report that the reefs and ocean in Bikini are recovering (70 years after the testing took place), the tests contaminated the soil and water, making subsistence farming and fishing too dangerous. No one can live there. Beyond that, if nuclear testing had occurred in Palau's waters, we wouldn't be living in the pristine paradise we do today. Our culture and way of life would have been eroded and changed beyond recognition. No amount of financial compensation would be able to rectify that.
Powerful cyclones, worsening droughts, damaged reefs and rising sea-levels have threatened the surrounding islands like Kiribati and Marshall Islands. How is this impacting Palau?
The change in our climate globally and the rising pollution levels are deeply concerning to every Palauan. Not just because of the impact it has at home, but also for the future generations of our planet. Palau has been hit by several powerful typhoons that have leveled some of our islands, destroying people's homes and lands. These typhoons weren't a regular threat before, but have worsened in recent times because of global warming and the resulting changing weather patterns. Rising water temperatures and ocean acidification are putting huge stress on our coral reef systems and marine life. In turn, this impacts our way of life and livelihoods. Our islands are a pristine paradise: a haven for nature. But we're subject to the effects of actions taken by much larger nations. And we have little control over that. As a result we are facing some very challenging times.
What concerns do you have moving forward?
It isn't our trash that's damaging our marine life and washing up on our beaches. We are not polluting our rivers and ocean. It isn't Pacific Islanders who are creating huge CO2 emissions contributing to warming temperatures and destructive weather patterns. Yet, we are the first to be impacted by all these issues. This is climate inequality and social injustice. This is why intersectional environmentalism is so important. Like the rest of the Pacific Islands, we don't have the resources or capacity to deal with the devastating impact that climate change and pollution are having on our countries and communities. We need to raise awareness of this injustice and get our world's leaders to act before it's too late. Pacific Island children are on the frontline of these terrible challenges. As a mother, and grandmother, this troubles me greatly. In just a few years, some of our Pacific Island neighbors will not have a country to call home as rising water levels and sea temperatures are destroying their homelands. As a global family, we are all responsible for the world our children inherit from us. We need to change our behavior to protect our precious planet before it's too late.
You worked with your husband along with traditional chiefs to ban commercial fishing on your island a few years ago. How did that decision arise and was there any pushback?
The Palau National Marine Sanctuary (PNMS) Act was declared in 2015 and the law came into full effect on January 1, 2020. My husband, the government and our traditional leaders worked in partnership to bring about the act. It protects an ocean area the size of France. This was a bold but necessary move to protect our food security and give our ocean and endangered species a chance to recover from global overfishing and pollution. The PNMS was well-received by our community as it is based on the cultural principles we've discussed. It is BUL in action. Every Palauan knows the value of BUL and understands why this is necessary for our children. For Palauans, this was a natural thing to do given the huge issues the world's oceans face today. We knew we needed to lead by example to combat the effects the rest of the world is having on our ocean.
Now that marine life is fully protected, have you seen a rebound in the presence of endangered species? How has your island changed since this law?
Local fishers are reporting that fish are returning to our waters in large numbers. We can see the results of this in the number and size of fish caught in our local fishing zone. Fish numbers were dwindling and they were much smaller in size. But now we are seeing large fish again. This is the amazing power of Mother Nature to regenerate when she is left to do so. Our specialist marine scientists are also reporting a rebound in some endangered species. This is encouraging news and proof that our marine protected area is working—we just need to give the ocean time to heal. Studies are being carried out by local scientists in collaboration with several Ivy League universities in the U.S. to measure the impact of the PNMS, but we can already see the results in our daily lives. Before the marine sanctuary, we experienced a lot of illegal fishing in our waters. Now our ocean is protected by law and Palauans can enforce this internationally. The PNMS and our enforcement efforts in partnerships with Australia, Japan and the United States, sends a strong message to countries and businesses conducting illegal fishing activities in our ocean. Palau's ocean is protected and our laws must be respected. There are large consequences for those that break the law.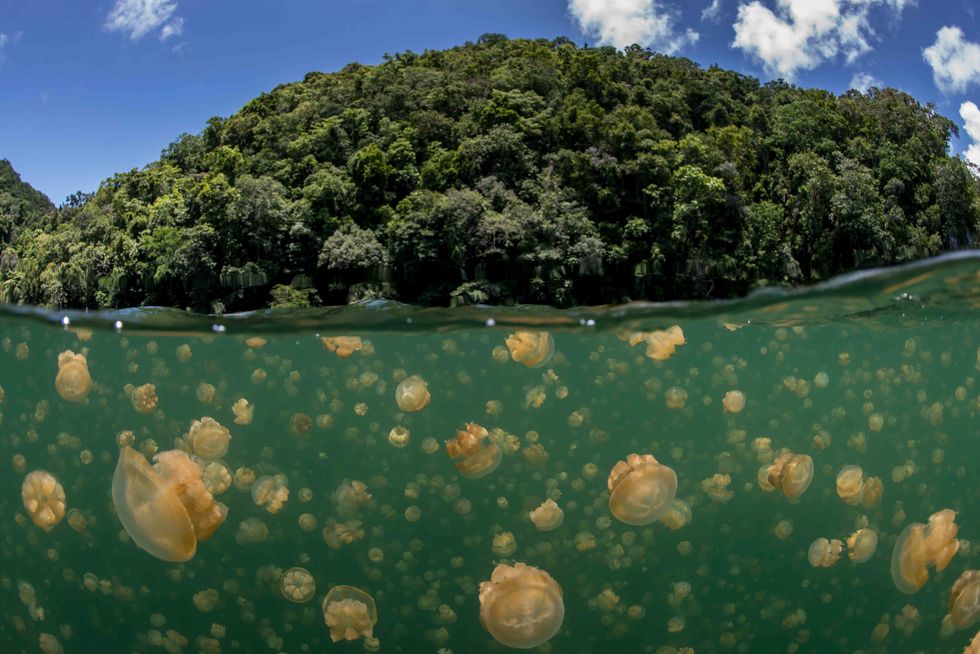 Photo via Pool Collective
Ongeim'l Tketau Jellyfish Lake was closed for several years following a catastrophic drop in the number of golden jellyfish. You had mentioned in a video that tourists were also factors in this depletion. They had destroyed the red corrals, polluted the waters with sunscreen and poached local fish.
It was very sad to see the lake close down, but it was necessary. Our Traditional Leaders declared a BUL upon visiting it. They did that so the jellyfish numbers could recover from the environmental stress that had been placed on them. Again, this was mainly due to the change in water temperature and the drought resulting from climate change, but other stressors like sunscreen being worn by visitors also played a part. The closing of the lake was a real indicator that the Palau Pledge was necessary to educate visitors about the impact of their behavior in Palau, but also to draw attention to the everyday actions they took back in their own countries to help prevent pollution and climate change.
What happened to your aquatic life before the Pledge?
We saw damaging behavior from these visitors such as thoughtlessly damaging corals that take hundreds of years to regrow, throwing trash in the ocean, using single-use plastic bottles and food containers, poaching endangered species, harassing and stressing marine life and having no respect for Palau's culture and cultural heritage sites. Unchecked, this behavior has a cumulative effect on our environment and culture. Visitors may think it's "just one" piece of coral or "just one" piece of trash, but when you multiply that by our visitor numbers, the impact quickly adds up. The Palau Pledge has helped us communicate these issues to people in a way that promotes positive, behavioral change. Now that the lake has reopened, we will use the Palau Pledge as an ongoing platform to communicate responsible, culturally aware behavior to our visitors at the lake and at other visitor touchpoints around the country.
In 2019, you joined the Leading Women for the Ocean Network, helping to bring change and promote sustainability.
I believe that lasting change will only be possible when we influence other countries to act responsibly toward our ocean and environment. As women leaders and wives of heads of state, we are in a position to help bring about change at a rapid pace, which is exactly what our world needs from us now. While still in its infancy, the Leading Women for Oceans Network is set up to help create a healthier ocean for our children. It brings together women leaders from the fields of science, business, politics and conservation organizations and gives us the tools to help us lobby for change in our own countries, organizations and communities. I feel we have a special connection to children and to protecting their future planet. It's a powerful organization that has the capacity to create real and lasting change. I am grateful to First Lady Abe for spearheading and championing it.
How have women played a critical role in creating solutions to protect your ocean environment?
In Palau, women have always played a critical role in creating solutions to protect our environment. From choosing leaders who will uphold and continue our culture to taking direct action themselves in the community and internationally. It was a group of Palauan women that gave Palau—and the world—the first Nuclear Free Constitution, which protects Palau from the devastating effects of nuclear testing. In what became a long and painful time in our history, our women leaders called upon the powers that have traditionally rested with women. Courageous women traveled between villages and islands, they shared information with communities and stood up to intense outside international pressure from much larger countries in order to secure a "Nuclear Free" provision in our Constitution. It was grassroots networking at its best, and at its hardest: women talked to women as they worked in their taro patches.
Their grassroots approach made it all the way to Washington.
It was a difficult task but they didn't give up. We owe them a huge debt of gratitude. This group of brave women did petition their case (as Palau was then still a US territory). This case is now featured in textbooks for students of government globally as an example of "women having political efficacy," but for us, this is the way we have always done things. It was also a group of women that created and launched The Palau Pledge. They understood the intrinsic value of protecting our environment for conservation and economic purposes. Our children need to inherit healthy lands and oceans, but also an economy which can sustain them as global citizens.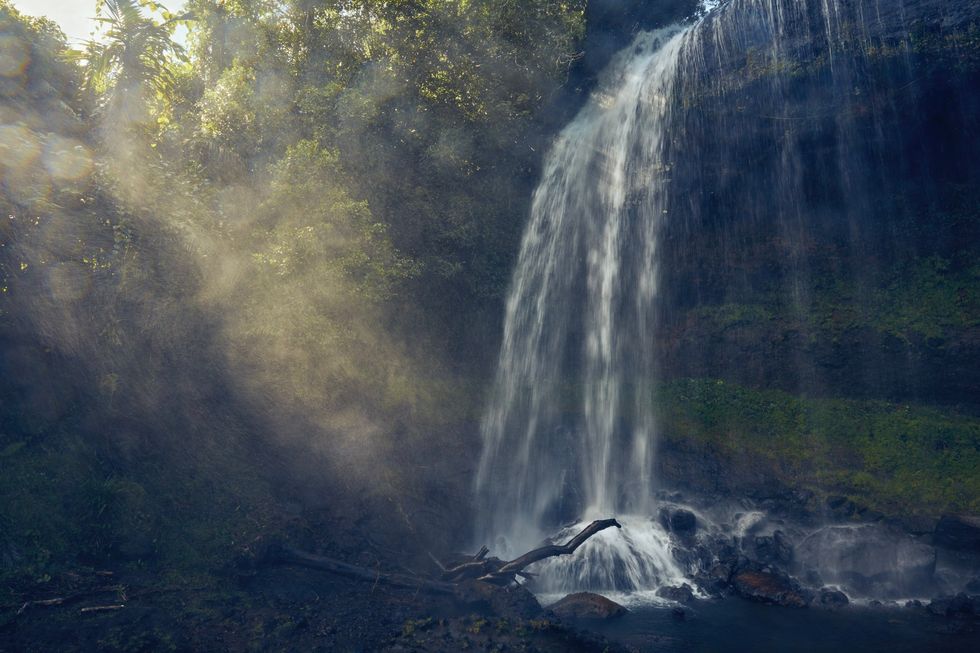 Photo via Pool Collective
You are a member of the International Association of First Ladies for Peace and the Palau Soroptimist International. What initiatives are most important to you while working with this organization?
Women play an important role in the leadership of Palau. But this is not the case in most of the world. In most countries, women are hugely underrepresented in positions of power. In some, they are even silenced. This is the greatest threat to the peace, security and human development of our planet. And it creates a major threat to our environment. When 52% of the world's population does not have a proper seat at the table, we rob ourselves of half the ideas, solutions, vision and leadership necessary to address the many many crisis' the world is now facing. The state of our world's environment is possibly the biggest challenge to peace that we as the human race face today. Without a healthy planet, there will be no peace. It will only be war. There will be no security, only uncertainty and human decline.
This is why I am a member of the First Ladies for Peace initiative: to encourage women around the world to use their voices and take up leadership positions in their own counties and communities. I want the world to understand the important link between a healthy planet that can sustain and nourish us, and world peace. It is also why I am a member of the Soroptimist International. Through this organization, local women leaders work together to empower women and girls, and provide opportunities for women to grow, socially and economically. We are shaping girls to become strong women, who will lend their voices and like the First Ladies for Peace initiative, become leaders one day.
What would you tell a young person looking to dedicate their energy to protecting and stewarding our natural world and resources?
We need you! Please know that there are millions of adults out there who are working to protect your environment for the future and that you have a say in that. My husband is often heard to cite the proverb: "We do not inherit this world from our ancestors, we borrow it from our children." That is the way we Palauans have always lived. Inheriting a healthy planet is your human right and you have a right to hold adults accountable for doing their part giving you that. Use your voice. Please don't think that because you are young, your voice doesn't count. Look at Greta Thunberg and the global movement she started. The Palauan children told us how they would like their home to be treated to protect their environmental inheritance and this has also started a global movement. Your voice counts.
What can people do to help?
Start by signing our Pledge and sharing its message. Get the word out there. Many celebrities and leaders across the world have signed the pledge online to say that they stand in solidarity with the children of Palau in protecting the world for the next generation. Also, you don't have to do everything all at once. Start small. You can start at home. Look at the Parley AIR Pledge for inspiration. Avoid plastic wherever possible and replace it with alternative, eco-innovative materials. Opt for minimal or no packaging and refuse single-use plastics. Carry and use reusable water bottles and containers alternatives. Start composting food waste (the third biggest contributor to climate change) and participate in environmental clean-ups. Most importantly, talk about it. Educate and empower your friends and family to adopt an eco-conscious mentality. A lot of these things are not taught in schools and they are not found within traditional education curriculums. There is a lot of information out there. I would encourage everyone to educate themselves and help do your part.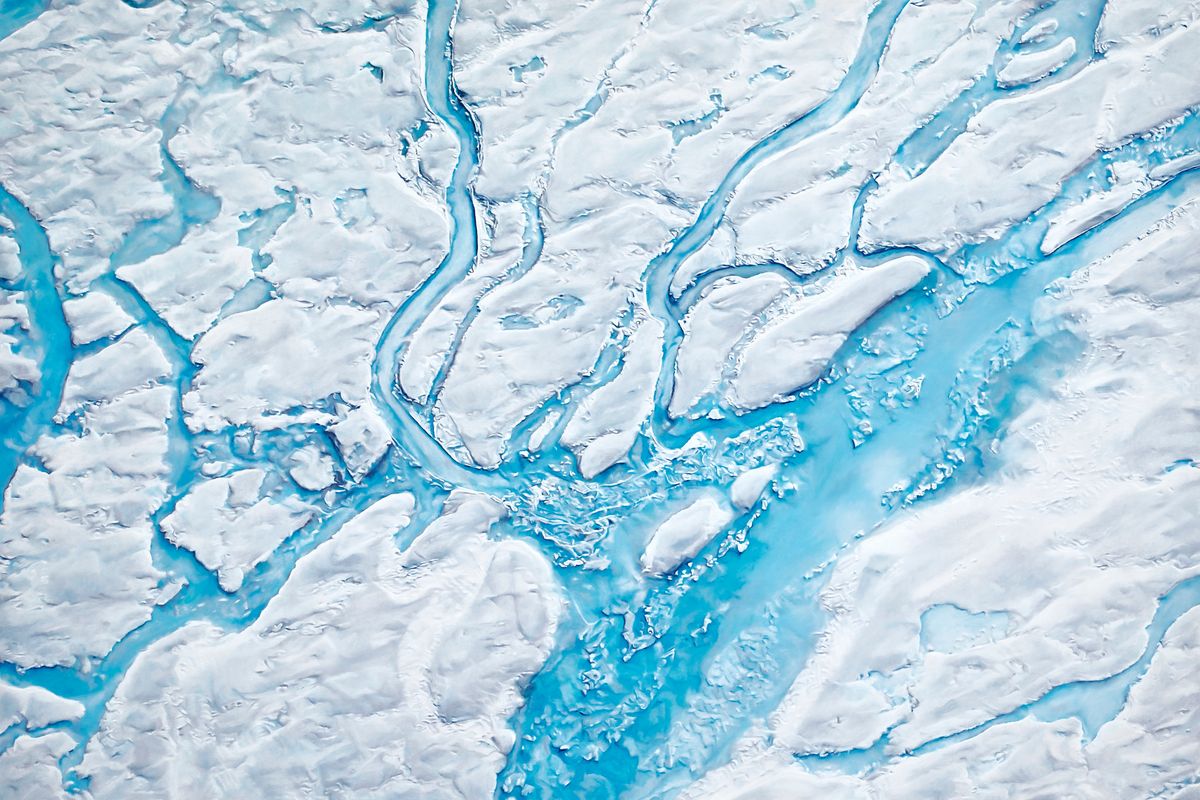 Zaria Forman
Editor's Note: This story is taken from the GOOD10 Ocean's Issue. You can download and read the entire digital magazine issue for free here.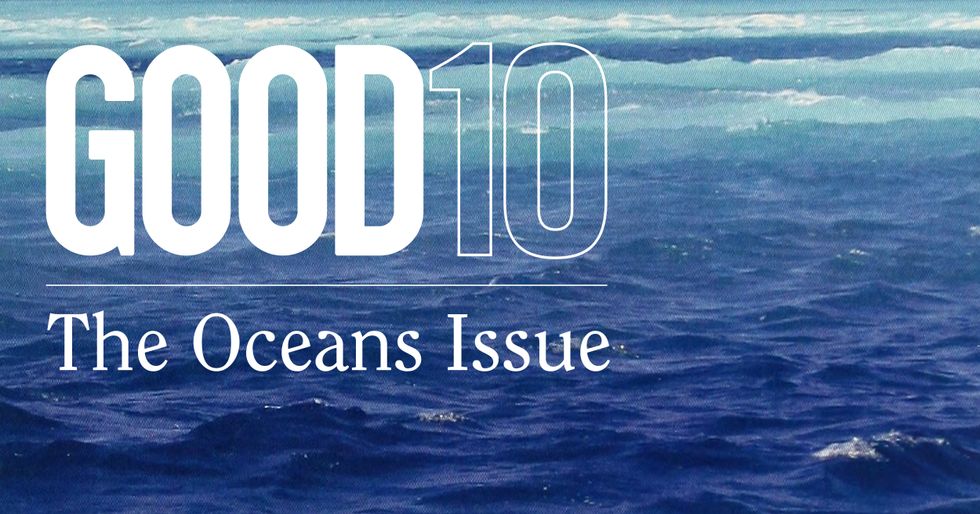 The American photographer Dorothea Lange, who documented the human cost of the Great Depression, claimed, "photography takes an instant out of time, altering life by holding it still." Steven McCurry, another esteemed photographer, attributed to photographs the ability to harness, "a single moment frozen in time." The language of photography and ice is connected. That's because both pull off the same feat: they capture and preserve. They freeze. What happens, then, when one trains their lens on ice itself?
Zaria Forman, an artist based in Brooklyn, New York, has devoted over thirteen years to photographing frozen landscapes—sea ice and snow fields and glaciers—transforming her captured images into exquisitely rendered pastel drawings. "I always edit [the photographs] when I get home and try to make them look the way I remember them," she says. But even with tailor-made pastels and a razor-sharp mind's eye, "It's just impossible to ever really get the brightness and the saturation. The luminosity that you see when it's actually light going through different depths of condensed ice. It's like taking a picture of the sunset. It never quite comes out."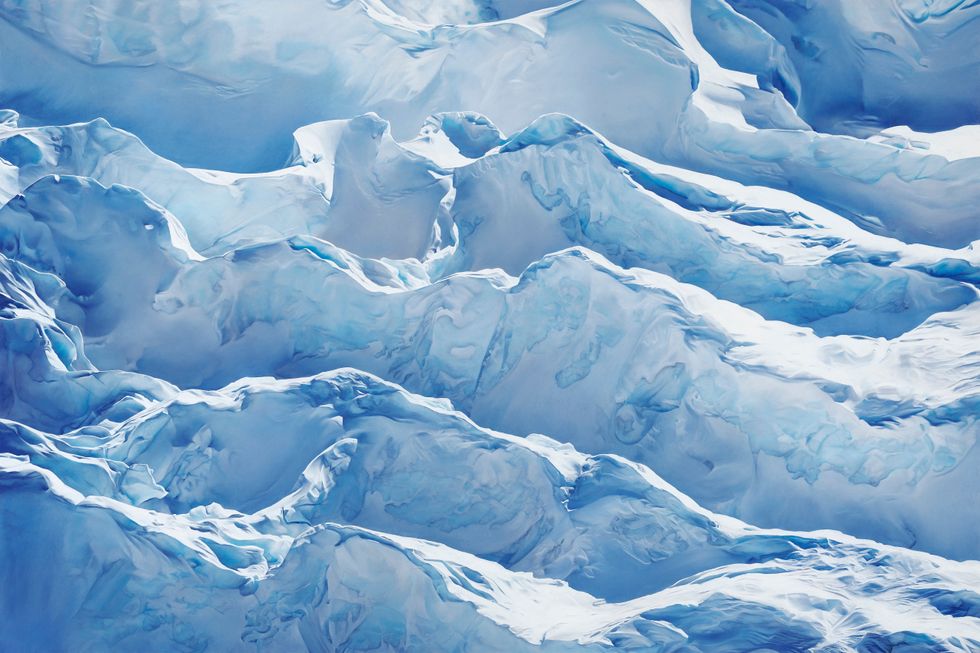 Zaria Forman
That may be true from Forman's perspective, but the work tells a different story. The play between light and shadow—the full spectrum of color hidden within those icy whites—is complex and alive. "Most of my work gets really up close and personal with the ice," she explains. "[I want you to] feel like you're really in the landscape and getting to experience it firsthand."
The experiential aspect of Forman's work, that the feeling that you're not merely observing, but communing with the landscape is a key component to its power, not merely as art, but as a clarion call to take action against climate change.
Since 1979, just a few years before Forman herself was born, the Arctic has endured a cumulative June ice loss of 1.96 million square kilometers, which is about 12% larger than the state of Alaska.In 2019, Greenland's ice sheet melted at a record rate, "almost 96%... compared with an average of just over 64% between 1981 and 2010." Sea levels are rising, weather is changing, species are facing extinction.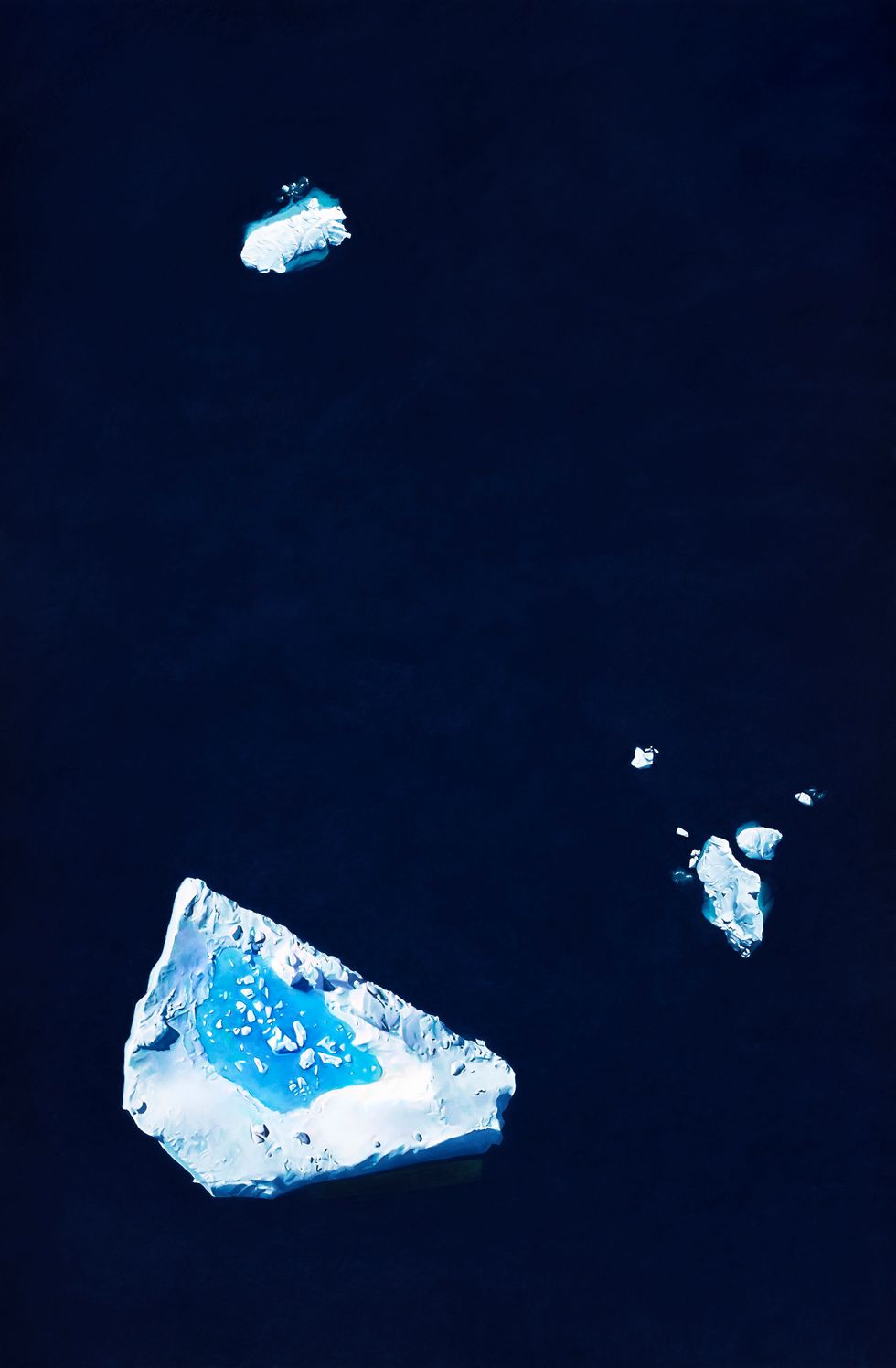 Zaria Forman
Greta Thunberg famously declared, "I don't want your hope…. I want you to feel the fear I feel every day and then I want you to act." The young climate change activist rightly acknowledges "hope" as passive—belonging not to the present, but a vague, notional future. But "feeling fear" often doesn't lead to action. Rather, it leads to denial and paralysis—the opposite of action. It is to these people—those of us frozen with fear—that Forman's work makes its most ardent appeal. Do not be frightened, each drawing declares. Be awestruck. Be moved.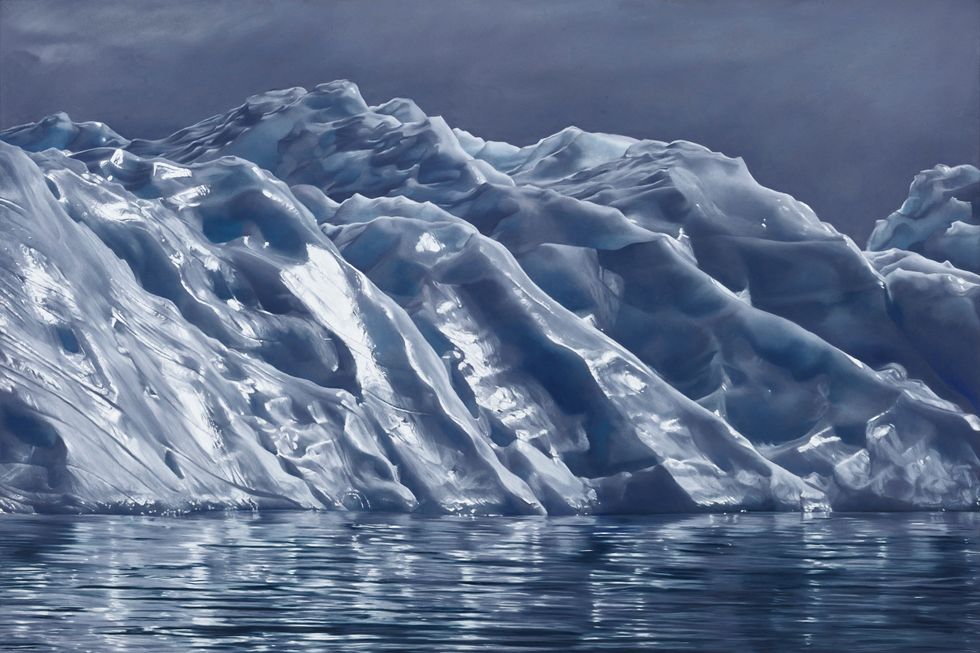 Zaria Forman
"On my first trip to Greenland, I didn't even know that much about climate change," she says. "I'd heard of the words put together as this like distant concept, but didn't know that much about it or understand it at all." Partly, our ignorance had to do with our chosen mode of communication: the dirge-like reporting of grim facts. Instead of responding with the action those statistics demands, many of us experienced a kind of emotional numbing. With her work, Forman strives to create an opposite effect. By so effectively recreating the beauty of the ice, she's out to thaw our defenses—allowing us to feel first, then act.
In 2016, she flew with NASA on several Operation IceBridge missions over Antarctica, Greenland and Arctic Canada, taking pictures from a vaulted vantage point. "I do think it's important to zoom out and get a bigger picture," she says. "It's like the overview effect." The overview effect is a term coined by Space Philosopher Frank White, referring to the powerful shift in thinking reported by some astronauts during spaceflight, viewing earth for the first time from outer space. "It helped them gain perspective on this beautiful little marble we have," says Forman. "How beautiful and precious it is, and how it needs to be protected."
Her next show draws inspiration from Perito Morean, a glacier in Argentina. Forman initially travelled there on vacation, without plans to make any drawings. "But of course I'm seeing a glacier and I can't not be inspired," she says, laughing. "I ended up coming home with all these beautiful photos."
This particular glacier is unique because one can get really up close and personal with it. Typically, one can only approach glaciers by boat, and the proximity can be very dangerous. "A chunk of ice can break off and create, you know, a tsunami that will drown the boat," Forman explains. But Perito Moreno is situated in such a way that there's a peninsula that juts out, allowing the construction of a walkway system.
Forman "spent the whole day there walking up and down and side to side, observing it from all different angles, watching the light shift throughout the day. It's really stunning—really old, beautiful, compressed ice. The pressure of the buildup… pushes out all the air bubbles," she said.
"The way we see light moving through more dense, pure frozen ice—as opposed to having bubbles in it—makes it appear more blue to our eye. And so you just get these really, really stunning colors, that I, like, never even knew really existed at all, let alone in nature."
When you love something, you protect it. It's simple.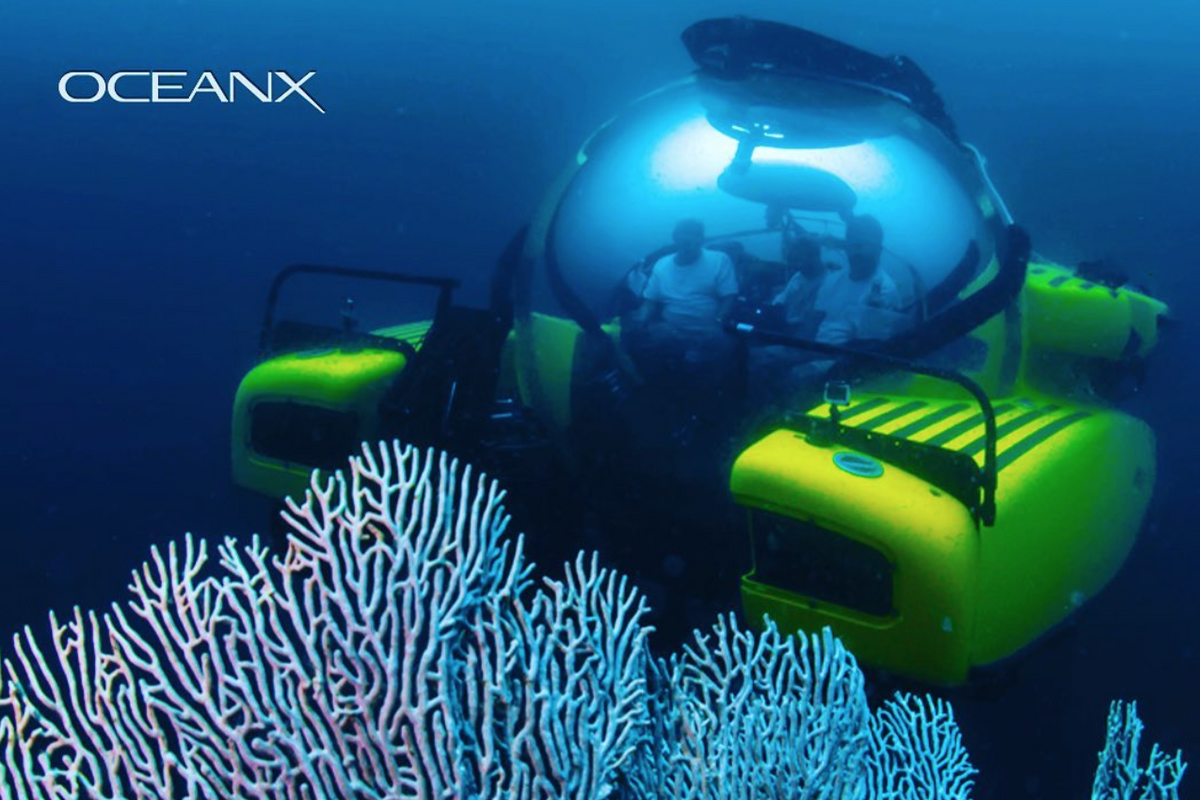 Editor's Note: This story is taken from the GOOD10 Ocean's Issue. You can download and read the entire digital magazine issue for free here.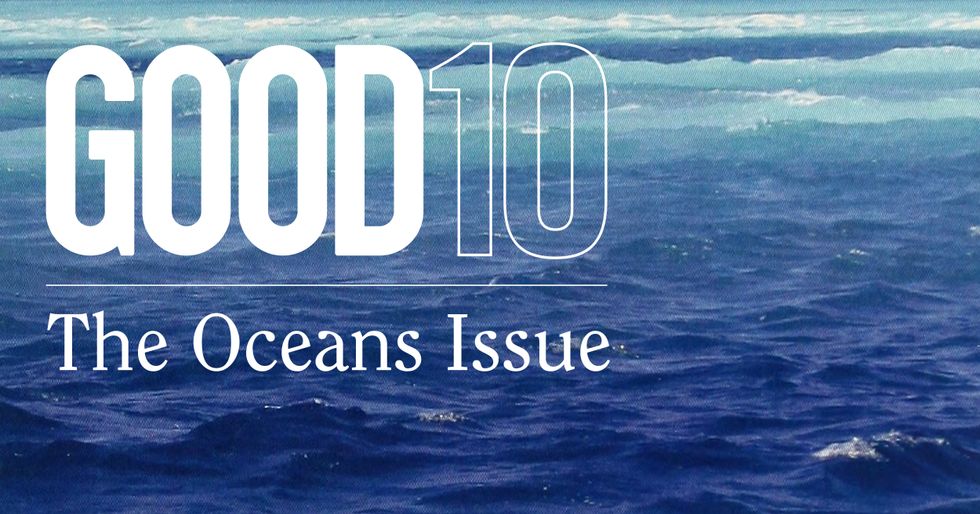 Orla Doherty, a filmmaker for the BBC Studios Natural History Unit and Mark Dalio, Founder & Creative Director of OceanX, represent the intersection of cutting edge scientific research, exploration and filmmaking. Doherty spent more than 500 hours in the deep ocean, producing the "Deep Sea" episode of the awe-inspiring docuseries Blue Planet II. OceanX, true to its mission to "explore the ocean and bring it back to the world," provided the ships, submersibles and filming equipment necessary to capture the wonders of the deep sea and connect to millions across the globe. In this interview, the two discuss the symbiotic relationship between film, adventure and science.
How did the working relationship between OceanX and the BBC Natural History Unit come to be?

Orla Doherty: We had been commissioned to make Blue Planet II four or five years ago. It was my job to reach out to oceanographic institutions, scientists, marine biologists, underwater camera folk and really create a network of partners that were going to help us accomplish a groundbreaking, jaw-dropping series about the ocean. My particular mission was to figure out how are we going to film in the deep ocean. It's not easy at all. We didn't want to get into the deep ocean and just document it. We wanted to make a beautiful film, one that captured the magnificence of this world. That means being able to get extraordinary amounts of tech, camera and lights and just get down there. I knew that this was going to be a really hard thing to do. Eventually, I connected with Mark and his organization and talked about how we were going to launch into filming an amazing series.
Mark Dalio: This really brings me back to memory lane. We were in the early stages of some of the work that we're doing at OceanX and were really looking for projects that had a global footprint and brought the beauty of the natural world to audiences in new ways. We thought it was just going to be one shoot and one expedition. Then it naturally progressed into another one and another project.
Orla Doherty: When we first chatted, we realized that we both had seen this single volcano called Tavurvur on this island Rabaul at very different times, about 10 years apart, which was active and erupting. We both thought, "Wait a minute." We both know and deeply love this one volcano on the other side of the planet. Clearly, it was meant to be. Mark has access to deep sea submersibles and I thought we could partner with him and make a beautiful film about the deep sea. When I hung up, I knew he was the perfect person to work on this series with. It was one of those fabulous moments where you know something has begun. Here we are seven years later and it's still going.
Tell us a bit about the Alucia— the 56-meter research and exploration vessel built to broaden the scientific understanding of the ocean. It's the home base for filming Blue Planet II and the home of so much technological wizardry.
Mark Dalio: Alucia has been around for quite some time. We actually acquired it in 2012, while I was working at National Geographic. I was very much involved with the work Alucia was doing. We undertook an expedition with NHK and Discovery to go film a giant squid for the first time. We used our platform at Alucia with two manned submersibles, helicopter operations, wet labs and dry labs to conduct really groundbreaking science. A lot of the work that we did was with Orla and her team at Blue Planet II, like when we did the first 1,000 meter submersible dive in Antarctica. I think it's been quite a journey being able to use the scientific platform to further our knowledge of the oceans and to excite the public too.
The Deepest Dive in Antarctica Reveals a Sea Floor Teeming With Lifewww.youtube.com
Do you remember your first impressions of the ship? What was that like?
Orla Doherty: I spent 10 years at sea studying coral reefs in the Pacific while living on a hand-built junk boat. We studied the coral reefs and tried to understand them and diagnose them all around the world. Although it was very important work, the ocean exploration was done in a very antique, old school way. It is the polar opposite of Alucia. A decade later, when I find myself standing on the deck of Alucia, it's like I'm traveling through time. I've gone from some sort of Medieval sailing platform with a tiny engine and a generator, to Alucia, which is like this floating kind of spaceship with submersibles that can get picked up and dropped into the deep sea. It can take us down to 1,000 meters and it's extraordinary. It was such a rush of excitement to meet a vessel like this and see the capabilities of ocean exploration.
Mark Dalio: You're going from zero hours in submersible to 500 hours, I believe.
Orla Doherty: Yeah, which is incredible. It's just so incredible. My knowledge of the ocean up until standing on the deck of Alucia stopped at about 50 meters because that's kind of as deep as you can go when you're on SCUBA. But then when I discovered that this deep ocean was all there for the taking if you had the tools to get into it, everything changed. On my very first trip on Alucia, we took some dives and we talked about brainstorming a partnership and how we could really work together on that "Deep Sea" episode for the series. It completely transformed my sensory experience of the ocean. The deep was no longer an academic place that you just read about in books. It was a place you could actually go to, which was incredible.
Mark Dalio: Most ocean exploration to those depths are handled through ROVs, which are remotely operated vehicles. I think using submersibles offers that human connection for both scientists and filmmakers into the deep sea. It also takes the audience along the journey through their eyes, which really sets submersibles apart. Then also being able to actually conduct the science and the filming – it would be a lot harder to do through ROVs.
You're both so deeply immersed in a world most people can't access or even fathom. Do you sometimes feel like visitors from another planet after you've spent so much time in the ocean?

Orla Doherty: The very first time that I'd been out at sea—we'd been out for about two months—we came back and I went into a supermarket to buy groceries. It was hilarious because I had land sickness so the shelves felt like they were going to cave in on top of me. I kind of had to stop and brace myself because that's what happens when you've been moving constantly. Then you go to solid dry land and you're not moving, but you think you are. In terms of feeling like an alien, like I come from outer space, the most crystal clear example of that for me is when we were working in the Gulf of Mexico. We took a detour on the recommendation of this brilliant deep sea scientist, Mandy Joye. She led me to some methane bubbles which sounds somewhat unexciting. You can see it in Blue Planet II, but these giant bubbles are rocketing out of what looks like a desert, a mud bottom, like nothing there. Then these bubbles shoot all the way up to the surface at 780 meters above us. We watched as the bubbles cascaded out of nothing and shot past us. It was truly like going to another planet that day. I really felt like I had left Planet Earth entirely.
What does it feel like when you come back to the surface?
Orla Doherty: We go down and we film for seven or eight hours, and then we ascend back to the surface. I can't wrap my head around the fact that we were ascending. I felt like we should be falling out of the sky because we've just left, we've gone into outer space and now we should be coming back down to Earth. The next day, we dived to that very same place, and there was nothing happening. It was like it had never happened. It felt like we caught this one moment in time that probably nobody will see with their own eyes ever again. It was extraordinary.
For astronauts, there's a famous expression about the overview effect, essentially how your perspective of life on Planet Earth changes when you can see the entire planet. Do you feel like there's something similar with exploring the deep ocean?
Mark Dalio: Yeah, absolutely. I think that going into these locations like Antarctica or even Papua New Guinea really makes you appreciate the natural world and really brings me back to what really allowed me to fall in love with the oceans and nature to begin with. You know, being able to really connect in a way where you don't have any distractions and you really have a clear focus for each of those missions. Then you get introduced to these really alien worlds and creatures that inhabit these various locations. The remoteness really allows you time for reflection… You don't have all the distractions of the city and what we're used to daily. It brings to light why you're doing this and why you want the public to be able to experience, to feel, that same connection to the natural world.
OceanX, as described by your chief scientist, is a global community that is engaged with understanding, enjoying and protecting our oceans. Blue Planet II was the most watched TV show on the BBC in 2017. What's next?
Orla Doherty: I think it's about continuing to try and access equivalent audiences and new audiences. We want to bring the ocean into the living rooms of people all around the world and to do it over and over and over again in many different ways. The project that we're collaborating on now is trying to have as massive an impact in terms of provoking thinking around the ocean. It's about enlightening people about the ocean and what's in it, why it's there and why it's important. It's about provoking action around the ocean. But we're taking a completely different approach from Blue Planet II, where we let the animals tell their stories. That was us giving the ocean, giving the natural world, a voice. Beautifully crafted imagery, really well-thought through storytelling techniques, really evocative music and beautifully written script to take an audience through these natural worlds and meet these animal characters. But we're ready for the next adventure now. We're going to have the human experience.
Mark Dalio: I think part of that journey is connecting and bringing that everyday ocean story to the world. I think human connection is absolutely the way to go. We love these beautiful natural history sequences. But being able to actually do that with the scientists and give the scientists a voice onscreen is really going to be able to shine a light on their work and really start to inspire the next generation to have role models. They'll be able to show audiences that marine biology and exploration is not just for these astronaut like figures, but being able to hopefully bring them on the journey in multiple ways.
Orla Doherty: But there's a whole other way to wake the world up to the ocean— that's to join an expedition of exploration, adventure, science, boundary-pushing, technology-busting new ways of getting into the ocean and uncovering its great secrets. To explore its dark mysteries, meet its incredible creatures, come face-to-face, eye-to-eye with them and to do that through the human experience is our next adventure.

Are there any proverbial white whales left to be filmed—moments or creatures that are in the ocean that have not been captured on film yet? Or are we kind of at the stage where we just have to look for things and see what we find?

Mark Dalio: Every day that we're on the ship we're experiencing new wonders and discoveries. I think that certainly the colossal squid would be an interesting one to go after given that we were able to capture the first footage of the giant squid, now bringing that up to scale and really go after the white whale, as you say. I think also one that has always intrigued me is the White Shark Café off the coast of California. I want to know what are these aggregations of great whites doing in this location. All of the satellite tags have been showing that they are there, but they don't know whether it's feeding, mating or what. That's certainly something that we have been interested in. But I would say that the colossal squid would definitely be one of the key white whales that's still yet to be filmed.
Orla Doherty: I think there are treasures on the deep floor that we truly don't know are there yet. For me, the erupting mud volcano was a classic example of that. That's really something that has never been seen before. I think there are plenty of those, and it's simply about putting the time in, doing really good research and working with great scientists that can help guide you to where something might happen. The other truly great revelation, which may not be as headline grabbing as the colossal squid (because it's even bigger than the giant squid,) is the new layers of intimate behaviors in animals. We think, "Yeah, I know sperm whales. I know what a sperm whale does." But we don't have a clue. Having the capability to spend extended periods of time with animals like that—there is so much in their intimate relationships either with each other or with other animals that aggregate around them. For me, there's sort of myth busting magic in going deeper and deeper into that. So that's a world we think we know. We don't know it. We still don't know. The magic of the ocean is you can put in the time and you can get nothing. We've had that experience, but when it gives you a gift, it gives you something to treasure for the rest of your life.
What does it feel like to see something that maybe people have never seen before? You know, to see a new bioluminescent fish or a natural phenomenon?
Orla Doherty: It only has value if we've got all the shots so it's not just us seeing it. It's so we can put together a compelling visual and significant story that we can then share with audiences around the world. That's when seeing it was worth it. Don't get me wrong, it's great seeing it. We can marvel and say it's lovely and wonderful, but we're not going out to make Blue Planet II for me to have a good time. We're going out there to show the world what's in our oceans. I was never on top of what was new, what was amazing, until I was in there to go, "Oh my God. We really can tell this story. We really have got it from every angle. We really didn't miss a moment. We can really share the magnificence of what we've experienced." For me, that's when I could celebrate what we have seen.
Mark Dalio: Sometimes you don't comprehend the significance. You might really appreciate it, but once it really sinks in, once you're back on land and can go through some of the scientific data or work with scientists, it hits you. You start to understand the implications and the effects of it. I think going back to the methane bubbles and the brine pools, like speaking to Mandy Joye afterward and going into the significance that has it might look amazing and might really be a visual spectacle. But then you have to understand the significance. You realize that all of this methane is sitting down below the surface and it's actually coming out more because of the warming that the Earth is going through. It's similar to what you see in places like Siberia where these pockets of methane under the permafrost are getting released and creating these huge craters and it's significantly increasing. As it increases and gets released because of the warming, we won't know the true effects of how that will increase since no one's been there. It's almost like a ticking time bomb that's waiting to happen, but no one actually can see what the timeframe is and what the effects are until it's too late.
Exploring the Alien World of Brine Poolswww.youtube.com
Speaking of timeframe—can you talk about filming a "whale fall" in timelapse?
Orla Doherty: We wanted to film what happens to a whale when it dies and sinks to the sea floor. We were working with a team in the Azores in the middle of the Atlantic Ocean who have their own submersible. We knew that we could get repeat access to the deep sea to be able to watch this. We had about an 18-month window to document it from beginning to end. It was an extremely complicated procedure wrapped in the kind of state of the modern ocean. Whales are dying all around the world because they're being struck by ships. Unfortunately, that was the fate of our whale. So we got it to the sea floor and with a GoPro on it, and within 26 minutes, a great big six-gill shark had sniffed it out and was on it. Then having the capability of being able to dive in at intermittent intervals and being able to really document that change over time was remarkable. But having video data from somewhere like 750 meters deep in the middle of the Atlantic Ocean observing a decaying carcass that is then feeding everything from giant predators to successional scavengers, 18 months later, was just extraordinary. It was extraordinary to be a part of it.
The term "sci-fi tech" comes up a lot when speaking of the technology OceanX and the Alucia have access to. What are some of the things on there that you feel really represent and encompass that term?

Mark Dalio: I think one specific piece of tech that we don't always have on the ship is the E-Jelly. This amazing scientist, Edith Widder, who was actually the one that was able to find the giant squid for the first time, invented this device. The E-Jelly is this light display that tries to mimic light that a jellyfish makes and creates this effect called a burglar alarm. Basically, the jellyfish emits the light effect on the device to warn if it's getting eaten by a predator. The larger predators like the giant squid of Humboldt see it and attack the fish or other creatures that are attacking the jellyfish. What you find is you can actually bring those down and attract all sorts of squid behavior from that. When we went with Orla and the BBC team off the coast of Chile, we ventured into the hunting grounds of the Humboldt squid where hundreds if not thousands of squid are in these depths. I think the work that Edith did in terms of pioneering it for the use of the giant squid, but then also for the Humboldt squid, is just a perfect example of how scientists are innovating and bringing new concepts and technology to uncover the secret lives of these creatures.
Even with the most amazing technology, there are still limits. What's one thing you wish existed today?
Orla Doherty: The submersible that I could go and live in. I'm not joking. I really do wish they existed. I'd love to live in a deep sea house that I could drive around at great distances because the deep ocean is very, very big, but that I could really go down and stay down for months. I'm in lockdown here. I've been in lockdown for 13 weeks so far. I'm fine. I could do 13 weeks on the deep sea floor, no problem. I just need the food, water and the machine. It would be creeping and crawling. I could do a grid pattern across the entire deep sea basin. It would probably take me the rest of my life to explore the ocean in the submersible, but I'd be okay with that.
You've both made the ocean your lives. Do you feel this deep connection with something you always had inside of you or was it fostered over time?
Mark Dalio: I've always loved the natural world. I've loved nature. It's hard for me to pinpoint if that was just an inherent love that I was born with or if it was fostered through my experiences both at sea as well as just being able to go with family. My father was really avid in terms of hiking and bringing us into the natural world and teaching us that human connection and respect that you have to give. That certainly translated into my love of the oceans. I think that without seeing and without experiencing it, it's hard to love something. I think that when you start to uncover this alien world and see all the beauty, but also all the issues that are going on, then you're able to really have that profound impact on yourself and your appreciation for it. There's different ways to experience it, so I'm not saying just actually physically being there, but even experiencing it on screen or in a VR setting.
Orla Doherty: For my 30th birthday present to myself, I learned to SCUBA dive. I put a tank on my back and I put my head under water, I saw my first coral reef, and my life changed instantly. I quit my job, I left London, and I moved to a boat in the Pacific. I spent 10 years underwater basically trying to do something to help change the future for coral reefs. That moment was my introduction to the ocean. I was a late bloomer, but I fell in love. I fell in love really, really hard. Ever since that moment, the focus has been the driver for everything I've done with my life. I'm pretty sure it's going to continue to be so.
Our oceans are in need of protection. They're in need of people caring about them. You're doing the hard work of bringing it to the masses, but what is a small action that every person on the planet could do to protect our oceans and help to heal them?
Orla Doherty: Connect to it. Think about the fish on your plate and where it came from. Think about everything we're doing wherever we are on Planet Earth, even if we're in the middle of continental U.S.A., right in the heart of it. We are connected to the ocean. What we're doing is either being fueled by the ocean, delivered by the ocean or driven by the ocean. What we're doing is impacting back whether that's us putting our emissions up into the air and then coming back down and creating havoc or changing the ocean or bleaching our coral reefs. The biggest thing that any of us can do is have the ocean in our consciousness.
Mark Dalio: As consumers, purchasing behaviors are very important. There are all of these small businesses that might promote better ways like using less plastic or less materials that are harmful to the oceans. Putting the pressure on the various corporations that might have a harmful effect is important. As consumers, we need to be more conscious of the way we are living that's less harmful to the ocean. I think that purchasing behavior is certainly something that's small, but if everyone chooses brands that are eco-conscious and does it on a larger scale, we could actually have a bigger impact in the future.
Orla Doherty: When we think about this planet, we think about our impact on it. When we think about how we are interfacing with Planet Earth, with our natural world—it's all important. The ocean is the greatest part of our natural world. It also happens to be one of the most important parts. Value it. It's actually the very thing that keeps us alive.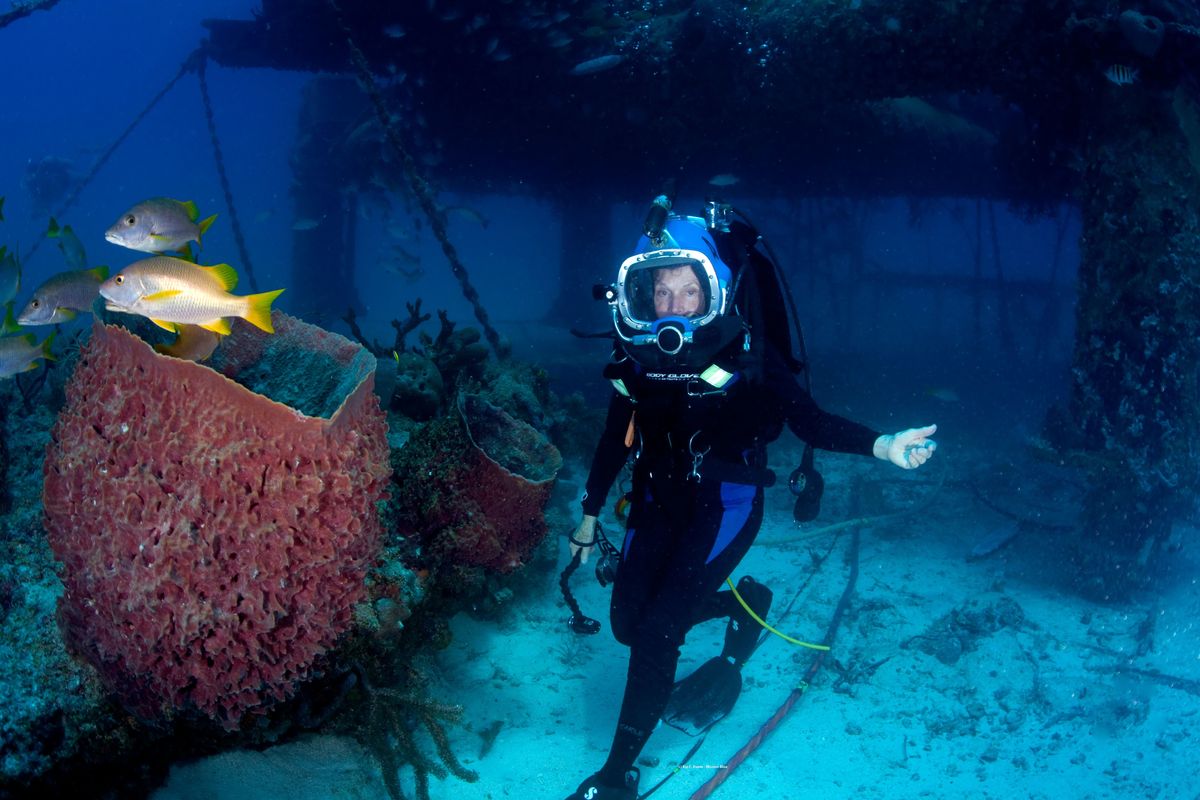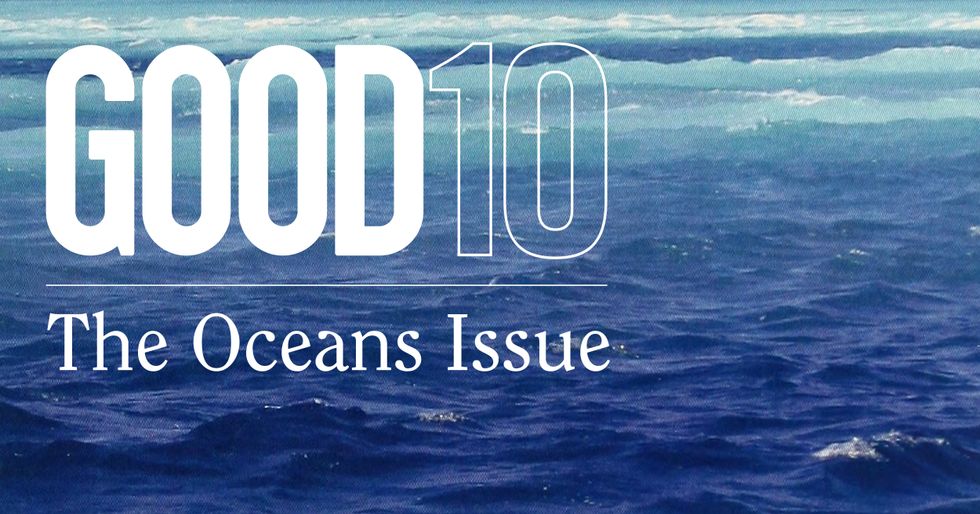 At an early age, Dr. Sylvia Earle fell in love with the ocean. At three-years-old, she remembers the first time she stepped on the gorgeous, warm sand at the Jersey shore. Horseshoe crabs emerged from the depths of the ocean, tiny seahorses nested in the grass meadows, spiky sea urchins gripped onto the sides of the docks —she raised her brown eyes at the open waters, like a mirror reflecting the morning sky. She fell as a wave crashed, the foam washed over her. But she shook it off in awe, wanting to jump right back in. At 12, when her family moved from New Jersey to Florida, she became fascinated with the creatures in the picturesque Gulf of Mexico—no garbage to pick up, no ripped trash bags to throw out. It was the perfect backyard, her home away from home. She had the sound of the waves to lull her to sleep at night.

For someone like Dr. Earle, a legendary marine biologist and explorer, you can only imagine how frustrating it is when people are doing things every day that harm our oceans. After all, she's spent her entire life treasuring and protecting it. Imagine all the waste slipping beneath the surface that will continue to affect the ecosystem, sometimes unseen. Humans are not infallible. She says the good news is that the ocean, while it separates people all over the world, unites us together the same way the skies above do. Except, that is, when the pristine sand is littered with cigarette butts, empty water bottles and food wrappers. The bad news? What we do to our ocean effects everyone. Since the ocean wraps all the continents together, what someone tosses into our global waters impacts us all. She believes we have do a lot more to save our planet. We're destroying it day by day. And that's the problem.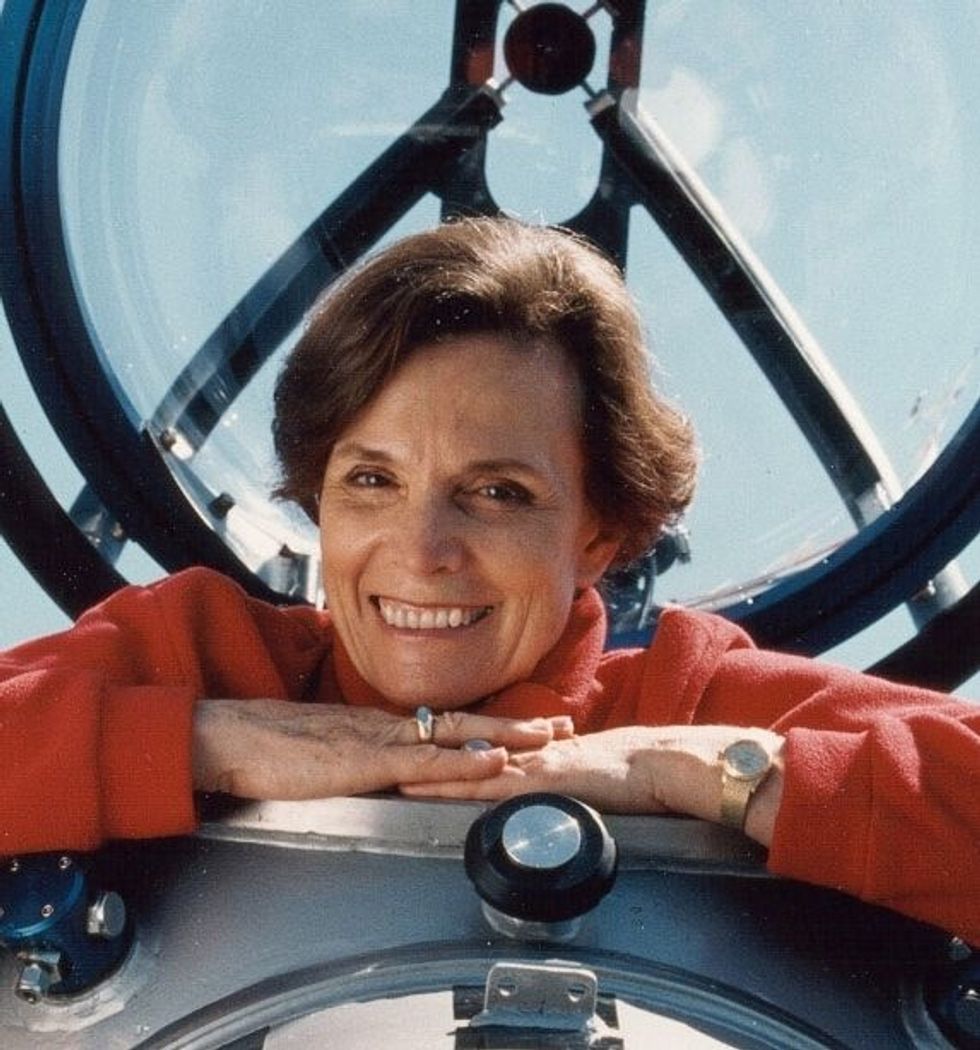 Now at 84, Dr. Earle's logged more than 7,000 hours undersea discovering tens of thousands of marine species. The Smithsonian even houses her 20,000 plant specimens for research and conservation purposes. She was nicknamed "Her Deepness" by the New Yorker in 1986. Time magazine dubbed her "Hero of the Ocean" in their 1998 issue. She's been known as a living legend by the Library of Congress. Leonardo DiCaprio even called her an "inspiration."

In the 90s, she became the first female chief scientist at the National Oceanographic and Atmospheric Administration (NOAA), where she was responsible for monitoring the health of the ocean. She's been National Geographic's Explorer-in-Residence since 1998. She won a TED prize in 2009, which she used to further fund her nonprofit organization Mission Blue, which advocates for legal protection and conservation of the world's oceans. Soon afterwards, Netflix made Mission Blue, a documentary that chronicles her life's work, establishing marine protected areas she calls "Hope Spots" around the globe. She's walked, untethered, 1,250 ft below sea level on the floor of the Pacific Ocean, convinced George W. Bush to create the largest marine reserve in the world at the time and even held the solo deep-submersible dive record of 3,300 feet until James Cameron broke it.
Back in 2010, Earle and scientist Eric Hoffmayer were on a research mission right after the single biggest environmental catastrophe in the history of the United States. They were exploring near the explosion of BP's giant drilling rig Deepwater Horizon, which killed crew members and gushed thousands of barrels of oil a day into the Gulf of Mexico. While there, they found a great discovery of dozens of whale sharks, which put the species at an even higher risk while they skimmed the ocean surface searching for food where the oil accumulated.
Earle and other environmental experts were called to give testimony to the U.S. House Committee on Transportation and Infrastructure on the impact of the deadly spill. She urged lawmakers to halt BP's use of dispersants, testifying about the toxic effect of chemicals and claiming that it could damage organisms that were vital to the deep sea. She believes, telling me in a phone interview, that what we put into our ocean and what we take out greatly impacts our future. If we continue to mistreat our environment and the oceans, we won't survive.
"It's so easy to play the blame game. It's the company's fault, the governments' fault, it's somebody's fault, but it's never our fault. But fault is not the issue," she says. "We've got problems. How do we solve these problems? What are we going to do irrespective of how we got here? How are we going to get out of this tough place? Those are the questions. Assigning blame might feel good, but it doesn't solve anything. We need to work together to figure out solutions."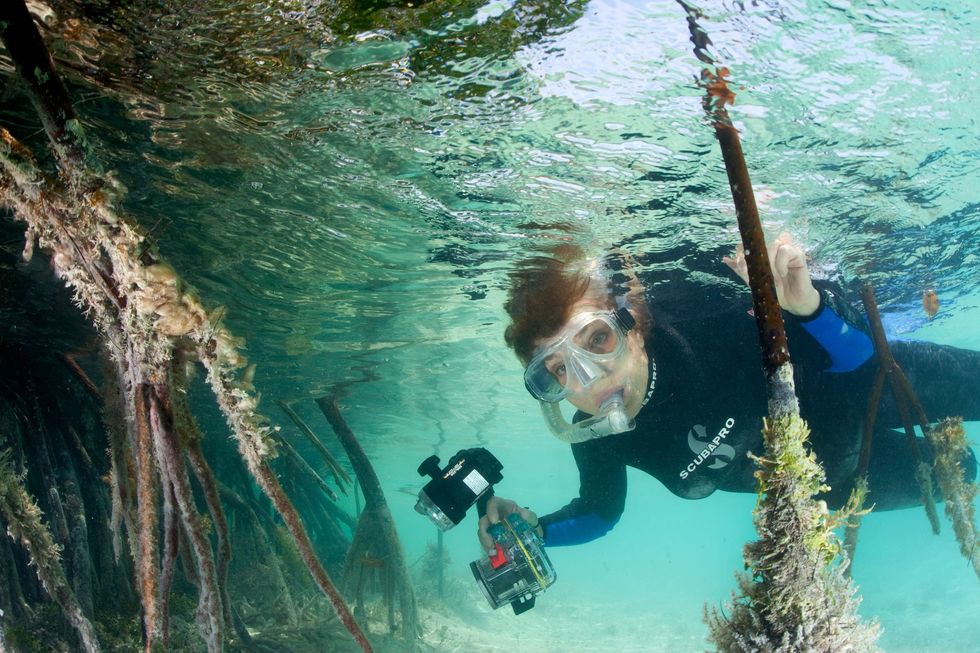 Pausing for a moment of reflection, Dr. Earle tells me that her main concern right now is a massive plume of dust lofted into the air from the Sahara Desert in northern Africa. It's been traversing the atmosphere, thousands of feet above the tropical Atlantic Ocean. Nicknamed the "Godzilla" dust cloud, it's now traveling into the Caribbean, the Gulf of Mexico and closing in on the southeastern United States. Dr. Earle claims that when she was young, no one had been able to look at Earth and see what has been happening around us. She appreciates that NASA is able to observe and document the occurrences, which are now dusting the snows of the mountains in Colorado. "We can now see all these global connections. It doesn't matter where on the planet we live, we are all connected," she says. "It's being able to see that, understand it and incorporate that into our thinking."

It is not an easy time for people to feel hopeful, especially with the effects of global warming and our oceans being polluted. Dr. Earle's surveyed oil-blackened beaches and knows the government's actions are lagging considerably. "If we didn't know we had a problem, we wouldn't know what to do. We wouldn't know we had to work on something. It's clear now that we are at a time like never before. We are armed with knowledge and we can address climate change. We've got the strength of knowing. Our biggest challenge is taking the knowledge we have and doing something about it."
Even though she feels President Trump and his administration aren't taking environmental protection seriously enough, she believes that there will be a turning point soon. "For the first time, we can begin to see and communicate internationally and globally about the consequence of our actions. It has nothing to do with what country you are from, how tall you are, how old you are or what color you are. It doesn't matter," she says. "We are all part of this living system called Earth. We are all vulnerable to the ups and downs of a natural system that we are now impacting in a way that is unprecedented in the history of our species. Now we are taking almost deliberate action to destroy those systems that keep us alive." Her normally soft voice is loud enough to put the room on pause. Exasperated, she says, "That's like committing suicide."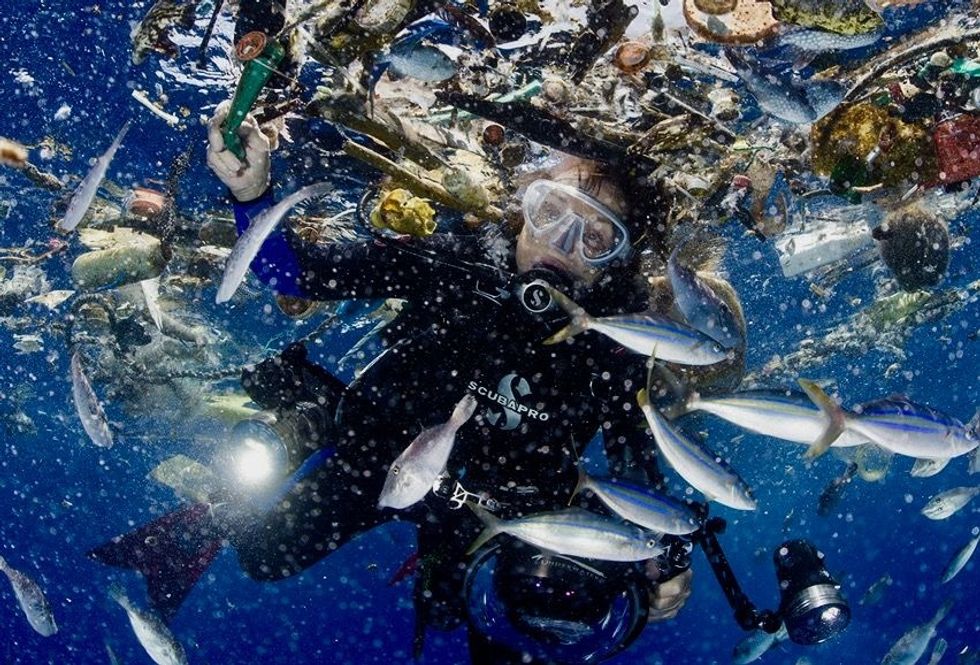 What would you say is our biggest problem with the oceans right now? What's causing the most amount of harm?
The biggest problem is complacency and ignorance. Complacency is born of ignorance. If you don't know and you aren't inclined to look at the evidence, it's a problem. If you shrug your shoulders and say "whatever," or place blame on others and think someone else will take care of our world's problems—that's also the problem. It's also the solution. The wonderful thing is that kids get it. They don't see that something is too big to conquer. They think, "Let me at it. I'm going to pick up this little piece of trash because it will make a difference." An adult might say, "It's just one little piece of trash. It isn't going to make a difference." But the kid is right. Imagine if eight billion people each day picked up one piece of trash. It would make such a difference. Since not all of us are going to do that, we may have to carry the weight for a lot of people who don't know or don't care. But we have to do it. We need to have greater respect for nature and give back to the systems that have given us so much. Nobody wants to breathe poisoned air or drink poisoned water. We need to make our world more habitable for all of us and for the rest of life on Earth. It will keep us alive.
You began diving before plastic became a significant problem. How has the ocean changed since you started researching and exploring it?

In many ways, we just couldn't appreciate it when I was a kid. We didn't know what Earth looked like from space because no one had been up there. They hadn't been to the deepest part of the ocean to say with confidence that there is life all the way from the surface to the greatest depth. No one had been able to grasp the connections that we can now. Since I began exploring the ocean, humans have really impacted them. We are extracting fish and other wildlife, which is considerably declining by 90%. Tuna, sharks, swordfish, cod—things that were once very common now are increasingly rare. What we are putting into the ocean like plastics, existed in very small amounts before. Now it has become more widespread and misused. People use it once and throw it away in such a cavalier manner. We burn oil, but it's transformed into energy, carbon dioxide and soot with residue. There are other fossil fuels, coal in particular, which contaminates the air, water, soil and humans with mercury. Humans have had a growing impact on the world around them. It's taken us 10,000 years or so to largely demolish the wild places on the land. It's taking us about ten years to do the same thing for the ocean.
There is so much garbage on the beach and underwater. The are so many toxins that are going into the ocean like excess nitrates and phosphates from agriculture, pesticides, herbicides, etc. Even oils spills. Who is causing the most damage?
When you trace back to the source of the problems, you have to look in the mirror. We are the problem. We have to look at the products we buy that are made possible through the application of things like Roundup. We have chosen that path and we continue to choose that path. We are taking ourselves to a very bad place and encouraging companies that manufacture these things. WildAid has a motto: When the buying stops, the killing can too. It's the purchasing power of people. When they buy the plastic products, they are empowering the companies to continue manufacturing them because it's profitable to do so. We need to exercise our power of choice. We need to use our voice and say, "Give us alternatives!" We can take a stand not to buy the products. That hurts the bottom line and that's where we have the ability to make a difference.
Are you frustrated that companies supply harmful products that deeply affect our environment?
It's frustrating because companies can behave in a perfectly legal fashion based on laws that were put into place and haven't changed. To have harmful chemicals in their products and to dispose of waste is disheartening. We know it's not the right thing to do. But it takes time for laws to catch up with reality. It has to do with what we are taking out of the ocean on a scale that is far over what the ocean can continue to give. There also needs to be more policies about what we can put into the ocean. By no means do they take into account today's reality of the magnitude of single use plastics or the materials that go into various products that are harmful when they enter the ocean or us. I also think we should really put the spotlight on individual power and responsibility. It's so easy to point fingers at somebody else. The question is what are we going to do about it? What are you going to do about it? What am I going to do about it? Let's get with it.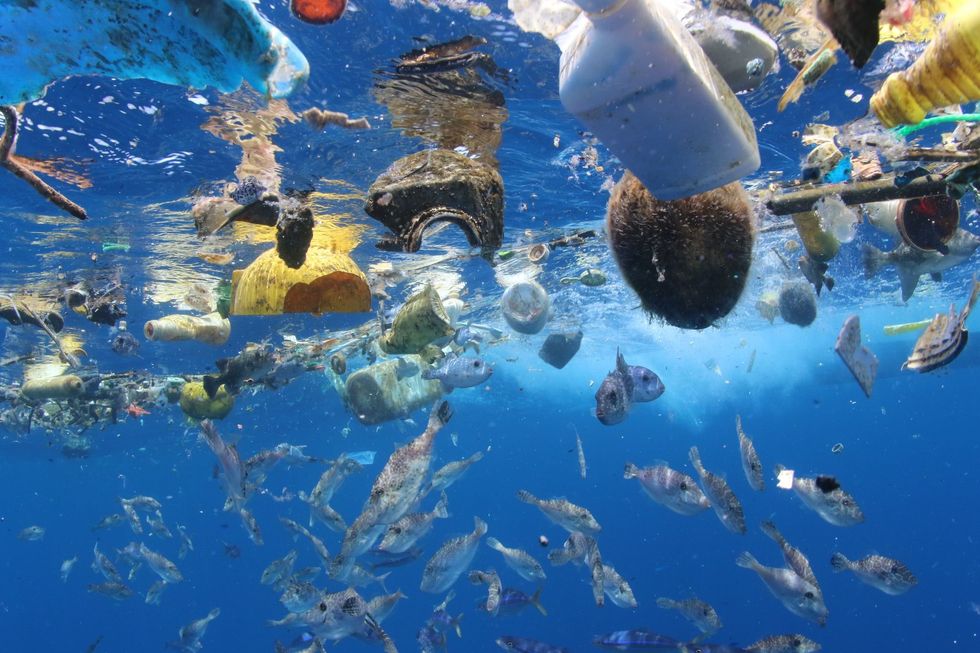 When the news reported that you and four other women were exploring in the Virgin Islands in 1969, they made sure to mention you were "real live mermaids" and "not men with extraordinary physical endurance and stamina." They described all of you as young and attractive. Even in your documentary Mission Blue, they often referenced your looks. Were you not taken seriously as a scientist because you were a woman?
Absolutely, and it's still true. It's just the reality of social habits. It's learned behavior. It's still very much a part of our culture. Things need to change a great deal more in order for humans to realize the real and full potential of women. It's called respect and dignity across the board. Whoever you are or wherever you are from, people need to give women respect. As a girl who wanted to be a scientist, the only girl in science classes, the only woman aboard search vessels, the only woman doing this or that—I did it because I wanted to be the best I could be at what I loved. It wasn't because I was trying to be a man. A lot of people never get to be the best they could be. I know there were a lot of avenues that were not really open to me because I was a woman. Had I been a man, I probably would have gone a somewhat different route. It was hard as a mother with children. Back in the 1960s and '70s, you had to do what was expected as a disciplined scientist. Some women were able to pull that off and be a mother, but not with the ease men could with their wives serving as their support system. I looked at examples of women who inspired me and thought, "Well, they got through it. Maybe I can too."
As NOAA's chief scientist, you were asked not to speak out and reveal that bluefin tuna were on the edge of extinction during their fishery council meeting. You left in the early '90s. How did it feel being silenced?
I can't tell you how many times I got the lecture, "Sylvia, you've got to be a team player. Here are the policies. You need to follow the rules." As a scientist, I could see that the fishery policies weren't logical. The tuna policies were really taken us in a bad direction. The fishermen wanted to take the tuna to a point of no return. I was supposed to follow the established policies. I was expected to do, say and articulate what those policies were. But they didn't make sense to me. After that first meeting with the fishery council, I was not invited back. I couldn't say what I believed was the right thing to do. I didn't agree with them. NOAA's a weather service and research agency. They do so much that is vital to the science in this country for the atmosphere and for the ocean. But it has this fisheries element—which is now on the order of a billion-dollar agency—that is mainly geared to assist in the extraction of ocean wildlife. It's there to help fisherman catch, market and sell fish. It's so inconsistent with what I know to be true as a scientist. The same is true with the U.S. Department of the Interior working side by side with the mining, oil and gas industry. It's a contradiction. I felt like I could accomplish more supporting new technologies for ocean exploration, new submersibles and all that it takes to gain access to the sea. I wanted to take care of the ocean, understand our relationship with it and really try to make peace with the natural world. That's what's taken me to where I am today.
The BP Deepwater Horizon oil rig released 130 million gallons of crude oil into the Gulf of Mexico in 2010. A decade later, deep-sea coral and spotted sea trout are still struggling. The spill has harmed bottlenose dolphins and sea turtles. Will the ecosystem ever recover?

The positive side is that nature is resilient. The negative side is that nature is not infinitely resilient. When a disaster of that sort happens, everything changes and it changes permanently. It will never be back to what it was. There is no way, but recovery is possible. In the Gulf of Mexico, I can see changed populations and the diminished number of some species. But I've also seen others that have managed to recover and accommodate the change. Things shifted permanently. it had an impact on the chemistry of the ocean. It didn't just stay in the Gulf either. It's obviously having an impact on a much wider scale. Can we see the change? In some measure. But the subtle changes we'll probably never be able to fully understand. We just know that we shouldn't let that happen again.
Is it infuriating that millions of gallons of oil are released into the ocean each year? It angers me that more isn't being done.
I totally agree. When enough people see it and feel it, change will happen. But right now, it hasn't come to the point of recognition that something needs to be done. If people really could see what you and I see, it wouldn't take long to insist we look at alternatives to mining oil, gas and coal. It takes millions of years to develop what we are burning in decades. The same is now true with the focus on deep-sea mining. Mining with any sort—we have to get better about using what we've already got. There is much talk about the circular economy, like taking computers and turning it into the next generation of computers or taking our automobiles and reforming them into the next generation of cars. Even saving our paper goods instead of burning them or throwing them away. I believe plastics are here to stay. But throwing them away is not an option. Yes, there is a vigorous and growing recycling program, but we aren't taking it seriously. We need to take that to a new level of commitment. It's good for the economy, our health and the security of our existence. Maybe we need to give kids the reins? They get it. Kid power is magical. They're helping. Perhaps they need to take charge now. [Laughs].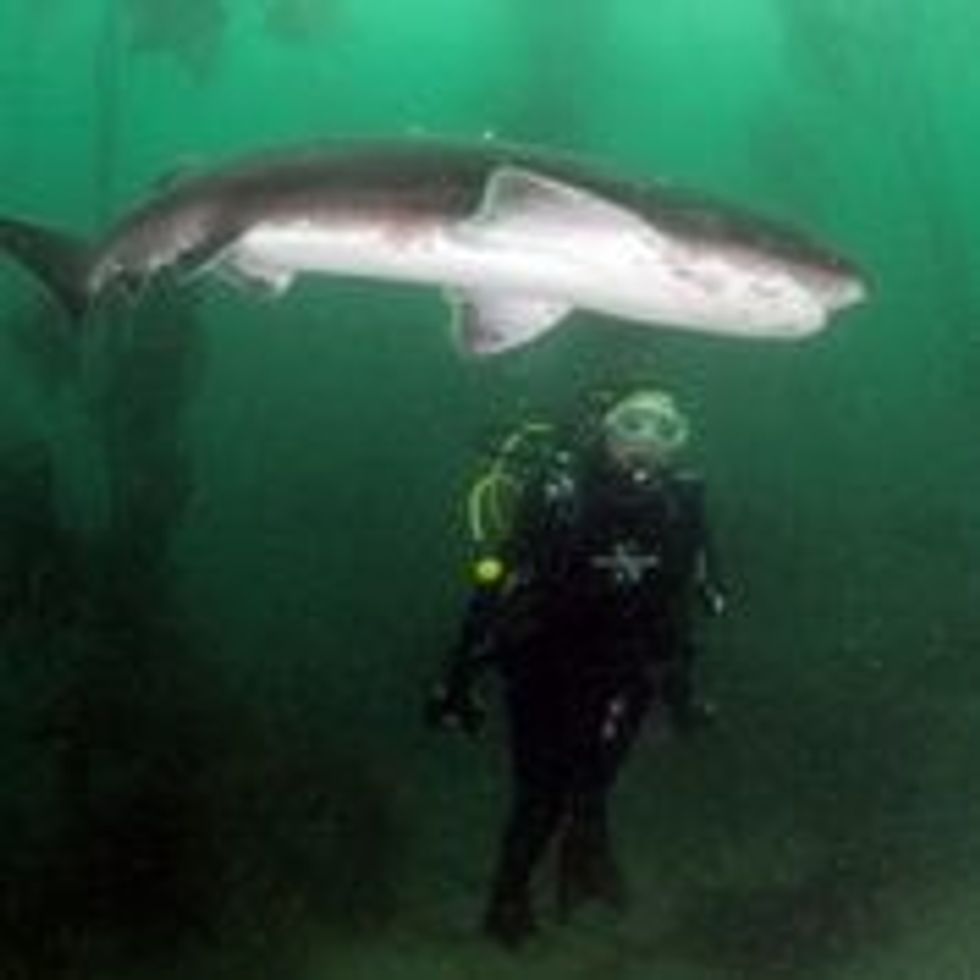 Two months after the oil spill, you swam with a group of whale sharks off shore in the Gulf. Why were they there?

They were there to feed on the eggs of spawning bonita or little tuna. In that area, 100 meters down, there is a top of an undersea mountain. It's a gathering and mating place for species. This was a hot spot for whale sharks and for the tunny. We went back two years ago and the whale sharks were there again. But not in the same numbers. You can draw a conclusion from that. Maybe the big oil spill really did an impact on the whale shark numbers.
Are you afraid to swim with sharks? You were also with them in the Galapagos in 1966.
No, no. They are mindful of your presence. They are not concerned about us. They should be, but they're not. As long as you treat them as you'd like to be treated, don't poke holes in them or get in their way, they're fine. Just give them space and respect them. Some scientists have found it useful to tag whale sharks to see where they go when they dive deep or when they come to the surface. Sometimes a certain type of tag can give a satellite transmission to track and download information that can be communicated to the satellite whenever it comes near the surface. It's also done with tuna, turtles, other sharks, sea lions and penguins. But the whale sharks don't try to eat us. They don't turn around to bite us. They are really amazing in their tolerance. We should show consideration for them in the same way.
Is shark finning still a major problem?
It's a huge problem. Again, it goes back to individual choices whether to buy or not. The shark isn't the problem. We are the problem. Even though there are laws coming into place, they aren't catching up with reality. It should be illegal to kill any shark. Not just for their fins—there are still shark tournaments to see how many sharks you can go out and kill in a day. You get prizes for the biggest shark or the heaviest shark. It's insane. It should be addressed. Our culture should not tolerate such bad behavior. It spills over into how we treat one another. There should be no room for that in a civilized society.
Green Peace interferes with whaling boats. Activists have even used their own bodies, like when they interfered with a Japanese whaling fleet illegally hunting for minke whales inside Antarctica's whale sanctuary in 2010. You've documented fisherman collecting thousands of fish. Do you ever stop or interfere when you see things happening in the ocean that are unjust?
I was on an expedition where we were off the coast of Africa years ago and we encountered illegal fishing. They had turtles and skins of sea snakes. They were clearly taking whatever they wanted from the sea. They knew they were in the wrong. We wound up towing them back to shore and turned them over to the authorities. They didn't arrest them. In most cases, people don't get arrested. In the Galapagos, you often see fishing where they shouldn't be. The best approach is to take a photograph or call the marine operator. You can sometimes reach someone and do something about it. People can get arrested and taken into custody there. On a more personal scale, I try not to come in like a blue meanie and yell and scream. In some cases, people aren't aware of what they are doing—like walking across a tide pool and killing all the sea urchins without understanding that they are living things. A lot of things people shouldn't be doing are perfectly legal, but not right. I have rescued little fish on the docks in Florida. Fishermen throw the fish they catch on the dock, which is perfectly legal, but they don't intend to use it for bait or for dinner. They just catch it. I ask, "Do you mind if I give this buddy a chance?" I gently throw it back in the water. They aren't thinking about the fish or considering what they are doing. They are living animals too.
CNN recently reported most of Alaska's 23-million-acre National Petroleum Reserve would be open for oil and gas leasing under a new Trump administration plan. How do you feel about them drilling oil and gas wells in the Western Arctic, which would do immense harm to the wildlife? How would this impact the marine life?
My position is the oil, gas and coal that are in the ground today should stay there. Period. It's especially egregious if such materials are extracted from protected areas. The policies of this current administration are a giant step backward for the economy and the environment. If we are harming the environment, then we are harming the economy and the health and our future. Even President Nixon—who was not beloved for a lot of things he did—really seemed to appreciate in the '70s that we were environmentally in trouble. He allowed the people who worked with him to establish the EPA. NOAA was formed as an agency. A host of moves were enacted that were trying to address some of the obvious and terrible wrongs that were being committed. The most terrible thing today is that legislation has been a powerful tool in not turning things in a better direction. It's not just individual actions, it's unraveling the laws that do exist. Like the National Marine Monuments that are under fire from this administration—they are trying to open them up for fishing. In the same way, as opening up land areas for mining and drilling. Fishing is destructive in very much the same way oil and gas are.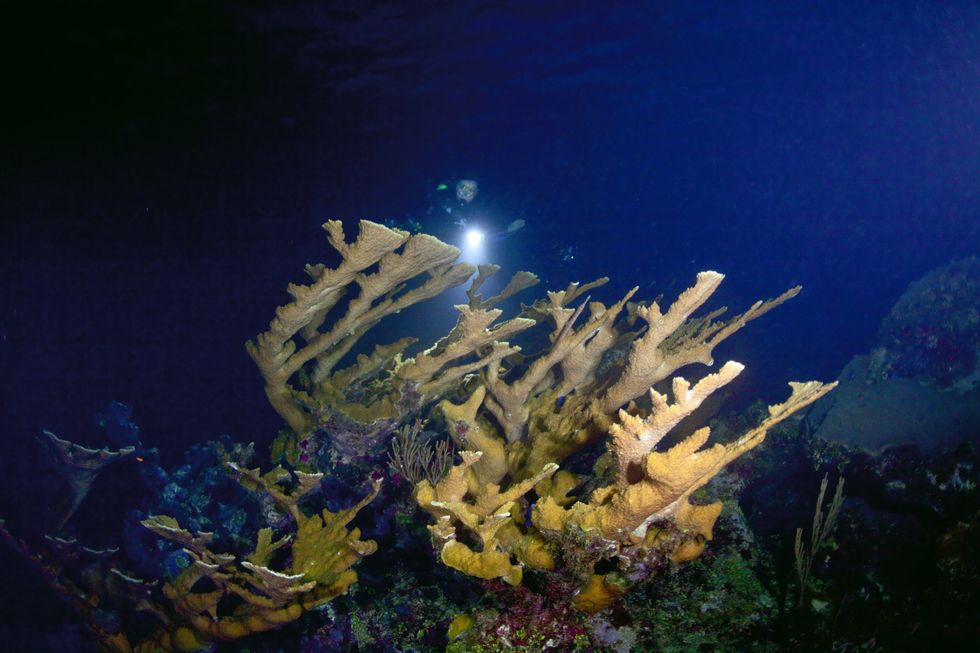 Greta Thunberg is really leading kids and adults alike to think differently about our planet and climate change. When people like Trump question global change, or we withdraw from the 2015 Paris Agreement on global warming, what impact does that have on our planet?

This country is not leading in a better direction. As powerful and influential as we are, we don't really rule the world. It's encouraging to see other countries care about ocean protection. There are protocols in place that are still in place, like protecting the ozone with the Montreal Protocol, for instance. It's really a pivotal time in history. We don't have time to waste. I think that we have to do more. Scientists have to take some responsibility for getting more involved in a public way and communicate evidence. Scientists have been reluctant to be on the front line. They are much more comfortable communicating in the arcane language that they understand within their small group. I don't understand the idea of staying quiet. They have insights that need to be made public that help inform decisions. The evidence is there. The public needs to hear it. We need leaders who are science-savvy or who recognize the value of people who have really looked at the levels of nature. We really need to move to get to a better place. Individuals do matter and count. We need to be aware of individual and collective power. We have to do what we can to change the laws and policies.
The oceans are a buffer against global warming. But the extra heat is making the ocean expand, causing sea levels to rise and threatening coastal communities. Marine life is suffering. Half the coral on the Great Barrier Reef have experienced mass bleaching events. At this rate, we are going to destroy our planet. How do we fix this? What can we do now?

The key to all of this is being aware of the problems and the solutions. It's being aware of the consequences, things we care about individually and collectively. The connection between ocean health and human health is obvious to those who understand these processes. Once people see it, they are more motivated. Until you see it, you get the shoulder shrug and people don't care. It's the gap that needs to be filled. That's part of what we are trying to do with Mission Blue and developing networks of protected areas or Hope Spots in line with literally hundreds of organizations. Every organization has its own special character and power. It's going to take all of us doing whatever we can to get to a better place.
There are currently 127 Hope Spots around the world. Why is this initiative important for you?
There is only one Hope Spot and it's called the ocean. The idea of protecting nature has been my lifelong objective. It's about creating an ethic of caring. We launched the ocean in Google Earth with 12 Hope Spots embedded in 2009. That was the same week I won the prize. TED brought it public. That's how it got wind in its sails and keeps going. I started the Hope Spot concept when I was an explorer in residence after a five-year program called Sustainable Seas Expeditions at National Geographic. That was primarily aimed at beefing up the marine protected areas. The idea originated from the concept of hot spots for terrestrial places, which are really targeted because they have high diversity, but are also under higher threat. Sort of building on that concept, I said we should call them Hope Spots. I thought if you can protect these hot spots, it gives you hope for really recovering some of the damage we've inflicted on the planet. We certainly want every wild place to stay wild if possible and restore what we can that's been lost. With care, you can get areas to a better place. It is a hope big enough to change the world.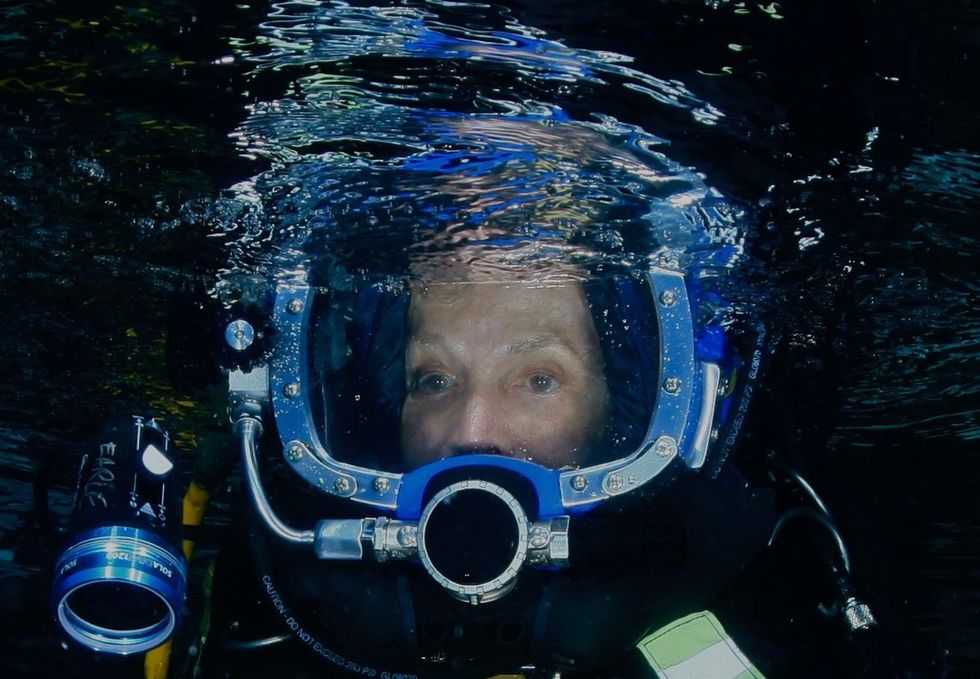 Do you still have hope that humanity can save the ocean?

You can get really depressed. You can say, "There is no hope. I think I'm going to have to coast along." But that's part of the problem. If everybody did that, we would absolutely wind up in a terrible place. It's a self-fulling prophecy. If you are sure that's the way it's going to be, you won't do anything to keep from going over the cliff. Even a nudge to go away from the edge is better than complacently. When people say, "I'm going to enjoy my life for the rest of time I have left. That's it. Kids will figure it out or they won't." I mean, come on. We are all the beneficiaries of generations of people who preceded us, who did what they could, learned and passed it along. In every point in time, there are those who are concerned about the future and those who don't care.
What do you say to those people who don't care?
It's the first time we are able to embrace the world as a whole and see what's happening on a global scale. We get to truly see how we are connected and one with nature. It's the best chance we ever had. We are the luckiest people ever to arrive because of this new insight that could not exist and didn't exist before. What's not to love about being alive right now? We're armored with the best knowledge we've ever had and the power to do something about it. Yes, I am frustrated with the policies of my own country. But I don't feel powerless. Neither should you.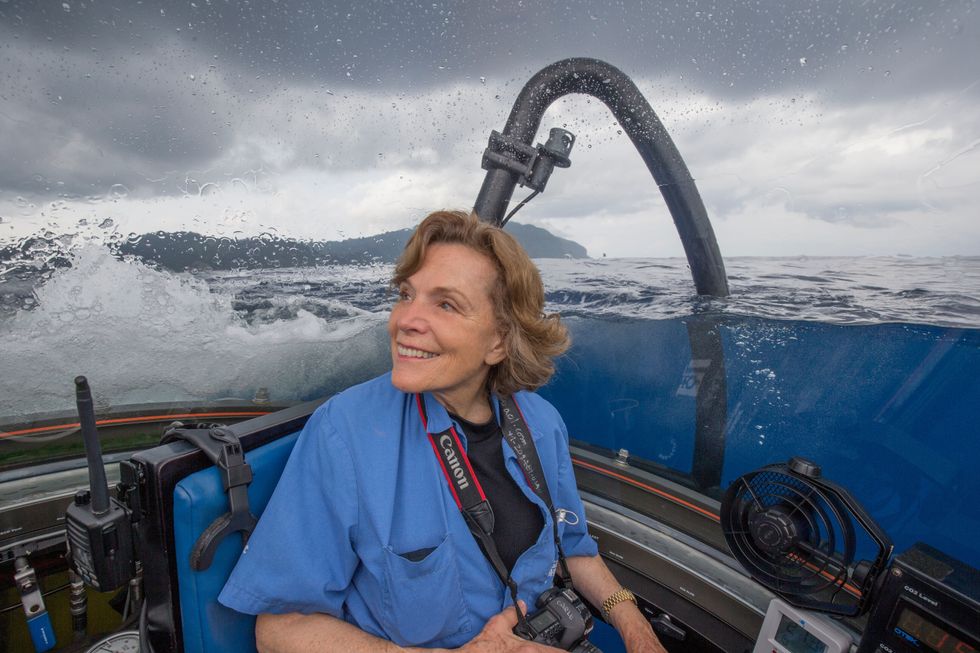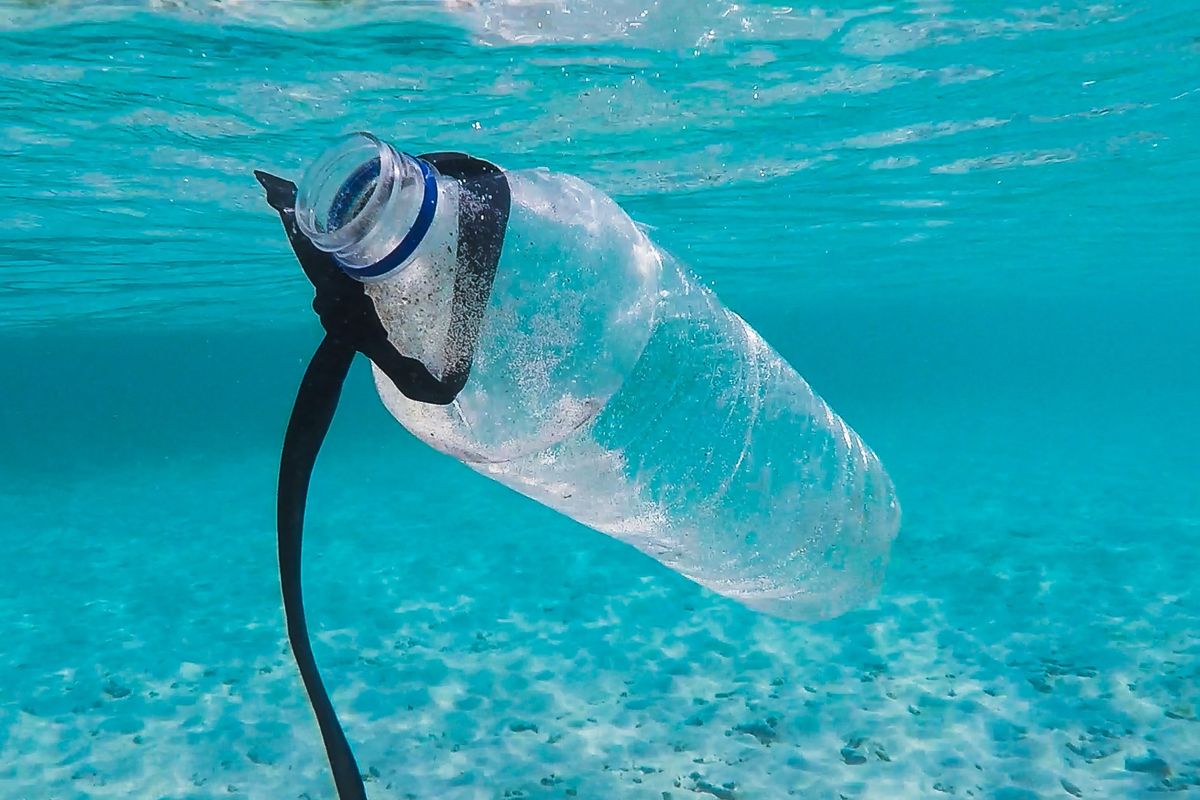 Editor's Note: This story is taken from the GOOD10 Ocean's Issue. You can download and read the entire digital magazine issue for free here.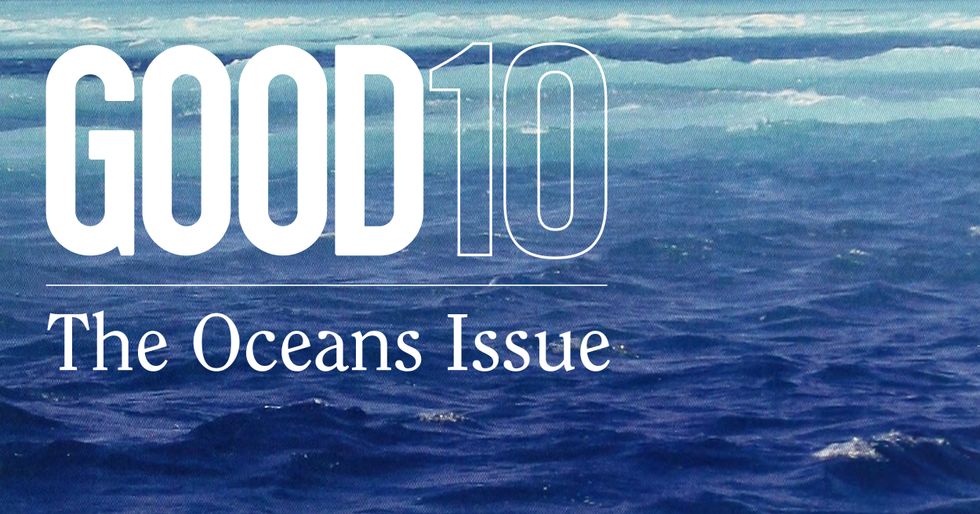 At this point, most of us know that plastic is environmentally problematic. Cheap, convenient and ubiquitous, plastic products undeniably make our lives easier in the short term. But in the long run, our reliance on plastic—especially single-use plastic—will destroy our planet.
According to the National Oceanic and Atmospheric Association (NOAA), around 8 million metric tons of plastic gets deposited into our oceans each year—that's equivalent to the weight of 90 aircraft carriers. From toothbrushes to water bottles, grocery sacks to food packaging, what we discard from our daily lives has to go somewhere. While some plastics can be recycled, the environmental promise that recycling programs held for us in the past has not really panned out in the present. Far too much plastic waste ends up washing down our watersheds, into our streams and rivers and out to contaminate our oceans.
Intellectually, we know the trade-off of marine contamination for modern convenience isn't worth it. But humans are creatures of habit who tend to resist change, even when we know it's good for us or the right thing to do. So how do we make the changes we know are necessary? What are some practical ways we can work to break our plastic dependency and move toward a more sustainable lifestyle?
Learn from people who have already embraced plastic-free living
We can start by looking to the experts. Environmental influencers are in no short supply, and they can offer valuable experience and knowledge to help those of us who are just getting started.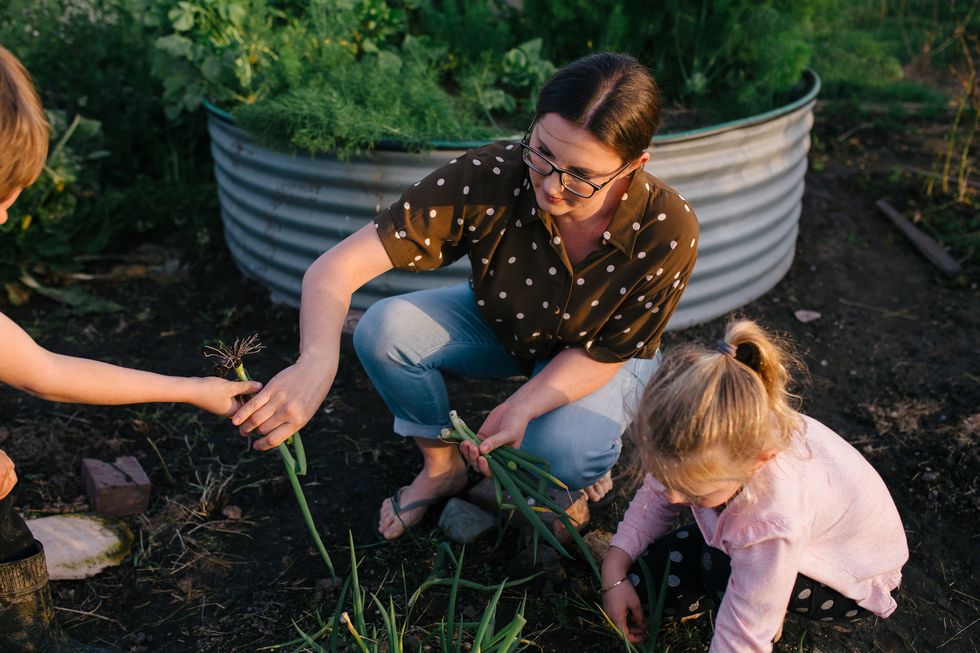 Tammy Logan
Tammy Logan is a mom of two and the owner and author of the sustainability website Gippsland Unplugged. For her, the plunge into "plastic-free" living happened overnight. In 2015, she heard about the Plastic Free July (PFJ) Challenge, an initiative in her home country of Australia where people commit to refusing all single-use plastics for one month, and she started it the very next day.

"I had no idea at the time that this decision would lead to so much more," she says." It's not like Logan wasn't aware of environmental issues, considering she holds a degree in Conservation Biology and Ecology. But figuring out how to translate education and awareness into action isn't always as obvious as we think. "Completing PFJ was exactly what I needed," she says. " I had been feeling frustrated and powerless and was looking for a way to do more for the environment and to be an example for my children."
In fact, she found the challenge empowering:
"Importantly for me, I could achieve many plastic-free goals without financial investment and without taking time away from my family. I finally realised I could do something about a waste problem that I had recognised for a very long time, but which I'd previously thought I couldn't do anything about. It was a very empowering experience that has led to an examination of waste in all aspects of my life for five years so far."
Though her immediate family is not as committed as she is to plastic-free living, Logan estimates that she's reduced her consumption of single-use plastic by 90%. She now writes about her sustainability journey on her blog, which promotes "plastic and waste free living, community, local and ethical business, nature connection, and other aspects of living sustainably."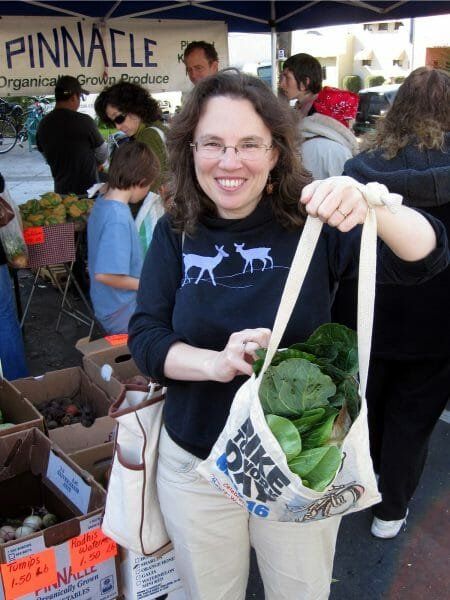 myplasticfreelife-com.exactdn.com
Beth Terry is the author of the book Plastic-Free: How I Kicked the Plastic Habit and How You Can Too and the website My Plastic Free Life. She was pulled into plastic-free living in 2007 after reading an article about ocean pollution and seeing a photo of a dead albatross chick whose insides were full of plastic.

"For some reason, that picture and that story really reached me in a way that other things hadn't," Terry says. "Like on a really basic, gut level—like, 'Oh my god, I feel this.'"
Terry says she was moved to action when she realized that plastic waste was something she had more control over than other environmental issues.
"Climate change is so nebulous, like we know that it's a real thing but you can't see your impact. But with plastic, it's right there, it's in your face. You can see it. You can touch it. You can refuse it. I wondered if it was possible to live without acquiring any new plastic."
Terry began tallying up all of the plastic she used and discarded, even going so far as to take photographs of it and make spreadsheets to track it each week. She laughs, explaining that she's an accountant, so that process made sense to her as a way to "see" her plastic footprint. But like Logan, she says she had no idea it was going to play such a big role in her life.
"It just grew bigger and bigger," she says. In fact, it grew so big, she gave a TEDx talk about her plastic-free journey in 2010:
TEDxGreatPacificGarbagePatch - Beth Terry - Living Plastic Freewww.youtube.com
Recognize the mindsets that keep us addicted to plastic
Our habits are often wrapped up in how we think, so both Logan and Terry shared with GOOD some of the mindsets that keep us from taking the leap to plastic-free living.
"First, let's define 'plastic-free,' says Logan. "Plastic free living is about eliminating single-use and semi-disposable plastic items from your life— straws, water bottles, bags, coffee cups, toothbrushes, razors, and most packaging. The term 'plastic free' is a little misleading because people often think it means living without plastic altogether and this may not be possible in today's world."
Terry says the same thing, pointing out that the plastic covered headphones she's wearing, which are connected to a computer that has plastic parts. "I would say it's more aspirational," she says, "and it's being free of the addiction to convenience that plastic makes possible."
That addiction to convenience is hard to break through for most of us, as is the idea that we "have to have this one particular thing right now," Terry says. So if we forget a reusable bag, we just say "Oh well," and use plastic. "We have such privilege," says Terry, "especially in this country, to get the things that we want right when we want them. And we don't think about, you know, maybe I could wait. Maybe I could come back with a reusable bag."
Terry says she made a hard and fast commitment at the beginning not to go soft on herself. "I knew when I started this that if I let myself off the hook and said, 'Okay just this one time,' then it would never become a habit."
However, Terry also acknowledges that going plastic-free can be overwhelming if you try to get too finicky about it.
"You can get so stuck in the weeds that you finally just give up and go 'forget it,'" she says. "The other thing about being stuck in the weeds is that you can lose sight of the bigger picture, which is that we have to have systemic change." She said that small individual changes are important and do make a difference, but we have to change on a systemic level and not get too caught up with tiny details, like what we're going to do with the sticker we just pulled off of our apple. "I mean, go to the farmer's market and get apples without stickers on them," she says, "but don't get so hung up on every tiny little thing."

Logan says she had to give up the idea of perfection in order to stay committed:
"After a few years of eliminating single-use food packaging, I decided to accept that I can only do the best I can in any particular moment. This means if I have to drop round to the nearest neighbourhood store to grab some supplies to get through a situation, I will. But it did take some time to stop feeling guilty about this. I reminded myself that whole systems are working against me and that it is wasteful systems that I am trying to change and raise awareness of. I am not actually trying to be a perfect plastic free person."
Take stock of your current household plastic consumption and waste
Terry began her plastic-free journey by literally counting her pieces of plastic waste. You don't have to go to quite that extreme, but it is a good idea to take a good, hard look at how much plastic you dispose of, either in the trash or the recycling bin.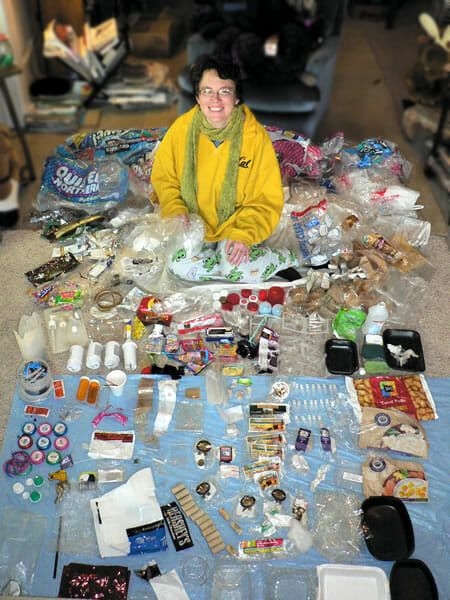 myplasticfreelife-com.exactdn.com
Logan suggests doing an "audit" of your garbage:

"I think a great place to start is to conduct a bin audit to identify the most impactful ways your household can be less wasteful. Your garbage is actually evidence of your behavior, which might turn out to reflect a different situation to what you thought. This is because we like to describe our behavior in ways that meet cultural expectations. For example, someone might see themselves as very environmentally aware and believe they are good at reducing waste until they do a bin audit and realize they actually have a bin full of food waste and single-use plastic."
Another thing Logan did was walk through each room of her house and list all of the things she consumed. Then she crossed out all of the things she actually could live without, then followed that up by figuring out which items left on the list had plastic-free alternatives that she knew about already. For example, we all need hand soap, but could we use bar soap instead of a plastic pump?
We may fall into complacency with some plastic packaging because we assume we can just recycle it. But most of our recycling doesn't get recycled locally. It gets shipped across the ocean—hardly an environmentally friendly solution. And especially since China no longer accepts our recycling waste, much of our supposedly recycled plastic just ends up in a landfill or the ocean anyway.
Take the plunge and free yourself from single-use plastic
On her My Plastic Free Life website, Terry lists a 100-step plan for eliminating single-use plastics. Logan has a room-by-room guide for your home on Gippsland Unwrapped that can help as well.
Oceanic Global, an international non-profit organization dedicated to protecting our oceans, offers some bullet-point action items that can help you start weeding out unnecessary plastics from your home and life. Here is a partial list to get you started:
- Go strawless
- Use a reusable bag
- Bring your own bottle
- Bring your own cutlery
- Bring your own coffee cup
- Switch to a safety razor
- Say no to balloons
- Use biodegradable glitter
- Say no to glow sticks
- Don't use plastic tea bags
- Use a shampoo bars
- Use body-wash bar soap
- Don't use disposable plastic q-tips
- Buy bamboo toothbrushes
- Refuse products with microbeads
- No cling film
- Ziplock free
- Purchase cosmetic items in alternative packaging like jars
- Buy shampoo, conditioner and body-wash in bar soap form or in refillable packaging.
- Buy fruits and veggies not wrapped in plastic
- Buy reusable bulk bin bags for nuts, beans, legumes, oats.
Our oceans can't take continually being used as our trash bin, and neither can the animals that rely on those oceans for life. While industrial fishing and other large-scale industry contributes to much of the ocean's plastic pollution, far too much of it can be traced back to our own shopping carts and recycling bins. Taking steps toward a more plastic-aware lifestyle is something we can all do to protect our oceans, beaches, and marine life.