Articles
The Life and Logic of an Anti-Abortion Protester
Even die-hard anti-abortion protesters can't fully buy into the stories they tell each other.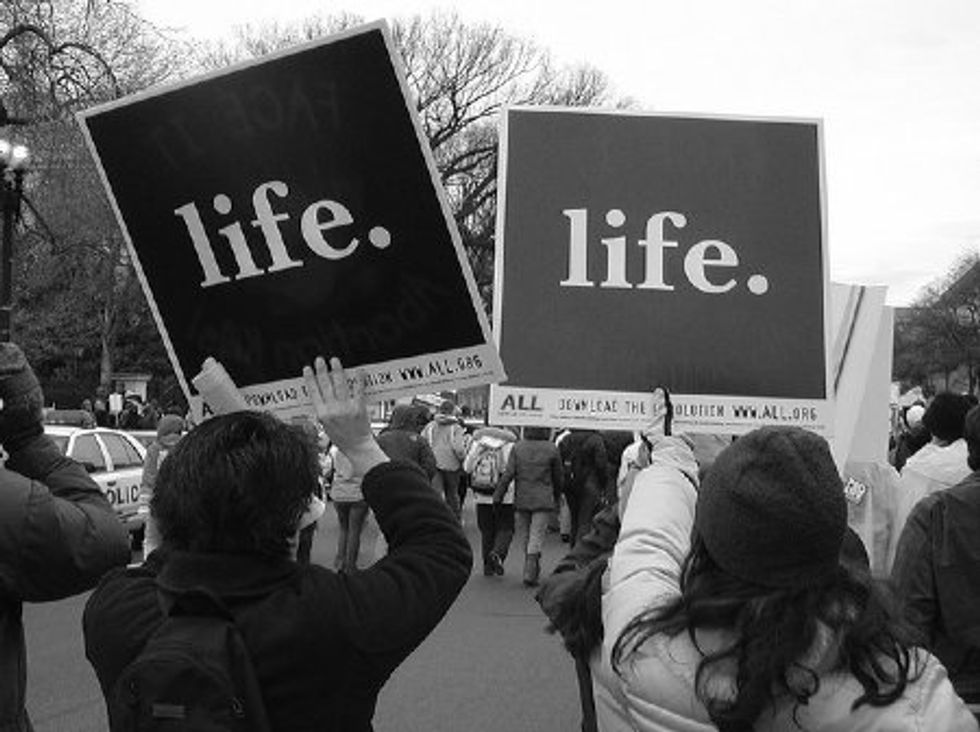 Three days a week, 79-year-old Dick Retta camps out in front of the Planned Parenthood clinic in Washington, D.C. and tries to stop women from receiving abortions. Last week, the U.S. Justice Department filed suit against Retta for succeeding: According to the claim, Retta violated the 1994 Freedom of Access to Clinic Entrances (FACE) Act when he "physically obstructed a patient and volunteer escorts" from attempting to enter the facility one day in January.
I've seen Retta in action at the clinic many times, both as a reporter and a patient (while living in D.C., I frequented Planned Parenthood for routine medical care, though never for an abortion). The FACE prosecution is just the most recent legal power shift between the clinic and the small group of protesters that populates its lawn. Last summer, Retta and a group of national anti-abortion activists succeeded in moving 40 feet closer to the clinic, securing protesters an extra ten seconds between the time a patient enters the property and disappears into its doors. The last time I saw Retta, he had begun following patients straight into the building and then pressing his face to the glass.
---
That's just Retta's newest trick. Several months ago, I met him in the basement of a Virginia church, where seven women and one man had gathered to hear his tips for interfering with abortions at the very last minute, an activity that protesters like Retta call "sidewalk counseling." Organizers served juice, cookies, and pamphlets that read "Planned Parenthood Steals Souls." Retta sported a yellow checked shirt, a ring of white hair, and a crucifix. "You don't want to wear a shirt that says 'Don't kill your baby,'" Retta told the group about appropriate abortion-prevention attire. Graphic imagery on T-shirts or posters, Retta says, can intimidate women; better to reserve the gruesome abortion photographs for the insides of fliers. Once the paper is pressed into a pregnant woman's hands, it's impossible to ignore.
Over the three hour session, Retta administered tips on how to skirt the line between effective protest (come equipped with a pair of prop baby booties) and prosecutable offense (avoid running after the woman). The centerpiece of the lesson was the storytelling portion, where Retta and the other counselors attempted to one-up each other with tales of outlandish averted abortions. One attendee announced that she heard tell of a particularly effective protest that ended with "women just pouring out" of the clinic. In another tale, a Latina patient was laying on the operation table when she glanced outside to see an anti-abortion protester holding an "Our Lady of Guadalupe" sign; she canceled the abortion and named her baby daughter "Guadalupe." In his favorite personal story, Retta claimed to counsel a 12-year-old rape victim out of aborting her pregnancy. "Did I tell you about the 12-year-old?" he asked the group, after detailing the incident twice in depth.
Retta claims to have inspired hundreds of quotable stories like that one: He says that his sidewalk commentary has convinced 350 women not to abort. And Retta's impressive "saves" count qualifies him to instruct other protesters on how to stop abortions—even if he doubts that other activists can ever really rival his achievement. Most days, Retta is joined at the clinic by a couple of middle-aged women and rotating groups of college students from local Catholic universities, who tend to just stand outside the clinic and pray. "They never get saves," Retta told me. "I don't know anyone who has as many saves as I do." Retta, a retired engineer, tallies his numbers in a monthly newsletter he distributes to anti-abortion protesters throughout the region. I asked him why no one else can match his numbers. "It's something about my style," he told me. "I'm aggressive and persistent."
Of course, real abortion prevention begins long before one of Retta's targets turns into a Planned Parenthood facility to terminate her pregnancy. But for protesters like Retta, anti-abortion status can't be earned by promoting safe sex and access to birth control; it only be established on the battleground of the clinic lawn—the space Retta calls "the most evil place in the world." If Retta loses the Justice Department suit, he'll be forced to cede precious protest ground—he'd be barred from coming within 20 feet of the Planned Parenthood clinic. But he could gain cred in the social protest scene, where even losing court contests are seen as a sign of success.
Even die-hard anti-abortion protesters can't fully buy into the stories they tell each other: Why would an abortion clinic feature windows in the operation room? How can Retta record "saves" when few women entering or exiting the facility even agree to speak with him, much less update him on the status of their pregnancies? Do 12-year-old rape victims really benefit from strangers requesting that they give birth? The lawsuit at least provides a concrete paper trail of progress. For an old man like Retta, it matters. "People ask me, 'Don't you have something better to do?'" Retta told me. "The truth is, I don't."
photo (cc) via flickr user The Cleveland Kid