Articles
He photographed high schoolers' demonstrations, which were some of the first major public actions of the Chicano movement.
In March of 1968, George Rodriguez was running the photo lab at Columbia Pictures. Every morning, like he had been doing for years, he drove from his parents' home in South Los Angeles to the studio backlot in the heart of Hollywood. He processed publicity stills of Stefanie Powers and Susan Dey; negatives from the premieres of "Bye Bye Birdie," "El Cid," and "Flower Drum Song"; and candids of Frank Sinatra between takes on "The Devil at 4 O'Clock." Over the years, some of the star-studded photographs were his own, shot on the same 35mm Pentax SP1000 he'd been using since graduating from high school to shutter away at big screen stars like Natalie Wood, Jayne Mansfield, and Lucille Ball, and rock and roll newcomers like The Doors and Jimi Hendrix, who had just begun lighting up the nearby Sunset Strip. Rodriguez was there for Omar Sharif and Peter O'Toole having drinks at the premiere after-party for "Lawrence of Arabia," and he was there at The Chez on the night Tony Bennett and Judy Garland went to see Buddy Rich record a live album.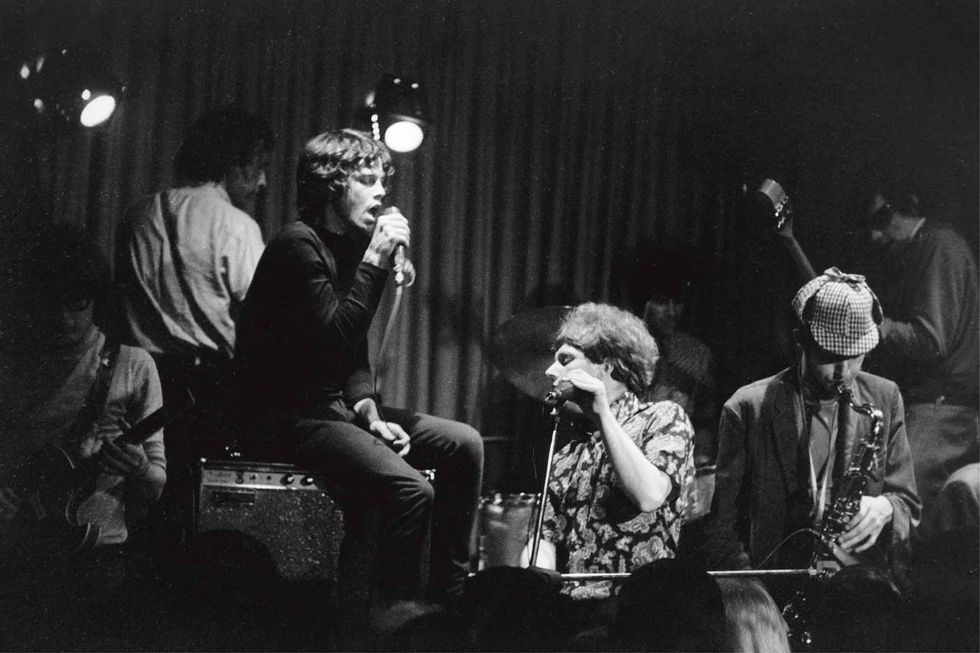 Them with Jim Morrison, Whisky a Go Go, Hollywood, 1966. Photo by George Rodriguez, used with permission.
<p>But on his lunch breaks that month, during that historic earthquake of a year, Rodriguez left the film premieres, nightclubs, and award shows that came alive in the lab basement at Sunset and Gower for East Los Angeles, where Lincoln High School teacher Sal Castro was helping stage a series of mass student protests against educational inequality and discrimination. Known as the Walkouts, or Blowouts, the student demonstrations at high schools across the Eastside were the first major public actions of the Chicano Movement.</p><p>Rodriguez was born to a Mexican immigrant father and a Mexican-American mother in 1937, a generation before most of the students. He had never lived in East L.A. He spent his earliest years in the back of his father's downtown shoe repair shop on Skid Row and knew the corner of 60th and Avalon better than the storied Eastside intersection of Whittier and Atlantic. He graduated from Fremont High School in South L.A., not from a historic Eastside institution like Roosevelt or Garfield. But when he saw the students, he recognized their faces, and their outrage, in his own. Even though it wasn't his job, even though he had no plans to sell his photographs of them to magazines or studios, and even though the students weren't famous actors or budding rock stars, Rodriguez wanted to take their pictures as if they were, as if the protests were a film premiere that all the world wished they could attend.</p><p class="shortcode-media shortcode-media-rebelmouse-image"> <img class="rm-shortcode" data-rm-shortcode-id="af8073a79415e2fcb5e85a114f5c6bd4" data-rm-shortcode-name="rebelmouse-image" id="76fd4" type="lazy-image" data-runner-src="https://assets.rebelmouse.io/eyJhbGciOiJIUzI1NiIsInR5cCI6IkpXVCJ9.eyJpbWFnZSI6Imh0dHBzOi8vYXNzZXRzLnJibC5tcy8xOTg2OTQyMC9vcmlnaW4uanBnIiwiZXhwaXJlc19hdCI6MTY1ODk2NjQzOH0.NkeTGhLAXy8mnRp1_tmcSLtEDw9IggM85XyRpC4fkfo/img.jpg?width=980"/> <small class="image-media media-caption" placeholder="add caption..."></small> <small class="image-media media-photo-credit" placeholder="add photo credit...">Boyle Heights, 1968. "Some kid got hit on the head by the cops during the Walkouts. I called these images 'a field day for the heat.' They were just kids." Photo by George Rodriguez, used with permission.</small> </p><p>He caught them as they left Roosevelt for the streets, young brown men with floppy bangs and fluffy Afros, unzipped hoodies and denim vests, one student scaling the school's chain-link gates to stare down the American and California flags. He framed their signs through his lens so they were impossible to miss against the backdrop of a grand Victorian on Mott Street: "Justicia," "Fuck the Pigs," "Roosevelt Chicanos Demand Justice."</p><p>He took as many shots as he could out of fear that nobody else would. Then he got in his car and rushed back to Hollywood.</p><p>In photography, double exposure typically refers to the photograph, not the photographer. A frame of film is exposed to light twice in a double act of opening and closing the shutter, and the result is a merger of two images within a single frame, one haunting the other. The only double exposures in Rodriguez's work were in the photos he shot for album covers, where he ran film back through the camera and re-shot over preexisting images to achieve what he called a "psychedelic look." Otherwise, his L.A. street photography, his celebrity portraits, his intimate shots of boxers, their managers and their cut-men, his documentation of anti-Vietnam protests and Chicano soldiers coming home, and his civil rights movement photojournalism, all relied on little technical experimentation.</p><p>By 1968, the true double exposures in Rodriguez's work were not found in his photographs, but in the photographer himself. He had become the double exposure, exposed to light from two very different sources. He was a single frame that contained simultaneous presences — an overlay, not a divide.</p><p>"I was really living two lives," Rodriguez says. </p><p>We have little room for the double-exposed, for the double-lifers, and the cultural two-timers. We like identities to fit neatly into single categories, and we like social experiences to line up with and mirror those single categories without ever mixing within the frame or spilling out of it.</p><p>Over the course of five decades of photographic work, only one of Rodriguez's lives — his images of Chicana/o protest and politics — has appeared in published volumes and in gallery and museum exhibitions. This book, with over two hundred photographs selected in consultation with Rodriguez himself from an unruly personal and professional archive of thousands — towering stacks of prints, file cabinets stuffed with proof sheets, negatives, and ephemera — marks the first occasion that his two lives, his career of double exposures, have been gathered into a single volume. Taken together, they span the 1950s through the 1990s — teen stars and political activists, the 1965 Sunset Strip riots and the 1992 L.A. uprisings, boxing gyms and recording studios, the Dodgers and the Brown Berets, beaches and barrios, farmworker newspaper "El Malcriado and Black adult magazine "Bronze Thrills" — and offer a rare half-century visual exploration of Los Angeles (with extensive forays to the California Central Valley) through the diverse photographic eye of a native son.</p><p class="shortcode-media shortcode-media-rebelmouse-image"> <img class="rm-shortcode" data-rm-shortcode-id="7319ba39e6bec283763e4816a031d1a9" data-rm-shortcode-name="rebelmouse-image" id="278ac" type="lazy-image" data-runner-src="https://assets.rebelmouse.io/eyJhbGciOiJIUzI1NiIsInR5cCI6IkpXVCJ9.eyJpbWFnZSI6Imh0dHBzOi8vYXNzZXRzLnJibC5tcy8xOTg2OTQyMS9vcmlnaW4uanBnIiwiZXhwaXJlc19hdCI6MTY1MDczNTgxN30.q96LhdAYj_eR-fHgVtDAtWcCCKlMzKT2FuIzinOEr70/img.jpg?width=980"/> <small class="image-media media-caption" placeholder="add caption..."></small> <small class="image-media media-photo-credit" placeholder="add photo credit...">Fernando Valenzuela, Dodger Stadium, Los Angeles, 1981. Photo by George Rodriguez, used with permission.</small> </p><p class="shortcode-media shortcode-media-rebelmouse-image"> <img class="rm-shortcode" data-rm-shortcode-id="c1c56cc8bf08465fe83665e5ac9e8d0d" data-rm-shortcode-name="rebelmouse-image" id="5bd63" type="lazy-image" data-runner-src="https://assets.rebelmouse.io/eyJhbGciOiJIUzI1NiIsInR5cCI6IkpXVCJ9.eyJpbWFnZSI6Imh0dHBzOi8vYXNzZXRzLnJibC5tcy8xOTg2OTQyMi9vcmlnaW4uanBnIiwiZXhwaXJlc19hdCI6MTYyMTk3NTM1M30.aI0rJ1QFhesvaG9z9ykn0MFCCjnbQ0BXG3NigqxL9zc/img.jpg?width=980"/> <small class="image-media media-caption" placeholder="add caption..."></small> <small class="image-media media-photo-credit" placeholder="add photo credit...">Eazy-E, Burbank, 1980s. "He was a cute little guy but was real solid. He looked very powerful. The times I saw him he was always with a different pretty girl. Whenever N.W.A. would come to my studio in Burbank, across from NBC, they'd come by way of Taco Bell." Photo by George Rodriguez, used with permission.</small> </p><p class="shortcode-media shortcode-media-rebelmouse-image"> <img class="rm-shortcode" data-rm-shortcode-id="5da834dfcd2ecf8df23fc23eb26075d5" data-rm-shortcode-name="rebelmouse-image" id="abf4e" type="lazy-image" data-runner-src="https://assets.rebelmouse.io/eyJhbGciOiJIUzI1NiIsInR5cCI6IkpXVCJ9.eyJpbWFnZSI6Imh0dHBzOi8vYXNzZXRzLnJibC5tcy8xOTg2OTQyMy9vcmlnaW4uanBnIiwiZXhwaXJlc19hdCI6MTYxOTc1MTUxMH0.SFjIYQOJHGR3Js4kGUKB3DxxT7ooNtLShpNvtcvThzg/img.jpg?width=980"/> <small class="image-media media-caption" placeholder="add caption..."></small> <small class="image-media media-photo-credit" placeholder="add photo credit...">Los Angeles, 1992. Photo by George Rodriguez, used with permission.</small> </p><p class="shortcode-media shortcode-media-rebelmouse-image"> <img class="rm-shortcode" data-rm-shortcode-id="38f366dec84679429198944ce6cae071" data-rm-shortcode-name="rebelmouse-image" id="32690" type="lazy-image" data-runner-src="https://assets.rebelmouse.io/eyJhbGciOiJIUzI1NiIsInR5cCI6IkpXVCJ9.eyJpbWFnZSI6Imh0dHBzOi8vYXNzZXRzLnJibC5tcy8xOTg2OTQyNC9vcmlnaW4uanBnIiwiZXhwaXJlc19hdCI6MTY0NTgzOTMyMX0.55f508URMnypdL0Fm8LmZjJM2zVrlU9_ZCP7uHxOWqI/img.jpg?width=980"/> <small class="image-media media-caption" placeholder="add caption..."></small> <small class="image-media media-photo-credit" placeholder="add photo credit...">Encino, 1971. "That's Michael's room in the Encino house. I was shooting for Soul Illustrated. He had two rats, one named Ray and the other was named Charles." Photo by George Rodriguez, used with permission.</small> </p><p class="shortcode-media shortcode-media-rebelmouse-image"> <img class="rm-shortcode" data-rm-shortcode-id="93f99e6871cda3c8fae9bb4bf5444053" data-rm-shortcode-name="rebelmouse-image" id="97957" type="lazy-image" data-runner-src="https://assets.rebelmouse.io/eyJhbGciOiJIUzI1NiIsInR5cCI6IkpXVCJ9.eyJpbWFnZSI6Imh0dHBzOi8vYXNzZXRzLnJibC5tcy8xOTg2MzE1My9vcmlnaW4uanBnIiwiZXhwaXJlc19hdCI6MTY0NTU2MDE4MX0.2GgiA-jWHYistXwAKKrNBbs3PfSeJ0aKi5G8tO-C9aw/img.jpg?width=980"/> <small class="image-media media-caption" placeholder="add caption..."></small> <small class="image-media media-photo-credit" placeholder="add photo credit...">Rubén Navarro, "The Maravilla Kid," The Forum, 1968. Photo by George Rodriguez, used with permission.</small> </p><p class="shortcode-media shortcode-media-rebelmouse-image"> <img class="rm-shortcode" data-rm-shortcode-id="30578789efdd28b8089bccbfb02b0970" data-rm-shortcode-name="rebelmouse-image" id="879a0" type="lazy-image" data-runner-src="https://assets.rebelmouse.io/eyJhbGciOiJIUzI1NiIsInR5cCI6IkpXVCJ9.eyJpbWFnZSI6Imh0dHBzOi8vYXNzZXRzLnJibC5tcy8xOTg2OTQyNi9vcmlnaW4uanBnIiwiZXhwaXJlc19hdCI6MTY3MjE4NTQxNH0.ZkS9nIchl1wmlZ9GVhatrBXXude3O5_Y3XmfK77umzk/img.jpg?width=980"/> <small class="image-media media-caption" placeholder="add caption..."></small> <small class="image-media media-photo-credit" placeholder="add photo credit...">Lincoln Heights, 1969. Photo by George Rodriguez, used with permission.</small> </p><p class="shortcode-media shortcode-media-rebelmouse-image"> <img class="rm-shortcode" data-rm-shortcode-id="d7bac986096a5be1a14d01ecce2caa9a" data-rm-shortcode-name="rebelmouse-image" id="0ba4a" type="lazy-image" data-runner-src="https://assets.rebelmouse.io/eyJhbGciOiJIUzI1NiIsInR5cCI6IkpXVCJ9.eyJpbWFnZSI6Imh0dHBzOi8vYXNzZXRzLnJibC5tcy8xOTg2OTQyNy9vcmlnaW4uanBnIiwiZXhwaXJlc19hdCI6MTYzMjg5ODYwMX0.S1gPGHBIzVuZx30_7cpKAO7-i2QmiVij41zlIbTtLXY/img.jpg?width=980"/> <small class="image-media media-caption" placeholder="add caption..."></small> <small class="image-media media-photo-credit" placeholder="add photo credit...">Cesar Chavez , Delano, 1969. Photo by George Rodriguez, used with permission.</small> </p><p class="shortcode-media shortcode-media-rebelmouse-image"> <img class="rm-shortcode" data-rm-shortcode-id="0e43f690622e02d2e23331ee3385914b" data-rm-shortcode-name="rebelmouse-image" id="19d2a" type="lazy-image" data-runner-src="https://assets.rebelmouse.io/eyJhbGciOiJIUzI1NiIsInR5cCI6IkpXVCJ9.eyJpbWFnZSI6Imh0dHBzOi8vYXNzZXRzLnJibC5tcy8xOTg3MzIwOS9vcmlnaW4uanBnIiwiZXhwaXJlc19hdCI6MTY1NDU2NTQ1M30.XilZVenMv6hFoDvHuLwBwNH6VK8tPWlOxjUYKf2Wkvg/img.jpg?width=980"/> <small class="image-media media-caption" placeholder="add caption..."></small> <small class="image-media media-photo-credit" placeholder="add photo credit...">East Los Angeles, 1960s. "This was when I was really out there actively looking for stuff. I was shooting the movement and I really wanted neighborhood scenes as context. White Fence is a gang in East L.A. Usually when I cruise around looking for subjects, you know that in some barrios you gotta shoot right then because you can't come back – this wall was whitewashed right after." Photo by George Rodriguez, used with permission.</small> </p><p class="shortcode-media shortcode-media-rebelmouse-image"> <img class="rm-shortcode" data-rm-shortcode-id="2c8fe112238bdd8a758c0e04f0142910" data-rm-shortcode-name="rebelmouse-image" id="6e9db" type="lazy-image" data-runner-src="https://assets.rebelmouse.io/eyJhbGciOiJIUzI1NiIsInR5cCI6IkpXVCJ9.eyJpbWFnZSI6Imh0dHBzOi8vYXNzZXRzLnJibC5tcy8xOTg2OTQyOS9vcmlnaW4uanBnIiwiZXhwaXJlc19hdCI6MTYxMzkxODI2M30.MTdj6e3QHuUP-hGsaIEdZy3_GZe1x6DHTKOCkyViVHI/img.jpg?width=980"/> <small class="image-media media-caption" placeholder="add caption..."></small> <small class="image-media media-photo-credit" placeholder="add photo credit...">Delano, 1969. Photo by George Rodriguez, used with permission.</small> </p><p class="shortcode-media shortcode-media-rebelmouse-image"> <img class="rm-shortcode" data-rm-shortcode-id="4af5e2286b510e727664834f677adbf0" data-rm-shortcode-name="rebelmouse-image" id="3313b" type="lazy-image" data-runner-src="https://assets.rebelmouse.io/eyJhbGciOiJIUzI1NiIsInR5cCI6IkpXVCJ9.eyJpbWFnZSI6Imh0dHBzOi8vYXNzZXRzLnJibC5tcy8xOTg2OTQzMC9vcmlnaW4uanBnIiwiZXhwaXJlc19hdCI6MTYxMTQxMzAyN30.w5rXx1YmyrpD78vNCmPRexrEiZ63ZrHf-XFs9o-NhiY/img.jpg?width=980"/> <small class="image-media media-caption" placeholder="add caption..."></small> <small class="image-media media-photo-credit" placeholder="add photo credit...">Frank Sinatra and Lucille Ball at the Screen Producers Guild Awards, Beverly Hills, 1962. Photo by George Rodriguez, used with permission.</small> </p><div style="width: 100%; font-size: 11px;line-height: 32px;text-align: center;background: #42ba7e;display: block;margin: 20px auto;width: 100%;min-width: 250px;color: #FFFFFF;line-height: 1em;border-radius: 50px;"><span class="lede"><a href="https://action.aclu.org/give/become-aclu-member-0?ms_aff=NAT&amp;initms_aff=NAT&amp;ms=180226_good&amp;initms=180226_good&amp;ms_chan=web&amp;initms_chan=web&amp;ms_ex=good&amp;initms_ex=good" style="width: 100%; font-size: 20px; line-height: 32px; text-align: center; background: #42ba7e !important; display: inline-block; color: #FFFFFF !important; line-height: 1em; padding: 15px 10px 13px; border-radius: 50px;">To help protect free speech and the right to protest,<br/>find out how to become a member of the ACLU.<br/></a></span></div>