Articles
At GDC 2015, a legendary game programmer makes the case for an emerging technology's conventional future.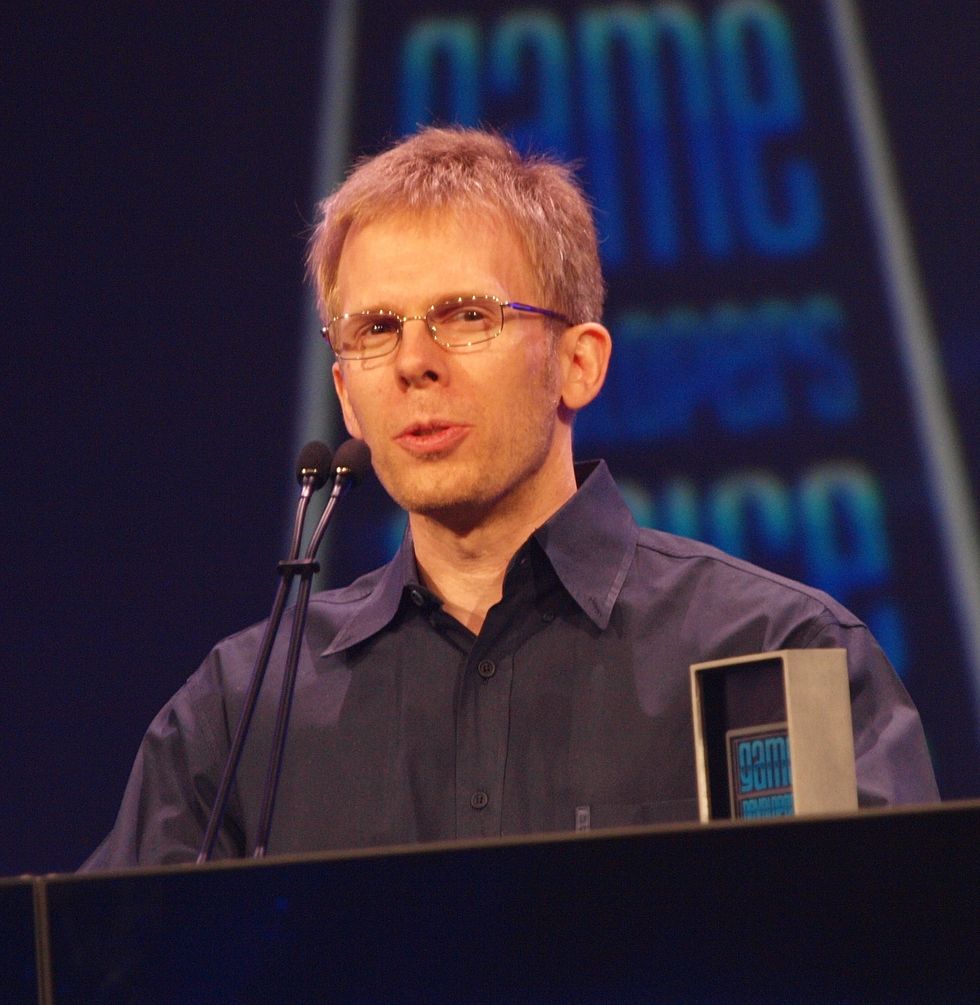 John Carmack receives a lifetime achievement award at GDC 2010. Photo by Official GDC via Flickr
In recent years, virtual reality has evolved from an overambitious 1990s pipe dream into a bona fide technological marvel. Leading the charge is Oculus Rift, a head-mounted virtual reality display in development by Oculus VR. The company initially raised $2.4 million through crowdfunding site Kickstarter, and, in 2014, was bought by Facebook for $400 million in cash and a further $1.6 billion in Facebook stock. To date, the company has only released a number of development kits, with a final consumer version of the product expected sometime this year.
<p>Convincing the public that virtual reality is no longer a fad would be a hard task for anyone. At this year's Game Developer's Conference in San Francisco, amid talks of the latest video game industry trends, Oculus unveiled their updated consumer strategy with the help of maybe the one guy who can pull it off.</p><p>In August 2013, the company announced John Carmack, the video game industry veteran who co-founded id Software and served as lead programmer on video game classics like Wolfenstein 3D, Doom, and the Quake series, would be joining Oculus VR. After playing around with one of the early Oculus units in 2012, Carmack made his own crude version using duct tape and wrote preliminary code to run on it. "I have fond memories of the development work that led to a lot of great things in modern gaming—the intensity of the first person experience, LAN and internet play, game mods, and so on," said Carmack when he joined Oculus. "Duct taping a strap and hot gluing sensors onto Palmer's early prototype Rift and writing the code to drive it ranks right up there."</p><p>Carmack is widely recognized for his passionate yet easygoing manner. His speeches and public addresses are informative and largely unscripted, delivered with ease and humor. This, perhaps, is why Oculus VR has chosen Carmack to lead the company's charge in pushing virtual reality to the masses. When Carmack talks about technology, he does it with the giddy excitement of a programmer, not a CEO or company man. There's nothing pushy about Carmack's manner; this man isn't trying to sell you anything he doesn't wholeheartedly believe you need to have. Wearing brown cargo pants and a loose Oculus-branded t-shirt, Carmack half-sat, half-stood on a stage inside San Francisco's Moscone Center at this year's Game Developers Conference and unveiled new details about Oculus VR's first big consumer push, revealing Oculus will enter the consumer market for the first time at the end of the year with the next iteration of Samsung's mobile products.</p><p>According to Carmack, when it comes to virtual reality, everyday consumers need to walk before they can run. Mobile will afford billions of people around the world the opportunity to experiment with virtual reality before deciding if it's something they want to invest more time and money into. "This is the job Oculus signed up for," Carmack said. "It's almost a cliché when people say they want to serve a billion users with their product. But I do see a world in which a billion people use virtual reality headsets."</p><p class="shortcode-media shortcode-media-rebelmouse-image"> <img class="rm-shortcode" data-rm-shortcode-id="207c63b93ebb516dbeaccce0c757dbd3" data-rm-shortcode-name="rebelmouse-image" id="8bbfc" type="lazy-image" data-runner-src="https://assets.rebelmouse.io/eyJhbGciOiJIUzI1NiIsInR5cCI6IkpXVCJ9.eyJpbWFnZSI6Imh0dHBzOi8vYXNzZXRzLnJibC5tcy8xOTgzNzQxMi9vcmlnaW4uanBnIiwiZXhwaXJlc19hdCI6MTYyNTA1NTYzNn0.QewI5IdTpmA5XaYAT-rSJNbucN2CH8E8hr8x9QJ8m1A/img.jpg?width=980"/> <small class="image-media media-caption" placeholder="add caption..."></small> <small class="image-media media-photo-credit" placeholder="add photo credit...">What John Carmack calls "the Oculus face." Image by BagoGames via Flickr</small> </p><p>Carmack has spent the past two years working on Gear VR, a head-mounted mobile virtual reality headset that will work with smartphones. Back in 2013, he saw a Samsung prototype for a virtual reality phone holder and thought it had merit; he later took up a full-time position at Oculus VR to develop a working prototype for a mobile virtual reality headset. To date, Gear VR, like the Rift, has mostly been available only to developers, but Carmack now says it's time to take the next step. The next iteration of the Gear VR, which will be revealed with Samsung's next product release cycle, will be Oculus' attempt to go "broad consumer", according to Carmack.</p><p>But playing the role of pioneer won't be easy. Carmack described Oculus VR's fear of "poisoning the well"—of making a bad virtual reality product that could potentially send the whole industry back to the '90s, when the technology was so bad that no one wanted to touch it for the next 20 years. Which is the reason Carmack was skeptical about sending Gear VR to the consumer market before it was ready. The current mobile headset is not as advanced as the Rift: it runs at 60 frames per second, and does not have position tracking, which means it can cause some people to feel sick when using it. The software side is not quite there yet, either: there's an app store, but it's basic, with no in-app purchases or internationalization.</p><p>However, Carmack says these features will be rolled out eventually. Right now, the focus will just be to get consumers interested enough to try out the mobile headset. The response to Gear VR has been positive with developers, with low return rates. And even though the range of software is limited, Carmack says the incentive is simply to get others to show it off to their friends.</p><p>"Many of us are jaded from working with virtual reality for a couple of years now, but when you show this to someone who has never seen VR before and they put on the headset, they get the 'Oculus face,'" said Carmack, referring to the amazed look first-time users of the technology often exhibit. "This is one of the key advantages and doing mobile VR—it can go with you on vacation and people see it and ask about it. This is what's going to be important in terms of getting people to buy into virtual reality."</p><p>At first, Carmack says, consumers will come for simple experiences like photos and video. "We're going to be surprised how many people who we did not expect to care about virtual reality wind up picking things up like this. My 70-year-old mother carries a Gear VR set with her to take panoramic vacation photos, for example. We can do things like that with virtual reality in a way that is powerfully better than what you get with traditional devices."</p><p>In terms of performance and experiences, the next Gear VR headset will not be radically different from its predecessors, but will have better optics and ergonomics. The next step will involve reaching out to developers to make more interesting experiences that push the boundaries of mobile virtual reality. Aside from videos and pictures, Carmack spoke about consumers using their mobile VR headsets to watch films, getting a more immersive experience than ever possible with currently available portable technology.</p><p>There's also the possibility of creating experiences, including video games, that involve slight movement and navigation, which would make it possible to use the headset while sitting down in a swivel chair, for instance.</p><p>"We're definitely going to avoid rollercoasters," Carmack joked.</p>