Sports
Albert and Deidre Pujols take on a new cause with Strike Out Slavery.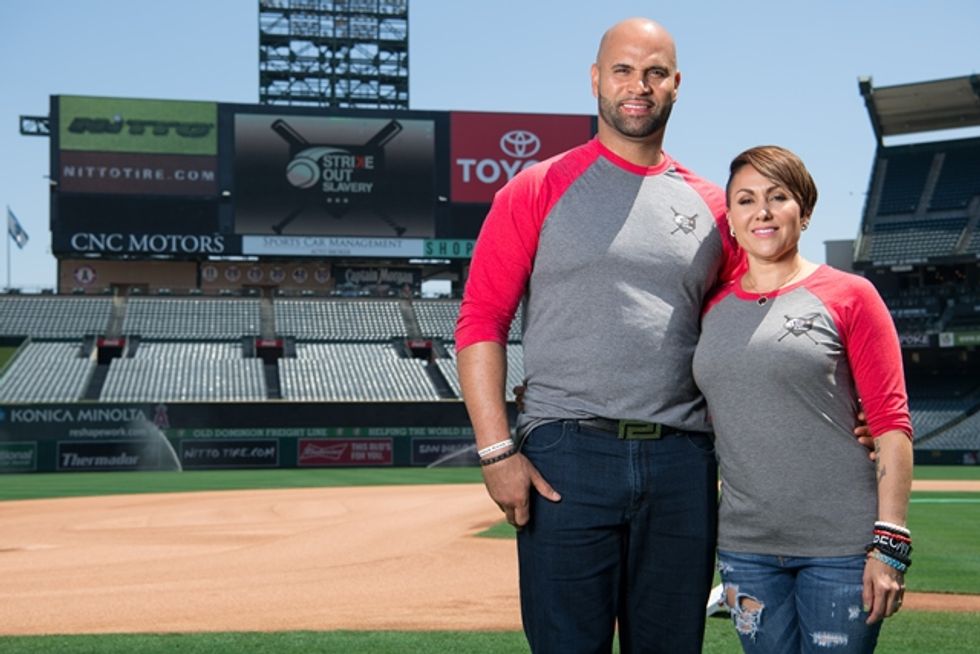 Albert and Deidre Pujols. Image by Los Angeles Angels.
When legendary slugger Albert Pujols decides to walk away from Major League Baseball and the Los Angeles Angels of Anaheim, he'll already have his second career carved out for him. With his wife, Deidre, leading the charge, Pujols has dedicated plenty of funds and time to a variety of causes through his family foundation. Their latest initiative is Strike Out Slavery, which looks to raise funds and awareness about human trafficking and modern slavery. The Pujols' new effort will culminate in an event at Angel Stadium of Anaheim on Sept. 16, which will include an impressive prize package up for grabs for those who make a donation and a concert by Nick Jonas.
<p>"It's so inspiring to see people use their platform for passion or something good," said Rebecca Bender, a survivor of human trafficking who has been involved in Strike Out Slavery alongside Albert and Deidre. "For me personally, I'm always super humbled to see people like them who have a great platform that are trying to fight for girls like me. I can remember when no one would fight for us or they just looked at you like you were scum."</p><p>Whether it's with Strike Out Slavery or their efforts to address other causes both in the United States and Albert's native the Dominican Republic, the couple addressed the inspiration and objectives behind their charitable efforts.</p><p class="question primarycolor-color">Where did the concept for Strike Out Slavery come from?</p><p>Deidre Pujols: "It all started when I ran into an acquaintance in Washington, D.C., in February of last year. I knew that he had safe homes in Mexico. I was curious. We talked a while and he and his family gave everything up here and moved to Mexico to help these young ladies and men who are caught up in this fight. From April until the end of the year, I just traveled around the world connecting with different organizations and educating myself. That was the seed. Now that particular group is a partner with our organization."</p><p>Albert Pujols: "I'm still getting educated. When she first went a year and a half ago, I thought, you're crazy. But it's her passion. For me, she's been a big supporter of my career. That's what I try to do for her. Just be a big supporter. On Sept. 16, we're going to have a great event to raise awareness about human trafficking."</p><p class="question primarycolor-color">How have you two worked together in all these initiative?</p><p>D.P.: "When I travel, Albert misses out. He really wants to be there. By the time he's retired and perhaps takes a couple years off, then he can come. In that time, the programs really will be flourishing and he'll be able to see the fruit of what I've been able to do alongside these other organizations. He is a huge supporter. He didn't understand a lot of it in the beginning. Just as I've been educated, I come back and educate him. He knows how passionate I am about it. We have an opportunity and a platform that is very powerful. So we want to be responsible with that. The best way that he and I do that together is by helping, encouraging, and inspiring others."</p><p>A.P.: "This is the platform that God has given me. You have to do something with it. You can't just be sitting around at home. Through our foundation and through her new ministry, Open Gate International, it's something that I'm going to get more involved in and learn more about."</p><p class="question primarycolor-color">Like many Dominican baseball players, you've been involved in helping people in that country. How important is that for you?</p><p>A.P.: "You never forget where you come from. It's a third-world country, and it's a platform that God has given me. Along with my wife and my family and great people through the foundation, we make mission trips down to the Dominican Republic. It's to change lives and to help and use this platform that I have. At the end of the day, it's our goal: Nelson Cruz, Robinson Cano, and everybody that has done things in the Dominican Republic. It's to help other people."</p><p class="question primarycolor-color">Was it still important to someday help people earlier in your career before you found success in baseball?</p><p>A.P.: "I grew up watching my dad coming up in a third-world country. My family would take a plate from the table to give to the neighbors. I come from a giving family. They love to give. A poor family, but you know what? God always has a purpose for everything. The success I have on the field and off the field, I want to use that. I want to use that platform. I know their needs. I probably won't be able to go all over the world, but I can set an example for others to follow like they have, like Pedro Martinez and David Ortiz and all those guys. At the end of the day, it's not for my glory. We give all the glory to God. That's why if you look at our foundation, it's faith, family, and others. We're really vocal and open about our faith and what God has done in our life. That's really important to us."</p><p>D.P.: "We certainly didn't know the success would come the way that it did. But baseball is his gift and that's what he's been made to do. Just from our backgrounds, helping people comes natural for us, I think. I think the greatest challenge we have learned and still learn is how to manage that give-back spirit. This event coming up is just another example of how we want to responsibly use our platform and get other people involved and engaged."</p>