Articles
He's the grandson of some of the world's most famous designers, Charles and Ray Eames.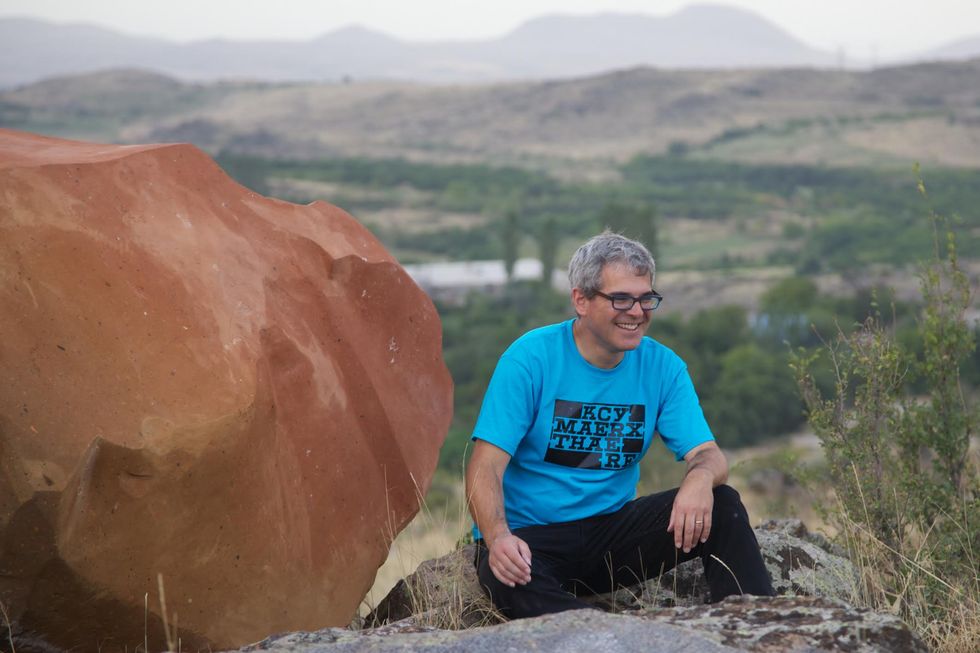 Eames Demetrios. Photo courtesy of Eames Demetrios.
In the years following World War II, Charles and Ray Eames helped redefine the American aesthetic, beginning with a simple, iconic, mass-produced chair. For decades, the married couple produced ubiquitous work that helped shape the field of modern design, and when Charles died in 1978 and Ray followed 10 years later, the daunting task of preserving that legacy was passed down to Charles' daughter and Ray's stepdaughter, Lucia Eames. After Lucia passed away in 2014, the responsibility was transferred to her own son, artist Eames Demetrios.
<p>At that time in 1988, when his grandmother, Ray, died and his mother inherited all the associated responsibilities and opportunities, Demetrios was already making films — including one about closing the Venice-based Eames workshop. "In that process, I realized that I really cared about my grandparents' work — and that I knew things that I hadn't quite realized I knew," Demetrios says. "Interestingly, I knew right away that their ideas were of particular importance to me. Then I grasped that my mom really needed some help."</p><p>He did about 200 hours of interviews with friends, family, and colleagues of the Eameses so that he could expand his viewpoint, and he visited archives around the world. "I wanted to understand their ideas and know them not just as grandparents but as creators and humans trying to make sense of the world," Demetrios says.</p><p>While Demetrios attended to his family's already prolific cultural legacy, he promised himself he would continue his own artistic practice. As he kept the Eames empire going, he was also working on his other full-time job: creating a new world.</p><p>"As far as Kcymaerxthaere goes, I think I am just getting started," he says.</p><p class="shortcode-media shortcode-media-rebelmouse-image"> <img class="rm-shortcode" data-rm-shortcode-id="de718fc24e14aaf16b0b67c2bd55332f" data-rm-shortcode-name="rebelmouse-image" id="dcac8" type="lazy-image" data-runner-src="https://assets.rebelmouse.io/eyJhbGciOiJIUzI1NiIsInR5cCI6IkpXVCJ9.eyJpbWFnZSI6Imh0dHBzOi8vYXNzZXRzLnJibC5tcy8xOTg2OTg5NC9vcmlnaW4uanBnIiwiZXhwaXJlc19hdCI6MTYyMzMzMDM5MX0.hsTvgB8tmeZSiXyNT5YCXAvBFMIZCWYNb10IrCukbd4/img.jpg?width=980"/> <small class="image-media media-caption" placeholder="add caption..."></small> <small class="image-media media-photo-credit" placeholder="add photo credit...">Eames Demetrios works on a site in Australia. Photo courtesy of Eames Demetrios.</small> </p><h2>The mythmaker</h2><p><span class="lede"><a href="http://www.kcymaerxthaere.com/">Kcymaerxthaere</a> (pronounced Kye-maer-icks-theer) is a fictional "parallel universe"</span> created by Demetrios and features its own languages and legends.</p><p>Kcymaerxthaere has a lot in common with our world, only with different inhabitants, different customs, and even different laws of physics. At first, it might not appear much different than, say, Narnia or Middle Earth. But unlike other mythical places, Kcymaerxthaere isn't just a product of the imagination.</p><p>It's real. Well, kind of.</p><p>Demetrios travels to various global locations and buys small, awkward pieces of land and creates actual landmarks commemorating historical events that happened in Kcymaerxthaere. His landmarks can be found in 27 countries on six continents. </p><p>[quote position="full" is_quote="true"]Wonder requires surrender and benefits from serendipity.[/quote]</p><p>"As geographer-at-large, I travel the world installing markers and historic sites that honor events from this fictional world in our linear world," Demetrios explains. "It is an artwork, but it is also a storytelling experience and a point of connection. It is like a novel with every page in a different place: the physicality of where you read it enriches what you are experiencing."</p><p>He adds these historical marker plaques on buildings, constructs "interpretive centers," and builds real monuments to his imagined world. By making tangible things, he effectively has transformed his made-up place into something real.</p><p>"We often tell kids to be practical, to be realistic, but in reality, the most important things in our lives are the things that aren't there," Demetrios says. "So getting people in the habit of seeing what doesn't exist yet is important."</p><p class="shortcode-media shortcode-media-rebelmouse-image"> <img class="rm-shortcode" data-rm-shortcode-id="db680eb5d14336857f5242074524fd1c" data-rm-shortcode-name="rebelmouse-image" id="e5e0c" type="lazy-image" data-runner-src="https://assets.rebelmouse.io/eyJhbGciOiJIUzI1NiIsInR5cCI6IkpXVCJ9.eyJpbWFnZSI6Imh0dHBzOi8vYXNzZXRzLnJibC5tcy8xOTg2OTg5NS9vcmlnaW4uanBnIiwiZXhwaXJlc19hdCI6MTYxNjk0MjY0OH0.O8xDA5PVveQn7FtjZG0pqvXipsqbg_6qkBUKFcXpxZs/img.jpg?width=980"/> <small class="image-media media-caption" placeholder="add caption..."></small> <small class="image-media media-photo-credit" placeholder="add photo credit...">A plaque located in Joshua Tree, California. Photo courtesy of Eames Demetrios.</small> </p><h2>Imaginary cartography</h2><p><span class="lede">While today's detritus of human experience is increasingly relegated</span> to the inherently intangible digital realm, Demetrios is physically altering Earth's geography, keeping storytelling alive through art. "It is words you can read — sometimes in bronze or stone or concrete," as he describes his landmarks. "And it is also physical structures and their interactions with their landscape — sometimes rural, sometimes urban."</p><p>In Grand Rapids, Michigan, for example, a monument on the banks of the town's eponymous river pays tribute to the fictional town of Lekksenne, in which a handful of small stones have been regularly thrown to symbolize the story of creation. Another ornamental tablet in the same city honors Kcymaerxthaere artist Forrest Bess, who has yet another tribute roughly 4,500 miles across the Atlantic in Poczopek, Poland, to commemorate his studio.</p><p>[quote position="full" is_quote="true"]We approach the unknown with a combination of trepidation and over-confidence — two qualities that undermine wonder.[/quote]</p><p>But that's not all — there are currently 138 installations total, including an underwater marker in the United Kingdom that serves as a monument to the peaceful defeat of the fictional Royal Family of Rockall. Similarly, a plaque in Hellnavegur, Iceland, called The Víddaflakk or Interdimensional Hopscotch recounts the story of Kcymaerxthaere resident Eliala Mei-Ning.</p><p class="shortcode-media shortcode-media-rebelmouse-image"> <img class="rm-shortcode" data-rm-shortcode-id="bb3aece547950a157f51799fe57f2b01" data-rm-shortcode-name="rebelmouse-image" id="8ae57" type="lazy-image" data-runner-src="https://assets.rebelmouse.io/eyJhbGciOiJIUzI1NiIsInR5cCI6IkpXVCJ9.eyJpbWFnZSI6Imh0dHBzOi8vYXNzZXRzLnJibC5tcy8xOTg2OTkwMC9vcmlnaW4uanBnIiwiZXhwaXJlc19hdCI6MTY1NjE4OTg3OH0.DgsQ7nCVuP0xoo3CgRSuHK7UPPPCviQTZDZGrexXPS8/img.jpg?width=980"/> <small class="image-media media-caption" placeholder="add caption..."></small> <small class="image-media media-photo-credit" placeholder="add photo credit...">The text of a plaque written by Demetrios. Photo courtesy of Eames Demetrios.</small> </p><h2>Monuments to wonder</h2><p><span class="lede">Many of the landmarks in Kcymaerxthaere are plaques</span> while others, like A Healing Palindrome in New Harmony, Indiana, are designed to tell a story — in this case, through the arrangement of concrete shapes.</p><p>But whether it's a simple plaque or an abstract installation, each of the landmarks is not only a monument to Kcymaerxthaere but to imagination itself — in a sense, bringing back a sense of wonder that seems to have been lost.</p><p>"There are wonderful things, and there are people experiencing wonder every second of every day," he says. "So I am not sure there is a lack of wonder precisely as much as a blindness to wonder."</p><p>The landmarks of Kcymaerxthaere return us to a sense of the unknown, he says. "We approach the unknown with a combination of trepidation and over-confidence — two qualities that undermine wonder," Demetrios says. "Wonder requires surrender and benefits from serendipity."</p><p>With so much going on in his fictional world, one can't help but wonder how Demetrios navigates his everyday world, where he's managing the day-to-day of his family legacy. But Kcymaerxthaere could be his imaginary space to get away from it all.</p><p>And in a thousand years, when archaeologists discover these plaques that weave the story of Kcymaerxthaere, perhaps they will believe that these artifacts are true. If Kcymaerxthaere becomes part of history, Demetrios' mythical world will become real after all.</p><p><br/><em>Eames Demetrios will tell stories about Kcymaerxthaere and sign copies of "</em><em><a href="http://www.kcymaerxthaere.com/index.php/cart/product_detail/2776">Kcymaerxthaere: The Story So Far… (Folio 1)</a>"</em><em> from 4 to 6 p.m. Saturday, May 19, 2018, at the A+D Architecture and Design Museum in Los Angeles. </em><br/></p>