Articles
Annotated Style: Edward Honaker, Skinny Suits
Seventeen-year-old style blogger Edward Honaker tells the story behind the clothes, from Twilight-inspired hair to too-big undershirts.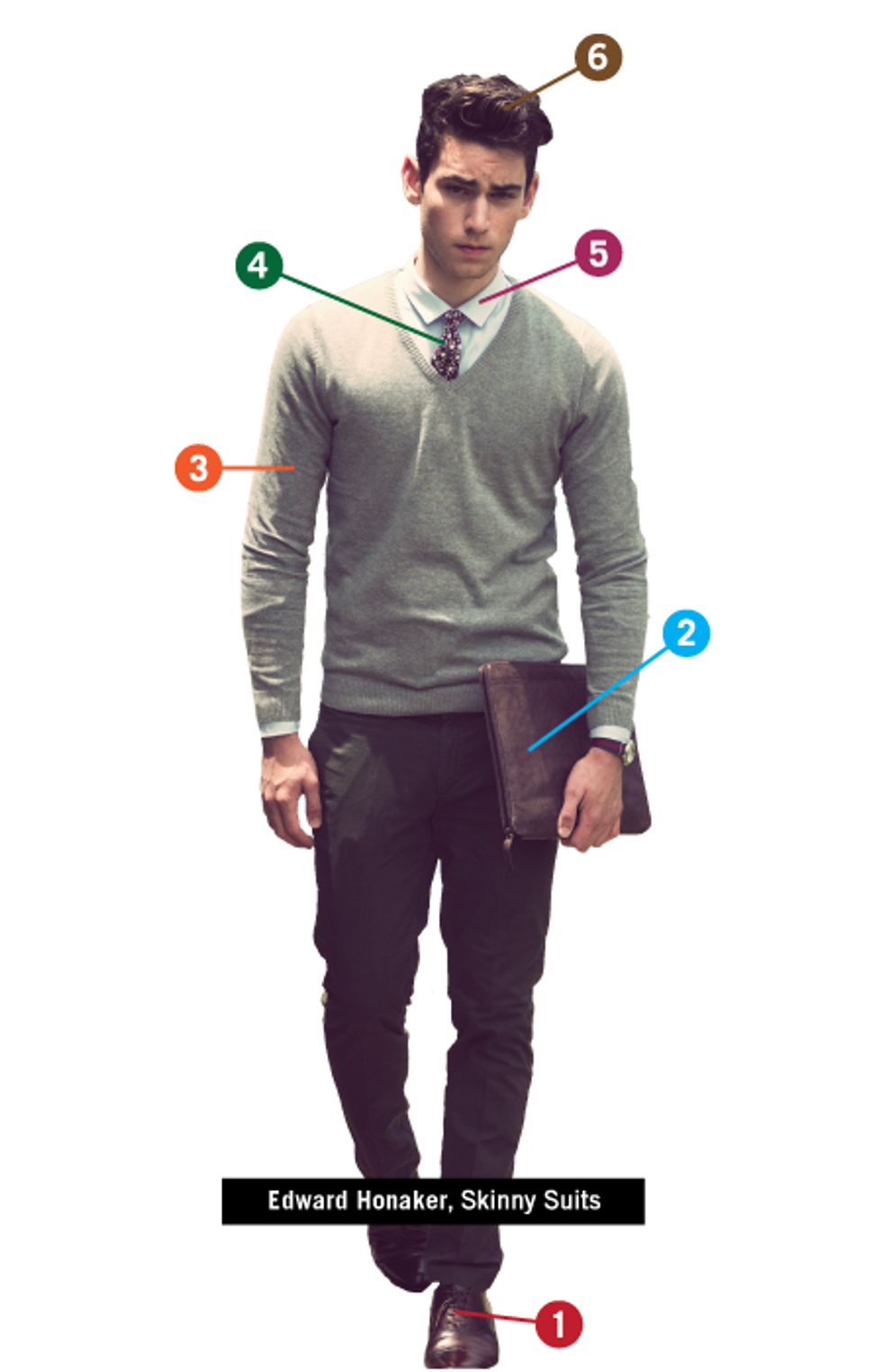 1 "The shoes are Bostonian. I got them on eBay a few years ago. Apparently they were made in the mid-90s, but when I bought them, they were brand new. I guess they'd been sitting in some guy's closet for a decade."
---
2 "This Topman leather portfolio is good for carrying around papers and photographs. People make fun of me for it—they say it looks like a 'girl's clutch'—but it's better than throwing important papers into a backpack."
3 "My older brother owns the same H&M sweater, and I always try to avoid wearing it on the same days he does. My brother is 22; I'm 17. He dresses well, definitely better than most men his age, but he doesn't care about fashion nearly as much as I do. Beyond the sweater, we don't really see eye-to-eye when it comes to clothing. He doesn't agree with how I like clothing to fit—really fitted—and he's not into dressing up. I like to think I'm influencing him a little bit."
4 "This floral tie came out of a deal I made with my friend. We challenged each other to incorporate something flowery into an otherwise everyday outfit, so I picked up this skinny tie with tiny pink and white flowers from TopMan. He got a floral shirt. Obviously, his was more daring."
5 "I got this shirt from H&M last year in a size large, but I ended up losing a lot of weight and now it's too big for me. I only wear it under sweaters and jackets to hide how baggy it is. Most of my old clothing actually fits and looks much better now, but I still have a few jackets and pants that are too big in places you can't alter—the shoulders and the seat. I haven't given them up yet, but I will when I find someone who needs them!"
6 "Back in 2009, I saw Robert Pattinson's hair and it intrigued me. I had never seen hair that cool before. Most guys stick to a really basic haircut, and I had never realized how much more can be done with hair. I started growing it out and trying different styles. It's always changing. Sometimes random people on the street or in stores will compliment me on it. Some people think it looks pretty ridiculous though, and sometimes it does. Especially when I'm too lazy to get it cut."
In Annotated Style, fashion bloggers tell the story behind the clothes. Edward Honaker blogs at Skinny Suits.