Articles
How to Fire Rupert Murdoch
The board of News Corporation needs to act. And if it doesn't, shareholders might.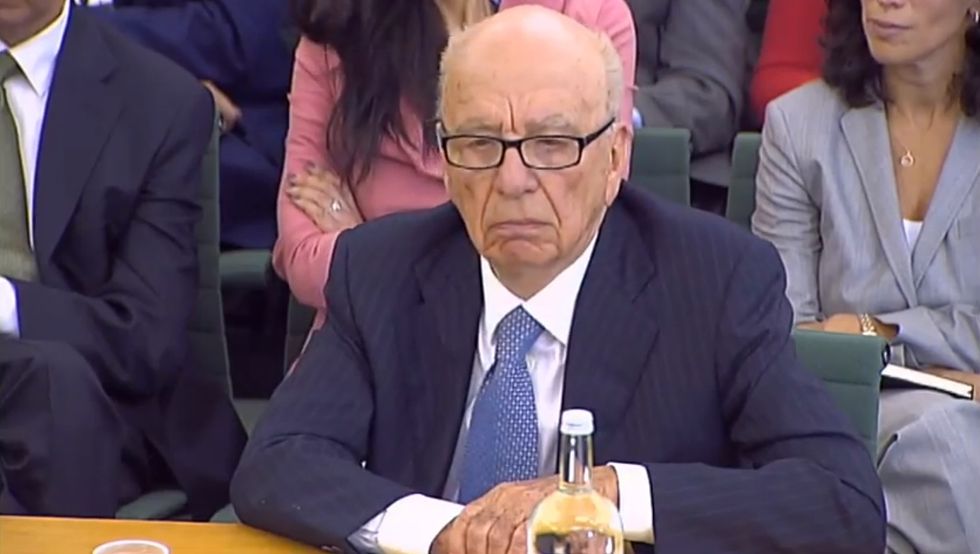 Really? He's in charge?!? That was a common response for many who watched Rupert Murdoch bumble through today's U.K. Parliamentary hearings. (OK, to be fair, they also talked about the humble pie to the face .) The 80 year-old media mogul took long pauses, spoke out at odd moments, gesticulated wildly, and forgot a lot of details.
---
He seemed far more like Junior Soprano on the witness stand than the formidable business visionary and CEO of News Corporation. He denied any wrongdoing, claimed he didn't hear about any of the illegal phone hacking or pay offs until well after the fact, and passed the buck to his "trusted" executives. After watching Murdoch handle phone hacking questions, some reports say that the News Corp board may be considering re-assigning him. That would be an incredible step, because firing Murdoch is nearly impossible, no matter what he does. That's just part of our corporate system.
Assuming his distance from the details wasn't an act, he might be innocent and out of it. Or as one member of parliament suggested, Murdoch and his son might be willfully blind to the dark side of News Corp's operations. Either way, is he fit to lead the company? And if he isn't, why hasn't he been fired already?
Well, it's his company for one. Murdoch owns almost 40 percent of the voting shares, so if his board did kick him out of the corner office, he could replace them with even more loyal factotums. "The board is hamstrung by the fact that it is Murdoch's board... they're all either insiders, friends, or former colleagues of Murdoch in one form or another," said John Paul Hodgson of Governance Metrics International .
GMI rates companies on their governance practices and News Corp hasn't scored so well. "When we first started our ratings in 2003 we gave the News Corp board and F, and we have given and F rating every single rating since then. It was not a dysfunctional board it was a non-functional board," Hodgson tells GOOD.
That's all fine as long as the company is earning profits, but this scandal has obliterated about $6 billion value from News Corp shareholders. Class-action lawyers are
already lining up
. Standard and Poors has lowered the company's debt rating. Its stock price has tumbled about 15 percent since a peak on July 5. The only reason the share price didn't dip further? Murdoch propped it up with a multi-billion dollar buy. (Paradoxically, today's hearing seemed to help. Shares of News Corp were up more than 5 percent at the time of the humble pie incident.) These financial management criticisms don't even take into account Murdoch's recently blown deals like the British Sky Broadcasting TV network acquisition, and the fact that he was forced to close a 168-year-old paper in shame.
Hodgson says it's common for CEOs to be shown the door, even in family-owned trusts like News Corp, when they damage a company's value and reputation so thoroughly. So why can't the board fire Rupert Murdoch? Well, they can. They just don't seem to want to. And it's not just the fact that they're cronies. The members of the hand-picked board of directors are handsomely paid, between $200,000 and $1.8 million a year for their very part-time service, according to GMI. Firing Murdoch would likely lead him to find a new board, forcing the current members to hop off the gravy train.
So if public shareholders lose 15 percent of their holdings, or perhaps even more if the scandal drags on, they'll have to sue to get it back. That's what's happening.
"News Corp's behavior has become an egregious collection of nepotism and corporate governance failures, with a board completely unwilling to provide even the slightest level of adult supervision," Jay Eisenhofer, co-lead counsel to shareholders, said in a statement announcing an amended lawsuit.
Even if they win, Murdoch will still control News Corp. He'll just be poorer for it.
\n