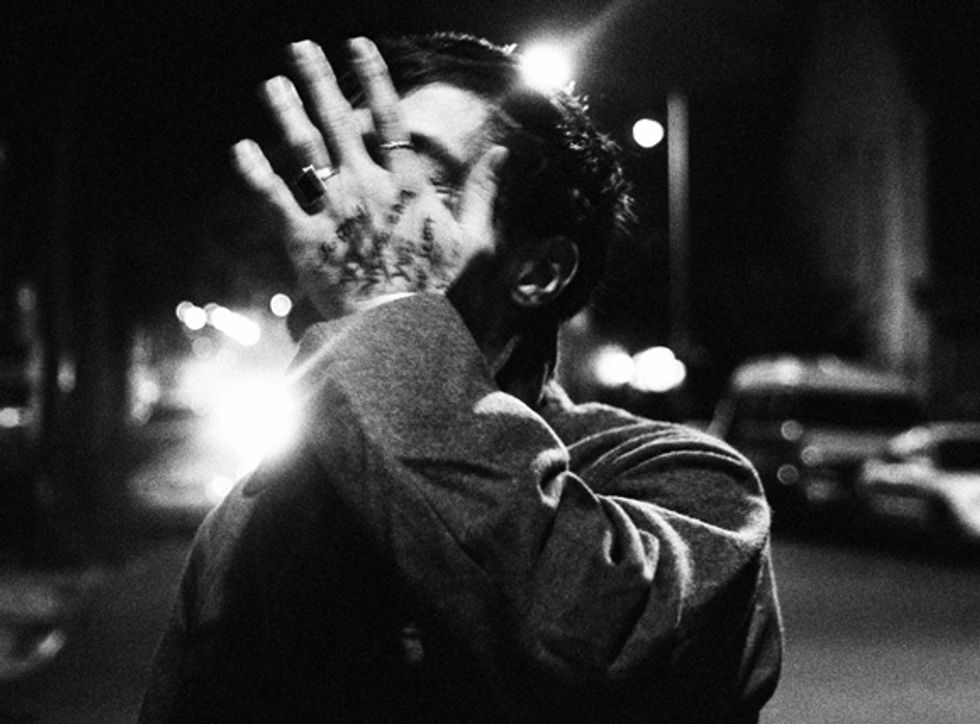 Independent filmmaker Vincent Moon takes his guerrilla style global.
"We're just playing
next to the trash cans," says Zach Condon, the reedy lead singer of the group Beirut. Moments later, the camera shows Condon and his gypsy-inspired band play a rousing acoustic version of their song "Nantes" on a Paris street corner. Green trash bins serve as drums, but it's the accordion that sets the beat. Onlookers pause, delighted. It's a curious scene and it's what Vincent Moon does best.The filmmaker responsible for this impromptu concert is 29-year-old Mathieu Saura, better known as Vincent Moon. Since 2006, Moon has built a cult following by filming musicians performing songs in one take, unscripted, usually in a public space. His Take-Away Shows for the indie music website
La Blogothèque
don't have big budgets or big crews and they're shot in an iconic, unusual style.Now, with his ever-growing following, he's taken on yet another new venture,
FiumeNights.com
, a blog named for the free independent state that existed next to the Adriatic Sea in the early 1920s. There won't be much prose on the site-"I don't like much to write, but I like to talk and I'm enough confident/pretentious to try it," he writes-but he pledges to upload at least one new film a week, done in one shot, in one take."My idea of cinema is a guy going into the street and changing how things are just by the way he's holding a camera in his hand," Moon says. "It's not about recording, it's about filming."The long lineup of musicians he has persuaded to perform Take-Away Shows this way includes Bon Iver, Architecture in Helsinki, Sufjan Stevens, Arcade Fire, Animal Collective, and R.E.M..
Variety
has called him "an innovator to watch" and his videos have pulled in well over a million views online. There are surely many young directors taking digital cameras into the streets, but Moon sets himself apart. After dozens of Take-Away Shows, several documentaries, and a constant hum of projects, his approach is no fluke. It's a thoughtful form of art.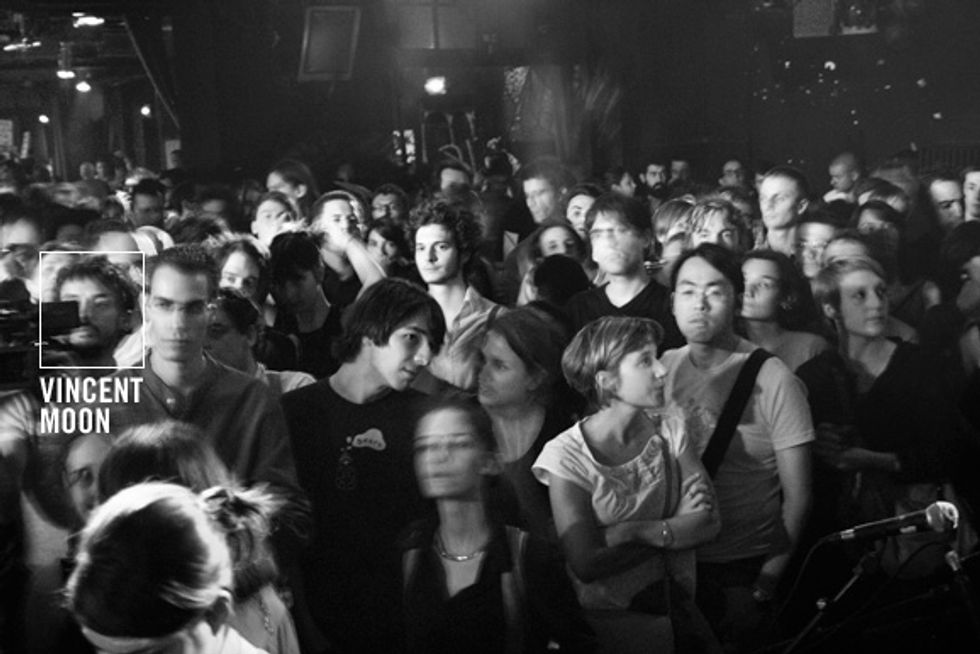 <strong>The French filmmaker </strong>is as elusive as he is engaging. He travels frequently and prefers not to have his photo taken or published, but he agrees to meet me nonetheless in the Bedford-Stuyvesant area of Brooklyn, where he's just moved in with his girlfriend. Sporting a deep green sweater, well-worn lace-up shoes, and a wispy brown beard, his left hand is covered with a temporary, pen-scrawled list of reminders. Even when we sit down in the small room he uses to edit video, he can hardly sit still. He impatiently runs a hand through his dark hair, making it practically stand up."I left Paris with a bag full of stuff and a camera and a computer," he says, speaking quickly with a thick accent. His Panasonic 171 digital video camera sits on a bookcase nearby and there's a pack of Camels on the table. Sipping watery coffee from the corner bodega, he cues up an audio file of music he recorded in Tanzania, where he filmed local musicians trying to preserve their cultural heritage. "I like the idea of being a human today like that, who doesn't really have anywhere that's my home but everywhere is my home, in a way. Kind of cliché. But it's true."Moon's first home was near Montparnasse, on Paris's Left Bank. Drawn to photography at an early age, his first shoots were mostly "night wanderings," he says cryptically. He didn't use the name "Vincent Moon" in those days, though-that came later. Why did he take it on? "We are not individuals," he says. "We are <em>dividuals</em>." His first website, <a href="http://www.mathieusaura.com/" target="_blank">MathieuSaura.com</a>, hints at what he means. It seems he's had a bit of a split identity for a while."From eight in the morning until eight at night, my website was very straightforward, objective photos and subjects," he says. "But when you would go there from eight in the evening to eight in the morning, it was [redirected to] VincentMoon.com. All those same photos were reworked in a way that was much more of a subjective idea." He constructed flipbooks of his photos, he says, which evolved naturally into a love of video.A few years later, in 2006, Moon and his friend Christophe Abric, a fellow Parisian who created La Blogothèque, launched the Take-Away Shows. "It comes really from a fan point of view," Moon says. When he started the shows, he had already worked on a few produced music videos and says he found the formula limiting and uninspired. Labels would ask Abric if he'd like to spend an hour talking with the band, Moon says, "and he was like, Why don't we use this hour differently and have fun all together?" The two friends asked musicians to do what they know best: play.Neither Moon nor Abric-who is better known online as Chryde-knew exactly what would happen. Three years later, they still don't. "We never have any idea before shooting," Moon says. "It's never staged. It's just, OK, let's look around, let's do this, and see how it happens."Moon might be best known for persuading Arcade Fire to pile into an elevator and play "Neon Bible" there on-camera before a concert. However, he elicits some of the most engaging moments by leading musicians into a public space. "Music is a social happening," Moon says. "It wasn't recorded at first, it was just played for other people as a form of communication." That's precisely what he and Chryde are trying to capture in the videos. "Doing the Take-Away Shows, it's like this is how music should be in a way," Moon insists. He regards his audience not as spectators but as potential participants. "People are sending me little messages like, 'Wow, it's great. I love what you're doing,'" he says. "But most of the time it's people who are like, 'It's great and it makes me do something.' There's this strong idea of amateur cinema."Moon's adventuresome, lo-fi approach also gives musicians a different way to communicate with their audiences. The Australian band Architecture in Helsinki invited fans to sing the chorus for their Take-Away Show. Moon's camera weaves around a giddy group converged on a patio at a Parisian apartment building complex. Singer Kellie Sutherland teaches them the chorus and then, standing on a chair, announces, "Now we're going to go do it on the street." She pauses. "No-I'm not joking!" Outside, a cable is thrown to an upper floor so the mic can be plugged into a neighbor's outlet. Moon's camera tilts up to Sutherland, who leans out a third-story window and leads the small neighborhood crowd in a reverberating version of "Heart It Races.""I'm trying to create a moment of communication between people," Moon says of his work. "The results are the videos, but the videos are not the point."<strong>In recent months,</strong> Moon has increasingly left Take-Away Shows to different directors in order to focus on other projects, and to travel the world. In November 2008, he went to Tanzania, where Coca-Cola sent him to film the impacts of the company's community investments there. More recently, he traveled to Japan to work on a one-hour documentary about the poet and musician Kazuki Tomokawa. Although he has a devoted fan following, Tomokawa is still relatively unknown in his own country, Moon reports. The resulting documentary will be part of a series dedicated to similarly beloved musicians who remain obscure around the world.He is also working on another project, <a href="http://www.temporaryareas.com/" target="_blank">TemporaryAreas.com</a>, a platform that was originally envisioned as a production company. This year it became a nonprofit, which makes more sense with his goal: taking his filming approach to new places. During the day, the world map on Temporary Areas is white with dark points for each video location. At night, it's the reverse.Scanning the map of continents on the site, Moon says, "Let's go everywhere. Let's film all those places. Let's film all those places differently."[youtube]http://www.youtube.com/watch?v=y-5XK-2Ufd4[youtube]http://www.youtube.com/watch?v=bNIpTbVMOnk<p style="clear: both"> <em>Header photo from Vincent's <a href="http://twitter.com/vincentmoon" target="_blank">twitter page</a>. Second photo <a href="http://creativecommons.org/licenses/by-nd/2.0/deed.en" target="_blank">(cc)</a> flickr user <a href="http://www.flickr.com/photos/lalla_ali/964036854/in/photostream/" target="_blank">LALLA-ALI</a>.</em></p>