Articles
Each year in mid-September, Mexicans gleefully celebrate their nation—and it's a far cry from Cinco de Mayo.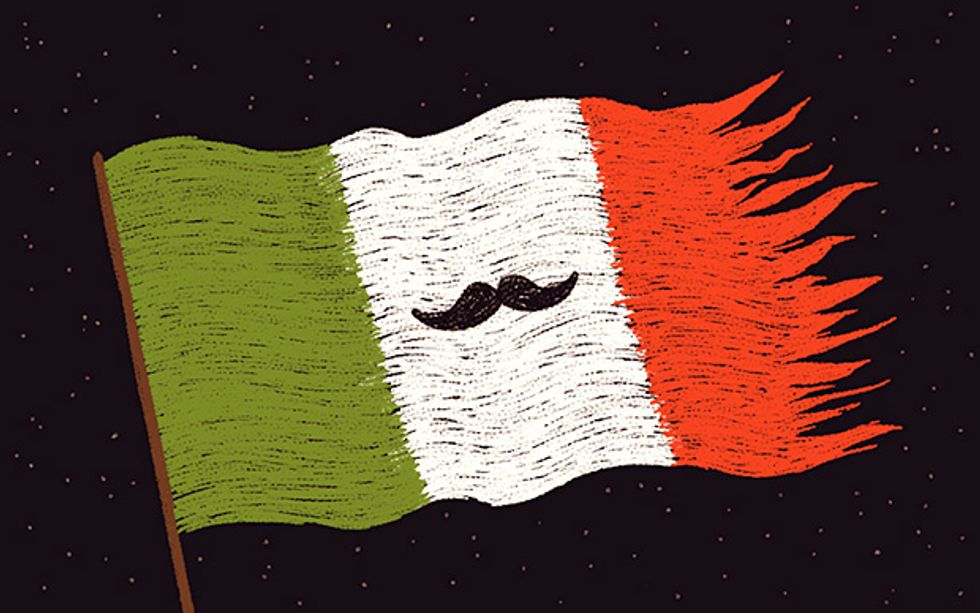 Illustration by Matt Chase
Just before midnight on September 15, the president of Mexico will speak from a balcony overlooking thousands of revelers in Mexico City's famed zocalo, or main plaza. The speech, given by every Mexican president every year, will be replicated in small towns across the nation, and ends with what has to be one of the largest call-and-responses in the world: The Cry of Dolores (El Grito de Dolores), which consists of various rounds of "¡viva!"—effectively "long live"—and ends with "¡viva Mexico!" The president will then host a midnight dinner, and the rest of the nation will party into the morning of September 16. This is Mexican Independence Day.
<p>In contrast, Cinco de Mayo, which commemorates a battle against the French in the town of Puebla, isn't even a work holiday in Mexico. This inevitably disappoints foreign tourists, who come for a party and find none. The 16th of September (<em>Diez y Seis</em>) is what they're really looking for. In the weeks leading up to the big event, every public space is scrubbed, every statue shined, and every monument hung with banners in the colors of the modern flag: green, white, and red. At stoplights, the peddlers of snacks and pirated merchandise switch to patriotic tchotchkes, and soon every other car has a Mexican flag suction-cupped to the window. Then come the vendors of silly costumes and, naturally, fake mustaches.</p><p>While Cinco de Mayo is a crass, drunken, U.S.-based celebration, one thing it gets right is the accessories. Citizens south of the U.S. border celebrate independence by dressing up as Mexican stereotypes—the bigger and more outrageous the sombrero, the better. Everyone gets into the spirit. A cab driver, a restaurant hostess, and a small child on the street are all likely to have the flag's colors streaked on their faces and wear big, bushy faux mustaches. </p><p class="shortcode-media shortcode-media-rebelmouse-image"> <img class="rm-shortcode" data-rm-shortcode-id="50aa877b923912960ea959ae5773950a" data-rm-shortcode-name="rebelmouse-image" id="5568f" type="lazy-image" data-runner-src="https://assets.rebelmouse.io/eyJhbGciOiJIUzI1NiIsInR5cCI6IkpXVCJ9.eyJpbWFnZSI6Imh0dHBzOi8vYXNzZXRzLnJibC5tcy8xOTgzMjQxMC9vcmlnaW4uanBnIiwiZXhwaXJlc19hdCI6MTYyNjU3NTIzMn0.cgrD0WcjDtT3vN9_T_OsJfPi1PMuW2fgyFYcsVmDDF8/img.jpg?width=980"/> <small class="image-media media-caption" placeholder="add caption..."></small> <small class="image-media media-photo-credit" placeholder="add photo credit...">Chile en nogada. Photo via (cc) Flickr user Daniel Dionne.</small> </p><p>After the late-night Grito, revelers in the plazas will pay mariachi groups to sing nostalgic songs. What the president might serve is <em>chile en nogada</em>, a seasonal dish of green poblano pepper stuffed with ground pork, bathed in a white walnut sauce and sprinkled with red pomegranate seeds. This is the dish of Independence Day and a culinary gem, though it doesn't fit with the popular concept of unsophisticated Mexican cuisine. Neither do the historical figures central to this battle. The men primarily credited with launching the movement for Mexican independence are Ignacio Allende, Juan Aldama and especially Miguel Hidalgo—who fought against Spain not on behalf of indigenous Mexicans, but on behalf of <em>criollos</em>, a people of Spanish descent born in Mexico and often members of the social elite.</p><p class="shortcode-media shortcode-media-rebelmouse-image"> <img class="rm-shortcode" data-rm-shortcode-id="74a99bb636b2f16d9a226c1ca9bf5d50" data-rm-shortcode-name="rebelmouse-image" id="b0180" type="lazy-image" data-runner-src="https://assets.rebelmouse.io/eyJhbGciOiJIUzI1NiIsInR5cCI6IkpXVCJ9.eyJpbWFnZSI6Imh0dHBzOi8vYXNzZXRzLnJibC5tcy8xOTgzMjQxNC9vcmlnaW4uanBnIiwiZXhwaXJlc19hdCI6MTY0Mzc1OTg3MX0.vYVYP6eFRyCxKQRHZ2LrXKq6ll1XjKl6Nayt3syZ8os/img.jpg?width=980"/> <small class="image-media media-caption" placeholder="add caption..."></small> <small class="image-media media-photo-credit" placeholder="add photo credit...">Don Miguel Hidalgo y Castillo. Image via Wikimedia Commons.</small> </p><p>Hidalgo was a priest in the town of Dolores, north of Mexico City, where he is credited with shouting the Grito de Delores on September 16, 1810, kicking off an 11-year struggle for independence. He is often pictured in his papal collar, with tufts of white hair around his ears, hoisting a flag in the air. However, it's not the modern flag of Mexico he brandishes, but a predecessor that features the Virgin of Guadalupe, a woman in a blue shawl ringed in yellow spikes of light with pink roses at her feet. The image still lends itself well to pop art, and Mexico's young design scene embraces her on hoodies and stencil art. The American Apparel store in Mexico City at one point had an especially large neon Virgin on the storefront.</p><p class="shortcode-media shortcode-media-rebelmouse-image"> <img class="rm-shortcode" data-rm-shortcode-id="91ff371d1f472d28f70d98eb7bb0e727" data-rm-shortcode-name="rebelmouse-image" id="54130" type="lazy-image" data-runner-src="https://assets.rebelmouse.io/eyJhbGciOiJIUzI1NiIsInR5cCI6IkpXVCJ9.eyJpbWFnZSI6Imh0dHBzOi8vYXNzZXRzLnJibC5tcy8xOTgzMjQwOS9vcmlnaW4uanBnIiwiZXhwaXJlc19hdCI6MTYyNTkyMTk0MH0.eBioxSgbAlnAi5RGeeHP3Rl4HZV-6KZQlxd7oQE1AAY/img.jpg?width=980"/> <small class="image-media media-caption" placeholder="add caption..."></small> <small class="image-media media-photo-credit" placeholder="add photo credit...">Children re-enact El Grito de Dolores. Photo via Wikimedia Commons.</small> </p><p>Mexico's young people—and Mexico's population is proportionately very young—are increasingly embracing their cultural identity throughout the entire year, rather than just on one particular national holiday. Witness the rise of <em>mezcal</em> or <em>pulque</em>, a thick alcohol made from fermented agave. These drinks, once considered low-class and unrefined, are now served in hipster bars across Mexico City, where clientele arrive on fixed gear bicycles to mingle under Edison light bulbs. Mexico's future, like its past, is a mixture of cultures.</p><p>Independence Day is a celebration of sombreros and silliness in Mexico, but it recognizes an important spirit, one of pride, joy, and resilience. Too often, news of Mexico in the foreign press focuses on the country's negative, violent aspects and dissuades travelers, especially families, from straying off the beaten path. While Independence Day in the zocalo is a zoo, smaller town plazas, such as historic Coyoacan in the south of Mexico City, are easier to navigate and offer a more intimate experience. Foreigners are welcome, sombreros are easily acquired, and everyone, no matter their level of Spanish, can manage to shout <em>"¡Viva!"</em></p><p class="shortcode-media shortcode-media-rebelmouse-image"> <img class="rm-shortcode" data-rm-shortcode-id="225ee3d8979ce687653da722fb5a5ada" data-rm-shortcode-name="rebelmouse-image" id="fd61f" type="lazy-image" data-runner-src="https://assets.rebelmouse.io/eyJhbGciOiJIUzI1NiIsInR5cCI6IkpXVCJ9.eyJpbWFnZSI6Imh0dHBzOi8vYXNzZXRzLnJibC5tcy8xOTgzMjQwOC9vcmlnaW4uanBnIiwiZXhwaXJlc19hdCI6MTYzMTAyNjY4M30.c6dq5HneNLeZcxxH5kO9sMsoIOaUv8GVcLqVNFAsrPI/img.jpg?width=980"/> <small class="image-media media-caption" placeholder="add caption..."></small> <small class="image-media media-photo-credit" placeholder="add photo credit...">Celebrating Mexico's independence in D.F. Photo via Wikimedia Commons.</small> </p>