Articles
Potholes reimagines the decaying urban landscape as imaginative and playful scenes of living.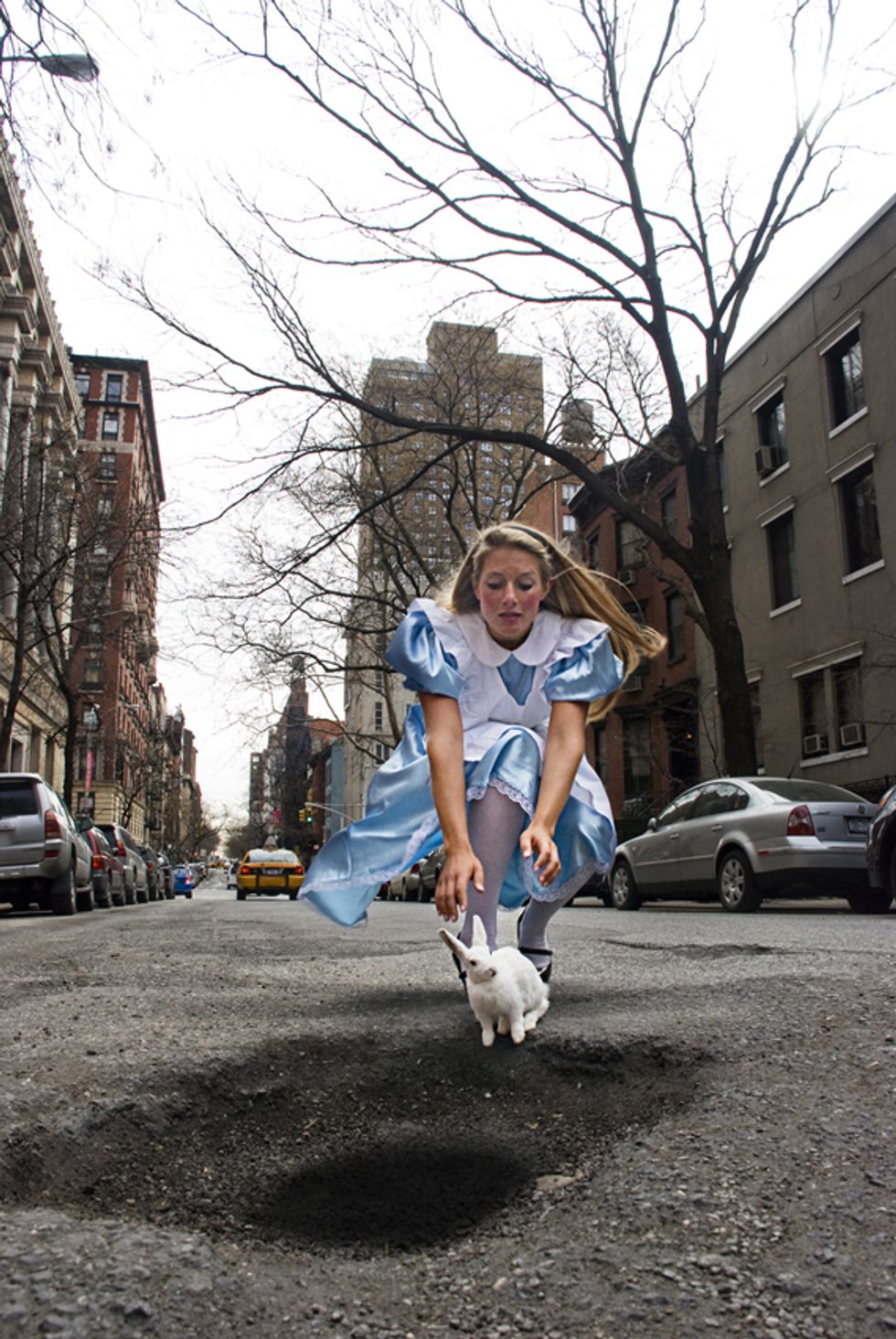 School was never a priority nor an interest until I enrolled in film school, which was the beginning of my journey. I instantly found my voice, passion and vision to express my views. After writing, directing, and editing a few short films which were received with praise and accolades, I realized I wanted to challenge myself and create "mises en scenes" with a single frame.

The way the Potholes series came about was that my wife Claudia and I were driving and hit a large pothole. We started complaining about the amount of potholes in our city and then joked about seeing a woman washing her laundry in one. After imagining a few scenes that could happen in a pothole we looked at each other and knew we had a great idea for a photography series.


<p class="shortcode-media shortcode-media-rebelmouse-image"> <img class="rm-shortcode" data-rm-shortcode-id="542243173eb16e50eeea601f5c733659" data-rm-shortcode-name="rebelmouse-image" id="11765" type="lazy-image" data-runner-src="https://assets.rebelmouse.io/eyJhbGciOiJIUzI1NiIsInR5cCI6IkpXVCJ9.eyJpbWFnZSI6Imh0dHBzOi8vYXNzZXRzLnJibC5tcy8xOTkxMTQ4OC9vcmlnaW4uanBnIiwiZXhwaXJlc19hdCI6MTY2MTk4NDQ2M30.qzaD-2ITcFq-Em0qHBU5kpOLWkqhRK4FJ3SD45BKmqg/img.jpg?width=980"/> <small class="image-media media-caption" placeholder="add caption..."></small> <small class="image-media media-photo-credit" placeholder="add photo credit..."></small> </p><br/><br/> Shooting in New York City was the most difficult, with the amount of traffic and narrow streets being the biggest challenges. Pre-production was key when shooting the scenes. Everything had to be carefully planned and discussed before we arrived on location because all the shots are done during uninterrupted traffic, so it takes no more than 10 minutes from start to finish. We would set up all the props, the model and shoot. Some props were easier to work with then others, for example the arm in the <em>Baywatch</em> scene is a severed arm prop which was balanced with the help of small rocks inside the pothole. It kept falling from side to side as we shot. Eventually it stayed in place long enough for us to get the shot. I want the audience to enjoy this series and laugh, hopefully seeing potholes in a different light. I would love to continue the series in Europe, with the goal being to get a book published.<p class="shortcode-media shortcode-media-rebelmouse-image"> <img class="rm-shortcode" data-rm-shortcode-id="9189818e2296cea2f94b8d58c7698453" data-rm-shortcode-name="rebelmouse-image" id="226b2" type="lazy-image" data-runner-src="https://assets.rebelmouse.io/eyJhbGciOiJIUzI1NiIsInR5cCI6IkpXVCJ9.eyJpbWFnZSI6Imh0dHBzOi8vYXNzZXRzLnJibC5tcy8xOTkxMTQ4Ni9vcmlnaW4uanBnIiwiZXhwaXJlc19hdCI6MTYyMjExMjIwOX0.dz-R-7IXVAvCWK1j_4FeIsOtZmeQDUxgNXcD0GcmAN4/img.jpg?width=980"/> <small class="image-media media-caption" placeholder="add caption..."></small> <small class="image-media media-photo-credit" placeholder="add photo credit..."></small> </p><br/><br/><p class="shortcode-media shortcode-media-rebelmouse-image"> <img class="rm-shortcode" data-rm-shortcode-id="6519b6bf93f61dc593bd557796b05d0f" data-rm-shortcode-name="rebelmouse-image" id="75b18" type="lazy-image" data-runner-src="https://assets.rebelmouse.io/eyJhbGciOiJIUzI1NiIsInR5cCI6IkpXVCJ9.eyJpbWFnZSI6Imh0dHBzOi8vYXNzZXRzLnJibC5tcy8xOTkxMTQ4Ny9vcmlnaW4uanBnIiwiZXhwaXJlc19hdCI6MTYyNjk4MjU5MH0.eCdpp6IiEm8rzuyMlfyM4fE2bUgZpPHW2jPMKLvY31M/img.jpg?width=980"/> <small class="image-media media-caption" placeholder="add caption..."></small> <small class="image-media media-photo-credit" placeholder="add photo credit..."></small> </p><br/><br/><em><a href="http://www.davideluciano.com/">Davide Luciano</a> is a conceptual and fine-art photographer and filmmaker from Montréal, currently living and working in NYC. His work has been widely exhibited across Canada and the United States. He has won numerous awards, including an award of excellence from Megan Fontanella, curator at the Solomon R. Guggenheim Museum in New York City.</em><p class="shortcode-media shortcode-media-rebelmouse-image"> <img class="rm-shortcode" data-rm-shortcode-id="75c71ae211c74a0f0e68cca535892d42" data-rm-shortcode-name="rebelmouse-image" id="86698" type="lazy-image" data-runner-src="https://assets.rebelmouse.io/eyJhbGciOiJIUzI1NiIsInR5cCI6IkpXVCJ9.eyJpbWFnZSI6Imh0dHBzOi8vYXNzZXRzLnJibC5tcy8xOTkxMTQ4OS9vcmlnaW4uanBnIiwiZXhwaXJlc19hdCI6MTY0NzY2OTE1Mn0._gaBKMYHWFlIpDiK-CQTqf0PsonqXFLbG_AXVfwMDR4/img.jpg?width=980"/> <small class="image-media media-caption" placeholder="add caption..."></small> <small class="image-media media-photo-credit" placeholder="add photo credit..."></small> </p><br/><br/><br/><br/><br/><br/><br/>