Articles
The Lost Homes Model Restoration Project creates scale models of destroyed areas for surviving locals to remember their former communities and lives.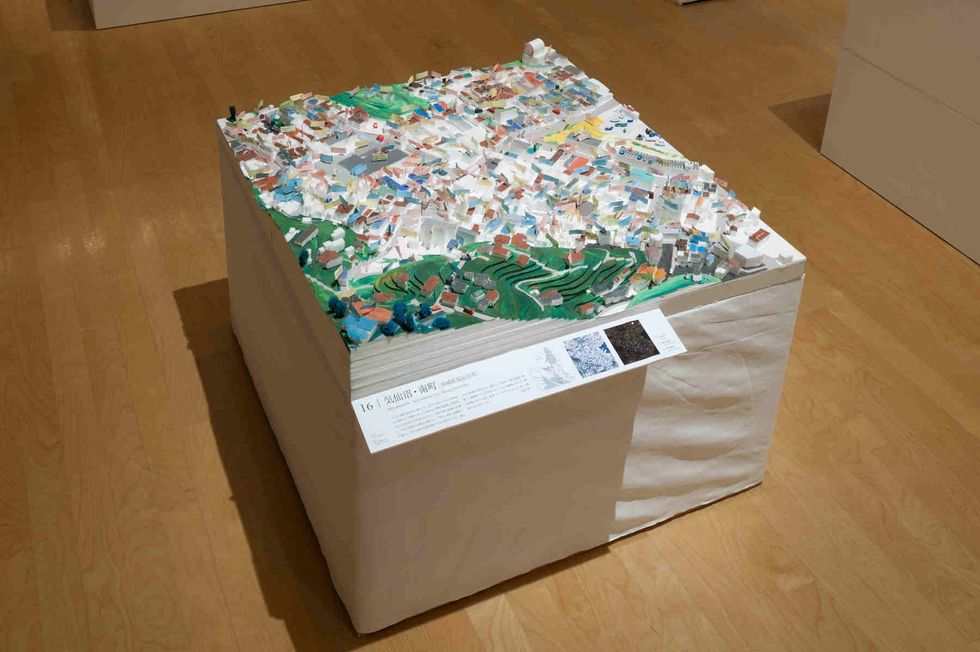 A scale model of Kesenunuma City, Miyagi Prefecture, produced in 2011. Photo by Takumi Ota/Lost Homes Project.
Memories are ephemeral in the massive fabric of time. A birthday can be easily forgotten, and a former lover's embrace can be quickly overshadowed by the next. Mementos—photographs, trophies, garments, etc.—help us hold onto the past, but what if there are no physical tokens left to jog our memories?
<p>Victims of natural disasters, like the people of the Tohoku region in Japan, whose cities and villages were obliterated on March 11, 2011 during the <a href="http://www.wpro.who.int/publications/9789290615682/en/">Great East Japan Earthquake</a>, must contend with this very problem. The earthquake not only rattled tectonic plates and shifted the Earth on its axis, but the tsunami that followed also washed away all manner of material possessions for thousands of Japanese. </p><p>Architect Osamu Tsukihashi wanted to help his countrymen in the wake of the disaster but didn't quite know how. Then he conceived of the <a href="http://losthomes.jp/en/">Lost Homes Model Restoration Project</a>. Tapping a group of fellow architects in a network called <a href="http://archiaid.org/english/">ArchiAid</a>, which supports reconstruction for the Tohoku Earthquake and Tsunami, as well as willing architecture students, he started building 1:500 scale models of the ravaged towns prior to the earthquake, tsunami, and ensuing nuclear accident at Fukushima. The goal, he said, is to empathize with the affected residents and help them recollect what was lost in order to not only move forward but also better rebuild.</p><p>Using aerial photographs and old housing maps, the traditional architectural activity of making scale models became a means to capture the physical nature of memories. It allowed a community's once peaceful environments to be frozen in time. Built as an all-white, one-square-meter replica of the towns, the miniature models are afterwards put on display to encourage locals to come and identify their previous homes, recall the landscape, and remember their former lives. Tsukihashi, also an associate professor at Kobe University, dubbed the exhibit as the Town of Memories Workshop.</p><p>Initially, some students were apprehensive about the idea. They thought it might be inappropriate, even insensitive. But when Tsukihashi approached the government officials of Kesenumma City in May 2011, the city leaders—as seen in a video recording—fought back tears while giving the project their blessing. The models will allow them "to keep good memories of the their town before March 11," they said.</p><p class="shortcode-media shortcode-media-rebelmouse-image"> <img class="rm-shortcode" data-rm-shortcode-id="2639aecd2c05f391ff36622ba18602b1" data-rm-shortcode-name="rebelmouse-image" id="d36d9" type="lazy-image" data-runner-src="https://assets.rebelmouse.io/eyJhbGciOiJIUzI1NiIsInR5cCI6IkpXVCJ9.eyJpbWFnZSI6Imh0dHBzOi8vYXNzZXRzLnJibC5tcy8xOTgzNDE2Ny9vcmlnaW4uanBnIiwiZXhwaXJlc19hdCI6MTYwODI2NDM5Mn0.ogOv8Djgo_JTfe8HBNlFrfoKw07TdgDq2Je8gqyJ_WU/img.jpg?width=980"/> <small class="image-media media-caption" placeholder="add caption..."></small> <small class="image-media media-photo-credit" placeholder="add photo credit...">Flags bear Japanese characters that display memories of different residents. Photo by Takumi Ota/Lost Homes Project.</small> </p><p>To date, the professor, students from over 20 universities, and other civil society groups have constructed about 40 scale models and more than 3,500 locals have shared their memories through the workshops. Some victims were shy at first, and had a hard time pinpointing their former homes within the models, but seeing the pristine, delicately recreated scenery eventually jogged their memories. Student volunteers would then invite the residents to paint the buildings as they remembered them, and place flags or tiny acrylic pieces with their stories on areas of special importance. In some workshops, they wrote their memories on forms provided, which the organizers collected for additional information about the towns and to serve as guide for reconstruction efforts. </p><p>These replicas are helping locals pick up the pieces. In one workshop, for example, a geisha named Tsukayo suddenly appeared wearing her full kimono ensemble. She was so overjoyed with the scale model that she sang a traditional song from the bygone era when geishas reigned, recounting the moment when she herself became a geisha at the age of 14. </p><p>Similarly, another elderly woman felt the restorative powers of the scale models, suddenly able to conjure many years of memories that had been buried by post-traumatic shock from the disaster.</p><p>"The people cannot see the vision of their future as long as they continue to face the problem of the present, particularly where and how to start a new life," Tsukihashi says, going on to explain that people's social ability is connected to a sense of place, a sense of community.</p><p class="shortcode-media shortcode-media-rebelmouse-image"> <img class="rm-shortcode" data-rm-shortcode-id="8310dfd024a95feb0c08ec3fec930f85" data-rm-shortcode-name="rebelmouse-image" id="bc599" type="lazy-image" data-runner-src="https://assets.rebelmouse.io/eyJhbGciOiJIUzI1NiIsInR5cCI6IkpXVCJ9.eyJpbWFnZSI6Imh0dHBzOi8vYXNzZXRzLnJibC5tcy8xOTgzNDE2OC9vcmlnaW4uanBnIiwiZXhwaXJlc19hdCI6MTY2MzU5NDE2OX0.JsRB4EX-YaFA1STLtKMJiVC4TZyNJjfy8mHDsU8wfbg/img.jpg?width=980"/> <small class="image-media media-caption" placeholder="add caption..."></small> <small class="image-media media-photo-credit" placeholder="add photo credit...">Locals from the radiation-affected town of Namie-Gongendo look at the model of their former thriving community. Photo by Takumi Ota/Lost Homes Project.</small> </p><p>Currently, his plan is to finish the rest of the 1,000 scale models that account for all the inundated areas. Part of the agenda is to also house the pre-disaster mementos in a museum to collectively store the memories and commemorate the lost communities, he says.</p><p>But for one resident of Namie, now a ghost town in the Fukishima prefecture due to the nuclear radiation leak, the miniature model offers much more than reclaimed memories and mementos. "It is proof of my existence, that I have been living in Namie," the local woman said. </p>