Articles
In shared workspaces across the country, the sharing is almost as important as the space.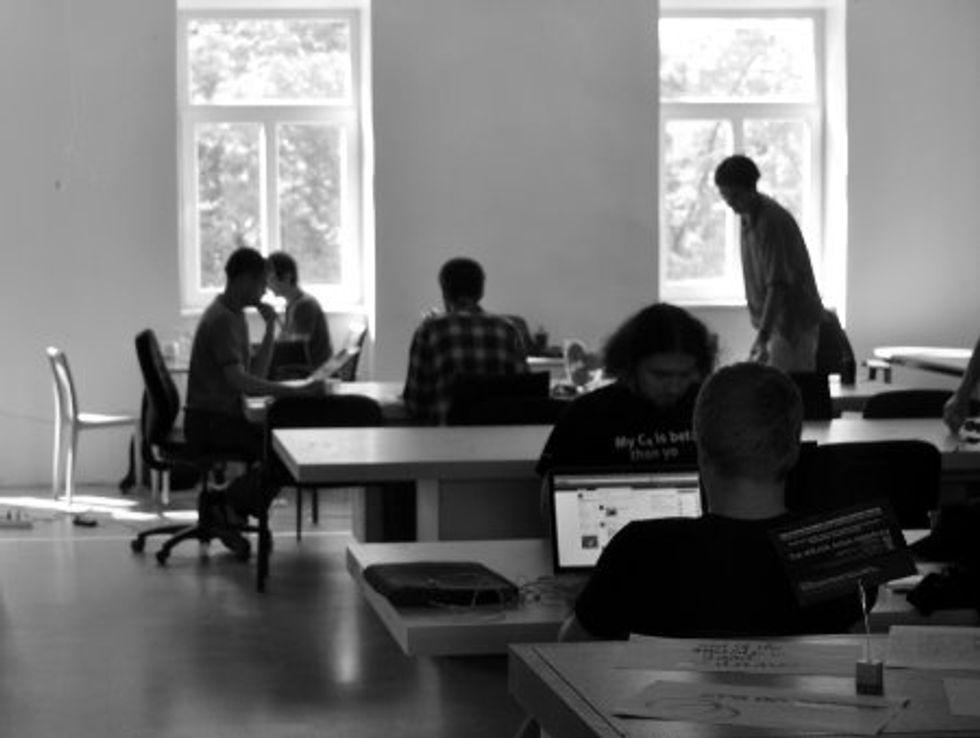 David Walker, relaxing on a green couch in an old house in east Austin, was spending a quiet, rainy afternoon chatting and working on his scrapbook. But that gives you the wrong impression of Walker, the scrapbook, the house, the conversation, and even the couch.
Walker is the co-founder of Conjunctured, a coworking space in East Austin. Several years ago, after hosting a handful of jellies—an unfortunate nickname for informal work sessions at a local coffee shop—he and his business partner raised some money and rented the house, which they kitted out with desks, lockers, a kitchenette, and local art.
<p> Now, Conjunctured has 22 full-time members paying $275 a month each for a key to the space, plus a couple of dozen basic members, who rent space on more flexible terms. The scrapbook profiles the members, all of them independent workers looking for a way to reintroduce some of the structure and social life they had been missing in their home offices.</p><div id="upworthyFreeStarVideoAdContainer"><div id="freestar-video-parent"><div id="freestar-video-child"></div></div></div><p> The couch is a mascot of sorts: Two of the coworkers had struck up a business partnership that they dubbed the Green Couch Group. And Walker's chat was a bit of business: He was consulting with Elton Rivas, who had just started a coworking space in Jacksonville. Riva spent years working in corporate America before striking out in search of something more fulfilling. </p><p> It's an increasingly common sentiment. The day before, Austin had hosted the <a href="http://www.austingcuc.com/">Global Coworking Unconference Conference</a>, an annual confab of coworkers, entrepreneurs, designers, and businesspeople. According to <a href="http://www.deskmag.com">Deskmag</a>, an online coworking magazine, there are now <a href="http://www.deskmag.com/en/the-birth-of-coworking-spaces-global-survey-176">some 1,100 such spaces</a> around the world. </p><p> This was the fourth year Austin has hosted a coworking meetup, and attendees noted that things were getting grown-up. The event even featured speakers from the commercial real estate business, talking about how coworking offers companies a way to turn a liability—empty space—into an asset by renting out free-form offices.</p><p> Tony Bacigalupo, the founder and "mayor" of New York-based coworking space <a href="http://www.google.com/url?sa=t&amp;rct=j&amp;q=&amp;esrc=s&amp;source=web&amp;cd=1&amp;ved=0CDgQFjAA&amp;url=http%3A%2F%2Fnwc.co%2F&amp;ei=A_5wT7nlFM_ZiQLu1MDLDA&amp;usg=AFQjCNFnY_NovbPXI8ULaO3wC3iO2I-dfg">New Work City</a>, says it's about time for such discussions. "We're to some degree a post-jobs economy," he says. Over the past few years, that is, millions of workers have moved into <a href="http://www.theatlantic.com/business/archive/2011/09/the-freelance-surge-is-the-industrial-revolution-of-our-time/244229/">freelance or contract work</a>, either because they want to work independently or because they've been laid off or seen their jobs somehow restructured.</p><p> At the same time, it's become easier for knowledge workers to do away with the traditional office infrastructure. The internet and mobile technology are such an established part of our lives that it sounds quaint to talk about the "rise" of such tools. Still, many workers are more mobile than they were 10 years ago. Even those who work in traditional companies have become more likely to telecommute at least part of the time.</p><p> The result is a huge pool of people who work by themselves—either independently, remotely, or as part of the "microfirms" that represent a lot of America's entrepreneurial activity. Those workers could still use the support or stimulation that come from working together. And if you think of coworking as any setup in which independent workers occupy the same physical space, the idea is nothing new, encompassing a whole range of "touchdown" spaces from coffee shops and hotel lobbies to temporary offices from commercial landlords like <a href="http://www.regus.co.uk/products/offices/index.aspx">Regus</a>, an international chain.</p><p> But most coworking advocates are talking about something more specific: A shared workspace in which the sharing is almost as important as the space. They date the movement to 2005, when Brad Neuberg, a developer based in San Francisco, <a href="http://codinginparadise.org/weblog/2005/08/coworking-community-for-developers-who.html">blogged a mini-manifesto on the topic</a>. "If we work at a traditional 9 to 5 company job, we get community and structure, but lose freedom and the ability to control our own lives," Neuberg wrote. "If we work for ourselves at home, we gain independence but suffer loneliness and bad habits from not being surrounded by a work community."</p><p> Coworking, he said, was the way to achieve a form of balance. Neuberg invited people to join his biweekly coworking space; the day would begin at 9 a.m. and end at 5:45 p.m. sharp, meaning people could expect a solid day of work interspersed with a morning meditation, a 45-minute break for a healthy activity like yoga, and a chance to "feel each others' presence."</p><p> The conference crowd had a slightly evangelical bent. One recurring comment was that people come to coworking spaces because they offer a separate space—working at home can be simultaneously, and slightly paradoxically, both isolating and distracting—but they stay for the sense of community. That sounds vague and hippie-ish, but the people who turn up at a coworking conference are bound to be <em>really into</em> coworking.</p><p> Still, the "community" has a pragmatic dimension. Coworkers talk about meeting prospective clients at their coworking spaces and getting advice from coworking colleagues who have already written a few business proposals or dealt with a certain set of forms.</p><p> Coworking, in other words, may be a way to "accelerate serendipity," another catchphrase. A lot of the people who own coworking spaces, including Walker, come across as the type Malcolm Gladwell describes in <em>The Tipping Point</em> as "connectors," the ones who can introduce you to anyone.</p><p> Some of these principles can be scaled up, and big companies are starting to <a href="http://www.good.is/post/how-big-business-are-using-coworking-spaces/">take some cues from coworking</a>. <a href="http://www.rackspace.com/">Rackspace</a>, the hosting and cloud computing company from San Antonio, had employees piling up in the hallways a few years ago before moving into a derelict mall in Windcrest, a slightly run-down suburb. Allan Nelson, Rackspace's facilities manager, said the new space, with its vaulted ceilings and wide walkways, presented design opportunities. Top executives work in an open layout, just down the way from what used to be the food court. The interior space is studded with freestanding task spaces: conference rooms, "getaway" rooms for quiet time, a computer help desk, a tetherball pole.</p><p> Now Rackspace's cofounder, Graham Weston, has a new project. Last year he opened <a href="http://www.bizjournals.com/sanantonio/print-edition/2011/12/09/rackspace-founder-programs-tech-hub.html?page=all">a coworking space</a> in downtown San Antonio called Geekdom. One of the goals is to encourage innovation by luring tech people into the same space.<br/><br/> After I stopped by Rackspace, I gave Geekdom a call: I needed a place to write up my notes. They invited me over, and I set up in one of the community rooms, where a web developer and a cloud expert were comparing notes. "You put good people in a space and good things are going to happen," said the cloud guy, handing the web developer his card. From the next room came the pitter-patter of a ping-pong battle.<br/><br/></p><p> My phone buzzed with a text from a friend in Austin: "Wanna jelly? Ewwwwww. But no, really: work jam?" This was getting creepy. But I'm looking forward to tomorrow's jam.</p><p> <em><a href="http://www.flickr.com/photos/mindaugasdanys/5869641029/sizes/o/in/photostream/">Photo</a> via (<a href="http://creativecommons.org/licenses/by/2.0/">cc</a>) Flickr user <a href="http://www.flickr.com/photos/mindaugasdanys/">mdanys</a></em></p><br/>