Articles
The Fukushima nuclear disaster shows how strong and determined people can be when faced with the loss of everything they know and love.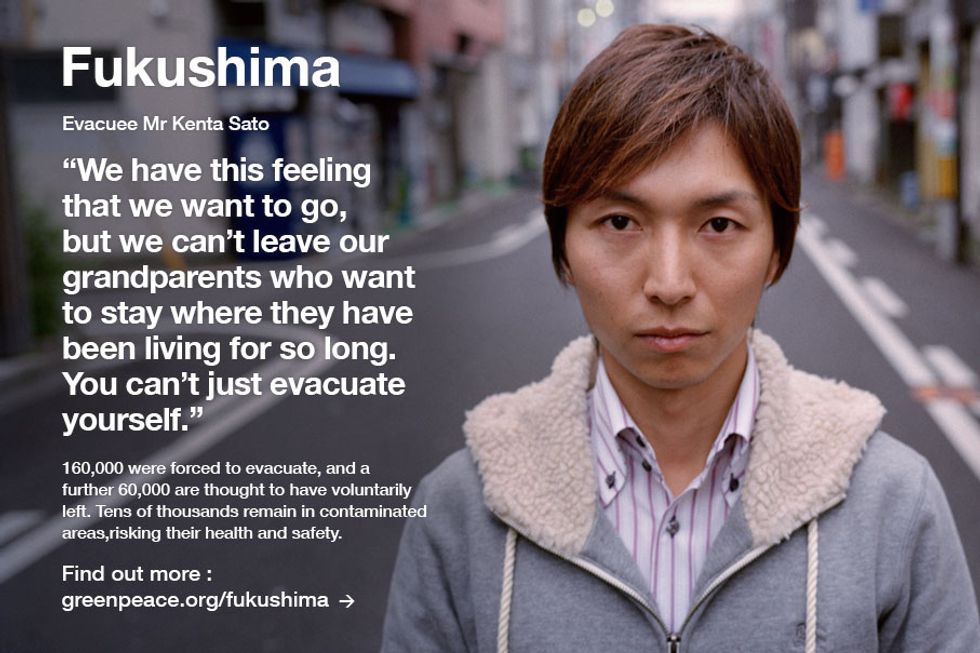 The people I've met in Japan in the two years since the devastating tsunami and Fukushima nuclear disaster have shown me once again how strong and determined people can be when faced with the loss of everything they know and love.
I am talking about the evacuees who have been forced to abandon their homes, jobs, and communities. The disaster forced hundreds of thousands of people to flee the area to escape the radiation contamination following the March 2011 earthquake.

As we approach the two year anniversary of the disaster, little has changed.

Radiation levels are still too high for most evacuees to return home and this is unlikely to change anytime soon. The few that have returned do so with the knowledge they are likely facing health risks.

This is the reality of nuclear power: a meltdown may not have an immediate radiation-related death toll, but as time progresses the true costs to physical, mental and societal health start to unfold.

Once tight-knit communities are fragmenting. Terms like 'Fukushima divorce' are creeping into the vocabulary and after two years of living in temporary housing, people are losing hope.

They cannot move on and start building new lives because they are not being properly compensated. How can you afford to begin a new life when you are still paying the mortgage for a house that is contaminated and unsafe to live in?

Hope is disappearing. But the determination to move forward and fight for what is right is growing.

Tired of waiting for the government to provide clear information, proper compensation, clean neighborhoods and safe food, the people of Fukushima are taking matters into their own hands.

They are launching class action suits and seeking damages from TEPCO, the operator of the Fukushima nuclear plant, they are working together to ensure their foods are safe and they are seeking their own news and advice instead of relying on the government's lackluster information.

Some people have been especially outspoken about these problems.

One of them, Kenta Sato, started using social media soon after the disaster to pressure the government into releasing accurate information about his village of Litate.




















<p> "The accident at the Fukushima nuclear power plant is not only Japan's problem, so I would like people in other countries to keep looking closely at what's happening as this hasn't ended yet," Kenta warns.<br/><br/> Another resident, Toru Anzai, a rice farmer from Litate, is very concerned about the decontamination operation started by the authorities six months ago and the mayor's plan to send people back to the village.<br/><br/></p><p> [youtube]http://youtu.be/MxZlcmlVrHY</p><p> "No matter how much decontamination work is conducted, it'll soon return to the current state. 75 percent of the village consists of mountainous area. Even if the residential area and the agricultural land were decontaminated, the polluted water and particles coming from the mountains would jeopardize the work and effort," he says.</p><p> The children of Litate village have now started asking whether they'll be able to have children when they become adults. "That's the hardest thing I have to bear," he adds.<br/><br/> While they are struggling to get fair compensation, <a href="http://www.greenpeace.org/international/fukushima-fallout/" rel="nofollow" target="_blank">under the current liability system,</a> TEPCO will pay only a fraction of the costs and its suppliers—GE, Hitachi and Toshiba that designed, built and serviced the reactors—are not required to pay anything for the damages.<br/><br/> As TEPCO was nationalized, ultimately it will be Japanese taxpayers, including evacuees, who pay the bulk of the disaster costs.<br/><br/> Worldwide, nuclear companies are not accountable for the risks they create or the full cost of a disaster because industry regulations were set up to protect the companies. So ultimately, <a href="http://www.greenpeace.org/international/en/news/Blogs/nuclear-reaction/the-nuclear-reality-lives-in-limbo-after-fuku/blog/44006/" rel="nofollow" target="_blank">the industry profits and the people end up paying</a>.<br/><br/> But the Fukushima people are standing up and fighting for their rights and this in turn hardens my own determination to support them and also to work towards a future where no one has to suffer through a nuclear disaster ever again.<br/><br/> Kenta Sato is right, this is "not only Japan's problem". We can change this. Together we can make the polluters pay. Check out our call to action and <a href="http://www.greenpeace.org/international/en/getinvolved/they-profit-you-pay/" rel="nofollow" target="_blank">sign the petition</a>.<br/><br/><em>Aslihan Tumer, Greenpeace International nuclear campaigner</em><br/><br/><br/><br/><br/><br/><br/><br/><br/><br/><br/><br/></p><p> <em>Add demanding nuclear companies pay for the damage their reactors caused in the Fukushima disaster to you to-do list <a href="http://www.good.is/posts/demand-nuclear-companies-pay-for-the-damage-their-reactors-cause-in-disasters-like-fukushima" rel="nofollow" target="_blank">here</a>. </em><br/><br/> <br/><br/></p><br/>