Articles
Thousands of students told Do Something what they need to feel welcomed and safe on campus.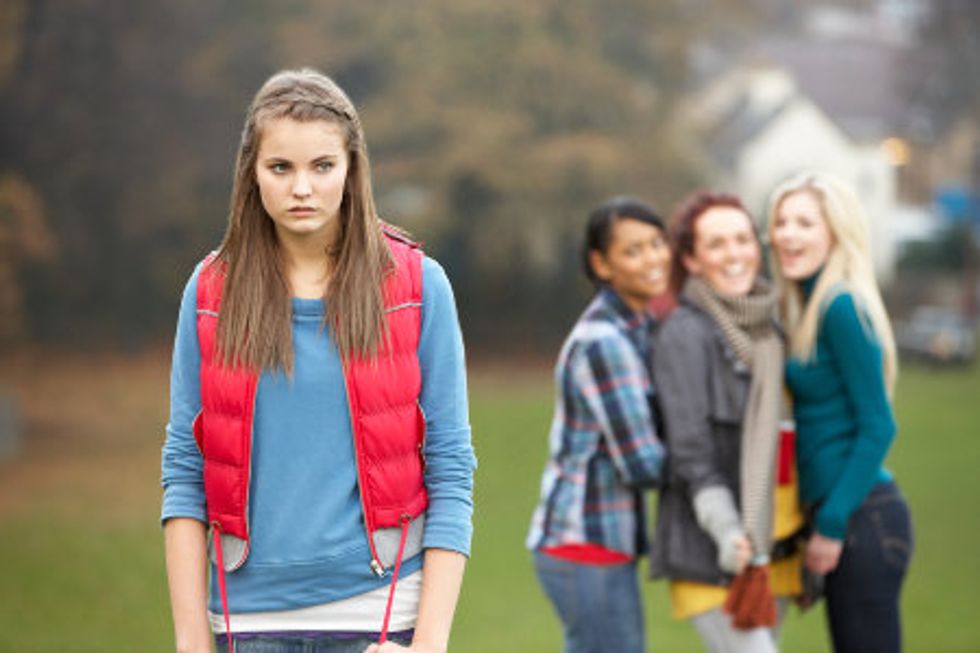 Throughout the day—both at school and in their online environments—American teens witness and experience unrelenting bullying. As many as 160,000 students stay home each day in fear of being bullied. In April 2012,
DoSomething.org
, the largest U.S. organization for teens and social change, launched an interactive Facebook application,
The Bully Project,
inviting students to report on bullying in their schools by responding to eight closed-ended questions and one open-ended prompt.
The Bully Project was initially designed to be active for eight weeks with hopes that 15,000 people would take part. In the first ten days, over 21,000 people installed the application and graded their schools, and to date over 180,000 people have installed the application and reported on their experience. Data released today from DoSomething.org's Bully Report, in conjunction with the Ad Council's national Bullying Prevention campaign, suggests the problem is pervasive; over a quarter of students reported witnessing bullying on a daily basis. The Bully Report analyzes 50,000 responses that were linked to current student who provided their school name and location.
<p> Bullying starts when teens leave for school, with over one-third of students reporting frequent abuse on buses and at bus stops. As students congregate in school, bullying concentrates where students spend required time—the most common places students report bullying during their seven hour school day include the halls, classrooms, and the cafeteria. The presence of teachers appears not to matter—over half of students report frequent bullying while in class. This bullying included intimidation, violence, and name-calling.</p><p> Younger students appear particularly vulnerable and report the highest rates of bullying. As students advance from freshman to senior year in high school, rates of physical abuse and verbal harassment decline. Nearly 40 percent of high school freshmen report daily bullying; only 25 percent of high school seniors do.</p><p> More concerning, the problems for teens don't appear to end at the end of the school day, when the typical teenager returns home and spends an average of 4.5 hours online. The troubling school environments of teasing and physical abuse are replaced by a digital world, where the experiences of bullying are even more pronounced. Worse, reported experiences of technology-enabled bullying, either online or over the phone, increase as teens age.</p><p> For girls, the internet is the primary place they witness bullying, with 73 percent reporting frequent abuse online. For boys, the rates are slightly lower, at 59 percent. In total, nearly 7 in 10 high school aged students report frequent online bullying. Cyber bullying and bullying over the phone are often beyond the reach of both school policies and out of sight of parental supervision. The anonymity of cyber bullying means that intervention by teachers or other students is minimal.</p><p> In addressing the daily onslaught of bullying, there remains a major expectation gap between what students expect in terms of policy and what they experience. While taking part in <em>The Bully Report </em>three-quarters of teens said the best thing that others (whether teachers, administrators, or other students) can do to help stop bullying in their school is to intervene, but only 16 percent of teens report that others often intervene and half of teens say they rarely or never see anyone do so.</p><p> Immediate steps can be taken by school officials to combat bullying in their schools. Teachers should be instructed and empowered to proactively step in when they see signs of bullying. Results from <em>The Bully Report </em>show that rates of classroom bullying decrease by 10 percent when teachers routinely intervene. Physical abuse can be curtailed by better monitoring supervisory blind spots: when frequent bullying is reported in bathrooms and locker rooms the odds of physical abuse more than double.</p><p> Better communication is also needed with students. Half of the students taking part in <em>The Bully Report</em> wished their schools would talk more openly with them about bullying, and nearly two-thirds of students stated if schools did a better job of listening to students when they spoke out, bullying could be reduced.</p><p> In states like California with robust bullying policies and resources readily available to teachers, administrators, and parents, reports of abuse are considerably lower than national averages. California students now report the lowest rates of bulling in hallways and are near the bottom in every other measured category, and the overall frequency of bullying in the state is a third lower than the national average.</p><p> It's clear that more proactive attention from adults and teachers, clear policies at school, and parental supervision online will provide an atmosphere less conducive to bullying. Intervention is the best course of action.</p><p> <em>Bullied teenaged girl photo via <a href="http://www.shutterstock.com/cat.mhtml?lang=en&amp;search_source=search_form&amp;version=llv1&amp;anyorall=all&amp;safesearch=1&amp;searchterm=bullying&amp;photos=on&amp;search_group=&amp;horizontal=on&amp;orient=&amp;search_cat=&amp;searchtermx=&amp;photographer_name=&amp;people_gender=&amp;people_age=&amp;people_ethnicity=&amp;people_number=&amp;commercial_ok=&amp;color=&amp;show_color_wheel=1#id=55159327&amp;src=20a8d9ccabdd5580e06d905010fe1dc9-1-5">Shutterstock</a></em></p><br/>