Articles
In the future, solar panels and schoolyard chickens will be the norm.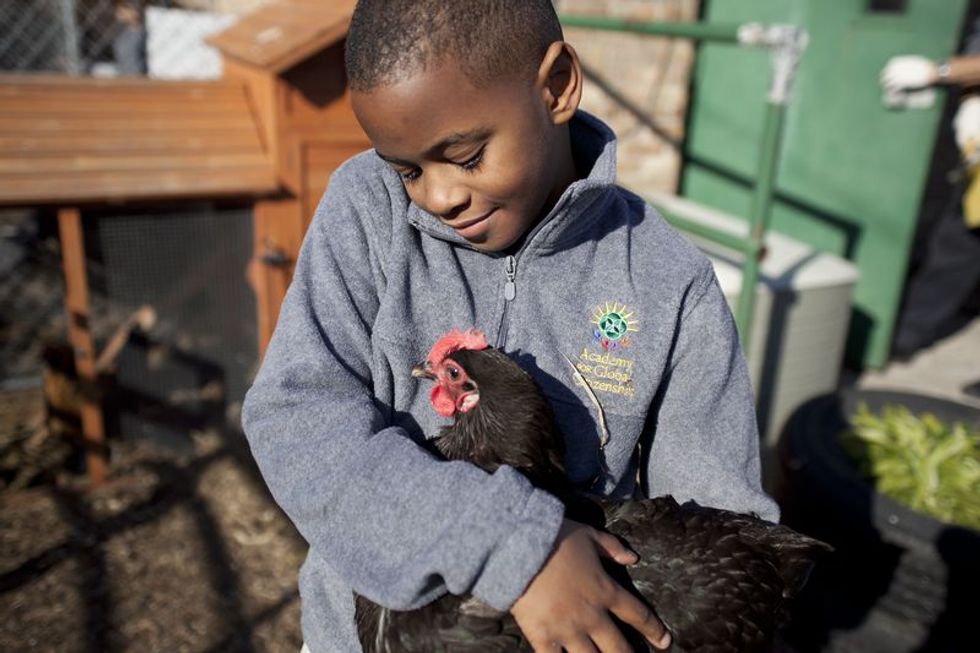 When Seattle's Bulitt Center—the "
greenest office building ever
"—opens on Earth Day it will symbolize a shift in 21st century priorities towards intentionality, stewardship, and service. It will soon be followed by a
net-zero energy hote
l in the Fall of 2013. But businesses aren't the only entities striving to meet the parameters of the Living Building Challenge by implementing the most ecologically conscious design and technologies available. A net-zero energy
public school in New York City
will open in 2014, and at our school on the southwest side of Chicago, the
Academy for Global Citizenship
, we are building a net-positive campus to house our net-positive community.
While the Bulitt Center will encourage net-positive values through net-positive design, at the Academy for Global Citizenship, the net-positive energy campus is being created as a prototype for educational and community spaces and is designed to support a mindful lifestyle. Our students, parents, staff, and volunteers contribute to a culture of service and stewardship—values that are interwoven into every aspect of the school. Our edible schoolyard garden, zero-waste cafeteria, and community celebrations foster and empower stewardship among the many stakeholders in our learning community.
<p> "We teach our students to be net positive," <a href="http://www.youtube.com/watch?v=z8T5j7T4Q5s&amp;list=UUdeup4mRUmwD6AMb0eeLnow&amp;index=2" rel="nofollow" target="_blank">says Dan Schnitzer</a>, AGC's director of sustainability and operations, so that they're able "to give back to their communities and their families. Therefore we think we have to operate in that way as well." </p><p> For the students at the Academy for Global Citizenship, this concept is not exceptional, it is expected. When you <a href="http://youtu.be/os2X-aRpHDo" rel="nofollow" target="_blank">watch one of our students</a>, 8-year-old third grader Patrick, explain the life cycle of the peach it's clear that this is just life as usual on our campus. Patrick learned on the first day of kindergarten how to scrape leftovers into the green bin in the cafeteria marked "Compost," and what to sort into the "Landfill" or "Recycling."</p><p> We believe, however, that we can do more. There are 6,500 schools in Illinois and, on average, they spend more on energy than books and technology combined. Right now our school is split between two buildings, and, since we're adding a grade every year, we're outgrowing our space. So, we plan to <a href="http://www.indiegogo.com/AGCdreamschool" rel="nofollow" target="_blank">build a new campus</a>—the first of its kind in Illinois—that will serve as a model for sustainability in the education space.</p><p> To that end, we've identified an 11-acre plot of land in our neighborhood that will house a K-12 school for our students <em>and</em> it will create more energy than it uses. The campus will also be home to seven acres of urban agriculture—including fruit trees and a native forest—and will serve as both a hub for community collaboration and as a learning laboratory. Because we want to share this model with others—in education and in other fields—we plan to open it to the public for tours and educational collaboration. </p><p class="shortcode-media shortcode-media-rebelmouse-image"> <img class="rm-shortcode" data-rm-shortcode-id="6b76deaf305ccc0657b6827988d57756" data-rm-shortcode-name="rebelmouse-image" id="3fee7" type="lazy-image" data-runner-src="https://assets.rebelmouse.io/eyJhbGciOiJIUzI1NiIsInR5cCI6IkpXVCJ9.eyJpbWFnZSI6Imh0dHBzOi8vYXNzZXRzLnJibC5tcy8xOTkxMTI0NC9vcmlnaW4uanBnIiwiZXhwaXJlc19hdCI6MTY1MDU5NDU2M30.HXjXzKPZSHRJ4EM_CoF5jQcdI_NKUVnch-4cEyoVoAw/img.jpg?width=980"/> <small class="image-media media-caption" placeholder="add caption..."></small> <small class="image-media media-photo-credit" placeholder="add photo credit..."></small> </p><p> Our students are enthusiastic about the idea, too. When Patrick's classmates found that their snack cups were not recyclable, they invented a enterprise called "Cup Creations" and initiated a fundraiser for AGC's Net Positive campaign. Patrick doesn't think twice about selling eco-crafts to raise money for his school's sustainable building project. "All we needed to do," Patrick explains matter-of-factly, "was collect all the cups that we used for snack and then we washed them and created things! We made bobble heads, maracas, bug catchers and ant farms." </p><p> Projects like the Bulitt Center and what we're doing at AGC came about independently—not because of new technologies or available funds, but as the result of the same shift in collective consciousness. We are finally starting, as a people, to give back more than we take—we are learning to be net positive. These building projects are the harbingers of the movement to create a future where solar panels on office buildings and schoolyard chickens are the norm.</p><p> <em>Photos courtesy </em><em>of The Third Teacher+/Cannon Design</em></p><br/><br/>