Articles
This organization was about to close its doors. Then it figured out how to learn from failure.
Here at GOOD, we believe that design can be used to create positive social, environmental, and economic change. So we're joining forces with our friends at Impact Design Hub to share compelling stories about design that's moving the world forward. The article below is an excerpt of "Failure as Catalyst: How One Social Innovation Firm Went from Scarcity to Sustainability." Get the full story here.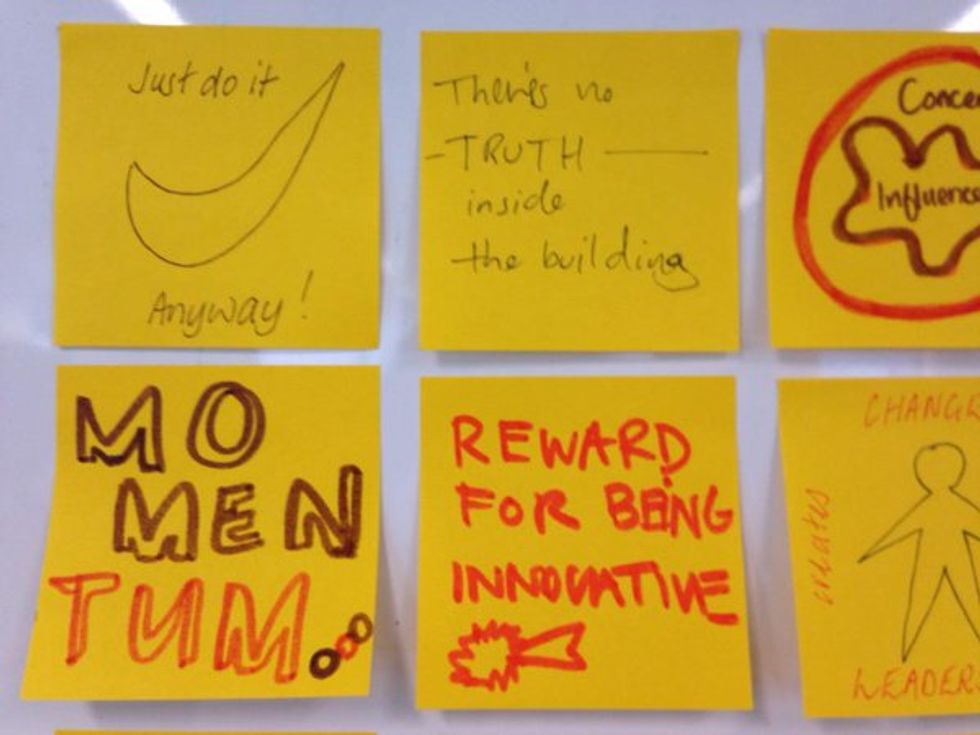 A sneak peek into TASCI's design process. Image via Twitter.
<p>The notion that the work of social change necessarily means both scrambling to find funding and endless employee self-sacrifice has never made sense to me. While working at a handful of startups and nonprofits over the past decade, I've continually wondered why solving the world's toughest social challenges remains financially undervalued and tireless to sustain.</p><p>However, since joining <a href="http://tacsi.org.au/" target="_blank">The Australian Centre for Social Innovation</a> (TACSI), I've become fascinated by the organization's ability to accumulate meaningful work through flexible funding models that allow leading academic researchers, social work experts, and experienced social impact designers to craft project briefs that truly address and solve problems.</p><p>Yet only three years ago, the organization found itself with dwindling funds, no projects on the horizon, and was preparing to close its doors.</p></div> <div style="margin:0.5em auto 2em auto; max-width:50%; background: #009DFF; padding:1em; color:#fff; text-align:center;"><a href="https://impactdesignhub.org/2016/01/20/failure-as-catalyst/?utm_source=GOOD&amp;utm_medium=Content&amp;utm_campaign=FailureasCatalyst">Read More at Impact Design Hub</a></div>