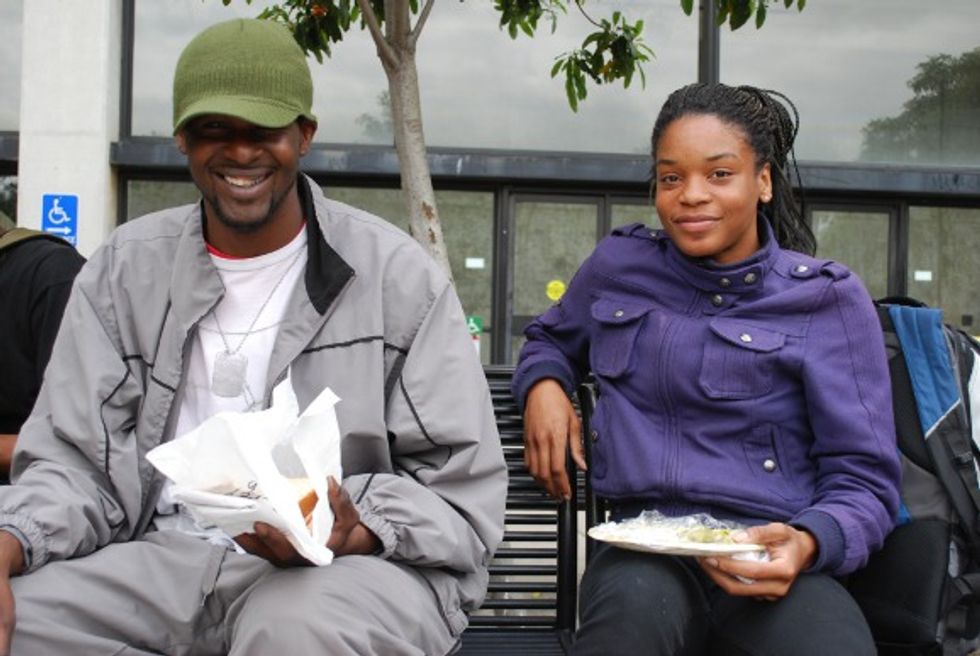 How Obama's student loan reform is changing the affordability of college.
Jurena Storm was so sure she wanted to go to college in California that she moved there at age 17 to complete her senior year of high school in the hopes of qualifying for in-state tuition at a California state school.

And though her year of residency in California would have been enough to qualify her for in-state rates and though her grades were excellent, Storm didn't make it to college after graduating from high school.

Instead, as Storm, now 35, puts it, "life happened."

Storm told her story on Tuesday at an Organizing For America press conference held at Laney College, a community college in Oakland, to highlight the local impact of the student loan reforms that are a part of the new Health Care and Education Reconciliation Act, which was signed into law by President Obama last month.

Two weeks after Storm graduated from high school, she gave birth to a baby girl. With a child newly dependent on her, Storm decided that the most responsible thing was to forgo school and start making a living.

"There's programs and there's help, but I'm from the Midwest," says Storm. "We work. That's what we do."

After a decade and a half spent working, Storm finally fulfilled her lifelong dream and went back to school.

In the fall of 2008, she began studying political science at the College of Alameda, a community college. It has been a struggle, Storm says, for she and her husband to make her student loan payments—she has some left over from a previous attempt to return to school— while supporting a family of four on only her husband's income. For Storm, all that changed last month, when President Obama signed into law the Student Aid and Fiscal Responsibility Act.

Effective immediately, the new regulations cap loan payments at 15 percent of a borrower's discretionary income and reward responsible borrowers—those who never miss a monthly payment—by forgiving any remaining loan balance after 25 years. Further, after July 31, 2014, loan payments will be capped at 10 percent of total income and responsible borrowers will have their loans forgiven after 20 years of repayment. A provision in the bill also makes all federal student loans part of the inexpensive Direct Loan program, which the Obama administration is projecting will save taxpayers $61 billion over 10 years, meanwhile reducing the federal deficit by $10 billion during the same time period.

"It's a relief," Storm says of the payment cap. "This was a promise made and a promise kept."

But curiously, at the Organizing for America press conference, virtually no students had gathered in front of the stage to applaud the passage of the bill. This is likely because fewer that 100 of Laney Community College's 14,000 students qualified for federal loans last year, according to Eliza Chan, a spokesperson for the school. "Most of our students work," she wrote in an email.

Even though state budget cuts have resulted in fee hikes, in-state fees for community colleges are significantly lower than the same fees at state universities across the country. This makes it possible to cover most fees by working. In addition, many students enroll part-time to keep their school expenses down and make working a possibility. In this way, it makes loan packages less attractive to the average community college student, many that plan to go on to four-year universities where they will likely be required to take on loans in order to pay their bills.

Sabrina Hunter, 21, was eating lunch on the other side of the quad with classmate Ferlenn Ivy, 26, as the press conference wrapped up. While neither had loans, both had heard about the legislation, and said they thought it was a good thing even though it wouldn't alter their financial predicament.

Hunter lives at home and is paying for her degree in art and music with the help of a Pell Grant, a federal grant that is available for low-income students and does not have to be paid back. At Laney, rather than taking out loans, this is a more common way of funding tuition. According to Chan, about 2,600 students received a Pell Grant this year and over 3,000 are expected to qualify next year. Further, the new legislation raises the highest possible Pell Grant a few hundred dollars to $5,500.

Ivy, who graduated from Laney recently, said he paid for school by working on campus and with the help of a California Community Colleges support program for economically disadvantaged students. An Army veteran who served as a combat medic in Afghanistan, Ivy is now waiting to hear if he's been accepted to Laney's program for registered nurses.

"Obama said [SAFRA] would help with saving lots of money—billions, right—so I guess that's good," says Ivy, who, if accepted into the program, needs all the financial help he can get.

Lillian Mongeau is a Teach for America alumna who taught seventh grade English on the Texas-Mexico border. She is now a student at UC Berkeley's Graduate School of Journalism, where she reports on education in Oakland at OaklandNorth.net.

Photos of the rally and Hunter and Ivy courtesy of Mongeau.