Articles
The new plan should offer a comprehensive proposal for the future of the river.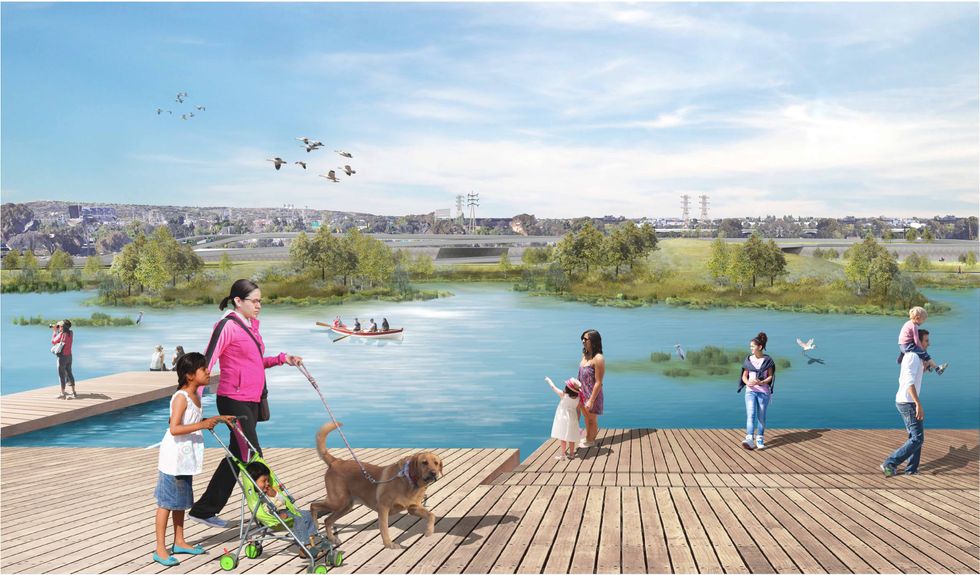 Rendering of the L.A. River revitalization. Image courtesy of Mia Lehrer Architects.
Great rivers around the world have a certain mystique to them. There's the romance of the Seine, the history of the Thames, and the agrarian beauty of the Hudson.
<p>Then there's the Los Angeles River.</p><p>In some ways, the Los Angeles River tends to suffer in comparison to the rivers of other cities. Spanning nearly 51 miles from Canoga Park in the San Fernando Valley and emptying into the bay of Long Beach, the <a href="http://lariver.org/los-angeles-river-revitalization-0">L.A. River traverses 17 cities of Los Angeles County</a>. There are areas of the river that are beautiful, with wildlife and natural surroundings, but the waterway is probably best known for its mostly dry, concrete channel that serves as the backdrop to numerous TV shows and films such as "Grease" and "Terminator 2: Judgment Day."</p><div id="upworthyFreeStarVideoAdContainer"><div id="freestar-video-parent"><div id="freestar-video-child"></div></div></div><p>Yet, for the past three decades, a committed group, community activists, and city planners have been trying to restore the riparian terrain of the river.</p><p>Artist and advocate Lewis MacAdams was one of the first to start the movement to restore the waterway. He founded the nonprofit <a href="https://folar.org/">Friends of the L.A. River (FOLAR)</a> in 1986. Over 30 years later, these efforts have been gaining momentum, as new bike paths, parks, and even a kayaking course have been established around the river.</p><p>Like other urban reclamation projects around the world — like the railways-turned-parks of New York and <a href="https://www.curbed.com/2017/6/22/15847062/high-line-urban-linear-park">Chicago</a> — the project aims to bring greenspace to the center of a metropolis. But like Manhattan's Highline, and <a href="http://www.chicagotribune.com/news/opinion/editorials/ct-606-trail-gentrification-affordable-housing-edit-20170320-story.html">the 606</a> of the Windy City, the changes to the L.A. River — while welcomed by many — are seen by longtime residents as alarming harbingers of gentrification.</p><p class="shortcode-media shortcode-media-rebelmouse-image"> <img class="rm-shortcode" data-rm-shortcode-id="b31a04037eadfc553b1773e2aaf58ed7" data-rm-shortcode-name="rebelmouse-image" id="bfb05" type="lazy-image" data-runner-src="https://assets.rebelmouse.io/eyJhbGciOiJIUzI1NiIsInR5cCI6IkpXVCJ9.eyJpbWFnZSI6Imh0dHBzOi8vYXNzZXRzLnJibC5tcy8xOTg3NDQ1My9vcmlnaW4uanBnIiwiZXhwaXJlc19hdCI6MTY2MDUwMjQxOX0.FlCfV1BO4QiE_Y1C5B5pMirNMiu6yaY4RBUtYHkWI7o/img.jpg?width=980"/> <small class="image-media media-caption" placeholder="add caption..."></small> <small class="image-media media-photo-credit" placeholder="add photo credit...">The Glendale Narrows portion of the L.A. River. Photo by Kat Superfisky.</small> </p><h2>Restoring the river</h2><p><span class="lede">Revitalization is a joint effort between the city</span>, the county, and the U.S. Army Corps of Engineers, who had originally converted the river into a concrete flood control channel in <a href="https://www.kcet.org/history-society/herons-and-concrete-redefining-what-nature-means-on-the-la-river">1938 after multiple catastrophic floods</a>. Now, Los Angeles County, the only authority that has jurisdiction over the length of the entire river, is updating its <a href="https://la.curbed.com/2016/10/18/13326094/county-will-update-la-river-master-plan">River Master Plan for the first time since 1996</a>. The new plan, due to be completed in 2020, should offer a comprehensive proposal for the future of the river.</p><p>Four years ago, the <a href="http://www.latimes.com/science/la-me-la-river-approval-20140529-story.html">Army Corps recommended a $1 billion plan</a> to remove the concrete from an 11-mile stretch of the river to restore the waterway's habitat. In January, the Army Corps signed a design agreement with the city to move forward with the plan. Also in the works — a plan for the last 12 miles of the L.A. River Valley Bikeway and Greenway designed by Studio MLA, Gruen Associates, and Oyler Wu. The project includes a bike, trail, and park network.</p><p class="shortcode-media shortcode-media-rebelmouse-image"> <img class="rm-shortcode" data-rm-shortcode-id="0f1e2a0dbc16d2de2fe670b1925ba65c" data-rm-shortcode-name="rebelmouse-image" id="c5a0b" type="lazy-image" data-runner-src="https://assets.rebelmouse.io/eyJhbGciOiJIUzI1NiIsInR5cCI6IkpXVCJ9.eyJpbWFnZSI6Imh0dHBzOi8vYXNzZXRzLnJibC5tcy8xOTg3MDM4Mi9vcmlnaW4uanBnIiwiZXhwaXJlc19hdCI6MTY2NDQwOTEyMX0.cQWeEjGwPdFuQ2gtl8EtRScvgwkZ5McwXTEVcuxPVCs/img.jpg?width=980"/> <small class="image-media media-caption" placeholder="add caption..."></small> <small class="image-media media-photo-credit" placeholder="add photo credit...">The concrete channel of the L.A. River. Photo by Kat Superfisky, used with permission.</small> </p><h2>Growing gentrification </h2><p><span class="lede">While the future of the L.A. River remains in flux,</span> the gentrification debate has been heating up.</p><p>As the once-derided waterway becomes a recreational asset rather than an industrial blight, developers are eyeing the formerly neglected neighborhoods adjacent to the river.</p><p>Comparisons to New York City's High Line — a project that converted an derelict elevated railway into a park — have fueled fears the rising price of surrounding real estate will turbocharge gentrification, pushing out long time residents. With nearly two dozen projects — some still in the proposal phase and others already under construction — residents' fears may not be unfounded.</p><p>[quote position="full" is_quote="true"]Unmanaged gentrification is incredibly toxic.[/quote]</p><p>New York's High Line park serves as both a model and a cautionary tale. While it has become New York's number one tourist destination and is expected to generate about $1 billion in tax revenues over the next 20 years, nearby residential property values have also risen 103% between 2003 and 2011, according to<a href="https://www.nytimes.com/2012/08/22/opinion/in-the-shadows-of-the-high-line.html"> the New York Times</a>. Even the founder of the High Line, Robert Hammond admits the unforeseen consequences have been harmful to local residents as real estate developers engaged in exuberant speculation near the park. In an<a href="https://www.citylab.com/solutions/2017/02/the-high-lines-next-balancing-act-fair-and-affordable-development/515391/"> interview</a> with CityLab, he admits that "we were from the community. We wanted to do it for the neighborhood. Ultimately, we failed."</p><p>With multiple cities now embarking on plans to revitalize blighted infrastructure, Hammond is trying to take some of the lessons he learned from the High Line and bring them to other cities.</p><p>He's founded the <a href="http://network.thehighline.org/">High Line Network</a>, a coalition of planners and architects from 17 projects across the U.S. and Canada. Over the past year, leaders from Dallas' highway cap park, Atlanta's rails-to-trails BeltLine and yes, the L.A. River revitalization endeavor, have been meeting to discuss how to convert disused infrastructure into equitable public amenities.</p><p class="shortcode-media shortcode-media-rebelmouse-image"> <img class="rm-shortcode" data-rm-shortcode-id="de3742ea0fb7eddd7c46780762692ab9" data-rm-shortcode-name="rebelmouse-image" id="b2051" type="lazy-image" data-runner-src="https://assets.rebelmouse.io/eyJhbGciOiJIUzI1NiIsInR5cCI6IkpXVCJ9.eyJpbWFnZSI6Imh0dHBzOi8vYXNzZXRzLnJibC5tcy8xOTg3MDM4My9vcmlnaW4uanBnIiwiZXhwaXJlc19hdCI6MTY0NzQxMzgzOH0.DYtq9jNJLPIbzynb_iZ2TpDgCFNs9gUm3xOcRvcAkQw/img.jpg?width=980"/> <small class="image-media media-caption" placeholder="add caption..."></small> <small class="image-media media-photo-credit" placeholder="add photo credit...">Bjarke Ingels proposed riverside complex. Courtesy of Bjarke Ingels Group.</small> </p><h2>Starchitecture </h2><p><span class="lede">In L.A., river-adjacent sites are starting to attract not just developer interest</span>, but also the kind of glitzy, starchitect-driven projects that were inconceivable just a decade ago. A swooping, arched bridge by <a href="https://www.designboom.com/architecture/michael-maltzan-los-angeles-sixth-street-viaduct-ribbon-of-light-bridge-02-01-2016/">prolific Los Angeles architect Michael Maltzan now under construction</a> is meant to be as iconic as its decaying concrete 1932 precursor, the latter of which has appeared in countless media forms including <a href="https://www.theatlantic.com/entertainment/archive/2016/02/exit-las-most-cinematic-bridge/461910/">"Repo Man" and videos by Kanye West and Madonna</a>.</p><p>Scheduled to open in 2020, there are public parks planned beneath the bridge. Connecting the Arts District to the mostly Latino Boyle Heights neighborhood across the river, the bridge is accelerating fears of gentrification and displacement. Not far from the bridge, a former cold storage facility in the Arts District may become a flashy mixed-use complex designed by the young and prolific Danish architect Bjarke Ingels.</p><p>The <a href="https://la.curbed.com/2018/4/12/17227008/los-angeles-county-river-master-plan-revitalization">county also threw a curveball at the agencies</a> — and organizations already deeply enmeshed in the planning for the L.A. River two years ago — when it was revealed it had hired starchitect Frank Gehry to work on the master plan with the nonprofit L.A. River Revitalization Corp. He had been <a href="http://www.latimes.com/local/lanow/la-me-ln-gehry-la-river-plans-20150827-story.html">working on the plan in secret for a year </a>before his involvement was announced. The move was met with reactions ranging from confusion, to derision, to optimism. While Gehry is known for his undulating, sculptural buildings like Disney Hall in downtown Los Angeles, he is not typically associated with the kind of environmentally sensitive master planning a river revitalization project usually requires.</p><p>It's unclear if the work done by Gehry will conflict with existing plans that are in various stages of design and execution.</p><p class="shortcode-media shortcode-media-rebelmouse-image"> <img class="rm-shortcode" data-rm-shortcode-id="e94ff2b0fee5e2c003b636520cf31709" data-rm-shortcode-name="rebelmouse-image" id="1aae0" type="lazy-image" data-runner-src="https://assets.rebelmouse.io/eyJhbGciOiJIUzI1NiIsInR5cCI6IkpXVCJ9.eyJpbWFnZSI6Imh0dHBzOi8vYXNzZXRzLnJibC5tcy8xOTg3NDQ1NS9vcmlnaW4uanBnIiwiZXhwaXJlc19hdCI6MTYyMjgyNTg0M30.dWm03D097Fsu144RDbcrXU6ojdC52E7E7MgMJ9ljZSg/img.jpg?width=980"/> <small class="image-media media-caption" placeholder="add caption..."></small> <small class="image-media media-photo-credit" placeholder="add photo credit...">Rendering of a revitalized L.A. River. Photo courtesy of Mia Lehrer.</small> </p><h2>Reclaiming spaces</h2><p><span class="lede">At the center of the gentrification debate is a relatively small plot of land</span> bought by the city last year for $60 million, known as the Taylor Yard "G2 parcel," contaminated land that was part of an old railroad depot and an even smaller plot of land known as the Bowtie parcel, owned by California State Parks.</p><p>These plots are still undeveloped, but <a href="https://la.curbed.com/2018/2/14/17012328/los-angeles-river-development-apartments-opposition">New York-based developers have already proposed a 419 unit apartment complex</a> where a warehouse currently sits next to the Bowtie parcel and community groups are actively advocating against it. Last year, <a href="https://urbanize.la/post/bridges-galore-coming-la-river">the city approved plans for a $19 million pedestrian bridge connecting Elysian Valley to Taylor Yards</a>, though construction won't be completed for several years.</p><p>The city chose a design team last September to design a future park at Taylor Yard. Engineering firm WSP has teamed with landscape architecture and urban design firm Studio-MLA to work on interim plans for the property while it undergoes the extensive cleanup process necessary to make it habitable again. They are also the team that will design a permanent public park on the land. The entire greening process is a long one — just the interim space is expected to open in another three to five years.</p><p>According Mia Lehrer, founder and president at Studio-MLA, who has been working on L.A. River projects for over a decade, we are just beginning to see the effect of these initiatives. "None of [these projects] are too big but there's lots going on," she says.</p><p>Rather, she says the cumulative effect of what she terms "opportunistic projects" along the river, despite being burdened with bureaucratic and environmental challenges, results in improved quality of life for the city. For Lehrer, this means also investing in the less exciting pieces of public infrastructure that aren't driven by developers, citing improvements such as solar lights installed on the bikeway.</p><p>Architect Elizabeth Timme, who runs the urban design nonprofit <a href="https://www.mas.la/">LA-Más</a> and once worked for Lehrer, shares Lehrer's unease about the potential gentrification of nearby neighborhoods. While the problem of displacement isn't easily solved, Timme believes there are ways to mitigate the problem. "Unmanaged gentrification is incredibly toxic," says Timme. "If you don't put in place affordable housing, public schools, infrastructure like lighting and sidewalks — basic amenities not driven by developer investment — it puts pressure on the people who are most vulnerable."</p>