Articles
Give Blood Play Hockey is capitalizing on the sport's reputation for spilling blood to get people to donate instead.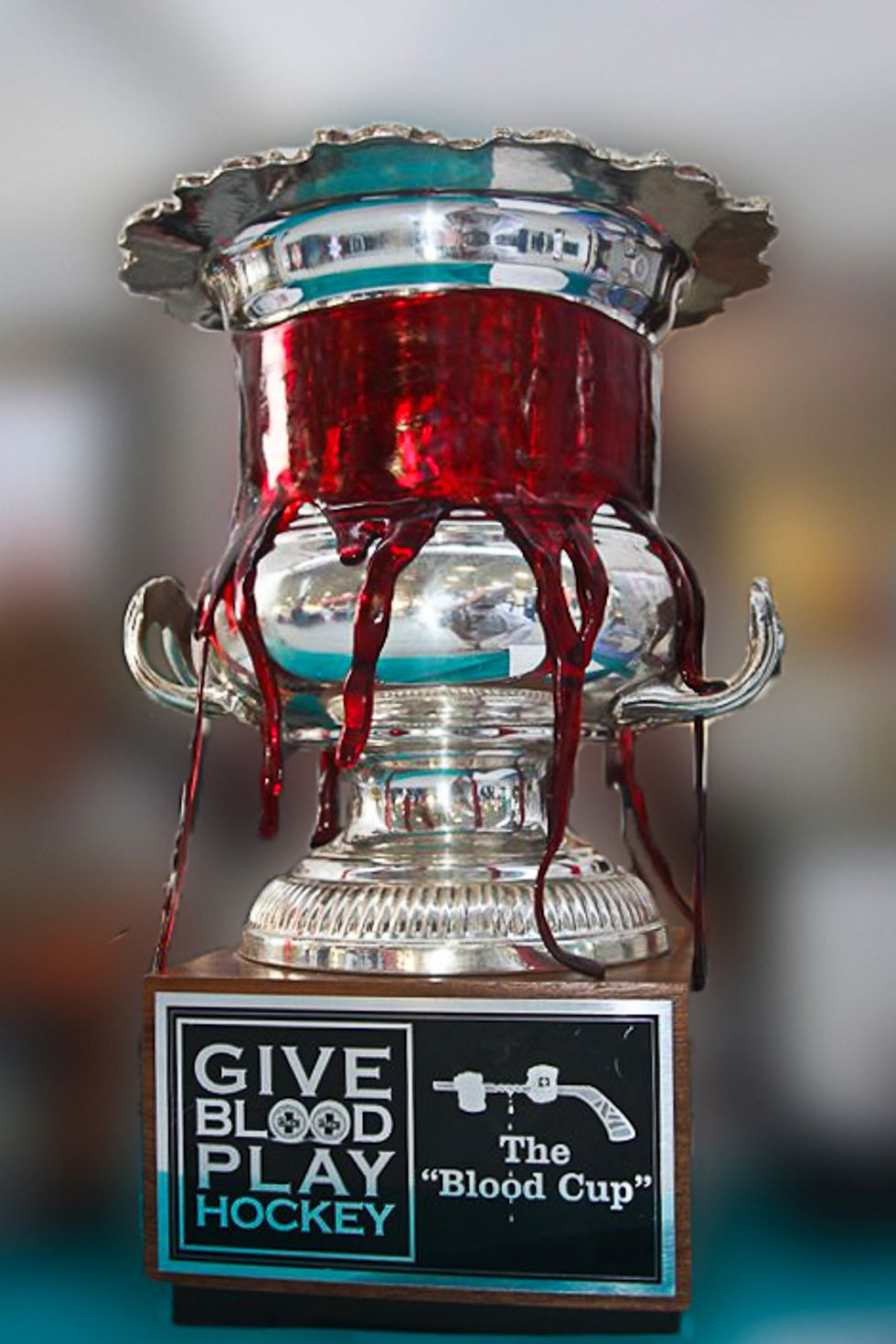 I started the
Give Blood Play Hockey Foundation
with my family and friends as a high school project in 2007 as a senior in Southern California. Combining the sport I love with a cause that had deep personal meaning, it was our goal to have a world-class hockey tournament that raised money for Children's Hospital of Orange County, and a blood drive that would help people battling cancer.
My grandfather, Peter Clauss, inspired the event. With the love of his life, he had ten children and 30 grand children. Pa, as we knew him in the family, battled Multiple Myeloma for several years. He embraced life and every day he had with his family. In the later stages of the disease he had to get blood transfusions several times a month. His final wish was that the blood he was given would be replaced, and he encouraged everyone in the family to give blood whenever they could. After his passing, we wanted to do more, and the Give Blood Play Hockey foundation was created in his memory. In our first year, we replaced every pint that Pa was given and more.
After six years, the Give Blood Play Hockey foundation has raised and donated over $225,000 dollars for Children's Hospital. Give Blood Play Hockey has sponsored a Pediatric Cancer Patient Room and a Medication Station on the 5th floor Oncology Department of the new building at CHOC. Teams that play in the annual event pay a registration fee to participate, corporate and individual donors donate money, products, and silent auction items to support the cause. This event attracts teams and players from all over California and has started to grow into adjacent states. Give Blood Play Hockey now supports Research and Development at CHOC in hopes of finding new treatments and eventually a cure for pediatric cancer. It has become the center of charitable giving in the hockey community and has grown every year since our founding.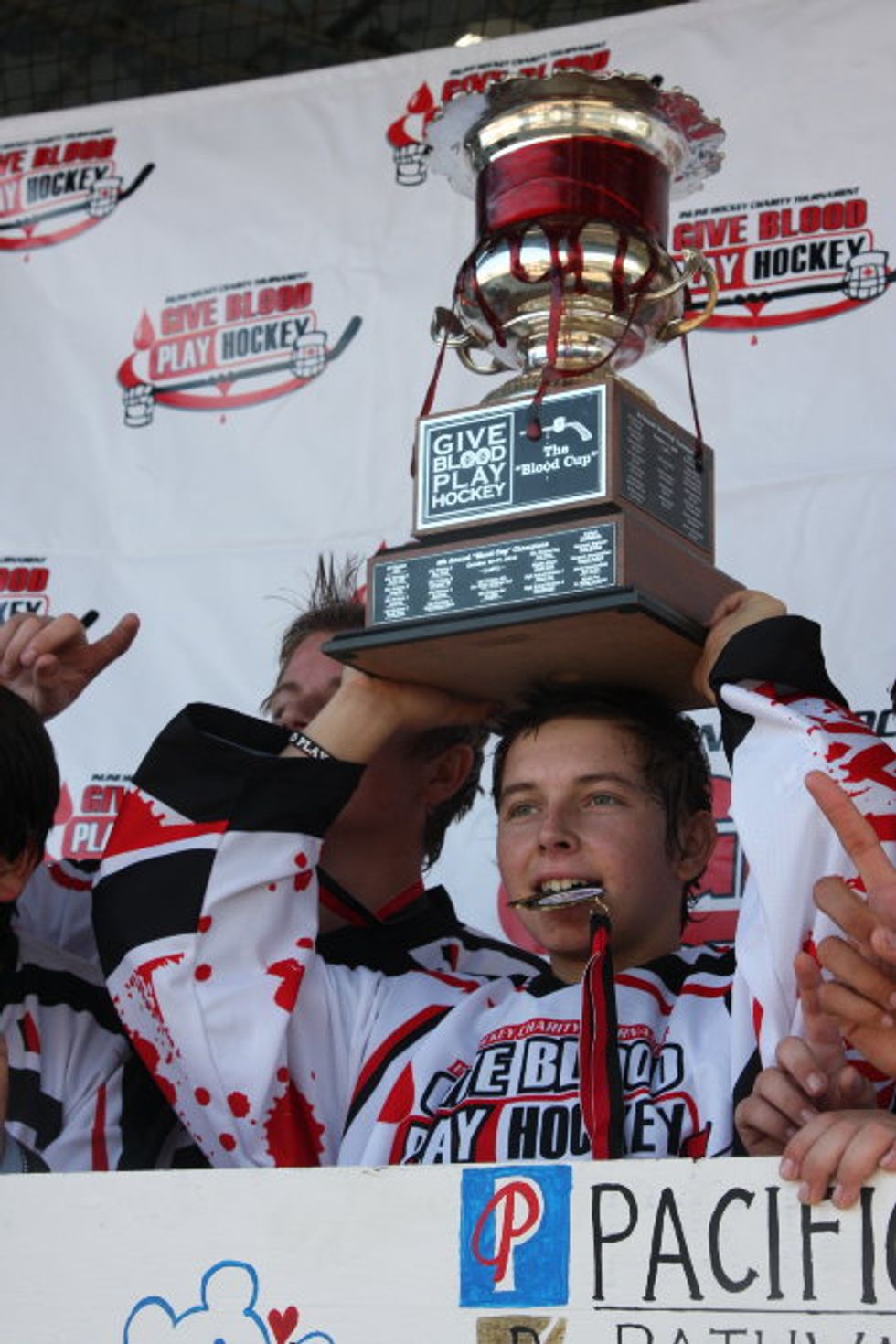 <br/><br/> Last year we eclipsed the 1,000 pint mark in our blood drive, and ironically the donor who did that had a rare type of blood that was perfect for premature babies. He walked out of the blood mobile to a surprise celebration that had everyone in tears! 242 pints of blood were collected in two days at last year's event, our largest single weekend ever. Each pint of blood has the potential to save three lives. To date, Give Blood Play Hockey has collected enough blood to save 1,526 people in our community.<p class="shortcode-media shortcode-media-rebelmouse-image"> <img class="rm-shortcode" data-rm-shortcode-id="448ce8f9d407646754e768bd378eabb6" data-rm-shortcode-name="rebelmouse-image" id="149ed" type="lazy-image" data-runner-src="https://assets.rebelmouse.io/eyJhbGciOiJIUzI1NiIsInR5cCI6IkpXVCJ9.eyJpbWFnZSI6Imh0dHBzOi8vYXNzZXRzLnJibC5tcy8xOTkxMjEyNy9vcmlnaW4uanBnIiwiZXhwaXJlc19hdCI6MTY2MzE1NDA2MH0.Sw43wmPLh_baqAXHKImxs1OUEIrXDWjeknBaYcHECm8/img.jpg?width=980"/> <small class="image-media media-caption" placeholder="add caption..."></small> <small class="image-media media-photo-credit" placeholder="add photo credit..."></small> </p><br/><br/> During our annual event, a blood mobile and sometimes two, pull up to the hockey rink and create a comfortable and welcoming experience for people to give blood. Some people come every year, and some give for the first time. It's so heartwarming to see the joy and sense of accomplishment of the first timers.<br/><br/> As the 7th event approaches, it is Give Blood Play Hockey's goal to increase awareness for the need of blood and to continue to raise money in the fight against pediatric cancer. This year, the event will be held October 30, November 1, 2, and 3 at "The Rinks-Irvine" in Irvine, California. Our goal is to add more corporations to our current list of 26 corporate sponsors. We want to get our name out to the community at large, not just those who play hockey. Give Blood Play Hockey is "BLeading the Way" in the community to raise awareness for the importance of blood donations and to fight Pediatric Cancer.<br/><br/> Please visit our <a href="http://www.givebloodplayhockey.org">website</a> to learn more about our foundation. Follow us on Twitter @GBPH4CHOC and 'like' Give Blood Play Hockey on Facebook. If you want to get involved, make a donation, give blood, volunteer or enter a team, please email us at GBPH4CHOC@gmail.com.<div> <strong><em>This post is part of the GOOD community's 50 Building Blocks of Citizenship. This week: <a href="http://www.good.is/posts/citizen-building-block-6-give-blood--2" rel="nofollow" target="_blank">Give Blood</a>. </em></strong><a href="http://www.good.is/building-blocks-of-citizenship" rel="nofollow" target="_blank"><strong><em>Follow along</em></strong></a><strong><em>, join the discussion, and share your experience at </em></strong><a href="https://twitter.com/search?q=%23goodcitizen&amp;src=typd" rel="nofollow" target="_blank"><strong><em>#goodcitizen</em></strong></a><strong><em>.</em></strong>\n</div><p> <br/><br/> <br/><br/></p><br/><br/><br/><br/><br/><br/><br/><br/><br/><br/><br/><br/><br/>