Articles
Being a super mom is easier than you think!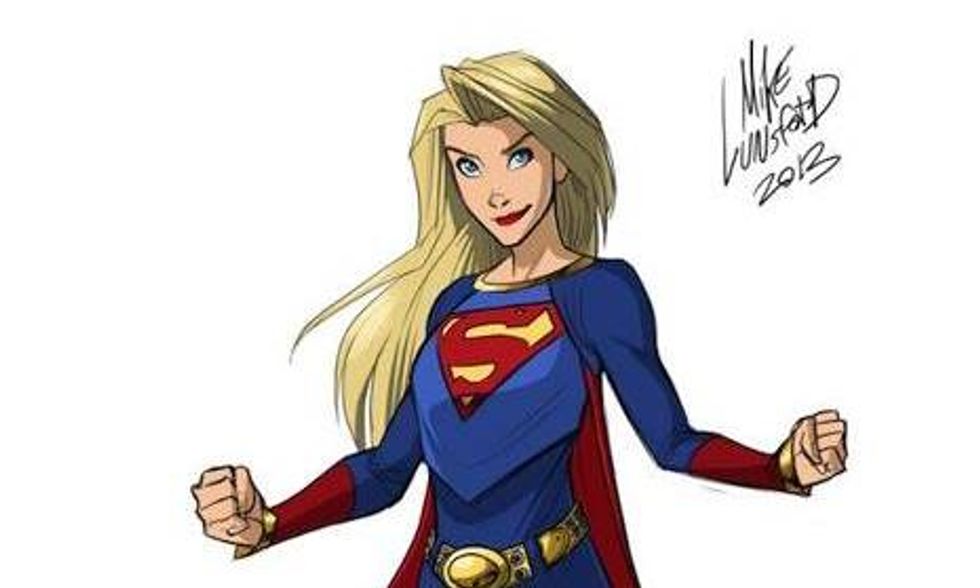 via Alan Bentrup/Flickr
Everyone knows being a mom is the toughest job out there. (Suck it, coal mining ice fishermen.) It's typical to feel overwhelmed, exhausted, and even like you're a bad mom sometimes. Everyone's trying to do it all, but guess what? You don't have to.
<p>Being a super mom is easier and more fun than you think. Let these five badass moms inspire you to crush it today, or at least make it through the afternoon without locking yourself in the closet eating Cheerios.</p><div id="upworthyFreeStarVideoAdContainer"><div id="freestar-video-parent"><div id="freestar-video-child"></div></div></div><p><strong>1. The pregnant mom who <a href="http://www.someecards.com/parenting/parenting/this-mom-who-is-8-months-pregnant-dances-with-her-6yearold-daughter-like-a-total-boss/" target="_blank">whips and nae naes</a> with her daughter.</strong></p><p>Super moms make time for fun. Even though Nikki Taylor was eight months pregnant, she still found time to go viral in a dance video with her 6-year-old daughter, Jaylyn. Little Jaylyn's got moves that would put Beyonce to shame, but the cutest part might be her intro: "My mom is gonna rock it. But don't laugh at her!"</p><p><span class="rm-shortcode" data-rm-shortcode-id="30bc0fdbca6f85e1a238abf79958ffe5" style="display:block;position:relative;padding-top:56.25%;"><iframe frameborder="0" height="auto" type="lazy-iframe" scrolling="no" data-runner-src="https://www.youtube.com/embed/PrTZ1PzG_y8?rel=0" style="position:absolute;top:0;left:0;width:100%;height:100%;" width="100%"></iframe></span> </p><p><strong>2. This mom who<a href="http://www.someecards.com/parenting/moms/tony-emms-letter-stay-at-home-mom-facebook/" target="_blank"> got some sleep</a>, finally. </strong></p><p>Super moms know they need rest to stay super. Proud papa Tony Emms wrote a very touching letter on Facebook to his sleeping fiancée​, a stay-at-home mom, praising her for all she does. That post has been shared over 17,000 times, because everyone knows even Superman is Clark Kent sometimes.</p><p><strong>3. The mom who <a href="http://www.someecards.com/parenting/moms/breastfeeding-mom-multitasks/" target="_blank">makes multitasking</a> look easy. </strong></p><p>Super moms get stuff done. NFL player Antonio Cromartie's wife Terricka is a mother of five, including two-month-old twins. Terricka shared this Instagram of her breastfeeding and getting ready to go out without the kids for the first time. She makes it look easy, although everyone knows motherhood is anything but. Super moms need me-time too.</p><center><blockquote class="instagram-media" data-instgrm-captioned="" data-instgrm-permalink="https://www.instagram.com/p/BH72nxEBqGI/?utm_source=ig_embed_loading" data-instgrm-version="12" style=" background:#FFF; border:0; border-radius:3px; box-shadow:0 0 1px 0 rgba(0,0,0,0.5),0 1px 10px 0 rgba(0,0,0,0.15); margin: 1px; max-width:540px; min-width:326px; padding:0; width:99.375%; width:-webkit-calc(100% - 2px); width:calc(100% - 2px);"><div style="padding:16px;"><div style=" display: flex; flex-direction: row; align-items: center;"> <div style="display: flex; flex-direction: column; flex-grow: 1; justify-content: center;"> </div></div> <div style="display:block; height:50px; margin:0 auto 12px; width:50px;"><a href="https://www.instagram.com/p/BH72nxEBqGI/?utm_source=ig_embed_loading" style=" background:#FFFFFF; line-height:0; padding:0 0; text-align:center; text-decoration:none; width:100%;" target="_blank"><svg height="50px" version="1.1" viewBox="0 0 60 60" width="50px" xmlns="http://www.w3.org/2000/svg" xmlns:xlink="http://www.w3.org/1999/xlink"><g fill="none" fill-rule="evenodd" stroke="none" stroke-width="1"><g fill="#000000" transform="translate(-511.000000, -20.000000)"><g><path d="M556.869,30.41 C554.814,30.41 553.148,32.076 553.148,34.131 C553.148,36.186 554.814,37.852 556.869,37.852 C558.924,37.852 560.59,36.186 560.59,34.131 C560.59,32.076 558.924,30.41 556.869,30.41 M541,60.657 C535.114,60.657 530.342,55.887 530.342,50 C530.342,44.114 535.114,39.342 541,39.342 C546.887,39.342 551.658,44.114 551.658,50 C551.658,55.887 546.887,60.657 541,60.657 M541,33.886 C532.1,33.886 524.886,41.1 524.886,50 C524.886,58.899 532.1,66.113 541,66.113 C549.9,66.113 557.115,58.899 557.115,50 C557.115,41.1 549.9,33.886 541,33.886 M565.378,62.101 C565.244,65.022 564.756,66.606 564.346,67.663 C563.803,69.06 563.154,70.057 562.106,71.106 C561.058,72.155 560.06,72.803 558.662,73.347 C557.607,73.757 556.021,74.244 553.102,74.378 C549.944,74.521 548.997,74.552 541,74.552 C533.003,74.552 532.056,74.521 528.898,74.378 C525.979,74.244 524.393,73.757 523.338,73.347 C521.94,72.803 520.942,72.155 519.894,71.106 C518.846,70.057 518.197,69.06 517.654,67.663 C517.244,66.606 516.755,65.022 516.623,62.101 C516.479,58.943 516.448,57.996 516.448,50 C516.448,42.003 516.479,41.056 516.623,37.899 C516.755,34.978 517.244,33.391 517.654,32.338 C518.197,30.938 518.846,29.942 519.894,28.894 C520.942,27.846 521.94,27.196 523.338,26.654 C524.393,26.244 525.979,25.756 528.898,25.623 C532.057,25.479 533.004,25.448 541,25.448 C548.997,25.448 549.943,25.479 553.102,25.623 C556.021,25.756 557.607,26.244 558.662,26.654 C560.06,27.196 561.058,27.846 562.106,28.894 C563.154,29.942 563.803,30.938 564.346,32.338 C564.756,33.391 565.244,34.978 565.378,37.899 C565.522,41.056 565.552,42.003 565.552,50 C565.552,57.996 565.522,58.943 565.378,62.101 M570.82,37.631 C570.674,34.438 570.167,32.258 569.425,30.349 C568.659,28.377 567.633,26.702 565.965,25.035 C564.297,23.368 562.623,22.342 560.652,21.575 C558.743,20.834 556.562,20.326 553.369,20.18 C550.169,20.033 549.148,20 541,20 C532.853,20 531.831,20.033 528.631,20.18 C525.438,20.326 523.257,20.834 521.349,21.575 C519.376,22.342 517.703,23.368 516.035,25.035 C514.368,26.702 513.342,28.377 512.574,30.349 C511.834,32.258 511.326,34.438 511.181,37.631 C511.035,40.831 511,41.851 511,50 C511,58.147 511.035,59.17 511.181,62.369 C511.326,65.562 511.834,67.743 512.574,69.651 C513.342,71.625 514.368,73.296 516.035,74.965 C517.703,76.634 519.376,77.658 521.349,78.425 C523.257,79.167 525.438,79.673 528.631,79.82 C531.831,79.965 532.853,80.001 541,80.001 C549.148,80.001 550.169,79.965 553.369,79.82 C556.562,79.673 558.743,79.167 560.652,78.425 C562.623,77.658 564.297,76.634 565.965,74.965 C567.633,73.296 568.659,71.625 569.425,69.651 C570.167,67.743 570.674,65.562 570.82,62.369 C570.966,59.17 571,58.147 571,50 C571,41.851 570.966,40.831 570.82,37.631"></path></g></g></g></svg></a></div><div style="padding-top: 8px;"><div style=" color:#3897f0; font-family:Arial,sans-serif; font-size:14px; font-style:normal; font-weight:550; line-height:18px;"><a href="https://www.instagram.com/p/BH72nxEBqGI/?utm_source=ig_embed_loading" style=" background:#FFFFFF; line-height:0; padding:0 0; text-align:center; text-decoration:none; width:100%;" target="_blank">View this post on Instagram</a></div></div> <div style="display: flex; flex-direction: row; margin-bottom: 14px; align-items: center;"><div> </div><div style="margin-left: 8px;"> </div><div style="margin-left: auto;"> </div></div><p style=" margin:8px 0 0 0; padding:0 4px;"><a href="https://www.instagram.com/p/BH72nxEBqGI/?utm_source=ig_embed_loading" style=" color:#000; font-family:Arial,sans-serif; font-size:14px; font-style:normal; font-weight:normal; line-height:17px; text-decoration:none; word-wrap:break-word;" target="_blank">I got that #MilkMoney.. 1st time I'm leaving my babies for more than a hour. But 1st let me empty this Milk real quick. SuperMom #breastfeedingmommy #mommystillneedsalife</a></p><p style=" color:#c9c8cd; font-family:Arial,sans-serif; font-size:14px; line-height:17px; margin-bottom:0; margin-top:8px; overflow:hidden; padding:8px 0 7px; text-align:center; text-overflow:ellipsis; white-space:nowrap;">A post shared by <a href="https://www.instagram.com/iluvterricka/?utm_source=ig_embed_loading" style=" color:#c9c8cd; font-family:Arial,sans-serif; font-size:14px; font-style:normal; font-weight:normal; line-height:17px;" target="_blank"> TERRICKA CROMARTIE </a> (@iluvterricka) on <time datetime="2016-07-16T20:08:29+00:00" style=" font-family:Arial,sans-serif; font-size:14px; line-height:17px;">Jul 16, 2016 at 1:08pm PDT</time></p></div></blockquote><script async="" defer="" src="//www.instagram.com/embed.js"></script>\n</center><p><strong>4. This mom who gave herself a grandchild.</strong></p><p>Super moms will do anything for their kids, and I do mean anything. Sherri Dickson loved her daughter so much, she had a baby for her. The 51-year-old mother volunteered to act as a surrogate for her daughter Mandy Stephens when she found out she and her husband weren't able to have children naturally. That's a super mom and a super duper grandma.</p><p class="shortcode-media shortcode-media-rebelmouse-image"> <img class="rm-shortcode" data-rm-shortcode-id="bb221d196443546b8f9d00567b4f0352" data-rm-shortcode-name="rebelmouse-image" id="af1a7" type="lazy-image" data-runner-src="https://assets.rebelmouse.io/eyJhbGciOiJIUzI1NiIsInR5cCI6IkpXVCJ9.eyJpbWFnZSI6Imh0dHBzOi8vYXNzZXRzLnJibC5tcy8xOTg3MDgzMC9vcmlnaW4uanBnIiwiZXhwaXJlc19hdCI6MTY3MjA5OTMxMn0.TTR2fk0yLzT5c88Xgct7dYuJyFjkjht0PDqVyNr7peY/img.jpg?width=980"/> <small class="image-media media-caption" placeholder="add caption..."></small> <small class="image-media media-photo-credit" placeholder="add photo credit..."><a href="https://abcnews.go.com/Lifestyle/acting-surrogate-north-dakota-woman-birth-granddaughter/story?id=33428159" target="_blank">via ABC News</a></small> </p><p><strong>5. The mom who went viral getting her<a href="https://www.ctvnews.ca/lifestyle/mom-versus-triplets-and-toddler-video-goes-viral-1.2769499" target="_blank"> 4 kids ready </a>for bed.</strong></p><p>Super moms make it work. It seems impossible to get four young kids ready for bed at the same time, but mom Corrie-Lynn Whyte pulls it off every night. When you see the video of Corrie wrangling triplets Olivia, Levi, and Jackson into their onesies while rambunctious older sister Emily goes buck wild jumping on the bed, it's kind of hilarious and downright impressive.</p><center><iframe allowfullscreen="true" allowtransparency="true" frameborder="0" height="315" scrolling="no" src="https://www.facebook.com/plugins/video.php?href=https%3A%2F%2Fwww.facebook.com%2FThebabygang%2Fvideos%2F223602577983947%2F&amp;show_text=0&amp;width=560" style="border:none;overflow:hidden" width="560"></iframe></center>