Articles
Nineteen years after the genocide against Tutsis, Rwanda is fighting to live by educating young women.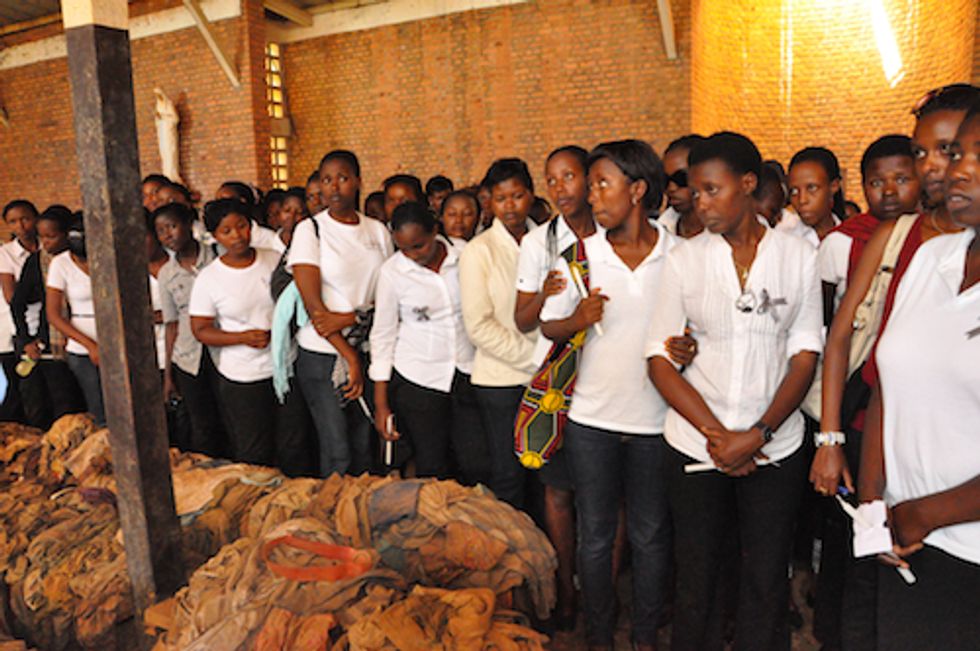 This month marks 19 years since the
1994 Rwandan genocide
that killed an estimated 1 million people in 100 days, devastating the country and its people. While remembrance events are held globally throughout the month of April, it is in our land-locked East African country where tributes are felt at the deepest, most profound level.
As a native Rwandan and as the country director for the Akilah Institute for Women, Rwanda's first-ever women's college that's investing in the education of the most promising future professionals and leaders of East Africa, I know the importance of ensuring our students reflect on this tragic part of our history.
<p> Earlier this month Akilah's staff and faculty coordinated a visit to a genocide memorial site at <a href="http://www.kigalimemorialcentre.org/old/centre/other/nymata.html">Nyamata Church</a> in Rwanda's Bugesera District, a 45-minute drive south of the capital of Kigali. Arriving at the memorial site, we were met by Leon Muberuka, the church manager, who explained in painful and vivid details the atrocious acts that occurred less than two decades ago in the very church where we stood.</p><div id="upworthyFreeStarVideoAdContainer"><div id="freestar-video-parent"><div id="freestar-video-child"></div></div></div><p> At the start of the genocide in April 1994 many Tutsis took refuge in churches but the militia didn't respect the sanctuary. From April 14-19, 1994 about 10,000 people were killed in and around Nyamata Church. Overall in the Bugesera District, only 2,000 out of 62,000 residents survived the genocide.</p><p> "Fight to live, live for them," Muberuka told Akilah's young women, many of whom are genocide survivors themselves. Despite my efforts to find a consolation message to comfort our students, it was a message filled with pain and grief that left us all speechless. As a Rwandan, I thought that I was relatively attuned to my country's reality, but I had proven myself wrong—19 years later, the wound is still fresh for the survivors of the genocide against Tutsis.</p><p> We continued our walk through the memorial site in silence, passing old weapons, benches piled with clothes, and blood stained walls. Approaching the altar we attempted to pray, yet we failed to find peace in a space with so many reminders of chaos, death, and despair. Instead, we lit our candles and stood in the stillness. Emotions and memories weighed heavily on our hearts. "Stay strong, let our beloved families lives shine in you," Muberuka told us. "I know you will make them proud."</p><p> In moments like these where our internal strength wavers, I am gratefully reminded of the incredible rebound my country has made. Rwanda has emerged as an example for hope, peace and innovative economic development. With the <a href="http://www.akilahinstitute.org/academics/">business diplomas</a> they receive through Akilah's program, our <a href="http://www.newtimes.co.rw/news/index.php?a=57213&amp;i=15088">graduates</a> enter the workforce poised to help rebuild the nation they hold such optimism for. We know that educated women will create a <a href="http://www.youtube.com/watch?v=5yxFMbKhvFU">ripple effect</a> that will ensure future social and economic stability for their families, communities, and Rwanda. </p><p> I am convinced that through educating and empowering young women we will be able to talk about our history, write our stories of survival, and make sure that future generations carry on the message of "Never Again." Nineteen years after the genocide against Tutsis, Rwanda is fighting to live and Akilah is proudly part of the fight.</p><p> <em><a href="http://www.good.is/posts/donate-to-akilah-s-scholarship-fund-for-young-women">Click here</a> to add donating to the Akilah scholarship fund to your GOOD "to-do" list.</em></p><p> <em>Image courtesy of Akilah Institute for Women</em></p><br/>