Articles
Some bathing suits to consider for this summer.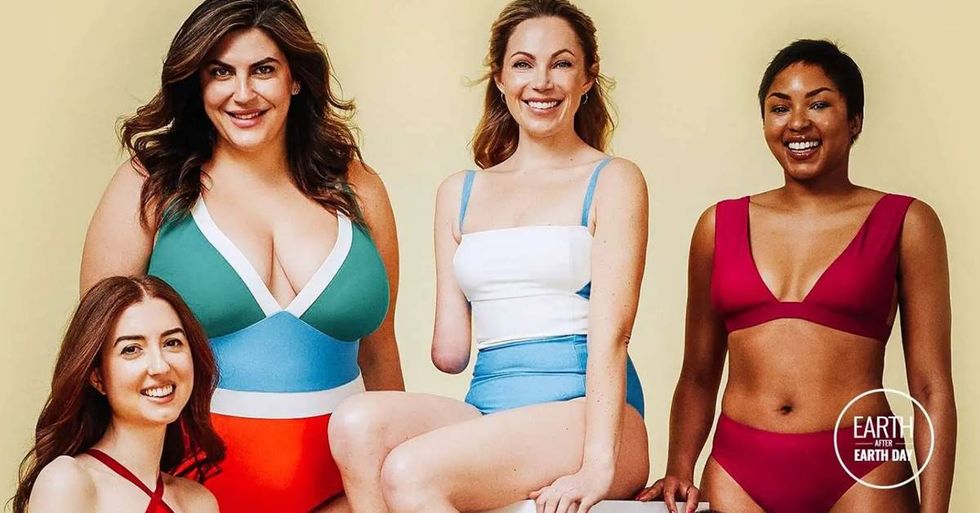 via Green Matters
For those trying to live a sustainable lifestyle, swimsuit shopping might feel stressful for one more reason this year. In addition to feeling good about how the suit fits your body, you might be concerned with the materials and manufacturing that went into the garment.
Luckily, there are plenty of sustainable swimsuit brands on the market. To help get you ready for summer, Green Matters has rounded up a list of eight companies that make eco-conscious swimsuits — for people of all genders, shapes, and sizes.
If you clicked on this article, you're probably already familiar with the basics when it comes to shopping for sustainable clothing. One of the most important things eco-minded people look out for when shopping, whether it's new or secondhand, is that the clothing be made from natural materials.
That way, it won't release microfibers when you put it in the washing machine, and it might even be compostable at its end of life. However, that rule doesn't quite apply in the swimwear sector.
As Eco Cult blogger Alden Wicker wrote, it's pretty much impossible to get a practical bathing suit made from all-natural materials. Wicker even once tried to skirt around this rule with a crocheted cotton bathing suit, and when she told the company that it stretched out upon hitting the water, the company told her it was not meant to get wet. So... yeah.
So since bathing suits made from synthetic materials are the only functional options in 2019, there are a few other things you can look out for to keep your swimwear eco-friendly. For one thing, some companies make swimsuits out of recycled plastic — many from recycled ocean plastic — which definitely reduces the garment's environmental impact. You might also look into the factories a company uses, to see if its manufacturing processes align with your ethics.
And to further reduce the impact of a swimsuit (or any other synthetic garment), consider machine washing it with a Cora Ball or Guppyfriend, which will trap microfibers and prevent them from entering waterways. Additionally, air-drying a bathing suit instead of putting it in the dryer will prolong its life, meaning you can still wear it next summer (as long as it's still in style, of course).
Read on for eight sustainable bathing suit companies.
1. Fair Harbor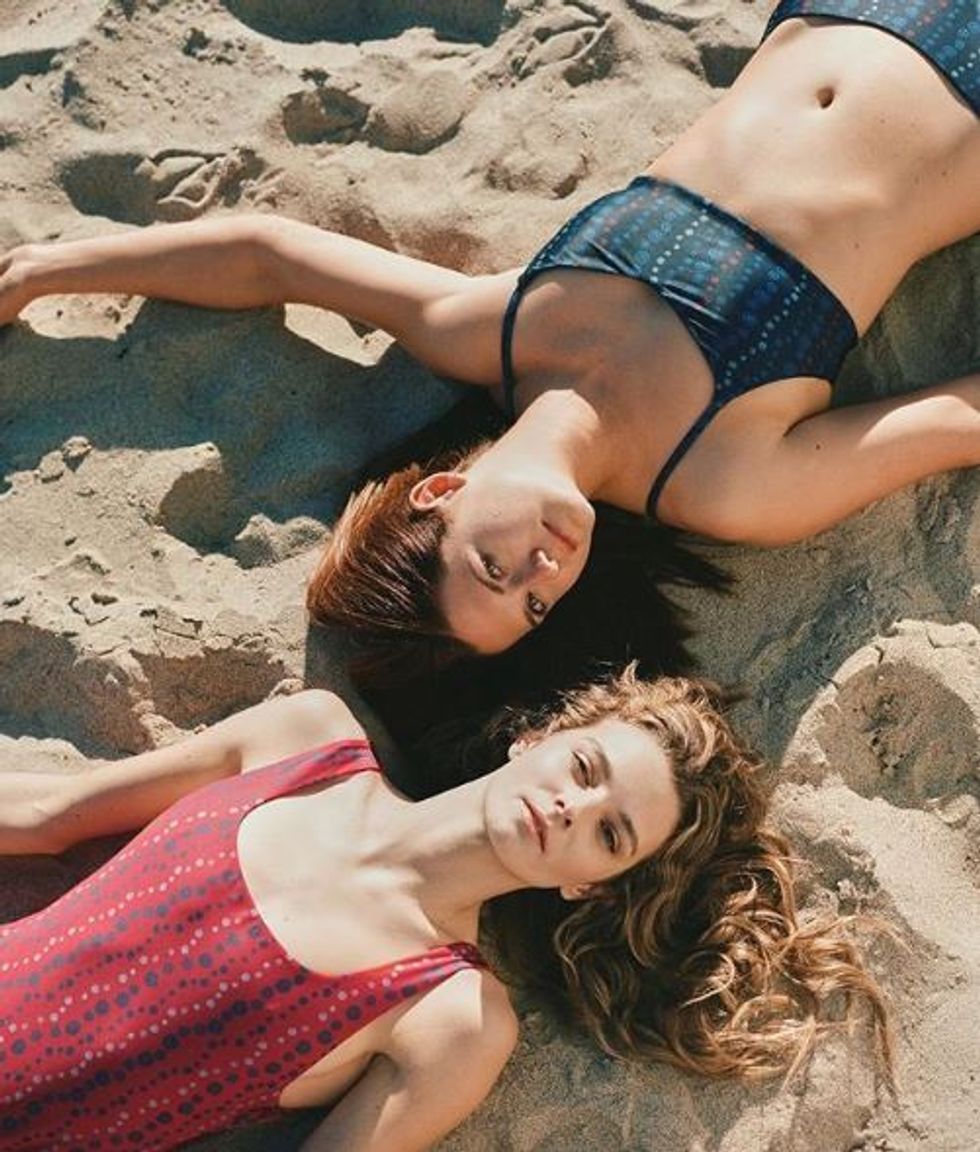 via Fair Harbor / Instagram
Fair Harbor makes women's bikinis and one pieces out of about 82 percent plastic water bottles and 18 percent spandex. The small company also makes men's swim trunks out of the same two materials mixed with organic cotton. Fair Harbor recently partnered with Harry Potter actress Bonnie Wright on a collection of two new swimsuits, and 15 percent of their sales will be donated to environmental nonprofit Heal the Bay.
Additionally, Fair Harbor partnered with 2ReWear on a bathing suit recycling program called the Round Trip Initiative. You can download a free prepaid shipping label on Fair Harbor's website, and mail in old swimsuits in exchange for a 10 percent off coupon for each one you send in, up to 30 percent off.
2. Athleta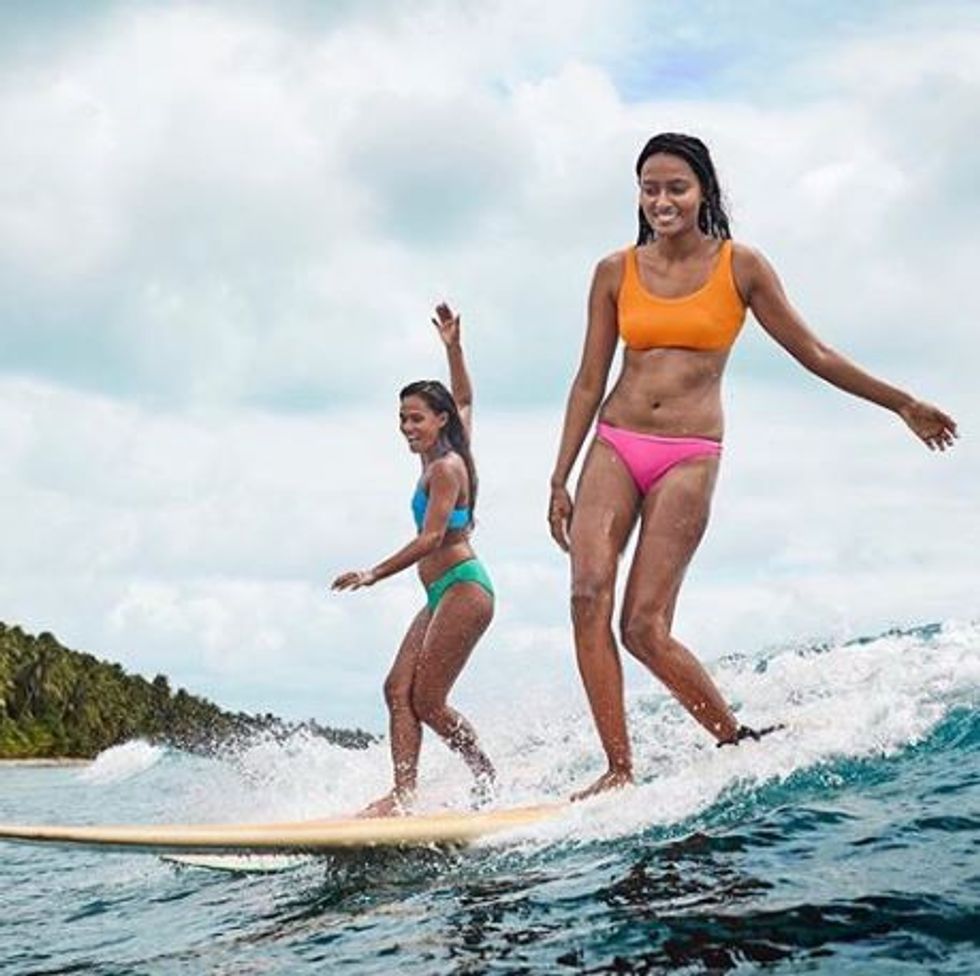 via Athleta / Instagram
Athleta makes its AquaRib (a ribbed bathing suit fabric) out of Econyl fabric, which is nylon made from discarded fishing nets. The company also uses H2Eco Swim Fabric, which is made from recycled nylon. Athleta is a certified B Corp, meaning it has met the non-profit B Lab's standards of "social and environmental performance, public transparency, and legal accountability to balance profit and purpose."
Plus, Athleta is a great option if you prefer to shop for your bathing suits in-person rather than online, since the store is in malls and shopping centers all across the country.
3. Otherwild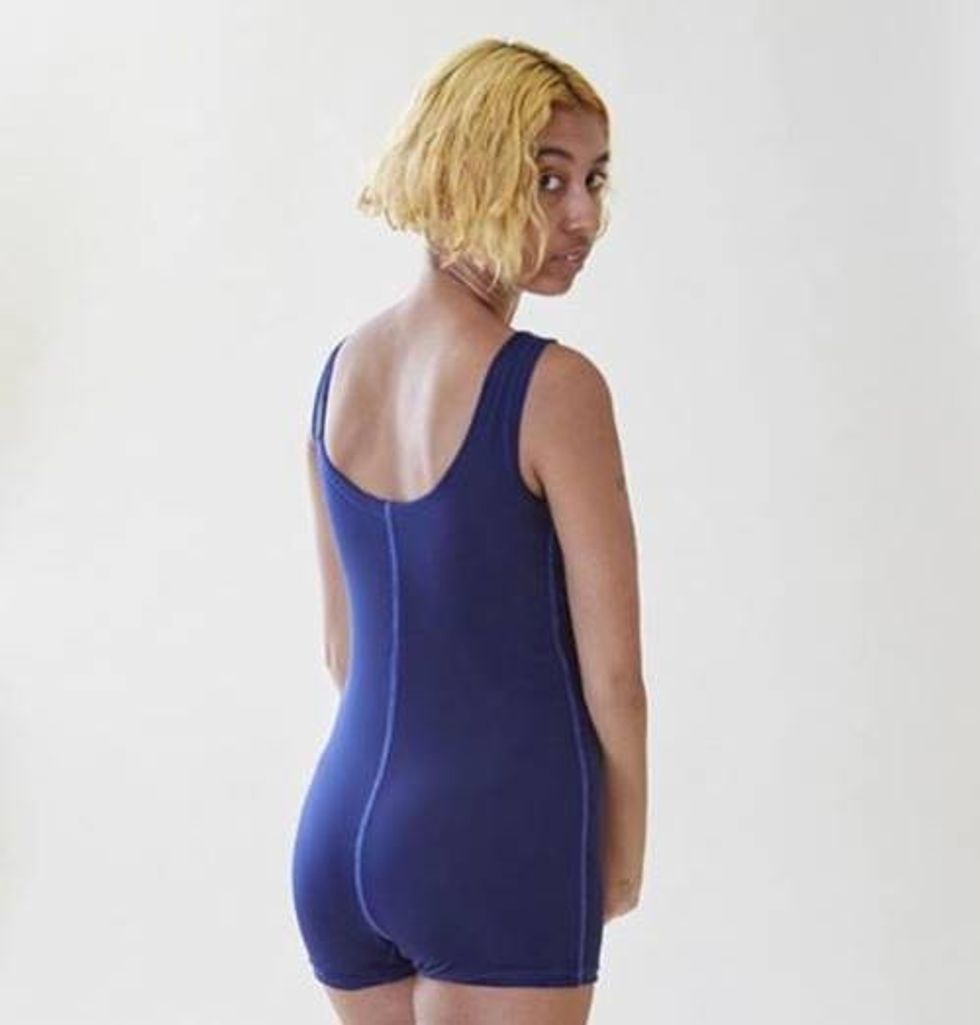 Otherwild is a queer-owned business that is centered on ethical practices, fair wages, and promoting low-waste. The company makes a bathing suit called Hirsuit, which is an "androgynous swimsuit designed for a wide variety of bodies and gender expressions." The swimsuit is made of 82 percent recycled polyester and 18 percent spandex, it comes in sizes XXS through XXL, it's reversible, and — bonus — it has pockets.
4. Taje Swimwear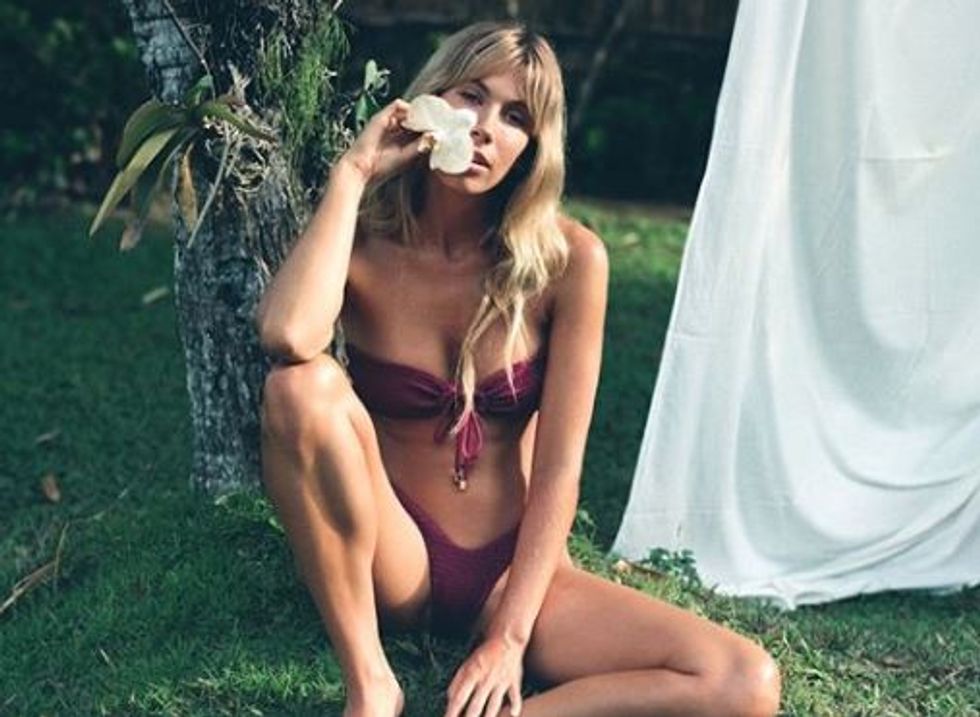 via TageSwimwear / Instagram
Taje Swimwear makes bathing suits out of recycled Lycra, made from 100 percent fishing nets collected from the ocean. Taje's mission is to make their brand "fully sustainable," which extends not only to the swimsuits, but also to the packaging. The company's shipping boxes, stickers, hang tags, and strings are all plastic-free, and made from biodegradable or recyclable materials. Taje also works to create as little fabric waste as possible.
5. Alyned Together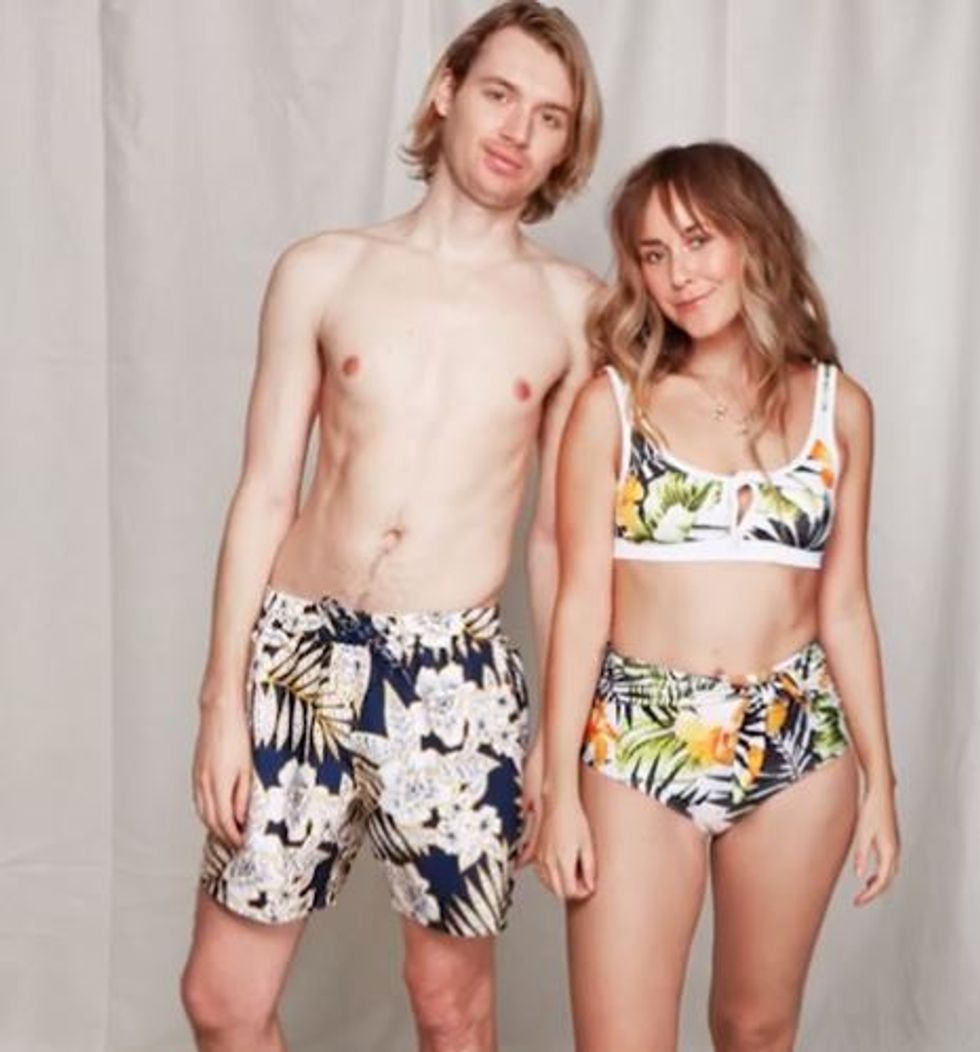 via alynedtogether / Instagram
Alyned Together is a women-owned company that makes swimsuits for men and women in all-inclusive styles and sizing, with women's pieces ranging from XS to 3X in size. The bathing suits are all made from around 82 percent recycled polyester (from plastic bottles) and elastane.
Alyned Together was only founded in 2018, but the company is already giving back. 1 percent of Alyned Together's annual sales are donated to support environmental nonprofits, through the 1% for the Planet movement.
6. Summersalt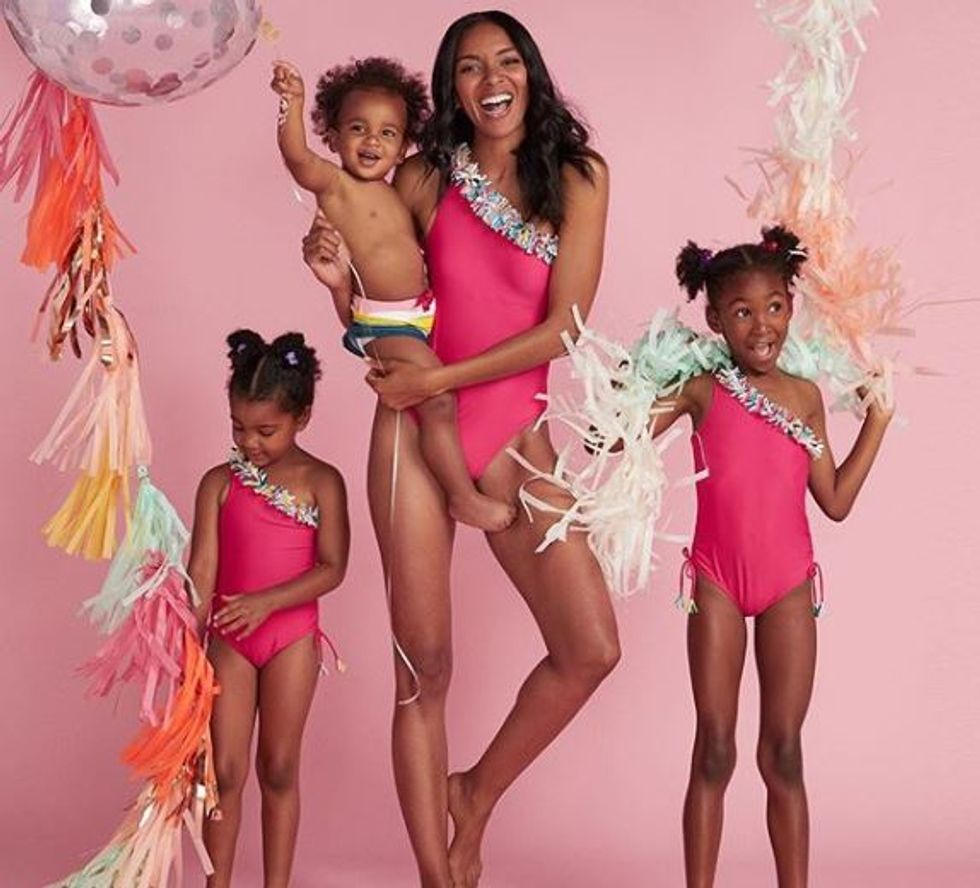 via summersalt / Instagram
Summersalt makes bathing suits for women of all shapes and sizes (from 2 to 22). The company's swimwear is made from 78 percent recycled polyamide, derived from recycled plastics, post-consumer materials, and recovered fishing nets.
The brand's Mamas and Minis collection has a confetti swimsuit for women along with a matching confetti swimsuit for girls, and a complimentary striped swimsuit for boys. Plus, Summersalt also offers an At-Home-Try-On Discovery Pack, which will send you a selection of suits to try on. Mail back the ones that you don't like, and only pay for whichever ones you keep.
7. Patagonia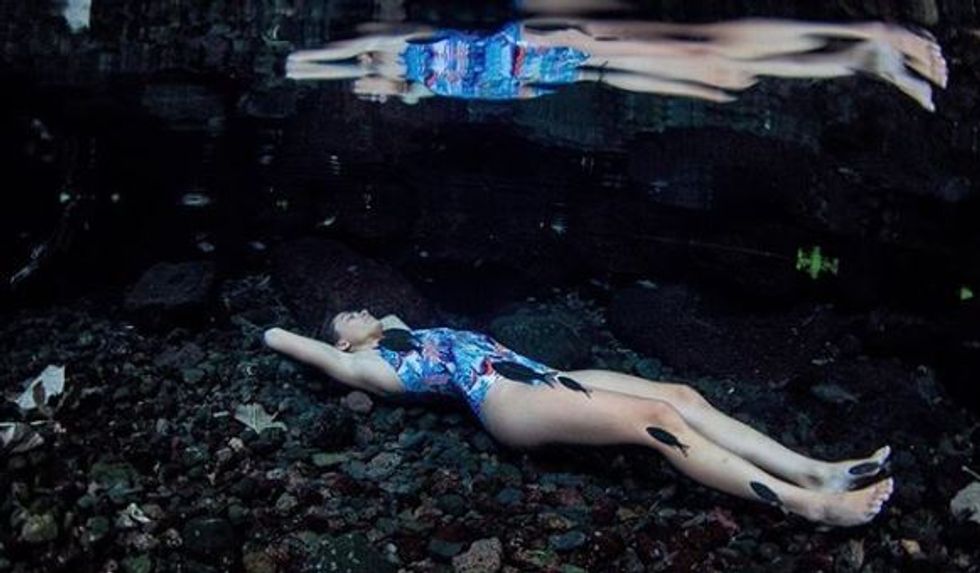 via Patagoniasurf / Instagram
Patagonia makes women's, men's, and children's bathing suits and wetsuits. Most of the company's swim items are all made from recycled polyester or nylon, some of which also feature spandex, natural rubber, and a few virgin synthetic materials.
Patagonia is Fair Trade Certified, and you can read all about the company's Corporate Responsibility, including its factories, on its website. The website also has a program called Worn Wear, where customers can send in Patagonia clothes they don't want anymore and shop for secondhand Patagonia gear. Plus, Patagonia stores are accessible in a lot of malls and shopping centers.
8. Shop the Thrift Stores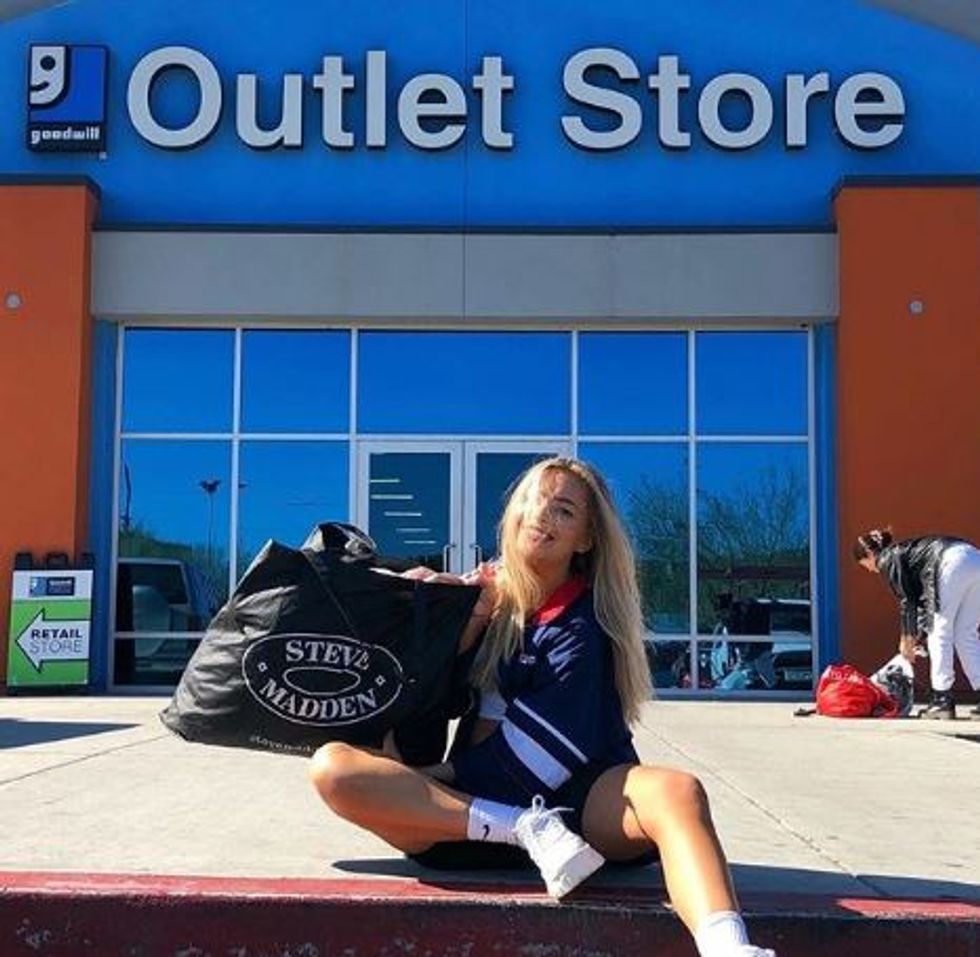 via GoodwillSocal / Instagram
I know, I know, you probably don't want a secondhand bathing suit. For obvious reasons. But I'm here to tell you a thrifty secret: charity shops are often loaded with brand spanking new bathing suits. I'm talking swimsuits that still have the original tags and the crotch sticker, people.
Last summer, I was browsing Goodwill when a rack of neon-colored bathing suits caught my eye. I noticed that there were multiples of the same styles, and that most of the suits still had their original tags sticking out. An employee told me that that particular Goodwill location only accepted bathing suit donations if they were clearly unworn, and that the donations often come directly from stores or brands with a surplus. You better believe I walked out of there with a fabulous, sustainable, and brand new one piece that still had the original tags and sticker — for just $8.
Basically, if you don't mind buying a bathing suit secondhand, the thrift store (as well as apps like Poshmark and Depop) not only helps save something from the waste stream, but will also save you money. But if you'd rather not take the risk, all of the brands above have great options worth investing in.