Articles
With the ScienceMobile, kids will get to experience harmless chemical and physical explosions.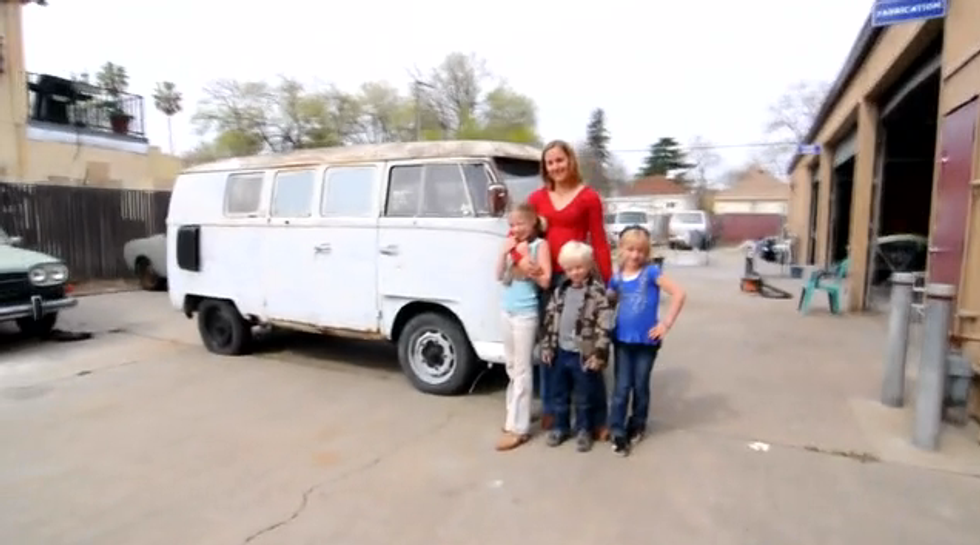 Last year my children and I ran a craft booth at the Oak Park Farmer's Market, which happens every Saturday between May and October in a low income Sacramento, California neighborhood. We began bringing messy and educational science activities and a very diverse group of attendees—kids from both traditional nuclear families, and single parent homes, kids with tough exteriors who would skid their bikes to a stop, and children who didn't speak English and were escorted by older siblings. But they were all eager to explore our supplies and became weekly companions to our booth.
I realized that although the experiments were a blast (quite literally) if we could somehow move our science station to the streets, we could reach a larger audience of eager young scholars. The idea for the ScienceMobile was born.
<p> Imagine a science lab in a refurbished, decked-out, old Volkswagen bus that brings fun, engaging, creative and educational science activities to neighborhoods. That's what I hope to accomplish by launching the ScienceMobile.</p><p> As both a mother and a science educator I see that all children need an opportunity for creativity, inquiry, investigation, and real, self-motivated learning. They need an educator to teach them more than what's in the textbook—that they are highly capable individuals and can choose their own destiny.</p><p> In most schools, the mantra of teaching to the tests is taking over. Rather than raising our children to fit into a box, however, couldn't we raise them to explore the box? Analyze its material, its content, its capacity, weight, and density? Couldn't we be facilitating students' curious endeavors rather than telling them what they should be curious about?</p><p> Children also need experiences that send the message that learning is cool, fun, and interesting. With the ScienceMobile, kids will get to experience harmless chemical and physical explosions. For example, we'll try out different ways to pop a balloon—mechanical with water or air pressure, and chemical with carbon dioxide generated from a chemical reaction, etc.—look at acid-base chemical reactions and use them to explode the lid off film canisters, and explore the effects of high pressure on water bottles with water bottle rockets.</p><p> Thanks to ScienceMobile, kids across Sacramento will get to try experiments with polymers, melt Styrofoam with acetone, and turn simple sugar into stretchy taffy. We'll also teach the simple concepts of color mixing with finger paints, use prisms to see the full color spectrum, learn the true primary colors, mix the light rays of each, and play a fun game to learn how light reflects or is absorbed to give us what we see.</p><p> I'm <a href="http://www.kickstarter.com/projects/1774690641/the-sciencemobile?ref=live">raising funds</a> to purchase, renovate, and equip a Volkswagen bus into an educational vehicle, but most importantly, I want to inspire young children to think—to know that they have intrinsic value and creativity, to spark a desire for investigation, and to teach kids that there are answers waiting to be found. I hope to bring to the streets an enthusiastic atmosphere where science and learning become exciting and interesting, and where each child is valued for his or her ideas.</p><p> <em><a href="http://www.good.is/posts/encourage-science-research-in-middle-and-high-schools">Click here</a> to add supporting science research in middle and high schools to your GOOD "to-do" list.</em></p><p> <strong>This project will be featured in GOOD's Saturday series <a href="http://www.good.is/push-for-good" rel="nofollow" target="_blank">Push for Good</a>—our guide to crowdfunding creative progress.</strong></p><br/>