Articles
The retail giant unfairly retaliated against employees, the ruling said.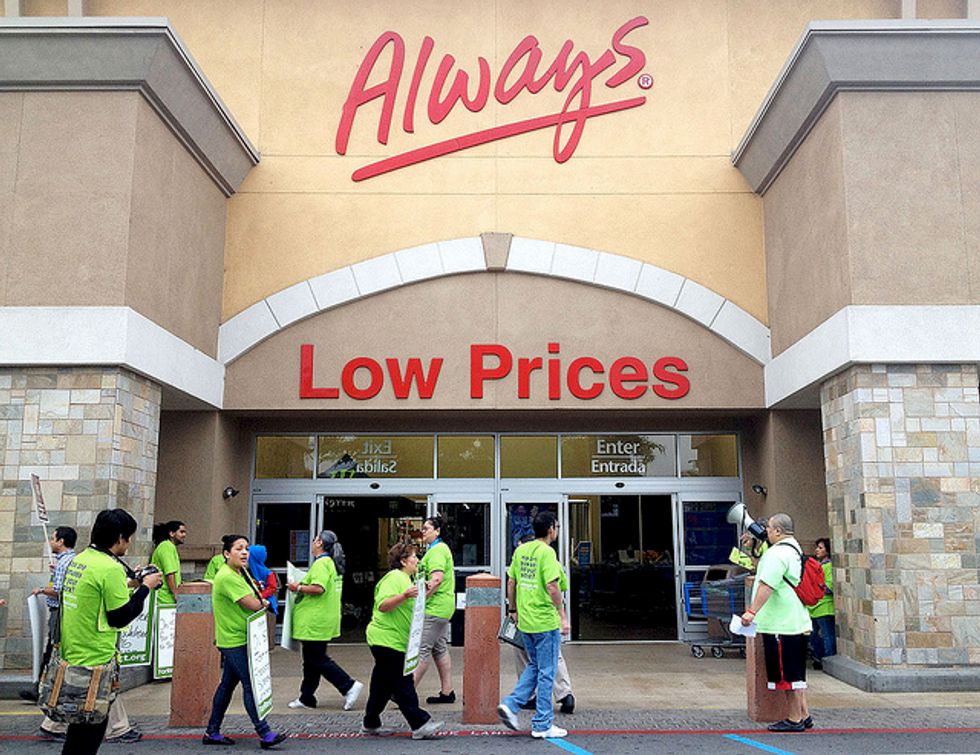 Strikers outside a California Walmart in 2012. Via Flickr user Neon Tommy/Matt Hamilton.
Sixteen former Walmart employees who were fired after participating in strikes in in 2013 will be reinstated, thanks to a ruling by the National Labor Relations Board released Thursday.
<p>The May and June 2013 protests were organized by the employee advocacy group OUR Walmart, which pressures the company to improve its workers' <a href="https://magazine.good.is/videos/leaked-walmart-union-video">pay and working conditions</a>. The group gathered employees to demonstrate at a number of retail stores and at Walmart headquarters in Bentonville, Arkansas. The company fired some participating employees for failing to show up for their shifts.</p><div id="upworthyFreeStarVideoAdContainer"><div id="freestar-video-parent"><div id="freestar-video-child"></div></div></div><p>But administrative law judge Geoffrey Carter ruled that existing labor laws <a href="http://www.usatoday.com/story/money/2016/01/22/judge-rules-walmart-unlawfully-fired-workers-on-strike/79160730/">protect the striking workers</a>. Walmart will have to rehire the fired employees. The company will also have to <a href="http://www.latimes.com/business/la-fi-walmart-labor-ruling-20160121-story.html">tell all workers</a> who were disciplined for their absences that their organizing activity is lawful.</p><p>The decision is a "huge victory," Jess Levin, a spokeswoman for the labor group Making Change at Walmart, <a href="http://www.usatoday.com/story/money/2016/01/22/judge-rules-walmart-unlawfully-fired-workers-on-strike/79160730/">told <em>USA Today</em></a>. "It sends a message to Walmart that its workers cannot be silenced."</p><p>Walmart has indicated that it will appeal the NLRB decision.</p><p>The ruling comes a day after the retail company announced the second phase of a five-year plan to raise wages. Walmart's minimum wage <a href="http://www.cleveland.com/business/index.ssf/2016/01/walmarts_wage_hike_to_10_per_hour_might_force_other_retailers_to_follow_suit.html">will rise</a> to $10 an hour in February.</p><p><em>(Via <a href="http://www.reuters.com/article/us-wal-mart-strike-idUSKCN0V001Z">Reuters</a>)</em></p>