Articles
The Backside Learning Center offers English tutoring, computer lessons, citizenship and GED classes, tax preparation services, and legal advice.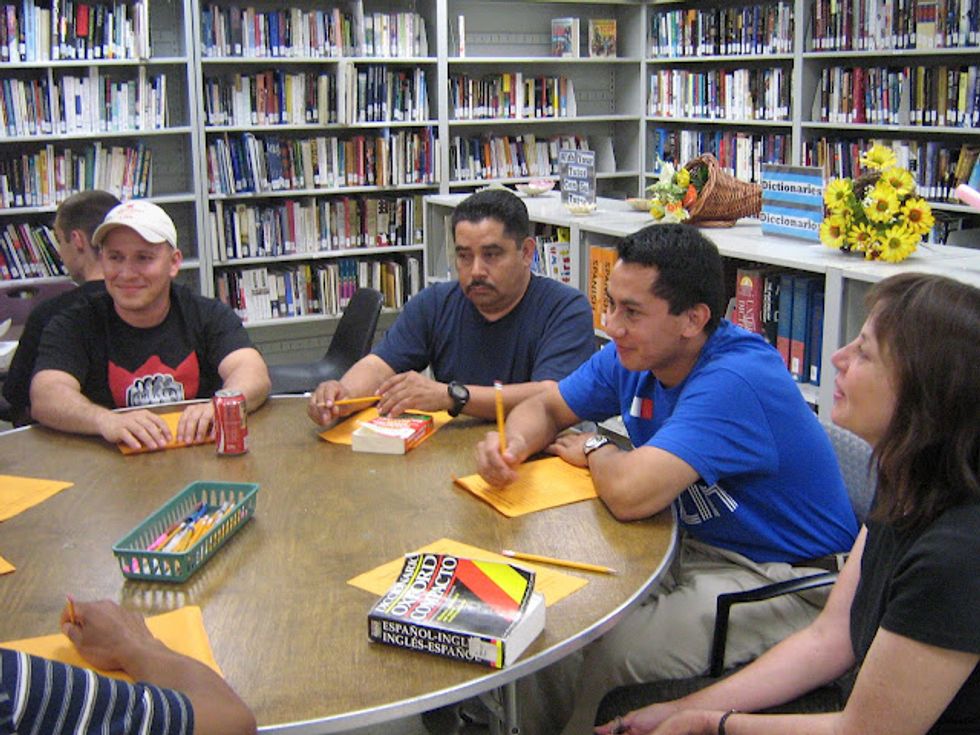 A few hundred yards south of Churchill Downs' famed twin spires, outside the pomp of the winner's circle and completely removed from the view of Millionaire's Row, sits a squat six-room office with faded green betting windows facing the track. To the uninitiated, it looks like another administration building for horse racing's most famous venue. But to those in the know, it's "a second home," "an opportunity," and a place "full of love."
Officially, it's the Backside Learning Center, "the nation's only comprehensive educational facility at a racetrack," which for eight years has been operated as a nonprofit by the Kentucky Derby Museum. Executive director Jennifer Hoert says its aim is to "provide education, life skills, and community to backside workers," who care for, work out and help train horses and live in dorms or tack rooms attached to the barns. Because immigrants from Mexico and Guatemala comprise the majority of the worker population, that means offering English tutoring, computer lessons, and citizenship classes. On a deeper level, it means helping transform an often overlooked and overworked group of individuals into a community.
<p> "Since it opened, my life changed," says Roberto Gonzalez, a 52-year-old Mexican-born horse groom with a mustache as thick as a thoroughbred's tail. "Before, when my job was finished, I'd go down to my dorm, shower and watch TV. It was so boring." Now Gonzalez describes the backside as "a neighborhood," where afternoon chess games have replaced <em>telenovelas</em>.</p><p> Being a groom requires tending to an animal's every need, waking up when the gamblers go to sleep (around 5 a.m.), working until 11:30 a.m., then coming back in the late afternoon to prepare the horse's stall for the night. It's work Gonzalez loves, which is why he's been doing it since 1986. </p><p> When the Backside Learning Center opened in 2004, "they gave us an opportunity," Gonzalez says in between bites of an apple. He's been taking classes at the center since it opened, learning English there and becoming one of a handful of students to take citizenship classes and become an official American. "It wasn't hard," he says with a smile. </p><p> Convincing backside workers to take advantage of the center's services can be difficult. At its peak, the backside is home to 1,500 workers, about 350 of whom make their way to the center each year. Some take language and GED classes. Others take advantage of free tax preparation and legal advice. Others use webcams to chat with family members back home. That leaves the majority who won't go near it. </p><p> Jose Arriaga thinks his coworkers stay away because they're scared to fail. A 30-year-old Guatemalan with a permanent smile, Arriaga says "the major thing you have to do to start learning English is to take the fear away. So many people are afraid of saying something wrong and getting made fun of." </p><p> Overcoming that fear led Arriaga to fluency and a promotion from horse groom to foreman, which put him in charge of everything coming into and going out of his barn. It's a job he says he never would have gotten if he wasn't bilingual. "Even if I were a really hard worker but I didn't speak English, I wouldn't have this job."</p><p> And learning English has helped him open up and make close friends with the English-speaking teachers and trainers who spend time on the backside, he says. That's significant on the backside, where working hard and keeping to oneself is common. With movie nights, game nights and recreational activities like guitar lessons, the center also provides backside workers with opportunities to mingle in an informal setting. "It's helped everyone become more social," Gonzalez says.</p><p> Including Gonzalez, says Learning Center board member Jimmy Baker. A horse trainer from Long Island who now makes his home in Louisville, Baker has worked with Gonzalez for a decade. "You can tell the change," he says. "He's more educated, more open, and he gets along better with everyone." </p><p> As two of Hoert's prized students, Arriaga and Gonzalez have become ambassadors for the school. To supplement her flyers, announcements and barn-to-barn recruiting trips, they spread the word about the center among other workers. "I tell people they really should learn English, in case I'm not there to translate," Arriaga says.</p><p> And if they decide to start taking classes, they'll run into at least one friendly face: Arriaga himself. "The more I learn, the more I want to be perfect," he says. </p><p> <em>Photo courtesy of the Backside Learning Center</em></p><br/>