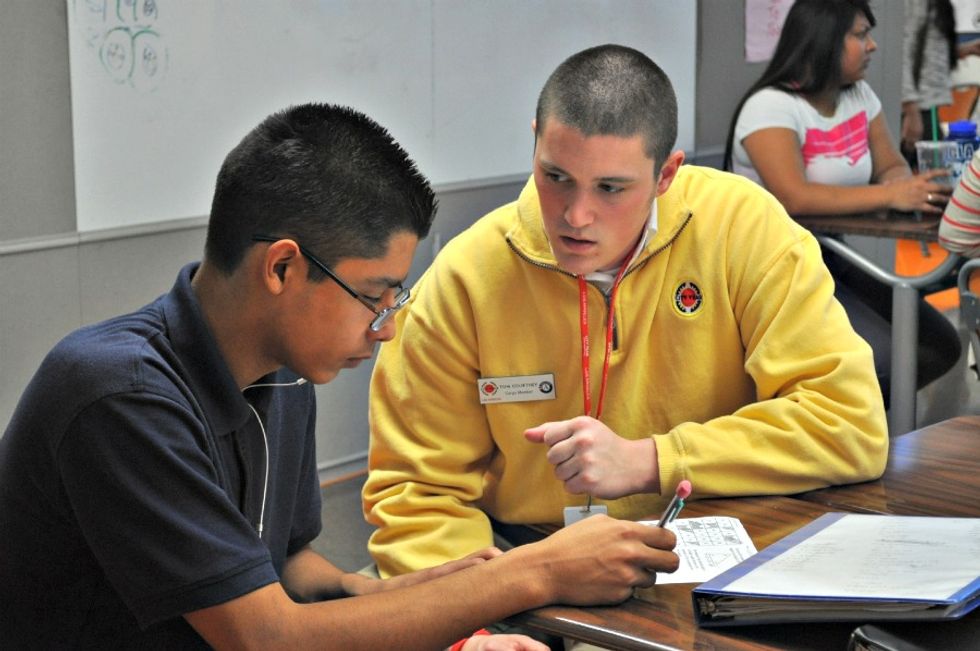 Through A City Education, City Year corps members share their experiences working as tutors and mentors in schools in hopes of closing the opportunity gap and ending the dropout crisis.
Carlos is avoiding my last question. I ask him again, "What is the reciprocal of 5 over 6?" He can't give me an answer because his mind is clearly somewhere else. I scan the area around us in the school quad and see that he is admiring the freshly painted mural behind me. I turn back to our notes and close my notebook.
Later that week, Carlos has a math test and his downfall is reciprocals. However, all Carlos wants to talk about is art, and I am not going to squander this opportunity to uncover one of his passions.
<p> In English class, I notice one of my students is missing, even though I saw her earlier that day. I excuse myself and find Lucia crying near the girls' bathroom. Her first boyfriend has just become her first heartbreak and I have to find a way to take her back to class. We often spend our time together dissecting the teenage romance novels she loves to read, and her life just became one. What a perfect opportunity to draw upon the experiences of her favorite protagonists to grant her the strength to return to class.</p><p> As a City Year Corps Member, I get to wear many hats throughout the day. Juggling study hall and teen angst is a challenge for my students, and my balancing act as a tutor and mentor is just as much of a struggle. City Year's Whole School, Whole Child model means that I pay attention to more than just their strengths and weaknesses in the classroom.<br/></p><p class="shortcode-media shortcode-media-rebelmouse-image"> <img class="rm-shortcode" data-rm-shortcode-id="c33ea946a7c2cff89c4a00f170ca4f66" data-rm-shortcode-name="rebelmouse-image" id="4fb96" type="lazy-image" data-runner-src="https://assets.rebelmouse.io/eyJhbGciOiJIUzI1NiIsInR5cCI6IkpXVCJ9.eyJpbWFnZSI6Imh0dHBzOi8vYXNzZXRzLnJibC5tcy8xOTkyMDA3NS9vcmlnaW4uanBnIiwiZXhwaXJlc19hdCI6MTY1MTUzNTg5M30.KljVtrMZDCsEMM3aOvk3FBWofHPdMUiAiFPaaVUSDXc/img.jpg?width=980"/> <small class="image-media media-caption" placeholder="add caption..."></small> <small class="image-media media-photo-credit" placeholder="add photo credit..."></small> </p><p> A Johns Hopkins University study found that early-warning indicators can identify students at risk of dropping out of school, as early on as the sixth grade. Those <a href="http://www.cityyear.org/CityYear/1_What_We_Do/Service_Model.aspx">A-B-C indicators</a> are A) Poor attendance, B) unsatisfactory behavior, and C) Course failure in math or English. Equipped with this approach, I am better prepared to provide students with the specific interventions that address their individual needs. I am able to serve students like Carlos and Lucia who are more than facts and figures on a chart.</p><p> Carlos did end up conquering reciprocals and received a satisfying score on his test later that week. He also followed me after class to share some sketches he had worked on since our conversation about the new mural. As for Lucia, she made it back to class and whispered "Thank you so much" on the way to her desk. But what if I hadn't been there in these instances? Would the things that matter most to them be written off as distractions in the classroom?</p><p> So much of the work we do with students relies on our relationships as mentors. The comfort and trust that comes with constancy is something many of the students at schools in the Los Angeles school district are lacking. Using honest conversations as ultimate motivators helps pave the way for a more cohesive transition from class, to class, and on to our after school program. Because I am able to be their mentor and tutor, I can lend them lessons that extend beyond the classroom.</p><p> <em>Want to mentor a student from a low income community? <a href="http://www.good.is/posts/become-an-imentor">Click here</a> to say you'll do it.</em></p><br/><br/><br/>