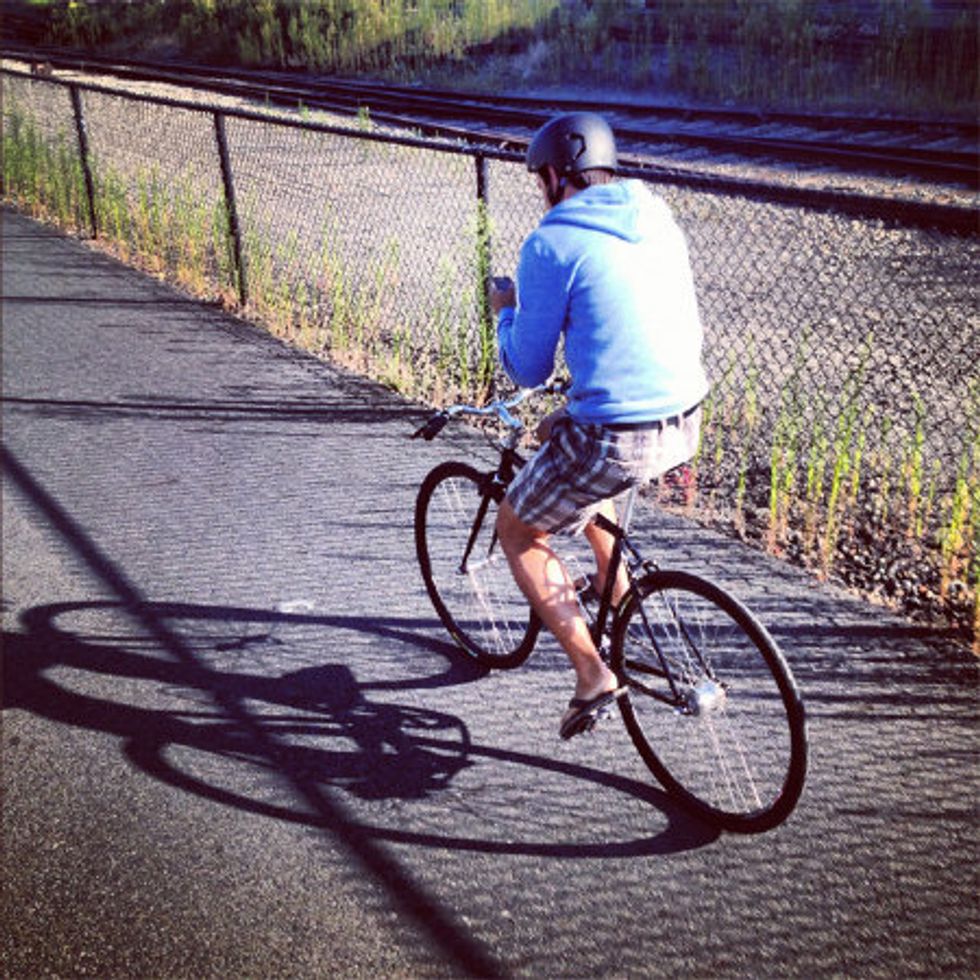 As the bicycle resurged as a major source of transportation in the U.S., Bryan Papé saw a sustainable business opportunity. Through his company,
MiiR
, he helped design a sleek but practical bike and launched
a

buy one get one

program
—for every bike purchased, one is given to underserved communities in the U.S. or Africa.
MiiR linked up with World Bicycle Relief in Africa and the Boise Bicycle Project in his hometown of Boise, Idaho to bring bikes to those who can't afford them.

He founded MiiR in 2010 as a Seattle company with functional products with tangible social impact. The company launched with earth-friendly reusable water bottles, then he partnered with the nonprofit One Day's Wages to donate a dollar of each sale to bring clean water to areas in Africa.


<p class="p2"> The idea behind MiiR's "one4one" initiative is one dollar can keep one person drinking clean water for a year, but Papé says the actual cost can be even less. He traveled to Buchanan, Liberia last year to help build a well for a community of about 1,000 people. The total cost was $2,500 and the well should last for 10-20 years, so the end cost could be as little as 10 to 20 cents per person.<br/><br/> "It was pretty eye opening," Papé says. "I have so much compassion for these people who for no faults of their own have the circumstances of drinking from these dirty streams but at the same time have so much joy."<br/><br/> Papé soon started brainstorming for his next product launch, and landed on bikes, a transformative presence in any community. He helped design <a href="http://www.miir.com/v/bicycles/gallery.asp"><span class="s1">three bikes</span></a>, one fixie and two five-speeds, all with lightweight alloy parts and frame colors like "pistachio" and "azul." <br/><br/> "It's a joy to create a model you think through from a design perspective, but to be able to give back directly through that product is a pretty cool thing to do," Papé says. But he doesn't want to just give away bikes—he wants to help build businesses to drive these communities forward.<br/><br/> World Bicycle Relief has given more than 114,000 bikes away in countries across Africa. Having a bicycle in secluded areas can be life-changing, saving riders hours of travel time per day and offering a cheap transportation system for goods and water. The nonprofit also uses and helps train local bike mechanics, meaning new businesses cropping up with local parts readily available. Through the Boise Bicycle Project, kids and adults in the neighborhood have the opportunity to learn how to build and fix bikes themselves, and 2,100 donated and fixed-up bikes have been redistributed to the community since 2007.<br/><br/> About $90 per MiiR bike sale is donated, or 10 percent of the topline revenue, Papé says. The bike brand launched a month ago and presales will continue through the fall, with the first bike shipments going out in December or January. <br/><br/><br/><br/><br/><br/><br/><br/><br/><br/></p><p class="p2"> <em>Photo courtesy of <a href="http://www.miir.com/">MiiR</a></em></p><br/>