Articles
Creativity can be really charming.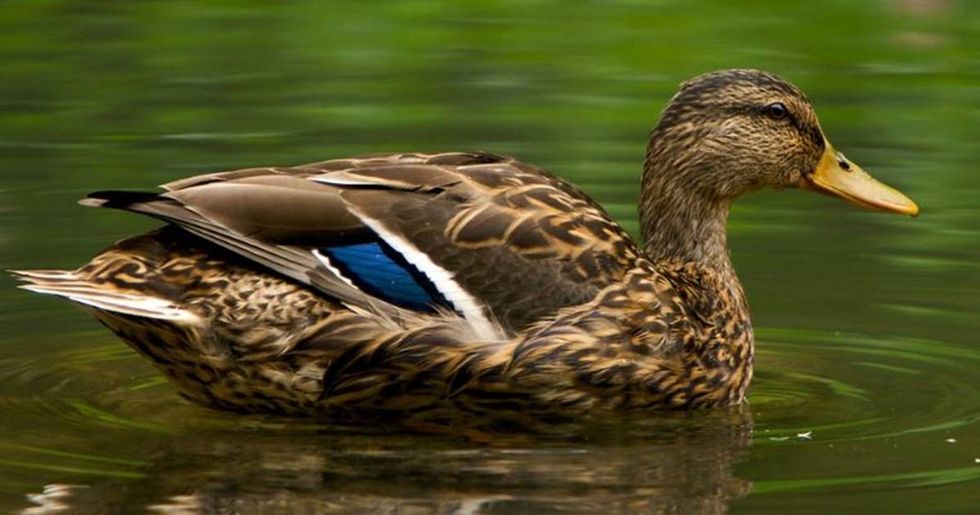 Photo by Rainer Hungershausen / Flickr
Today's dating scene is a lot more about swiping than courting a potential partner. Tinder is a simplistic dating app were all manners go out the window and everything is about instant gratification. Swipe right, swipe left, match, get the digits, set up a date, sleep together… then what?
<p>Well, <a href="https://www.reddit.com/r/Tinder/comments/8u1nkm/thanks_duck_guy_from_last_week/" target="_blank">this guy has shown that Tinder dates can be romantic </a>with his funny and intriguing story about a duck – all to get the girl's number. His creativity charmed her enough for her to hand over the digits.</p><p class="shortcode-media shortcode-media-rebelmouse-image"> <img class="rm-shortcode" data-rm-shortcode-id="711fef3ef61bb6b1bef3c29bbf6f93ad" data-rm-shortcode-name="rebelmouse-image" id="cef08" type="lazy-image" data-runner-src="https://assets.rebelmouse.io/eyJhbGciOiJIUzI1NiIsInR5cCI6IkpXVCJ9.eyJpbWFnZSI6Imh0dHBzOi8vYXNzZXRzLnJibC5tcy8xOTg3MjE5OC9vcmlnaW4ucG5nIiwiZXhwaXJlc19hdCI6MTYxNjk1NzU2OH0.xsvOsCQiDsf1VRwR8s-yv5lr_rnWZ3_J4GpkbXj8V2E/img.png?width=980"/> <small class="image-media media-caption" placeholder="add caption..."></small> <small class="image-media media-photo-credit" placeholder="add photo credit...">Photo Credit: <a href="https://www.reddit.com/r/Tinder/comments/8u1nkm/thanks_duck_guy_from_last_week/" target="_blank">Reddit, u/mattythegee</a></small> </p><p class="shortcode-media shortcode-media-rebelmouse-image"> <img class="rm-shortcode" data-rm-shortcode-id="61e3e77de96c5b2bd40682d6781396da" data-rm-shortcode-name="rebelmouse-image" id="2f714" type="lazy-image" data-runner-src="https://assets.rebelmouse.io/eyJhbGciOiJIUzI1NiIsInR5cCI6IkpXVCJ9.eyJpbWFnZSI6Imh0dHBzOi8vYXNzZXRzLnJibC5tcy8xOTg3MjE5OS9vcmlnaW4ucG5nIiwiZXhwaXJlc19hdCI6MTYzMzQyODcxOX0.CInTsb_AEBvFyjFGqjKY2huUInvjN-evB-lrbGfHTBg/img.png?width=980"/> <small class="image-media media-caption" placeholder="add caption..."></small> <small class="image-media media-photo-credit" placeholder="add photo credit...">Photo Credit: <a href="https://www.reddit.com/r/Tinder/comments/8u1nkm/thanks_duck_guy_from_last_week/" target="_blank">Reddit, u/mattythegee</a></small> </p><p class="shortcode-media shortcode-media-rebelmouse-image"> <img class="rm-shortcode" data-rm-shortcode-id="b4de3af71345bc0d91ed352f2758aad1" data-rm-shortcode-name="rebelmouse-image" id="c1e3f" type="lazy-image" data-runner-src="https://assets.rebelmouse.io/eyJhbGciOiJIUzI1NiIsInR5cCI6IkpXVCJ9.eyJpbWFnZSI6Imh0dHBzOi8vYXNzZXRzLnJibC5tcy8xOTg3MjIwMC9vcmlnaW4ucG5nIiwiZXhwaXJlc19hdCI6MTYyOTU1ODg2MX0.p_D9L38JLTQCdYDNCIWSB8vK8M669YYqp3vAUFMfOyk/img.png?width=980"/> <small class="image-media media-caption" placeholder="add caption..."></small> <small class="image-media media-photo-credit" placeholder="add photo credit...">Photo Credit: <a href="https://www.reddit.com/r/Tinder/comments/8u1nkm/thanks_duck_guy_from_last_week/" target="_blank">Reddit, u/mattythegee</a></small> </p><p>Many people applauded his creativity and are thinking of trying it out for themselves.</p><p class="shortcode-media shortcode-media-rebelmouse-image"> <img class="rm-shortcode" data-rm-shortcode-id="6a093bf6f6a41e1e21fab2c533491b46" data-rm-shortcode-name="rebelmouse-image" id="0062f" type="lazy-image" data-runner-src="https://assets.rebelmouse.io/eyJhbGciOiJIUzI1NiIsInR5cCI6IkpXVCJ9.eyJpbWFnZSI6Imh0dHBzOi8vYXNzZXRzLnJibC5tcy8xOTg3MjIwMS9vcmlnaW4uanBnIiwiZXhwaXJlc19hdCI6MTYyNjMzMjI1MX0.R9lyFsWEnDuC60Fblk_-x1zfBc3Uy0UHC9jeQ2_1dFg/img.jpg?width=980"/> <small class="image-media media-caption" placeholder="add caption..."></small> <small class="image-media media-photo-credit" placeholder="add photo credit...">Photo Credit:<a href="https://www.reddit.com/r/Tinder/comments/8u1nkm/thanks_duck_guy_from_last_week/" target="_blank"> Reddit, u/LUCIEN</a></small> </p><p class="shortcode-media shortcode-media-rebelmouse-image"> <img class="rm-shortcode" data-rm-shortcode-id="c0a7191deccb82dc8855e7b01c55ad40" data-rm-shortcode-name="rebelmouse-image" id="c53b8" type="lazy-image" data-runner-src="https://assets.rebelmouse.io/eyJhbGciOiJIUzI1NiIsInR5cCI6IkpXVCJ9.eyJpbWFnZSI6Imh0dHBzOi8vYXNzZXRzLnJibC5tcy8xOTg3MjIwMi9vcmlnaW4uanBnIiwiZXhwaXJlc19hdCI6MTY1NjQ1MDQ3NX0.WFlubiUjJaoZtItlriJLBtrD56dagAU5ZVmkQt1tTc4/img.jpg?width=980"/> <small class="image-media media-caption" placeholder="add caption..."></small> <small class="image-media media-photo-credit" placeholder="add photo credit...">Photo Credit:<a href="https://humansoftumblr.com/wp-content/uploads/2019/02/Screen-Shot-2019-02-08-at-3.58.12-PM.png" target="_blank"> Reddit, u/drkrogue</a></small> </p><p class="shortcode-media shortcode-media-rebelmouse-image"> <img class="rm-shortcode" data-rm-shortcode-id="bc2b13c322591988624171a9cf449e59" data-rm-shortcode-name="rebelmouse-image" id="d68c2" type="lazy-image" data-runner-src="https://assets.rebelmouse.io/eyJhbGciOiJIUzI1NiIsInR5cCI6IkpXVCJ9.eyJpbWFnZSI6Imh0dHBzOi8vYXNzZXRzLnJibC5tcy8xOTg3NjU4NC9vcmlnaW4uanBnIiwiZXhwaXJlc19hdCI6MTYyNzI2NTY2OX0.6GARwL8H9LupJpmUqirUh2CT9zY108fnBHhhBuRC9f4/img.jpg?width=980"/> <small class="image-media media-caption" placeholder="add caption..."></small> <small class="image-media media-photo-credit" placeholder="add photo credit...">Photo Credit: <a href="https://ruinmyweek.com/dating-life/tinder-guy-uses-duck-story/" target="_blank">Ruin My Week</a></small> </p><p class="shortcode-media shortcode-media-rebelmouse-image"> <img class="rm-shortcode" data-rm-shortcode-id="b464cea2265aa22e34d1966af83f4a8e" data-rm-shortcode-name="rebelmouse-image" id="7c99d" type="lazy-image" data-runner-src="https://assets.rebelmouse.io/eyJhbGciOiJIUzI1NiIsInR5cCI6IkpXVCJ9.eyJpbWFnZSI6Imh0dHBzOi8vYXNzZXRzLnJibC5tcy8xOTg3MjIwNC9vcmlnaW4uanBnIiwiZXhwaXJlc19hdCI6MTYxMTY1NDk4N30.AZ5xjYUUhzm0WKV355arA-SA_uJh2FHglGpbP0TluNw/img.jpg?width=980"/> <small class="image-media media-caption" placeholder="add caption..."></small> <small class="image-media media-photo-credit" placeholder="add photo credit...">Photo Credit: <a href="https://ruinmyweek.com/dating-life/tinder-guy-uses-duck-story/" target="_blank">Ruin My Week</a></small> </p><p>Take note gentleman (and ladies)! This is a game changer.</p>