Articles
Saved by the bell hooks juxtaposes the candy colored images of Saved by the Bell with bell hooks' feminist musings.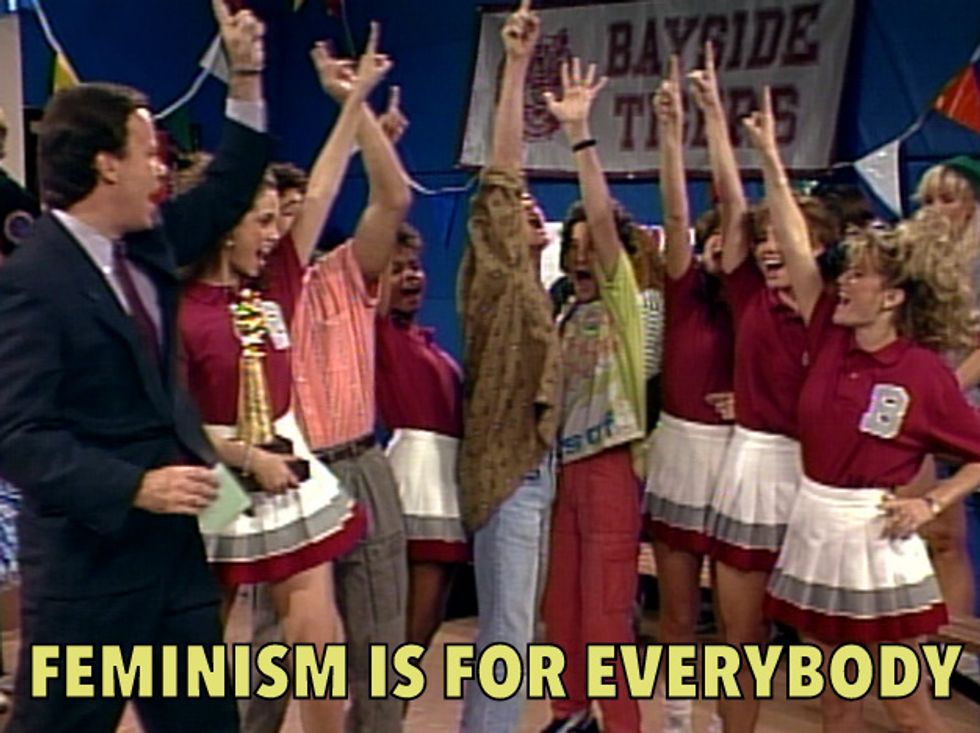 Image via saved by the bell hooks
Ever watched Saved by the Bell and felt frustrated that the only roles for women were "plain Jane brain," "vapid shopaholic" or "pretty cheerleader?" Or found yourself wrought with anguish over the societal implications brought on by the macho power struggle between POC jock Slater and untouchable cool dude Zack? Or wondered what the point of making the Jesse character a radical feminist was if writers were just going to cut down her every stand with a quick roll of the eye from white, male narrator Zack? It's alright, cause you're saved by the bell – hooks. On the heels of new research suggesting that memes can actually endear readers to feminist theory, comes novelty blog 'saved by the bell hooks.' Created by Liz Laribee, an illustrator whose career is in arts advocacy, the Tumblr mashes the words of intersectional feminist icon bell hooks with stills of '90s sitcom Saved by the Bell.
<p class="shortcode-media shortcode-media-rebelmouse-image"> <img class="rm-shortcode" data-rm-shortcode-id="49535bc7141025b6c5fd9c4951b5b820" data-rm-shortcode-name="rebelmouse-image" id="2da52" type="lazy-image" data-runner-src="https://assets.rebelmouse.io/eyJhbGciOiJIUzI1NiIsInR5cCI6IkpXVCJ9.eyJpbWFnZSI6Imh0dHBzOi8vYXNzZXRzLnJibC5tcy8xOTgzNTk4Ny9vcmlnaW4uanBnIiwiZXhwaXJlc19hdCI6MTYyMDQzMjI5NH0.Ciqa4NBOdz4Ppi8g3P6XM98u8AA0ontDiKEvnVlMXyc/img.jpg?width=980"/> <small class="image-media media-caption" placeholder="add caption..."></small> <small class="image-media media-photo-credit" placeholder="add photo credit...">Image via saved by the bell hooks</small> </p><p>"The inspiration for it was a combination of a knack for wordplay, an interest in critical theory applied to media and a growing familiarity with bell hooks," Laribee told <a href="https://www.insidehighered.com/news/2015/02/02/web-site-mixes-quotes-star-feminist-theorist-1990s-sitcom">Inside Higher Ed</a>. "Her work has taken on new meaning for me as a white woman in a post-Ferguson context. As the topic of race relations steeped mass media, I think each of us began reexamining our roles and how they interact with the rest of the story. In my own process of doing so, I have been trying to further educate myself on intersectionality. Naturally, that meant reading more of hooks's damning and empowering work. It stings and soothes at once, and she is one of my favorite voices on many, many topics. When her stinging clarity meets the banal familiarity of <em>Saved by the Bell</em>, the juxtaposition can be a bit jarring. And I love that; the insistence that scholarship interact with something so absentmindedly consumed by our younger selves."</p><p class="shortcode-media shortcode-media-rebelmouse-image"> <img class="rm-shortcode" data-rm-shortcode-id="f46494f0db8b4e448b9a3a75eab948e0" data-rm-shortcode-name="rebelmouse-image" id="e4759" type="lazy-image" data-runner-src="https://assets.rebelmouse.io/eyJhbGciOiJIUzI1NiIsInR5cCI6IkpXVCJ9.eyJpbWFnZSI6Imh0dHBzOi8vYXNzZXRzLnJibC5tcy8xOTg4NjA2OC9vcmlnaW4uanBnIiwiZXhwaXJlc19hdCI6MTYwOTE0Mjc1NX0.E1vygpY_uzZRhF6efCqdMp6yO_38m2EZ2Vw2NCucWEg/img.jpg?width=980"/> <small class="image-media media-caption" placeholder="add caption..."></small> <small class="image-media media-photo-credit" placeholder="add photo credit...">Image via saved by the bell hooks</small> </p><p class="shortcode-media shortcode-media-rebelmouse-image"> <img class="rm-shortcode" data-rm-shortcode-id="8c64f24cb34b64f72fbbd57187d58e3f" data-rm-shortcode-name="rebelmouse-image" id="620f9" type="lazy-image" data-runner-src="https://assets.rebelmouse.io/eyJhbGciOiJIUzI1NiIsInR5cCI6IkpXVCJ9.eyJpbWFnZSI6Imh0dHBzOi8vYXNzZXRzLnJibC5tcy8xOTgzNTk5MC9vcmlnaW4uanBnIiwiZXhwaXJlc19hdCI6MTU5NTQ1ODIyMH0.JSynJb3x7llESq6UtYthq8QXD-LuMpjjLw52sulPePg/img.jpg?width=980"/> <small class="image-media media-caption" placeholder="add caption..."></small> <small class="image-media media-photo-credit" placeholder="add photo credit...">Image via saved by the bell hooks</small> </p><p class="shortcode-media shortcode-media-rebelmouse-image"> <img class="rm-shortcode" data-rm-shortcode-id="c71d5bcca0c76cb2d571e24196418773" data-rm-shortcode-name="rebelmouse-image" id="0942b" type="lazy-image" data-runner-src="https://assets.rebelmouse.io/eyJhbGciOiJIUzI1NiIsInR5cCI6IkpXVCJ9.eyJpbWFnZSI6Imh0dHBzOi8vYXNzZXRzLnJibC5tcy8xOTgzNTk5MS9vcmlnaW4uanBnIiwiZXhwaXJlc19hdCI6MTY0NjI4NDIyN30.eP8Hys8rESfVTU9Ch9DDEGDpwvq1oGE89_3JF5krLjc/img.jpg?width=980"/> <small class="image-media media-caption" placeholder="add caption..."></small> <small class="image-media media-photo-credit" placeholder="add photo credit...">Image via saved by the bell hooks</small> </p><p>See more at <a href="http://savedbythe-bellhooks.tumblr.com/">saved by the bell hooks</a>. </p>