Articles
The retailer has asked the cast of the reality show to stop wearing its clothing. Have no businesses learned from Cristal's mistakes?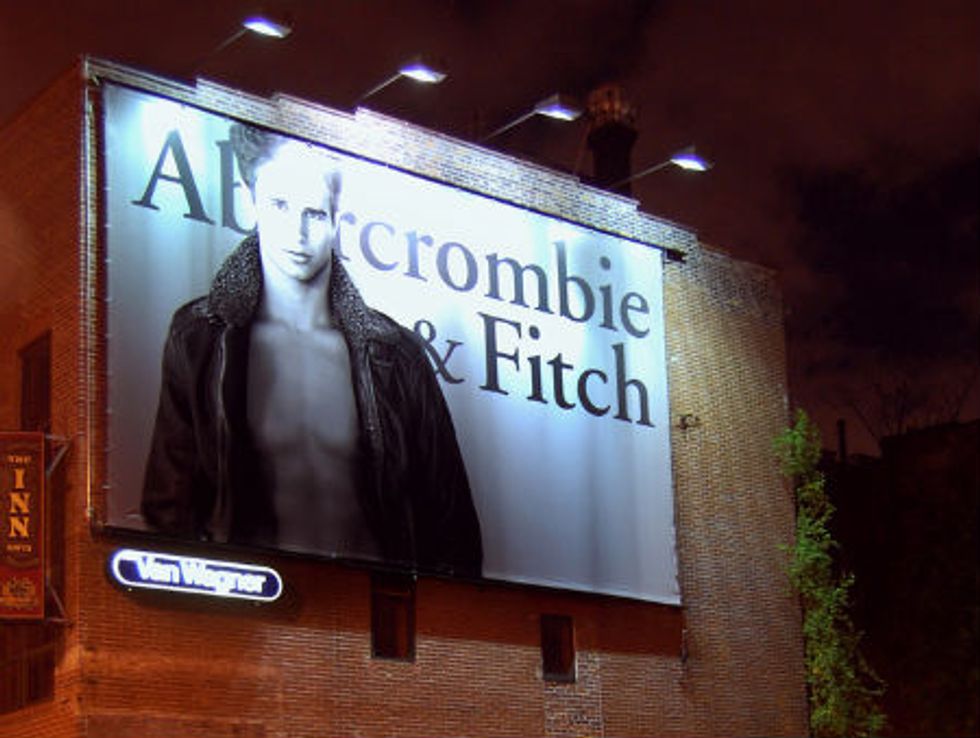 Abercrombie & Fitch has long taken flack for doing everything in its power to maintain an image of white prep-school perfection. Besides
the company's clothes
occasionally being explicitly racist, it has for years fought off rumors—
and lawsuits
—claiming that its management makes a point of populating the brand's retail stores with only white sales clerks. As you might imagine, Abercrombie has always maintained that it has never engaged in discrimination. However,
a statement released Tuesday
, tongue in cheek or not, once again calls that into question.
According to a press release titled "A Win-Win Situation," Abercrombie & Fitch's Brand Senses Department has officially made a cash offer to Jersey Shore star Mike "The Situation" Sorrentino to get him to stop wearing Abercrombie clothing, which he does on television from time to time. The release says Sorrentino has been detrimental to Abercrombie's image and calls his hit MTV show "contrary to the aspirational nature of our brand." The statement goes on to say that similar offers have been made to the rest of the Jersey Shore cast.
<p> Is this nothing but a cheap marketing ploy to use <em>Jersey Shore</em>, now in its fourth hit season, to gain some free advertising? Certainly. But it's also a not-so-subtle reminder that Abercrombie &amp; Fitch, like many lawsuits have claimed, is a company that finds its power in exclusion.</p><p> If you recall, in 2006 Frederic Rouzaud, managing director of Louis Roederer, the company that makes Cristal champagne, lamented in an interview that he couldn't prevent blinged out rappers from buying his product. "I'm sure Dom Perignon or Krug would be delighted to have their business," he said. In response, hip-hop artist Jay-Z, who had time and again supported Cristal in his music, promptly called for a boycott of the bubbly, and <a href="http://today.msnbc.msn.com/id/13350034/ns/today-entertainment/t/jay-z-launches-cristal-bubbly-boycott/#.TksNNHY0PN8">said he'd refuse to sell it</a> in any of his 40/40 nightclubs. "The hip-hop world certainly helped elevate the presence of Cristal," Jay-Z's attorney, Ron Berkowitz, said. "At the end of the day isn't the goal for any company to sell bottles?"</p><p> That's something for Abercrombie &amp; Fitch to keep in mind. Like it or not, the <em>Jersey Shore</em> cast—and people like them—aren't tacky poxes on Abercrombie's reputation; they're the people whose money has for years now gone to keeping A&amp;F's bigoted cargo shorts empire afloat. To basically call them "white trash" in pursuit of a publicity stunt is wildly classist and, less importantly, an unwise business move.</p><p> Perhaps The Situation should switch to J. Crew.</p><p> <strong>Update: </strong>Abercrombie &amp; Fitch stock <a href="http://money.cnn.com/2011/08/17/news/companies/abercrombie_jersey_shore/">fell a full 9 percent today</a>. CNN reports that the drop probably wasn't due entirely to Abercrombie's <em>Jersey Shore-</em>bashing, but we doubt it could have helped.</p><p> <em><a href="http://www.flickr.com/photos/23912576@N05/3038705688/sizes/z/in/photostream/">photo</a> via (cc) Flickr user <a href="http://www.flickr.com/photos/23912576@N05/">laverrue</a></em></p><br/>