Articles
He says that he would have "vetoed it" if he thought it was discriminatory.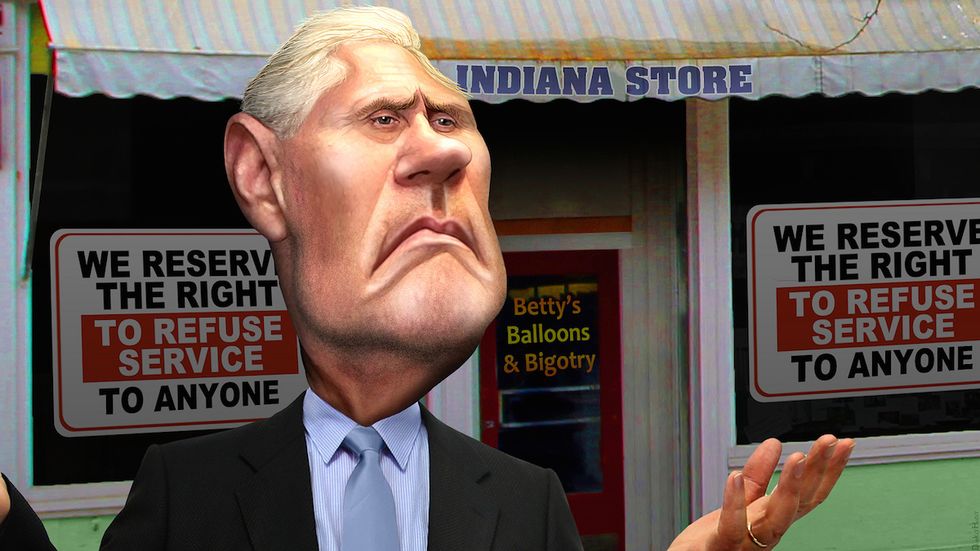 Illustration of Mike Pence by Flickr user DonkeyHotey.
The governor of Indiana is confused as to why people are so mad after he signed a law that basically codifies discrimination against gay people. Speaking to the Indianapolis Star, Gov. Mike Pence expressed bewilderment that the Indiana Religious Freedom Restoration Act, which would essentially allow businesses to discriminate against LGBTQ customers based on their sexual or gender identity, has raised such a fuss amongst god-fearing Americans, who are now championing campaigns to #boycottIndiana over the legislation. Gov. Pence says that had he thought it could be used to discriminate against specific groups of people, he would have "vetoed it".
<p>"I just can't account for the hostility that's been directed at our state," he said, revealing himself to be either wildly disingenuous or unbelievably oblivious. "I've been taken aback by the mischaracterizations from outside the state of Indiana about what is in this bill."</p><p>If there's anyone "mischaracterizing" the law, it's the governor and proponents of the legislation, who would have you believe it's not too different from a federal law that was enacted more than two decades ago, the <a href="http://www.indystar.com/story/news/politics/2015/03/25/gov-mike-pence-sign-religious-freedom-bill-thursday/70448858/">Religious Freedom and Restoration Act</a>. But Indiana's Religious Freedom Restoration Act is markedly different in more than regard. According to the <em><a href="http://www.theatlantic.com/politics/archive/2015/03/what-makes-indianas-religious-freedom-law-different/388997/">Atlantic</a></em>'s Garrett Epps, it explicitly protects the right of businesses to freely "exercise" religion, protecting them against lawsuits alleging discrimination on the basis of sex or gender.</p><p>"True, there is no actual language that says, 'All businesses wishing to discriminate in employment, housing, and public accommodations on the basis of sexual orientation, please check this 'religious objection' box<em>,'</em>" <a href="http://www.theatlantic.com/politics/archive/2015/03/what-makes-indianas-religious-freedom-law-different/388997/">writes Epps</a><em>.</em> "But, as Henry David Thoreau once wrote, 'Some circumstantial evidence is very strong, as when you find a trout in the milk.'"</p><p>UPDATE: Gov. Mike Pence announced on Tuesday that he would work on<a href="http://www.usatoday.com/story/news/nation/2015/03/31/pence-religious-freedom-fox-news/70709838/"> "a clarification, but also a fix" </a>on the Religious Freedom Restoration Act that would prevent the law from being used to discirminate against people based on their sexual or gender identity. In an op-ed for the Wall Street Journal, Gov. Pence claimed that he did not believe that the law, as it was already written, was discriminatory. </p><p>"I abhor discrimination," Gov. Pence <a href="http://www.wsj.com/articles/mike-pence-ensuring-religious-freedom-in-indiana-1427757799?KEYWORDS=mike+pence">wrote</a>. "I believe in the Golden Rule that you should 'do unto others as you would have them do unto you.' If I saw a restaurant owner refuse to serve a gay couple, I wouldn't eat there anymore."</p><p>Backlash is coming from Pence's own quarters. On Monday, the mayor of Indianapolis <a href="http://www.indystar.com/story/news/politics/2015/03/30/ballard-council-address-rfra-today/70674176/">signed an executive order </a>asserting the city's commitment to protecting marginalized groups from institutional discrimination. The order compels city-funded businesses to comply with a human rights ordinance that protects LGBTQ people, among others, from discrimination. </p>