Articles
Rob Pruitt unveils his unique monument to the President Obama at the Museum Of Contemporary Art Detroit.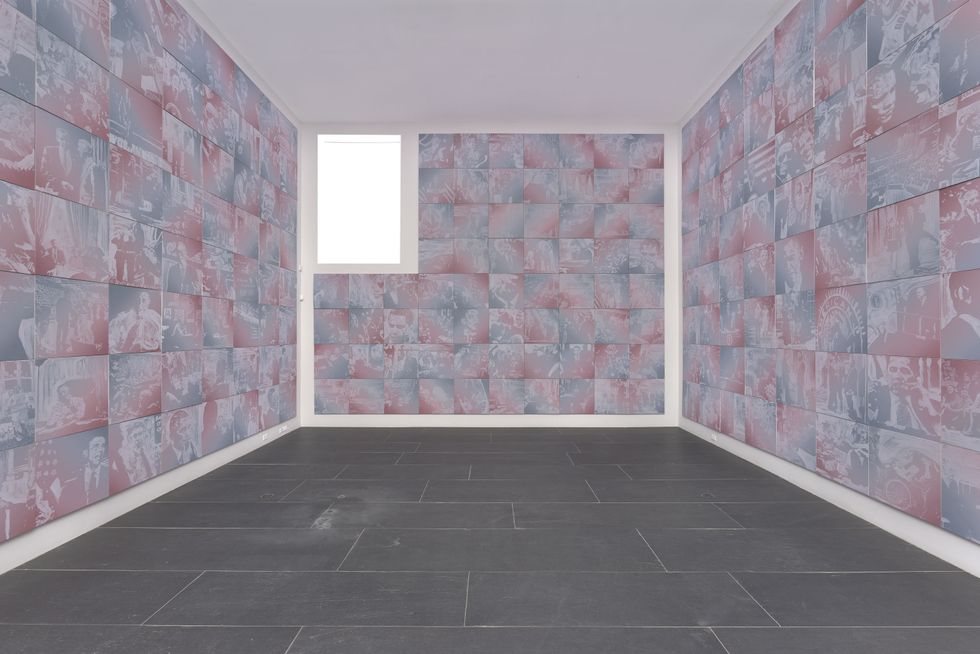 This is what over 2,000 Barack Obamas look like.
Artist Rob Pruitt, known for his panda paintings and his 90s performance piece Cocaine Buffet, is probably one of the few Americans—excluding those who work at the White House or for Fox News—who wakes up each morning thinking about Obama. Since the president's inauguration in 2009, the New York-based artist, whose work often juxtaposes sincerity and parody, has spent 15 minutes each day creating a 2'x2' oil painting of the president. Today, Pruitt and the Museum Of Contemporary Art Detroit (MOCAD) will unveil The Obama Paintings, along with his unique take on government memorials, The Lincoln Monument.
<p class="shortcode-media shortcode-media-rebelmouse-image"> <img class="rm-shortcode" data-rm-shortcode-id="5948af71e99d777c0f8f90f19398b422" data-rm-shortcode-name="rebelmouse-image" id="f65d8" type="lazy-image" data-runner-src="https://assets.rebelmouse.io/eyJhbGciOiJIUzI1NiIsInR5cCI6IkpXVCJ9.eyJpbWFnZSI6Imh0dHBzOi8vYXNzZXRzLnJibC5tcy8xOTg0MDA0NC9vcmlnaW4uanBnIiwiZXhwaXJlc19hdCI6MTYzMDQ0Mzc5NX0.1s32ygVSIy8D_IBhzMuAbFqzHEc1NIMosj3FJWU2u5k/img.jpg?width=980"/> <small class="image-media media-caption" placeholder="add caption..."></small> <small class="image-media media-photo-credit" placeholder="add photo credit...">Detail on Obama painting, courtesy of Rob Pruitt.</small> </p><p class="p1"><span class="s1">Still unfinished, Pruitt's project will wrap up in 2016 to coincide with the end of Obama's presidency. At this point, his paintings will number 2,922—one for each day of Obama's time in office. A work-in-progress, Pruitt hoped that the installation would take on new meaning as each canvas was added. Once completed, Pruitt will have painted a complex portrait of the Obama legacy, one micro-moment at a time.</span></p><p class="shortcode-media shortcode-media-rebelmouse-image"> <img class="rm-shortcode" data-rm-shortcode-id="54a781d715a3ea42635ca693856f5ccd" data-rm-shortcode-name="rebelmouse-image" id="18018" type="lazy-image" data-runner-src="https://assets.rebelmouse.io/eyJhbGciOiJIUzI1NiIsInR5cCI6IkpXVCJ9.eyJpbWFnZSI6Imh0dHBzOi8vYXNzZXRzLnJibC5tcy8xOTg0MDA0Mi9vcmlnaW4uanBnIiwiZXhwaXJlc19hdCI6MTYyMDg4NzUzOX0.ogRtWrPuBk1eNPcEwtqDYTu2pctug-M_r7dqWQKj1pM/img.jpg?width=980"/> <small class="image-media media-caption" placeholder="add caption..."></small> <small class="image-media media-photo-credit" placeholder="add photo credit...">Installation shot courtesy of Rob Pruitt.</small> </p><p class="shortcode-media shortcode-media-rebelmouse-image"> <img class="rm-shortcode" data-rm-shortcode-id="7fe09d1ec9fd01a925cf0d879d1ca47d" data-rm-shortcode-name="rebelmouse-image" id="6eee2" type="lazy-image" data-runner-src="https://assets.rebelmouse.io/eyJhbGciOiJIUzI1NiIsInR5cCI6IkpXVCJ9.eyJpbWFnZSI6Imh0dHBzOi8vYXNzZXRzLnJibC5tcy8xOTg0MDA0Ni9vcmlnaW4uanBnIiwiZXhwaXJlc19hdCI6MTYwNzc0Nzk4MH0.0j-xqhl6iKGnaWjW5jjSI-5nv465JvGfkR1NWKJoYps/img.jpg?width=980"/> <small class="image-media media-caption" placeholder="add caption..."></small> <small class="image-media media-photo-credit" placeholder="add photo credit..."><em>The Lincoln Monument</em>, by Rob Ruitt. Image courtesy of Mark Woods.</small> </p><p>The second piece on display, <em>The Lincoln Monument</em>, consists of 200,000 pennies stacked into three copper painted truck tires, an homage to history's legacy of monetizing the mugs of our most esteemed leaders. According to a rep for Pruitt, "Both works serve as monuments in themselves, as well as examinations of presidential monuments in general." The two works will be on view through August 2nd, 2015 in Detroit. Those on the east coast hoping to catch some of Pruitt's Obama-mania can also visit his current survey at <a href="http://www.brantfoundation.org/">The Brant Foundation Art Study</a> Center in Greenwich, CT.</p>