Articles
10 of our favorite bike design innovations, from a seatless BMX to coconut handle bars.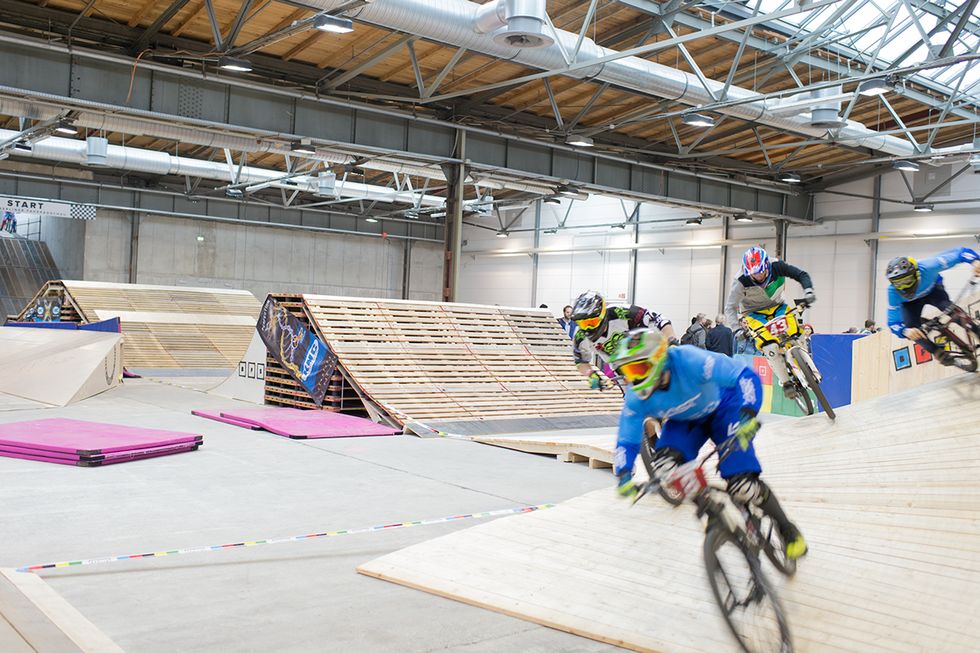 BMX race image by Katrin Greiling.
Every day in Berlin, an estimated 500,000 bicyclists take to the streets on their preferred mode of transportation. In fact, the German capital is increasingly becoming one of Europe's most bike-friendly cities. It's only fitting then that Berlin is host to one of the most creative and vibrant bike shows on the continent—the Berliner Fahrradschau (Berlin Bike Show)—now in its sixth year.
<p class="shortcode-media shortcode-media-rebelmouse-image"> <img class="rm-shortcode" data-rm-shortcode-id="bd3e973822d4490b29964a4ee1e205c0" data-rm-shortcode-name="rebelmouse-image" id="73df5" type="lazy-image" data-runner-src="https://assets.rebelmouse.io/eyJhbGciOiJIUzI1NiIsInR5cCI6IkpXVCJ9.eyJpbWFnZSI6Imh0dHBzOi8vYXNzZXRzLnJibC5tcy8xOTg4ODE0NC9vcmlnaW4uanBnIiwiZXhwaXJlc19hdCI6MTYwNzIyODQ1OH0.IR3tzrIUK_GMpCkDMWXk6s96rbeeKJ6_nty1EqJkwks/img.jpg?width=980"/> <small class="image-media media-caption" placeholder="add caption..."></small> <small class="image-media media-photo-credit" placeholder="add photo credit..."></small> </p><p>The show is part of the larger week-long celebration <a href="http://berlinbicycleweek.com/">Berlin Bicycle Week</a> with an underlying message that cycling unites. The week's promotional poster featured a rabbi and an imam riding tandem, and the festivities culminated with Jews and Muslims riding together from the iconic Brandenberg Gate to promote tolerance across cultures, religions, and lifestyles—a notion that's certainly easy to get behind.</p><p>We spent some time at the Berliner Fahrradschau over the weekend for an overview of the most eye-catching trends in cycling today. The show seamlessly brought together everyone from individual bike builders to larger, more established—albeit still niche—manufacturers offering bikes and accessories for aficionados, hobbyists, and the curious cyclist to drool over. And drool we did as we walked through rows and rows of beautifully detailed commuter bikes, classic rides, eco-friendly frames, stylish baskets, velo couture, and more. That's not to mention all the action with events like bike polo and BMX racing. Here, the 10 best things we saw at Berliner Fahrradschau:</p><p class="shortcode-media shortcode-media-rebelmouse-image"> <img class="rm-shortcode" data-rm-shortcode-id="09cf801b6422242c0a2820e340e55f74" data-rm-shortcode-name="rebelmouse-image" id="f731d" type="lazy-image" data-runner-src="https://assets.rebelmouse.io/eyJhbGciOiJIUzI1NiIsInR5cCI6IkpXVCJ9.eyJpbWFnZSI6Imh0dHBzOi8vYXNzZXRzLnJibC5tcy8xOTgzODAwNy9vcmlnaW4uanBnIiwiZXhwaXJlc19hdCI6MTYxODA3MDkxOX0.u9y98TGxEBtOgKhbGjtR8eOUjBbgt8XPDDjq2IqsmeI/img.jpg?width=980"/> <small class="image-media media-caption" placeholder="add caption..."></small> <small class="image-media media-photo-credit" placeholder="add photo credit...">Bespoke vintage bike with each item (down to a customized bell and front lamp) sourced and crafted by Berlin-based <a href="http://www.santucci-cycles.com/">Santucci Cycles</a>.</small> </p><p class="shortcode-media shortcode-media-rebelmouse-image"> <img class="rm-shortcode" data-rm-shortcode-id="3688bb13920fb84a211ee5276cc7e71f" data-rm-shortcode-name="rebelmouse-image" id="50188" type="lazy-image" data-runner-src="https://assets.rebelmouse.io/eyJhbGciOiJIUzI1NiIsInR5cCI6IkpXVCJ9.eyJpbWFnZSI6Imh0dHBzOi8vYXNzZXRzLnJibC5tcy8xOTgzODAxMy9vcmlnaW4uanBnIiwiZXhwaXJlc19hdCI6MTYxNTU4NjQyOX0._-KMh1-1yCKUHUdlFft2IYsjEK9urT4PM7MxpmHzGcs/img.jpg?width=980"/> <small class="image-media media-caption" placeholder="add caption..."></small> <small class="image-media media-photo-credit" placeholder="add photo credit...">Santucci Cycles detail.</small> </p><p class="shortcode-media shortcode-media-rebelmouse-image"> <img class="rm-shortcode" data-rm-shortcode-id="3a911ccfecd0dd56f1c973e98b74f87b" data-rm-shortcode-name="rebelmouse-image" id="89e76" type="lazy-image" data-runner-src="https://assets.rebelmouse.io/eyJhbGciOiJIUzI1NiIsInR5cCI6IkpXVCJ9.eyJpbWFnZSI6Imh0dHBzOi8vYXNzZXRzLnJibC5tcy8xOTgzODAxNC9vcmlnaW4uanBnIiwiZXhwaXJlc19hdCI6MTYyMTMyODExNH0.v7xGI7jjCDpXrxLp0_9oJTsATgzAqmOjJcBynzQ0_hk/img.jpg?width=980"/> <small class="image-media media-caption" placeholder="add caption..."></small> <small class="image-media media-photo-credit" placeholder="add photo credit...">A bike bench, because, why not?</small> </p><p class="shortcode-media shortcode-media-rebelmouse-image"> <img class="rm-shortcode" data-rm-shortcode-id="5aacf107692420083946c0f4c06e45d9" data-rm-shortcode-name="rebelmouse-image" id="3c387" type="lazy-image" data-runner-src="https://assets.rebelmouse.io/eyJhbGciOiJIUzI1NiIsInR5cCI6IkpXVCJ9.eyJpbWFnZSI6Imh0dHBzOi8vYXNzZXRzLnJibC5tcy8xOTg4ODEyOC9vcmlnaW4uanBnIiwiZXhwaXJlc19hdCI6MTY0ODY2ODc5MH0.U5T7kVhzITVWO4OfhtW7LWVrcJ5su0BjFj4IzpXVtqY/img.jpg?width=980"/> <small class="image-media media-caption" placeholder="add caption..."></small> <small class="image-media media-photo-credit" placeholder="add photo credit...">A classy basket by<a href="http://www.bricklanebikes.co.uk/"> London's Brick Lane Bikes (BLB)</a>.</small> </p><p class="shortcode-media shortcode-media-rebelmouse-image"> <img class="rm-shortcode" data-rm-shortcode-id="482befee61e5ef948536209a5857e981" data-rm-shortcode-name="rebelmouse-image" id="d607d" type="lazy-image" data-runner-src="https://assets.rebelmouse.io/eyJhbGciOiJIUzI1NiIsInR5cCI6IkpXVCJ9.eyJpbWFnZSI6Imh0dHBzOi8vYXNzZXRzLnJibC5tcy8xOTgzODAxNi9vcmlnaW4uanBnIiwiZXhwaXJlc19hdCI6MTY1MTI1Nzk2NX0.JeK6f_ybr4Rdn5Yu38rjUVSB65BkODYx29LSE8RGdtQ/img.jpg?width=980"/> <small class="image-media media-caption" placeholder="add caption..."></small> <small class="image-media media-photo-credit" placeholder="add photo credit...">For the little ones: this kiddie-friendly cycle helps 3 to 5-year-olds find their balance and will likely be the first of many stylish rides. By Early Rider.</small> </p><p class="shortcode-media shortcode-media-rebelmouse-image"> <img class="rm-shortcode" data-rm-shortcode-id="1706d5951224a72c168745b968a5f6b3" data-rm-shortcode-name="rebelmouse-image" id="1b6ee" type="lazy-image" data-runner-src="https://assets.rebelmouse.io/eyJhbGciOiJIUzI1NiIsInR5cCI6IkpXVCJ9.eyJpbWFnZSI6Imh0dHBzOi8vYXNzZXRzLnJibC5tcy8xOTg4ODEyOS9vcmlnaW4uanBnIiwiZXhwaXJlc19hdCI6MTYwMzk5ODc0NX0.O9vVUMtyeHtLeXwjKjM-AW-XdT6aPDKjicuHX7OqvKs/img.jpg?width=980"/> <small class="image-media media-caption" placeholder="add caption..."></small> <small class="image-media media-photo-credit" placeholder="add photo credit...">Amsterdam-based <a href="http://vanmoof.com">Vanmoof</a> believes that "A little less car and a little more bicycle will benefit everyone." To this end, they've constructed a classy commuter bike with a built-in headlamp. It's even equipped with a GPS tracking system in case of theft.</small> </p><p class="shortcode-media shortcode-media-rebelmouse-image"> <img class="rm-shortcode" data-rm-shortcode-id="8c927786bd7f20807e9b70f87a48dd5a" data-rm-shortcode-name="rebelmouse-image" id="905b0" type="lazy-image" data-runner-src="https://assets.rebelmouse.io/eyJhbGciOiJIUzI1NiIsInR5cCI6IkpXVCJ9.eyJpbWFnZSI6Imh0dHBzOi8vYXNzZXRzLnJibC5tcy8xOTgzODAxOS9vcmlnaW4uanBnIiwiZXhwaXJlc19hdCI6MTYxNzc3MDAxMn0.dM9vHEdpGJpsKrfDT68Ki_eAX1-uKSaf9eOCotcTjlU/img.jpg?width=980"/> <small class="image-media media-caption" placeholder="add caption..."></small> <small class="image-media media-photo-credit" placeholder="add photo credit...">A clever wood basket by Vanmoof.</small> </p><p class="shortcode-media shortcode-media-rebelmouse-image"> <img class="rm-shortcode" data-rm-shortcode-id="569ba32cd316e841285ecd6e47c54991" data-rm-shortcode-name="rebelmouse-image" id="fe3f4" type="lazy-image" data-runner-src="https://assets.rebelmouse.io/eyJhbGciOiJIUzI1NiIsInR5cCI6IkpXVCJ9.eyJpbWFnZSI6Imh0dHBzOi8vYXNzZXRzLnJibC5tcy8xOTgzODAyMC9vcmlnaW4uanBnIiwiZXhwaXJlc19hdCI6MTY0MjE3NjMyM30.KIGR2KzlX_E33RPau3VYQjyX7tuYpTSHQ8UkCGWKXzw/img.jpg?width=980"/> <small class="image-media media-caption" placeholder="add caption..."></small> <small class="image-media media-photo-credit" placeholder="add photo credit...">We can't tell what to make of <a href="http://auftragsrad.de">Auftragsrad</a>'s fluid frame design, but it was certainly different.</small> </p><p class="shortcode-media shortcode-media-rebelmouse-image"> <img class="rm-shortcode" data-rm-shortcode-id="58adaf85d2fa0a689918a75958f75e15" data-rm-shortcode-name="rebelmouse-image" id="9c387" type="lazy-image" data-runner-src="https://assets.rebelmouse.io/eyJhbGciOiJIUzI1NiIsInR5cCI6IkpXVCJ9.eyJpbWFnZSI6Imh0dHBzOi8vYXNzZXRzLnJibC5tcy8xOTgzODAyMS9vcmlnaW4uanBnIiwiZXhwaXJlc19hdCI6MTYwODIxMDIyMH0.6BeQOBwtJFnBivOSiy-QrOi7KX3xoYs357T8jFbw2MM/img.jpg?width=980"/> <small class="image-media media-caption" placeholder="add caption..."></small> <small class="image-media media-photo-credit" placeholder="add photo credit...">These stunning built-to-order wooden bikes are as sturdy as they are sustainable. By <a href="http://www.naturrad.com">NaturRad</a>.</small> </p><p class="shortcode-media shortcode-media-rebelmouse-image"> <img class="rm-shortcode" data-rm-shortcode-id="9be549a1b399e669bc379085666b4e7e" data-rm-shortcode-name="rebelmouse-image" id="4c586" type="lazy-image" data-runner-src="https://assets.rebelmouse.io/eyJhbGciOiJIUzI1NiIsInR5cCI6IkpXVCJ9.eyJpbWFnZSI6Imh0dHBzOi8vYXNzZXRzLnJibC5tcy8xOTgzODAyOC9vcmlnaW4uanBnIiwiZXhwaXJlc19hdCI6MTYwNDM0NDc2NX0.TyHJAqL5ZIWtcH2kv13FZ4rdcugRf-26KLCNr9mzGPk/img.jpg?width=980"/> <small class="image-media media-caption" placeholder="add caption..."></small> <small class="image-media media-photo-credit" placeholder="add photo credit...">NaturRad detail.</small> </p><p class="shortcode-media shortcode-media-rebelmouse-image"> <img class="rm-shortcode" data-rm-shortcode-id="23ff1183d8571305fa41376c98dbeb0e" data-rm-shortcode-name="rebelmouse-image" id="6d9a8" type="lazy-image" data-runner-src="https://assets.rebelmouse.io/eyJhbGciOiJIUzI1NiIsInR5cCI6IkpXVCJ9.eyJpbWFnZSI6Imh0dHBzOi8vYXNzZXRzLnJibC5tcy8xOTgzODAyMi9vcmlnaW4uanBnIiwiZXhwaXJlc19hdCI6MTYxMTUwMDUwOH0.XAy2SBPOsFQmRuGyyQYwJJa1UhDRunA8LOBbpN4WTbM/img.jpg?width=980"/> <small class="image-media media-caption" placeholder="add caption..."></small> <small class="image-media media-photo-credit" placeholder="add photo credit...">This yellow custom crafted vintage road bike by <a href="http://www.klovesradeln.de/">Kimura Cycle Works</a> caught our eye for it's elegant details like intricately woven handle grips and hammered aluminum fenders.</small> </p><p class="shortcode-media shortcode-media-rebelmouse-image"> <img class="rm-shortcode" data-rm-shortcode-id="772cda41784350f9eb0d14a60bd68425" data-rm-shortcode-name="rebelmouse-image" id="ccc5e" type="lazy-image" data-runner-src="https://assets.rebelmouse.io/eyJhbGciOiJIUzI1NiIsInR5cCI6IkpXVCJ9.eyJpbWFnZSI6Imh0dHBzOi8vYXNzZXRzLnJibC5tcy8xOTgzODAyMy9vcmlnaW4uanBnIiwiZXhwaXJlc19hdCI6MTYyNjQ2OTA0M30.IUm7VdqS8qledGqO9WCudQ0jBVG_yqhkha7J5nH2g-o/img.jpg?width=980"/> <small class="image-media media-caption" placeholder="add caption..."></small> <small class="image-media media-photo-credit" placeholder="add photo credit...">Kimura Cycle Works detail.</small> </p><p class="shortcode-media shortcode-media-rebelmouse-image"> <img class="rm-shortcode" data-rm-shortcode-id="72aaf1de721d013fda73962dec7e1918" data-rm-shortcode-name="rebelmouse-image" id="d0159" type="lazy-image" data-runner-src="https://assets.rebelmouse.io/eyJhbGciOiJIUzI1NiIsInR5cCI6IkpXVCJ9.eyJpbWFnZSI6Imh0dHBzOi8vYXNzZXRzLnJibC5tcy8xOTgzODAyNC9vcmlnaW4uanBnIiwiZXhwaXJlc19hdCI6MTYyNTc5NTEzMn0.IcnatlcGIgGlhVDuKleP5DlQZ_PKYb343ksebtqmYSs/img.jpg?width=980"/> <small class="image-media media-caption" placeholder="add caption..."></small> <small class="image-media media-photo-credit" placeholder="add photo credit...">We spent a lot of time at <a href="http://www.bricklanebikes.co.uk/">BLB</a>'s stand getting to know their range of bikes, like this La Piovra classic road bike.</small> </p><p class="shortcode-media shortcode-media-rebelmouse-image"> <img class="rm-shortcode" data-rm-shortcode-id="3bae9ec3ee3c4b9fe1a61041914a0c83" data-rm-shortcode-name="rebelmouse-image" id="f1a85" type="lazy-image" data-runner-src="https://assets.rebelmouse.io/eyJhbGciOiJIUzI1NiIsInR5cCI6IkpXVCJ9.eyJpbWFnZSI6Imh0dHBzOi8vYXNzZXRzLnJibC5tcy8xOTg4ODEzMy9vcmlnaW4uanBnIiwiZXhwaXJlc19hdCI6MTYyNTIzOTgwNX0.mkdh3LDjiytiB4I-mwNh5EnkVsO7QE2L1RaHSHk2V8c/img.jpg?width=980"/> <small class="image-media media-caption" placeholder="add caption..."></small> <small class="image-media media-photo-credit" placeholder="add photo credit...">BLB La Piovra detail.</small> </p><p class="shortcode-media shortcode-media-rebelmouse-image"> <img class="rm-shortcode" data-rm-shortcode-id="de9162af7b8b6afb190e40eba1d54361" data-rm-shortcode-name="rebelmouse-image" id="aed95" type="lazy-image" data-runner-src="https://assets.rebelmouse.io/eyJhbGciOiJIUzI1NiIsInR5cCI6IkpXVCJ9.eyJpbWFnZSI6Imh0dHBzOi8vYXNzZXRzLnJibC5tcy8xOTgzODAyNi9vcmlnaW4uanBnIiwiZXhwaXJlc19hdCI6MTY1Nzk0MDM4N30.QIFLP0f7f_pQ7UaBxao8Kfu-SPw6AezL4rCsqc229Fs/img.jpg?width=980"/> <small class="image-media media-caption" placeholder="add caption..."></small> <small class="image-media media-photo-credit" placeholder="add photo credit...">Another one from BLB is this lightweight fixed-gear with a full carbon clincher disc wheel.</small> </p><p class="shortcode-media shortcode-media-rebelmouse-image"> <img class="rm-shortcode" data-rm-shortcode-id="e8e31fcc6bd8dfe18ea02b62c1862989" data-rm-shortcode-name="rebelmouse-image" id="cc77f" type="lazy-image" data-runner-src="https://assets.rebelmouse.io/eyJhbGciOiJIUzI1NiIsInR5cCI6IkpXVCJ9.eyJpbWFnZSI6Imh0dHBzOi8vYXNzZXRzLnJibC5tcy8xOTgzODAyNy9vcmlnaW4uanBnIiwiZXhwaXJlc19hdCI6MTY0Mjg2MzA1Mn0.rEf-b8y-H3P-_ZuN3P-fHEH68r3DWYqh9UVkYtsjwuk/img.jpg?width=980"/> <small class="image-media media-caption" placeholder="add caption..."></small> <small class="image-media media-photo-credit" placeholder="add photo credit...">German bike-makers <a href="http://www.schindelhauerbikes.com/">Schindelhauer</a> are known for impeccable quality and for using the Gates Carbon Drive, an alternative to a standard chain, which they say is more or less guaranteed to last a lifetime. Our favorite was their metallic blue Hektor frame.</small> </p><p class="shortcode-media shortcode-media-rebelmouse-image"> <img class="rm-shortcode" data-rm-shortcode-id="9739424a2e0f1720c59c4d7207568dd3" data-rm-shortcode-name="rebelmouse-image" id="db332" type="lazy-image" data-runner-src="https://assets.rebelmouse.io/eyJhbGciOiJIUzI1NiIsInR5cCI6IkpXVCJ9.eyJpbWFnZSI6Imh0dHBzOi8vYXNzZXRzLnJibC5tcy8xOTgzODAyOS9vcmlnaW4uanBnIiwiZXhwaXJlc19hdCI6MTYzNjkyODQ2Nn0.UaWdtWg1qIPWoCpntmA6YYh4T6_D93GDc0TZ_8ayaAM/img.jpg?width=980"/> <small class="image-media media-caption" placeholder="add caption..."></small> <small class="image-media media-photo-credit" placeholder="add photo credit...">Coconut Ozon Cyclery</small> </p><p class="shortcode-media shortcode-media-rebelmouse-image"> <img class="rm-shortcode" data-rm-shortcode-id="03779ee11b0fc1f18342be626bf9371b" data-rm-shortcode-name="rebelmouse-image" id="378ce" type="lazy-image" data-runner-src="https://assets.rebelmouse.io/eyJhbGciOiJIUzI1NiIsInR5cCI6IkpXVCJ9.eyJpbWFnZSI6Imh0dHBzOi8vYXNzZXRzLnJibC5tcy8xOTgzODAzMC9vcmlnaW4uanBnIiwiZXhwaXJlc19hdCI6MTYzMzI4ODY0Nn0.u7N3LqtxJBUYct4krCzSPyCDyn2sxbTDpispIogbm68/img.jpg?width=980"/> <small class="image-media media-caption" placeholder="add caption..."></small> <small class="image-media media-photo-credit" placeholder="add photo credit...">A seatless BMX.</small> </p>