Articles
Dallas and Memphis are better equipped than San Francisco and Seattle, according to EV software maker Xatori.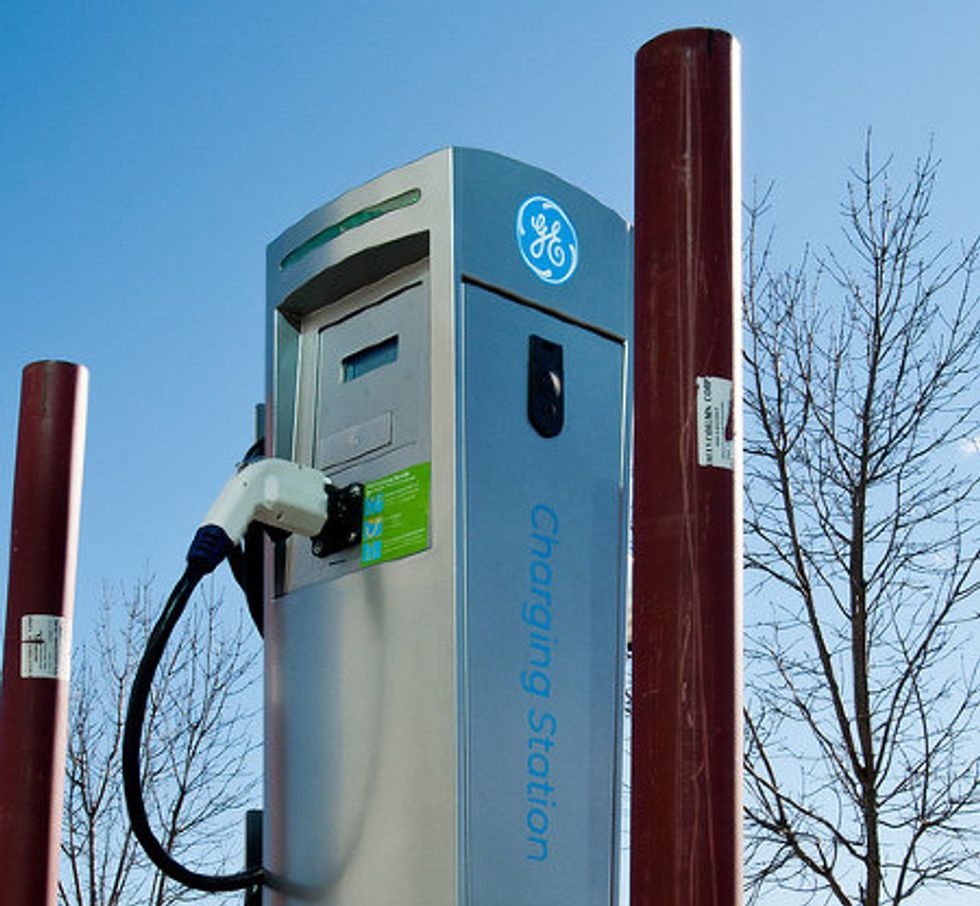 According to
Xatori
, makers of electric-vehicle-related software, Dallas is the second-most EV-ready city in the United States. Now, they're using the incidence of charging stations as their metric, and as Armen Petrosian, Xatori's chief technical officer, told me, that's not necessarily a great indicator of where the actual electric vehicles are, but it is a pretty interesting statistic.
Here are the rankings, based on data stored in PlugShare, the company's EV-focused social network, public charging locations, and 2012 U.S. Census data. These are the number of public charging locations per 100,000 residents.
<p> <strong>Metro Area (Incidence)</strong></p><ul class="ee-ul">\n<li> Portland (11.0)</li> <li> Dallas (10.6)</li> <li> Nashville (8.2)</li> <li> San Francisco Bay Area (6.6)</li> <li> Seattle (6.5)</li> <li> Orlando (6.3)</li> <li> Austin (5.3)</li> <li> Tucson (5.3)</li> <li> Honolulu (5.1)</li> <li> Washington, D.C. area (4.7)</li>\n</ul><p> Xatori also supplied probable reasons for some of the cities that might make you go "Huh?"</p><blockquote> <p> Dallas: One of the focus areas for <a href="http://www.evgonetwork.com/">eVgo</a>, an electric vehicle infrastructure provider based in Texas.</p> <p> Nashville: Nissan has a large factory here dedicated to building their 100% electric Leaf.</p> <p> Orlando: One of the focus areas for <a href="http://www.carcharging.com/">CarCharging</a>, a charging station distributor based in Florida.</p> <p> Tucson: One of the focus areas for <a href="http://www.blinknetwork.com/">Blink</a>, an electric vehicle infrastructure provider based in Arizona.</p> <p> Honululu: One of the early test areas for <a href="http://www.betterplace.com/">Better Place</a>, an electric vehicle infrastructure provider based in Israel.</p>\n</blockquote><p> We talked with Petrosian about what those numbers mean—and what they don't—as well as who he considers inspiring figures on the electric vehicle scene today. </p><p> <strong>GOOD:</strong> <em>How many people are using <a href="http://www.plugshare.com/">PlugShare</a> and what kind of feedback are you getting? </em></p><p> <strong>ARMEN PETROSIAN: </strong>We've reached 100,000 users recently. People are really excited about EVs. The fact that they can connect with other people who have EVs only gets them more excited.</p><p> At first I don't think people understood why people would share electricity for free. But when you think about it, the cost is so little. It's on the order of 25 cents an hour to let someone else charge at your house. People give away Halloween candy and they don't charge kids.</p><p> It's a purely emotional decision. There's no economic analysis that goes into that. And so actually the biggest complaint that we get from people who share their outlet is that not enough people come by to take their free electricity.</p><p> <strong>GOOD: </strong><em>How quickly is the data changing? How quickly are new charging stations coming online?</em></p><p> <strong>PETROSIAN: </strong>Now it's at a pretty brisk pace. There's anywhere from 500 to 1,000 charging stations being added each month (across North America).</p><p> <strong>GOOD: </strong><em>You've also provided reasons why seemingly unlikely cities—like Dallas, for example—are on the list. Based on information like that, can you predict what a list like this would look like in a year?</em></p><p> <strong>PETROSIAN: </strong>Well, it's tough. As far as those reasons go, I think those reasons that are already ahead will continue to expand just because the companies are already there. <a href="http://www.betterplace.com/">Better Place</a> is a big player and they're only in Hawaii now, so it depends on where they choose to expand in the U.S.</p><p> <strong>GOOD: </strong><em>Are they looking at anything else in the U.S.?</em></p><p> <strong>PETROSIAN: </strong>They haven't announced anything. I know that their eventual plan is to rule the world, so we'll see. There's also a settlement for <a href="http://www.evgonetwork.com/">eVgo</a> to build I think $100 million worth of charging stations in California. That's gotten tied up in a lawsuit right now, so I'm not sure what the result of that's going to be.</p><p> <strong>GOOD: </strong><em>Isn't it actually a pretty bad sign for the state of electric vehicles that places I don't associate with more sustainable lifestyles aren't on the list?</em></p><p> <strong>PETROSIAN: </strong>I would be cautious about linking how the infrastructure gets rolled out vs. how the electric cars are being sold. The public charging infrastructure isn't necessarily a precursor to owning an electric car.</p><p> <strong>GOOD: </strong><em>Who are the most exciting, most inspiring figures in the electric vehicle industry today?</em></p><p> <strong>PETROSIAN: </strong>Any car company which has a plan for a plug-in, hybrid plug-in, whatever it is, is an inspiration to us. We think that anything that plugs in is a net positive. We understand that there are drivers out there who have commuter needs and they need to go on road trips sometimes. We're totally supportive of the <a href="http://www.chevrolet.com/volt-electric-car.html">Volt</a> and the <a href="http://onward.fiskerautomotive.com/en-us/karma/overview/">Karma</a>, and those kinds of vehicles.</p><p> For myself personally, I'm really excited about the <a href="http://www.teslamotors.com/models">Model S</a>. I think it's a really fascinating piece of technology. They're not going to build the best EV, they're going to build the best car, so they've sort of reinvented everything and I think for the movement to go to the next level, that's what it's going to take, is visionaries like that.</p><p> The CEO of Nissan is also, I think a very inspiring figure, <a href="http://news.consumerreports.org/cars/2012/04/5-questions-with-carlos-ghosn-ceo-of-nissan-and-electric-car-champion.html">Carlos Ghosn</a>. They've basically bet the entire Nissan corporation on the Leaf.</p><p> <em><a href="http://www.flickr.com/photos/jronaldlee/6793091875/sizes/m/">Photo</a> via Flickr (<a href="http://creativecommons.org/licenses/by-sa/2.0/">cc</a>) user <a href="http://www.flickr.com/photos/jronaldlee/">jronaldlee</a></em></p><br/>