Articles
#BlackBrunch activists across the country targeted hip brunch spots for their latest action.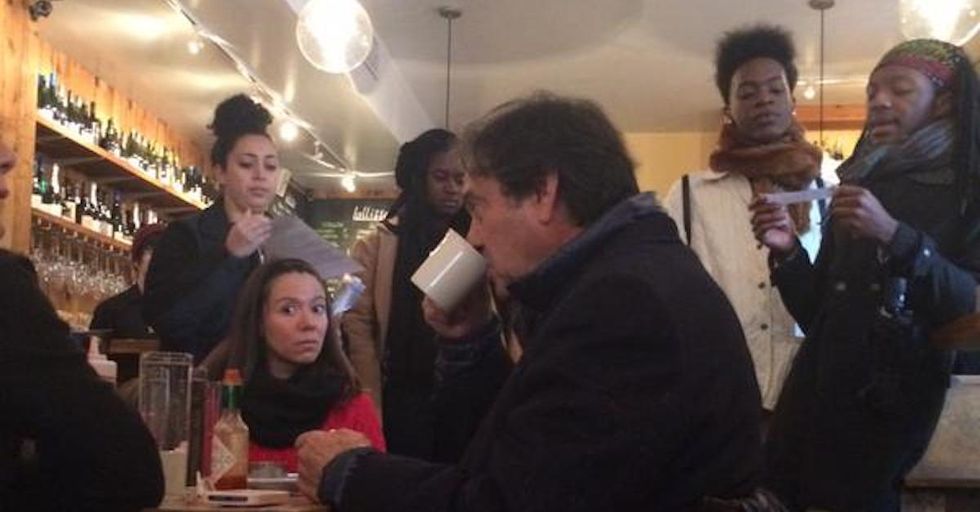 Image via Twitter user Das Racist (@DasRacist)
Sunday brunch was disrupted for diners nationwide when protesters occupied upscale restaurants and read off the names of black victims of police violence. The #BlackBrunch demonstrators targeted eateries that serve predominantly affluent, white clientele and staged sit-ins in New York City, San Francisco, Oakland, Baltimore, and other cities across the country. As discomforted brunchers lifted mugs of pour-over coffee to their lips, protesters recited the names of black people killed by the police like Eric Garner and Michael Brown. Although some protesters encountered hostility from restaurant managers, most of them witnessed supportive gestures from the diners.
<p>Activists like graduate student Wazi Maret Davis, say they were deliberate in their choice of restaurants, selecting places they considered were "white spaces" – which included an Oakland Apple Store. The point is to confront non-black people with realities that black people are confronted with every day.</p><p><span class="rm-shortcode" data-rm-shortcode-id="55bdb6d8f227db5b0c0c857526867e4c" style="display:block;position:relative;padding-top:56.25%;"><iframe frameborder="0" height="auto" type="lazy-iframe" scrolling="no" data-runner-src="https://www.youtube.com/embed/cJ3xALTFC9k?rel=0" style="position:absolute;top:0;left:0;width:100%;height:100%;" width="100%"></iframe></span></p><p>"In those particular communities where they're surrounded by money, or they're surrounded by white folks, they don't have to engage with what's going on in black communities, and they can easily disassociate from that and pretend it's not happening," said Davis to <a href="http://www.spookmagazine.com/meet-black-brunch/">Spook Magazine</a>. "So we say, no. We're going to take up space in your community, let you know what's happening outside this. We exist, and we're here."</p><p class="shortcode-media shortcode-media-rebelmouse-image"> <img class="rm-shortcode" data-rm-shortcode-id="ad9e091a80c07c9c2d1cad5d1bfa926d" data-rm-shortcode-name="rebelmouse-image" id="36eda" type="lazy-image" data-runner-src="https://assets.rebelmouse.io/eyJhbGciOiJIUzI1NiIsInR5cCI6IkpXVCJ9.eyJpbWFnZSI6Imh0dHBzOi8vYXNzZXRzLnJibC5tcy8xOTgzNTEzMi9vcmlnaW4uanBnIiwiZXhwaXJlc19hdCI6MTYxODAwMzQ5MX0.naz-zg_DMBvuZwpYMnw_l8v2fKyIgOtqy1eJal2Y65I/img.jpg?width=980"/> <small class="image-media media-caption" placeholder="add caption..."></small> <small class="image-media media-photo-credit" placeholder="add photo credit..."></small> </p><p>The protest was modelled after the historic <a href="http://en.wikipedia.org/wiki/Greensboro_sit-ins">lunch counter sit-ins</a> that occurred during the civil rights movement. It's poignant that these contemporary sit-ins are taking place in urban spaces that are rapidly gentrifying. Of course, the action was virulently critisized by right-wing and conservative blogs and Twitter users. One former NYPD officer named John Cardillo issued <a href="https://twitter.com/johncardillo/status/551864637239861248">a particularly hateful Twitter missive</a> with a photo of him holding a gun pointed at the camera. "I'm really enjoying these Eggs Benedict so move along now. #BlackBrunchNYC," he wrote. </p>