Articles
A new series of travel ads has pedestrians using their headphones to engage with the world, rather than block it out.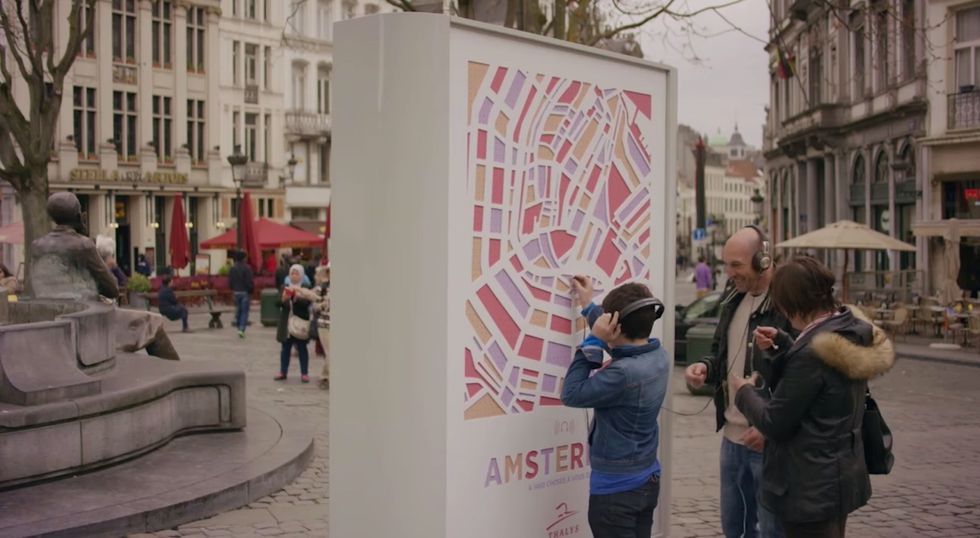 image via youtube screen capture
When we travel to a new city for the first time, we often tell our friends back home that we're "off to see the sights." But, in truth, "the sights" represent just a slim wedge on the spectrum of senses with which we fully take in a new locale. Travel is more than just a visual experience. To really explore someplace new, we must also inhale new scents, taste new foods, and hear the ambient noises of a wholly different environment than what we're used to.
<p>It's that last sense, hearing, which European train operator <a href="https://www.thalys.com/be/en/">Thalys</a> hopes they can use to entice travelers into riding the rails to cities serviced by the company. To do so, they've created a series of interactive billboards which allow anyone to experience thousands of everyday noises from Paris, Amsterdam, and Brussels. The signs, dubbed "<a href="https://www.youtube.com/watch?t=85&amp;v=ltcNSZu0nZc">Sounds of the City</a>," are covered in dozens of audio outlets, into which passers by can plug their personal headphones and hear anything from bicycle wheels spinning, to couples making love, all recorded on-site in the city being advertised. </p><p><span class="rm-shortcode" data-rm-shortcode-id="38e3f94988abc6cad3848c58b6b25e19" style="display:block;position:relative;padding-top:56.25%;"><iframe frameborder="0" height="auto" type="lazy-iframe" scrolling="no" data-runner-src="https://www.youtube.com/embed/ltcNSZu0nZc?start=85&amp;rel=0" style="position:absolute;top:0;left:0;width:100%;height:100%;" width="100%"></iframe></span></p><p><a href="https://www.youtube.com/watch?t=85&amp;v=ltcNSZu0nZc">Explains</a> Thalys: "Headphones are often used to block out a city. With Thalys Sounds of the City, they were an opportunity to rediscover one."</p><p>The "Sounds of the City" series is just the latest in the trend toward street ads that move beyond simply broadcasting a message, and instead offer a more complete experience. But while other interactive billboards have hocked <a href="https://www.google.com/url?sa=t&amp;rct=j&amp;q=&amp;esrc=s&amp;source=web&amp;cd=3&amp;ved=0CCoQFjAC&amp;url=http%3A%2F%2Fmagazine.good.is%2Farticles%2Fyawning-billboard-dispenses-coffee-to-tired-commuters&amp;ei=5lmTVejiB5CnyAT-k77oBQ&amp;usg=AFQjCNGvh6rfzq9ZM_lQUmWXdQxQWMsk9g&amp;sig2=MDlg2p7TOJvc7Dayp9h8Ow">discrete products</a>, or <a href="https://www.google.com/url?sa=t&amp;rct=j&amp;q=&amp;esrc=s&amp;source=web&amp;cd=4&amp;ved=0CDAQFjAD&amp;url=http%3A%2F%2Fmagazine.good.is%2Farticles%2Frussian-billboard-hides-from-authorities-deli&amp;ei=5lmTVejiB5CnyAT-k77oBQ&amp;usg=AFQjCNHRVMER70cceZUQixnXeHtyLVNvhw&amp;sig2=5XD7rhtcrcCMQ_acam41nQ">specific shopping opportunities</a>, Thalys' ads are something different—an ambient auditory glimpse at the larger world. And for some, perhaps, it's a first step toward experiencing someplace new, where they can use all their senses, instead of just one. </p><p style="text-align: right;">[<em>via <a href="http://www.psfk.com/2015/06/ambient-advertising-sounds-of-the-city-thalys-french-train-company-headphone-billboard.html">psfk</a></em>]</p>