Articles
Are museum exhibitions with "tricks" just "arty junk food?"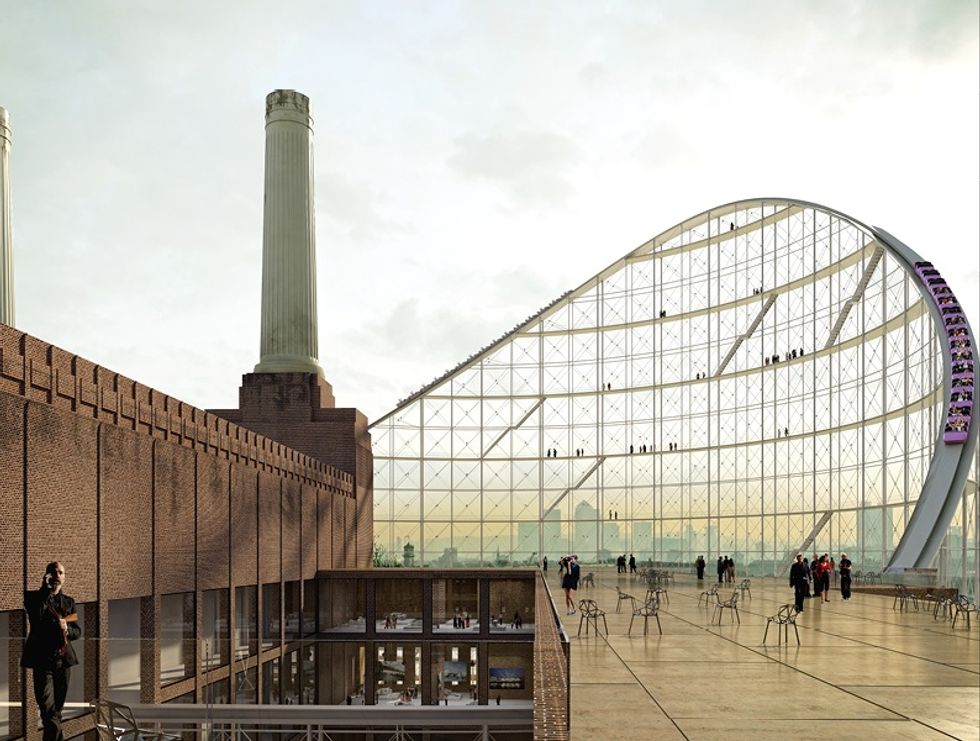 If your local museum had a roller coaster would it make visiting more fun? How about a slide? For the general public the answer would likely be yes, but for art world purists, the idea of having "fun" in a museum is met with suspicion, or at least concern that tricks to get attendance numbers up will trivialize the institution and its purpose, and take the focus off the main attraction—art. But around the globe, when institutional funding is at an all time low, exhibitions that bring in an audience outside of the insular art community, may make sense: higher attendance numbers means more money earned.

So it seems those favoring playful experiences have been pitted against those with an allegiance to more earnest, intellectual exhibitions. In London, architects firm Atelier Zundel Cristea recently won the proposal to transform one of the world's more recognized buildings—London's Battersea Power Station—into a museum of architecture with a fully functional, gravity defying roller coaster surrounding it. The firm is fully aware this might ruffle some feathers and explains, "In its spatial ambition, our project encourages play and fun, categories largely devalued in the traditional world of art. Conceived in this way, cultural spaces are liable to attract new types of visitors."


<p> When the historical brick building, which spent 50 years generating electricity for the city, gets its makeover, the amusement park style ride will likely overpower the museum. But the firm has no problem with this approach, "Some people would consider words like enjoyable, pleasant, worthwhile and so on, better terms of evaluation for the experience of visiting a museum. For a certain proportion of regular museum goers, 'fun' is simply not a word they would consider using in describing the museum experience, implying as it might for them dumbing down, simplification, or out of place hands-on activities, commotion and even noise. Unsurprisingly, almost all of these respondents are over the age of 50."</p><p class="shortcode-media shortcode-media-rebelmouse-image"> <img class="rm-shortcode" data-rm-shortcode-id="9b11e6398f9afa21bdde26057af8134f" data-rm-shortcode-name="rebelmouse-image" id="7634e" type="lazy-image" data-runner-src="https://assets.rebelmouse.io/eyJhbGciOiJIUzI1NiIsInR5cCI6IkpXVCJ9.eyJpbWFnZSI6Imh0dHBzOi8vYXNzZXRzLnJibC5tcy8xOTkxMjk3Ni9vcmlnaW4uanBnIiwiZXhwaXJlc19hdCI6MTY1MzUwNTczNH0.Vboz1VscU_-Zo-DsjDbo_TLB4Zv-9L5wDQzWiptc8eY/img.jpg?width=980"/> <small class="image-media media-caption" placeholder="add caption..."></small> <small class="image-media media-photo-credit" placeholder="add photo credit..."></small> </p><p class="shortcode-media shortcode-media-rebelmouse-image"> <img class="rm-shortcode" data-rm-shortcode-id="3e2713fade0c7a75f0bb0aac98360fc3" data-rm-shortcode-name="rebelmouse-image" id="30480" type="lazy-image" data-runner-src="https://assets.rebelmouse.io/eyJhbGciOiJIUzI1NiIsInR5cCI6IkpXVCJ9.eyJpbWFnZSI6Imh0dHBzOi8vYXNzZXRzLnJibC5tcy8xOTkxMjk3OC9vcmlnaW4uanBnIiwiZXhwaXJlc19hdCI6MTY1NjAxMjc2MH0.ZDzVCc1lsPvC6UstB6b5-cFmg18Ng7U0TQ7r5MFFjss/img.jpg?width=980"/> <small class="image-media media-caption" placeholder="add caption..."></small> <small class="image-media media-photo-credit" placeholder="add photo credit..."></small> </p><br/><br/> Revered art critic Jerry Saltz, is on the side of those who think fun equals dumbing down. When Swiss artist Carsten Holler's exhibition at New York's <a href="http://www.newmuseum.org/" rel="nofollow" target="_blank">New Museum</a> was unveiled last year, it included a mirrored merry-go-round that mimicked a hallucinatory experience, a sensory deprivation pool that encouraged the brave to strip and dive in, and a massive spiral slide jutting through two floors of the building. <a href="http://nymag.com/arts/cultureawards/2011/museums-as-playgrounds/" rel="nofollow" target="_blank">Saltz called the entire thing</a>, "arty junk food." He accused museums who err on the side of play as, "­bogusly turning themselves into smash-hit consumer circuses, box-office sensations of voyeurism and hipster showbiz." Yet halfway into the show's three-month run, <a href="http://blogs.artinfo.com/artintheair/2012/01/18/carsten-holler-exhibition-sets-record-for-new-museum-surprising-no-one/" rel="nofollow" target="_blank">the New Museum announced</a> the exhibition had drawn more visitors per day than any other show in their history.<p class="shortcode-media shortcode-media-rebelmouse-image"> <img class="rm-shortcode" data-rm-shortcode-id="fd512fba144523cb532f6decee49bf74" data-rm-shortcode-name="rebelmouse-image" id="7b341" type="lazy-image" data-runner-src="https://assets.rebelmouse.io/eyJhbGciOiJIUzI1NiIsInR5cCI6IkpXVCJ9.eyJpbWFnZSI6Imh0dHBzOi8vYXNzZXRzLnJibC5tcy8xOTgyMDg4OS9vcmlnaW4uanBnIiwiZXhwaXJlc19hdCI6MTYwNzQ5NzQyOH0.4jf7weJpJYPnNd4gibsGCnWeCt78oR4GqH68PtrJzyw/img.jpg?width=980"/> <small class="image-media media-caption" placeholder="add caption..."></small> <small class="image-media media-photo-credit" placeholder="add photo credit..."></small> </p><p class="shortcode-media shortcode-media-rebelmouse-image"> <img class="rm-shortcode" data-rm-shortcode-id="b685b527f12449a1b4249fb81ebba91f" data-rm-shortcode-name="rebelmouse-image" id="f771e" type="lazy-image" data-runner-src="https://assets.rebelmouse.io/eyJhbGciOiJIUzI1NiIsInR5cCI6IkpXVCJ9.eyJpbWFnZSI6Imh0dHBzOi8vYXNzZXRzLnJibC5tcy8xOTkxMjk3NC9vcmlnaW4uanBnIiwiZXhwaXJlc19hdCI6MTYwNjM1NTgwMX0.UJui7Sdm_C6anJXPhvh5iQmU6uwoky1LSEtVo5C6jSs/img.jpg?width=980"/> <small class="image-media media-caption" placeholder="add caption..."></small> <small class="image-media media-photo-credit" placeholder="add photo credit..."></small> </p><br/><br/> So the debate rages on. Personally, I wouldn't mind having both fun and introspection during a museum experience. If there were a way to barrel into an institution on a rickety roller coaster ride to then contemplate a Picasso, sign me up.<p> What are your thoughts? Should we leave fun for the amusement parks and contemplation for the museums? Or is there a way to have the best of both worlds?</p><div> <em>This post is part of the GOOD community's</em><a href="http://good.is/building-blocks-of-citizenship" rel="nofollow" target="_blank"><em> 50 Building Blocks of Citizenship</em></a><em>—weekly steps to being an active, engaged global citizen. This week: <a href="http://www.good.is/posts/become-a-member-of-a-cultural-institution--2" rel="nofollow" target="_blank">Become a Member of a Cultural Institution</a>.</em><em> Follow along and join the conversation at </em><a href="http://good.is/citizenship" rel="nofollow" target="_blank"><em>good.is/citizenship</em></a><em> and on Twitter at #goodcitizen.</em> <div> <a href="http://www.good.is/building-blocks-of-citizenship" rel="nofollow" target="_blank"><p class="shortcode-media shortcode-media-rebelmouse-image"> <img class="rm-shortcode" data-rm-shortcode-id="d7b04cf5f11b5fa58751400c87371fc1" data-rm-shortcode-name="rebelmouse-image" id="9ad1a" type="lazy-image" data-runner-src="https://assets.rebelmouse.io/eyJhbGciOiJIUzI1NiIsInR5cCI6IkpXVCJ9.eyJpbWFnZSI6Imh0dHBzOi8vYXNzZXRzLnJibC5tcy8xOTgzMDgwNi9vcmlnaW4uanBnIiwiZXhwaXJlc19hdCI6MTYzMjY3Mjg1N30.D6fyxV8NNiZsz5GyLXsz8XLkOrrRC8fIzID2Vm8NEDE/img.jpg?width=980"/> <small class="image-media media-caption" placeholder="add caption..."></small> <small class="image-media media-photo-credit" placeholder="add photo credit..."></small> </p></a>\n</div>\n</div><p> <em>Images courtesy of <a href="http://www.zundelcristea.com/" rel="nofollow" target="_blank">Atelier Zundel Cristea</a>; the New Museum</em></p><br/><br/><br/><br/>