Articles
It may not be the "Sunshine State," but when it comes to responsible solar energy, California is beginning to see the light.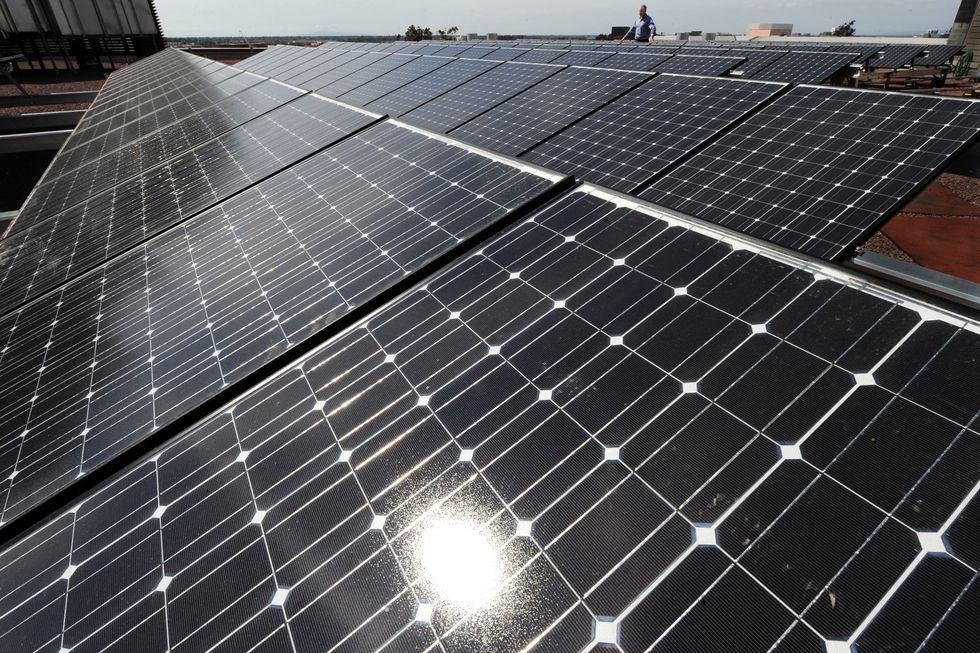 image via (cc) flickr user ucirvine
While the sun may shine on each and every one of us equally, so far solar power has largely been a much less democratic affair. As solar energy panels become more and more efficient, their application, per a 2013 Center for American Progress study, remains mostly limited to middle-class homes with a median income of between $40-90,000. But a new plan in California will bring free solar power to its poorest citizens, saving each of them hundreds, if not thousands, of dollars in electrical costs.
<p>According to <a href="http://www.sfgate.com/business/article/Low-income-homeowners-get-free-solar-panels-6281762.php"><em>The SFGate</em></a>, the initiative will be led by <a href="http://www.gridalternatives.org/news/californias-cap-trade-investments-hitting-grid-rooftops">Grid Alternatives</a>, a nonprofit solar power firm based out of Oakland. Using nearly $15 million dollars raised through California's cap-and-trade laws, which require companies to purchase "credits" for each ton of carbon dioxide they produce, the firm will provide over 1,600 free solar panel systems by the end of 2016, according to a Grid Alternatives <a href="http://www.gridalternatives.org/news/californias-cap-trade-investments-hitting-grid-rooftops">release</a>. The program was first introduced by California State Senator Kevin de León, who spoke at a recent solar panel installation event, saying: </p><blockquote><p>"I introduced SB 535 in 2011 to ensure that our disproportionately impacted communities benefit from investments in clean energy. These investments will bring energy savings, quality jobs, and environmental benefits where they are needed most."</p></blockquote><p>Here's full video of that event: </p><p><span class="rm-shortcode" data-rm-shortcode-id="73bdf80c84a7936af7da51daef1b1377" style="display:block;position:relative;padding-top:56.25%;"><iframe frameborder="0" height="auto" type="lazy-iframe" scrolling="no" data-runner-src="https://www.youtube.com/embed/HYrGbgtibLU?rel=0" style="position:absolute;top:0;left:0;width:100%;height:100%;" width="100%"></iframe></span></p><p><em>SFGate</em> says that in order to qualify for the program, home owners must be located in a "disadvantaged" neighborhood, as defined by the state. They must also be earning 80 percent or less of that area's median income per household.</p><p>This initiative appears to be, in part, a continuation of Grid Alternative's<a href="http://thinkprogress.org/climate/2013/08/22/2509761/making-solar-affordable/"> previous work</a> in providing solar power to low-income households. The key difference in this case seems to be where the money is coming from—California's state cap-and-trade fees—the very measures put in place to help the state reduce greenhouse gases. In that respect, this is an astonishingly symmetrical system. Funds procured in an effort to curb pollution are helping to pay for the expansion of a viable green energy source.</p><p><em>Vice</em>'s <em>Motherboard</em> <a href="http://motherboard.vice.com/read/free-solar-for-the-poor?utm_source=mbfb">points out</a> that the program, as it currently exists, appears to be something of a potpourri in its execution, dependent on a combination of corporate donations and volunteer labor to operate, and in need of systematizing in order to reach it's full potential. Still, for those people whose homes have been outfitted with Grid Alternative's solar power systems, the initiative is a welcome relief. As recipient Roy Rivera <a href="http://www.gridalternatives.org/news/californias-cap-trade-investments-hitting-grid-rooftops">explained</a>, "We hope the savings will help defray some of my medical costs. When you have a budget like ours, which is stretched just about as far as you can go, it makes a big difference."</p>