Articles
Our environment editor is off on a 5-day ride from NYC to DC for climate change awareness. Here's why he thinks activism still matters.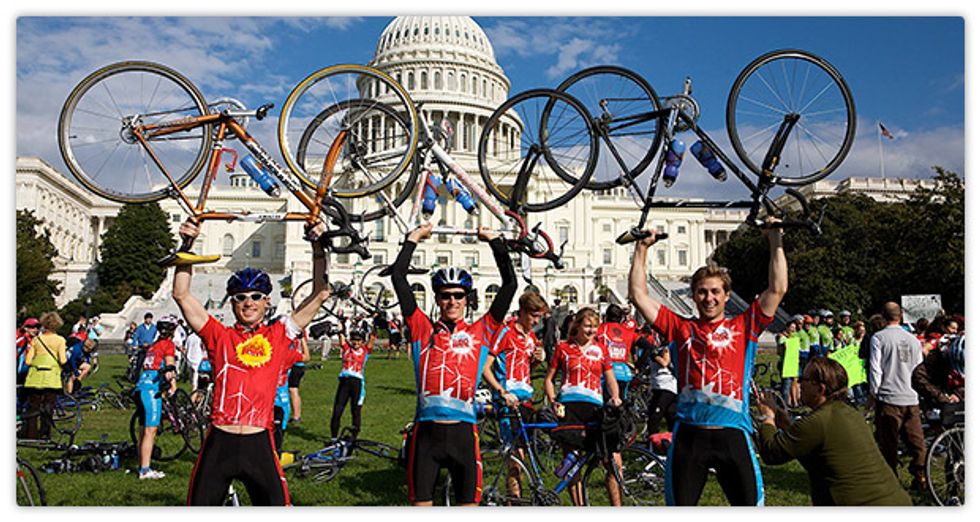 Today I'm setting out with a bunch of fellow climate hawks to pedal our way down from New York City to the nation's capital. Along the way we intend to show some support for smarter energy policies and an earnest mobilization to combat climate change. The trip is called
ClimateRide
, and it's unique in that it combines bullhorn-style advocacy, actual grassroots lobbying, and fund-raising for some very deserving nonprofits.
Someone too cynical (or too lazy) might gripe that a rolling gang of cyclists in goofy spandex aren't going to change anyone's mind about climate change. Personally, I'm of the opinion that actions and stunts and awareness really do matter. When you start to feel defeated and quiet down, you pretty quickly get forgotten, and a perfect example of that is the climate bill that fell dead in Congress last year. We don't have a decent climate law today because a lot of swing state senators felt more pressure from the fossil fuels industry than they did from those of us who demand clean air, clean water, and a safe climate. If there is ever to be hope for a real nationwide mobilization on climate, politicians are going to have to feel vulnerable for voting against anything that compromises our climate and our future. Showing up at their offices (we'll have changed out of the goofy spandex for that) and telling them to their faces that they will lose your vote is one pretty powerful way to make them feel vulnerable.