Articles
A new center in England is hoping to offset an impending global shortage of cocoa.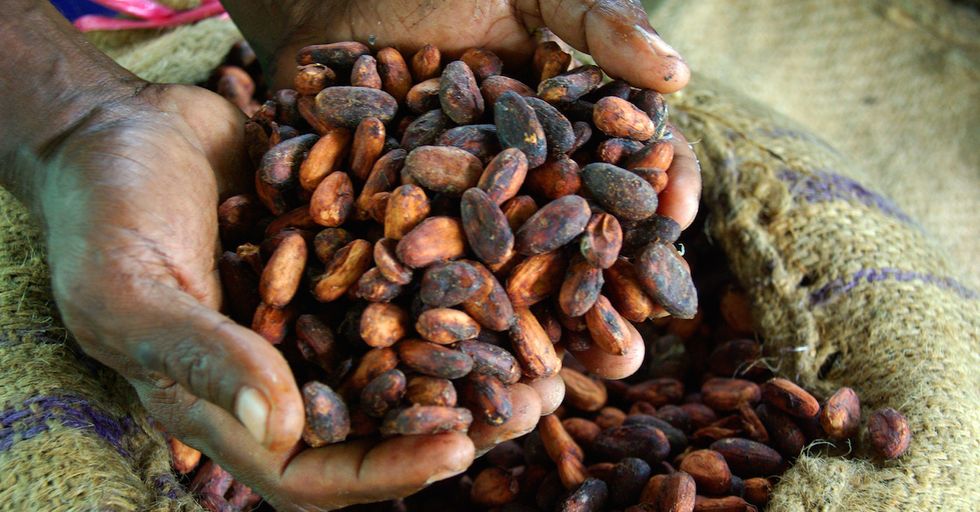 Image via the Australian Department of Foreign Affairs and Trade's Flickr page.
Panic was widespread when doomsayers predicted global cocoa shortages by 2020 due to increasing demand, pest infestation, and the spread of plant disease. In response to these factors, the cost of the cocoa bean has rapidly increased—compelling Hershey's to raise prices by eight percent and Mars by seven percent, possibly portending end-of-times for the candy industry. But you can stop hoarding your chocolate bars and cocoa powder: Scientists have a plan to protect the world's cocoa supply.
<p>Researchers at the University of Reading just opened a £1 million facility to protect and preserve over 400 different varieties of the cocoa plant. The International Cocoa Quarantine Centre (ICQC) will be responsible for collecting new cocoa seeds and facilitating research into breeding plant varieties that will be more resistant to sickness. In their greenhouse, they will be quarantining the seeds from all new diseases and pests, and growing healthier, more reliable plants in a <a href="http://www.icgd.reading.ac.uk/quarantine.php">hydroponic growing system</a>.</p><p>"We use up a lot of energy keeping the cocoa plants in tropical conditions, and we can do that much more efficiently in this new facility," Professor Paul Hadley, the cocoa project coordinator, <a href="http://www.bbc.com/news/science-environment-30641613">told the BBC</a>.</p><p>The plants will apparently be quarantined for up to two years before they're shipped back to the farms that harvest them in West Africa, South and Central America, and other parts of the world</p>