Articles
Athletic departments see value in black male bodies. Faculty and staff must see value in black male minds.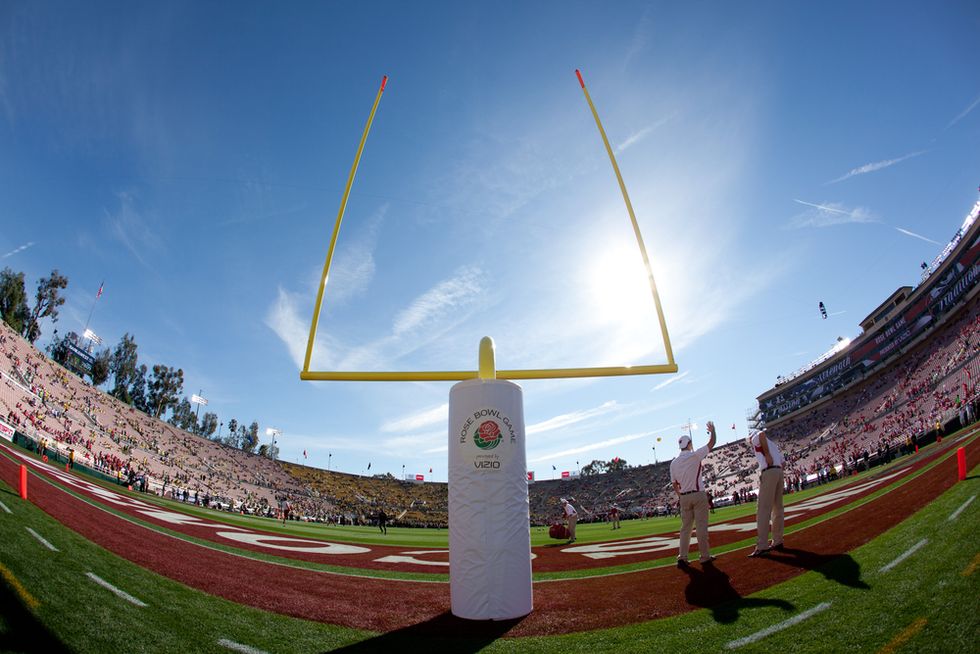 Results from a new
study
on graduation rates of black male athletes illustrate our sacrosanct commitment to developing black football players in colleges and universities. Black men among the top 25 BCS schools represent 3 percent of their student bodies but 60 percent of the football players. Simultaneously, the data make plain the limitations colleges place on black male academic achievement. Black students are apparently good enough for the playing fields but not the laboratories.
Let's be clear: If colleges can build up black football players, they can develop black scientists, historians and teachers. If colleges recruited, trained and competed black and Latino students in chemistry like they do in football, institutions could place more Nobel Prizes above their Bowl Championship Series trophies. But let's not wait for academics or a concussed fan base to incite much needed improvements in retention and graduation. Black football players must push their political weight to move university leaders who ostensibly aren't compelled by data.
<p> <a href="https://twitter.com/DrShaunHarper">Shaun Harper</a> and his team of scholars, Collin Williams and Horatio Blackman of the Center for the Study of Race and Equity at Penn Graduate School of Education, reported findings from their study of graduation rates. In addition to the aforementioned results, the major lowlights include:</p><ul class="ee-ul">\n<li> Across four cohorts, 50.2 percent of black male student-athletes graduated within six years, compared to 66.9 percent of student/athletes overall, 72.8 percent of undergraduate students overall, and 55.5 percent of black undergraduate men overall.</li> <li> 96.1 percent of these NCAA Division I colleges and universities graduated black male student-athletes at rates lower than student-athletes overall.</li> <li> 97.4% of these institutions graduated black male student-athletes at rates lower than undergraduate students overall.</li>\n</ul><p> These numbers have been depressingly stable during the BCS era. In order to improve these statistics, postsecondary institutions must change at a structural level. Structural change demands conversations on politics and power.</p><p> Football fans (most of America) can't be trusted to demand better outcomes for black undergraduates. Cheers for football as a pleasurable amenity for campuses and towns drown out deeper ideals of student equity and education. Academic leaders can't be trusted. Faculty often view black athletes as unwitting accomplices of a brutish, non-academic auxiliary. Similarly, academic departments often see themselves in competition with athletics for resources and attention. In addition, black males are generally not seen as worthy members of the academic institution. Demographics notwithstanding, black males are assumed to just be athletes, who are mere entertainers for the rest of the campus.</p><p> Black male athletes and their non-athlete brothers simply do not have natural political allies on- or off-campus. But black male athletes hold some of most powerful cards for changing conditions that would lead to better outcomes for all.</p><p> For instance, the financial stakes around football are particularly high among South Eastern Conference (SEC) member institutions. Can you imagine if black football players at Auburn University, one of the contestants of the championship game, demanded that players equal or exceed graduation rates of all undergraduates at the institution (currently 38 percent versus 65 percent, according to the Penn study)? Just whispers of a walkout for improved graduation rates would generate a discussion that reams of data simply can't.</p><p> Black male athletes hold some of most powerful cards for changing conditions that would lead to better outcomes for all.</p><p> The idea of a walkout is not that farfetched. On Sept. 21, 2013 players in protest across the country wore accessories with "APU" written on them. The <a href="http://www.ncpanow.org">All Players United</a> demonstration, organized by National Collegiate Players Association, sought to bring player concerns to fore including, brain injury prevention, likeness infringement, and biased rules. Later that season, football players at Grambling State University decided to get upright and <a href="http://thegrio.com/2013/10/21/grambling-university-football-players-deserve-applause-for-not-playing/">boycott</a> their participation in the Jackson State University homecoming game with an agenda to improve conditions for the program. By not taking the field, football players won a small victory for the Grambling program. Administrators capitulated to ballers' demands of locker room improvements and clean equipment. However, did players win the larger game?</p><p> An <a href="http://theadvocate.com/news/opinion/5924246-123/inside-report-compare-proposed-la">80 percent reduction</a> in Louisiana funding since 2007 not only resulted in moldy football equipment; it translated to statewide shortages for science labs, student life programing and need-based aid. If taxpayers followed Grambling football players' lead and refused to attend games, maybe Gov. Bobby Jindal would have thought twice about gutting higher education budgets.</p><p> As a former NCAA athlete (track &amp; field/cross country), coach, professor and administrator, I understand why governors devalue higher education, but I've never understood why the academic side of the house criticized athletic departments. Athletics are a few steps ahead of academics in that athletic departments at least get black males access to colleges. Can you imagine the complexion of campuses if athletics didn't exist?</p><p> We should learn from athletics. A major caveat, which helps explain the data, is that an athlete's value is commensurate with his performance on the field<span class="st">—</span>making most black athletes very expendable. Nevertheless, academic departments can learn from athletic teams on how they identify, groom, train and put black students into competitions.</p><p> The almost seamless coaching network from Pop Warner to the NFL allows for the early identification of talent, transference of skills deemed necessary for achievement, and access to institutions at multiple levels. Likewise, college faculty must look for talent in schools as early. Faculty should have many more camps that prevent summer learning loss and refine skills that students should have gained during the school year. Faculty should organize study tables and have cohorts eat and practice in teams. Most important, coaches work out their athletes to the point of nausea. Underrepresented students often need this type of coaching and academic development. Athletics can bring talent in, but it can't make students members of the academic community. Academics can beat athletics at its own game and retain students of color.</p><p> However, faculty must see black students as being on their team. Athletic departments see value in black male bodies. Faculty and staff must see value in black male minds. Given the data, we can't assume they will.</p><p> Black males can't wait for greater awareness among other players of the university community. Athletes have to pick up the ball. However, black males aren't immune to the belief that we are just athletes. The graduation rates suggest that many student/athletes are walking away from college after their future career in professional sports turns bleak (Less than 2 percent of student athletes enter the NFL and NBA). They soon learn that the sidelines of life are cold.</p><p> Black athletes have no choice but to play a major role in their own success. They must take full advantage of the scholarships afforded to them in spite of the climate. But some athletes have to pay a political price to force institutions to cater to black males' academic talents. Graduation is a team effort, but black athletes must flex their political muscle to pave a way from the stadiums in January to the graduation stages in May.</p><p> <em>A version of this post originally appeared at the <a href="http://hechingerreport.org/content/black-athletes-must-pick-up-the-ball-on-graduation-rates_14363/">Hechinger Report</a></em></p><p> <em>View of the Rose Bowl image via <a href="http://www.shutterstock.com/gallery-340777p1.html?cr=00&amp;pl=edit-00">Photo Works</a> / <a href="http://www.shutterstock.com/?cr=00&amp;pl=edit-00">Shutterstock.com</a></em></p><br/>