Articles
In the fall of 2014, 25 students who probably won't be coming from the City of Compton will start in Dr. Dre's $70 million program at USC.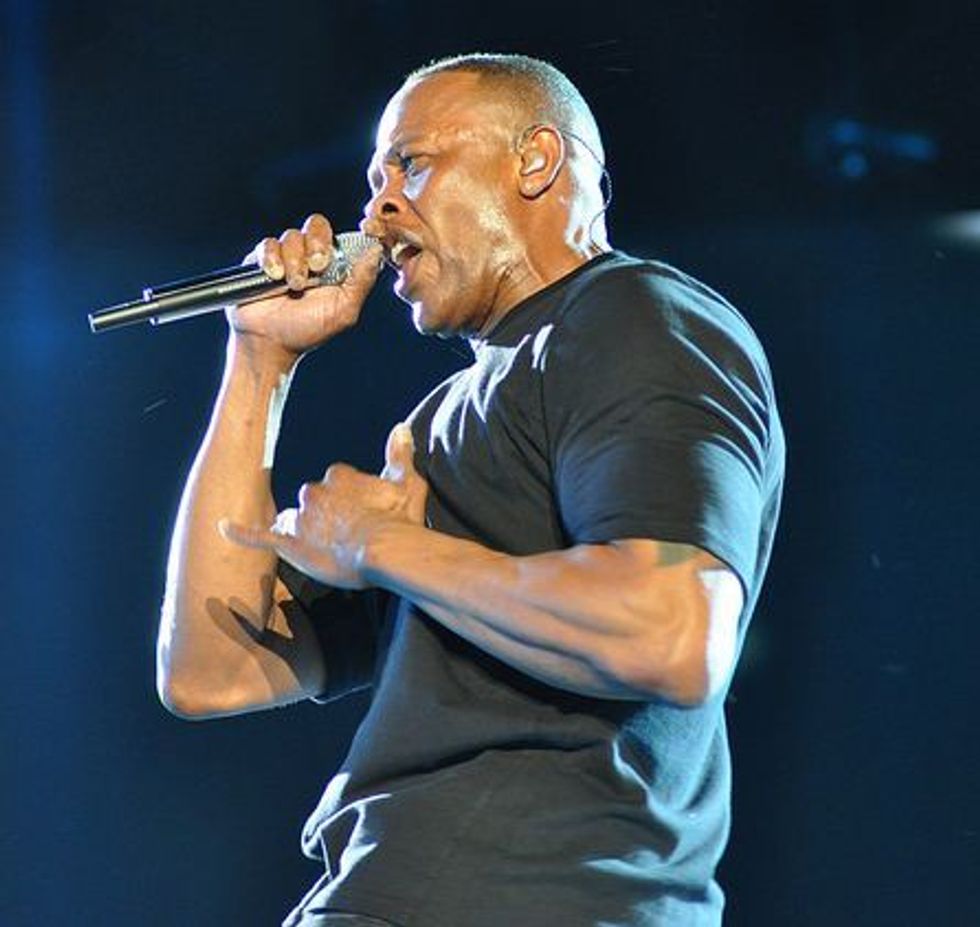 Back in 1993, Dr. Dre told America to "Strap on your Compton hat." But 20 years later it's not
Dre Day
for his hometown of Compton, California, which, along with rap group N.W.A., helped put Dre on the map.
Nowadays, Dre, born Andre Young, is teaming up with his longtime collaborator, music mogul Jimmy Iovine, to strap on a University of Southern California hat. They're giving the private university 13 miles up the 110 Freeway from Compton $70 million to endow the USC Jimmy Iovine and Andre Young Academy for the Arts, Technology and the Business of Innovation.
<p> The new school will combine marketing and entrepreneurship, computer science, design, and business, and will require each student to create a prototype of an innovative product—the next iPod or the next Facebook, for example. It's a concept bent on nurturing creativity, and innovation in a world where the jobs of the future haven't even been invented. As the school's site proclaims, "No other program like this exists anywhere in the world—yet."</p><p> However, as groundbreaking as this program is, there's something a bit surreal about the man who once proudly rapped "F*** Tha Police" dropping this kind of cash on a school where black students <a href="http://www.good.is/posts/no-more-profiling-what-will-it-take-to-get-usc-to-stop-seeing-black-students-as-criminals">recently protested being racially profiled</a> by campus safety officers and the Los Angeles Police Department. Not to mention that USC—$59,883 for undergraduate tuition, room, and board for the 2012-2013 school year—has long been something of an armed fortress of wealth and privilege in the low income, mostly minority South Los Angeles neighborhood it occupies. But as Dre told <em><a href="http://www.rollingstone.com/music/news/dr-dre-and-jimmy-iovine-give-70-million-to-university-of-southern-californa-20130515">Rolling Stone</a></em>, "Look at what hip hop can do." </p><p> And truly, Dre, has the right to do whatever he wants with his money. He earned it through hard work in the rap game and ensuring those pricey Beats by Dre headphones became must-haves for the millennial music consumer. But USC—and its nearly $4 billion endowment—doesn't need his cash to start this school. Why not invest in the higher education institutions the average kid in Compton might attend: the local community college or the public university?</p><p> Confession: I have a soft spot for Compton since I taught elementary school there. Thanks to N.W.A. and Dre's album "The Chronic," I also had to field constant "OMG have you seen anyone with an UZI yet?" remarks. (No, I never did.)</p><p> After work I used to drive over to Compton Community College, which calls Dre's <em>Dre Day</em> Collaborator Snoop Dog an alumnus, to jog on the track. In 2006, the school lost its accreditation and was closed, only to reopen after another community college agreed to step in to run things—no one could fault Dre for not wanting to get in bed with them.</p><p> However, California State University Dominguez Hills, which is adjacent to Compton, already has <a href="http://www.csudhnews.com/2010/10/csu-dominguez-hills-cams-high-school-awarded-hp-catalyst-initiative-grant/">an innovative STEM high school partnership</a> on its campus. CSUDH only has a tiny $10 million endowment, and they've endured several years of budget cuts. Although they surely want to provide their students with programs like this, it's not really an option without some serious outside donors stepping in. Donors like Dre and Iovine.</p><p> There's also the fact that the student body at Dominguez Hills is significantly more representative of both Compton—and Los Angeles'—demographics than USC's. USC's student body is only 5.8 percent black and 13.6 Latino, while Dominguez Hills' student body is 19.4 percent black and 51.1 percent Latino. And although GPA doesn't reveal a student's whole potential, USC's average applicant for its freshman class had a 3.56 GPA, while Dominguez Hills students post up a respectable 3.09 GPA. It's not like USC's students are on a completely superior academic planet and so couldn't hang with this program's requirements.</p><p> The crux of the matter is whether we truly believe that black and brown kids from places like Compton who go on to attend state school are the kinds of innovators who can propel our economy forward. I'd like to think that Dre must think they are since he was once one of those kids who had that innovative instinct, but just happened to be born into a heavily segregated, low income community with struggling public schools. Unfortunately in America we only see—and support—the innovative potential of students who have the ability to get accepted into schools like USC and then have the financial wherewithal to pay for it.</p><p> In the fall of 2014, 25 students who probably <em>won't </em>be coming from the City of Compton—or any city with similar demographics—will start in Dre's program at USC. Thanks to that generous endowment, the accepted students, who are being tasked with challenging "conventional views of art and industry,"—ahem, isn't that what N.W.A. did?—will each attend on full scholarships. But don't worry, the kids from the hood Dre "threw up with," as he raps in <em>Dre Day</em>, will surely appreciate the opportunity to consume whatever innovations those USC students end up creating.</p><p> <em><a href="http://www.good.is/posts/donate-an-instrument-to-an-underserved-child">Click here</a> to add donating a musical instrument to a low income child to your GOOD "to-do" list.</em></p><p> <em><a href="http://en.wikipedia.org/wiki/File:Dr._Dre_at_Coachella_2012_cropped.jpg">Photo</a> via Wikimedia Commons</em></p><br/>