Articles
Latin media company Claro hires local artists to transform satellite dishes into vibrant ads for women-run small business.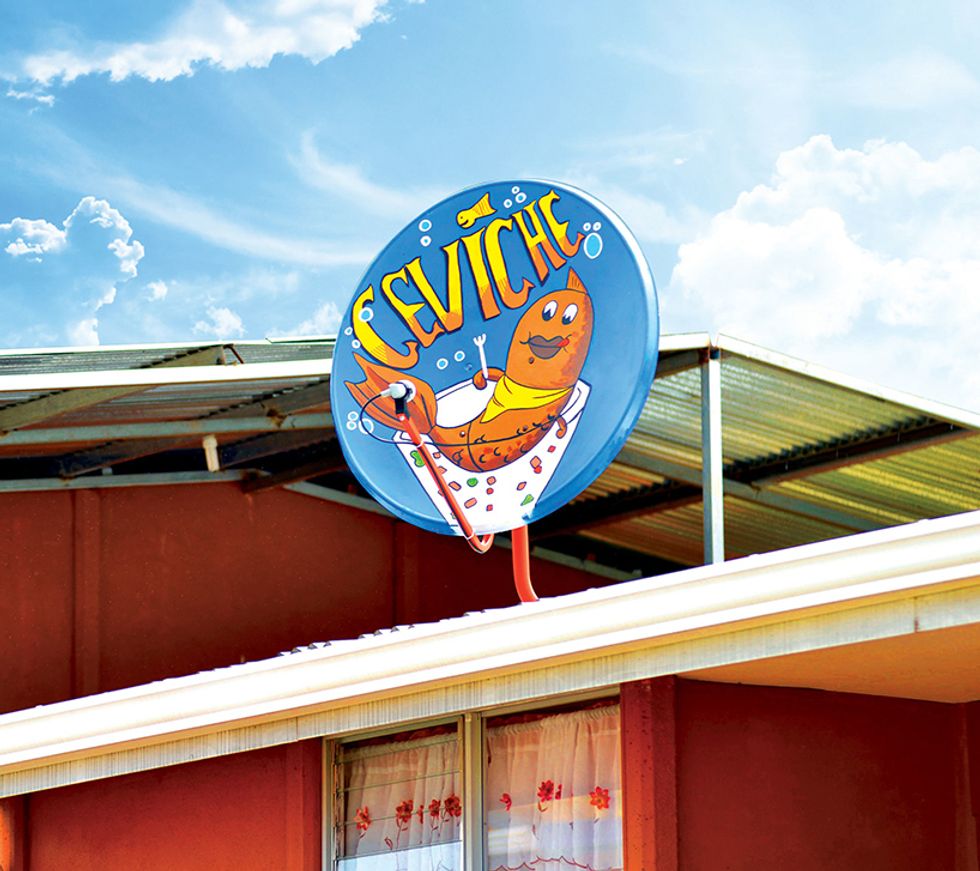 Just one of the many DIY billboards springing up across rural Costa Rica as part of the "Signs of Progress" project.
In rural Costa Rica, many citizens, especially bored housewives, would rather give up bread than their beloved TV sets. In this tiny nation of just 4.8 million, over 92% of households own boxes, which means a surplus of unsightly cable dishes.
<p class="shortcode-media shortcode-media-rebelmouse-image"> <img class="rm-shortcode" data-rm-shortcode-id="460db40d4e11593a777121c69cebfe33" data-rm-shortcode-name="rebelmouse-image" id="a5342" type="lazy-image" data-runner-src="https://assets.rebelmouse.io/eyJhbGciOiJIUzI1NiIsInR5cCI6IkpXVCJ9.eyJpbWFnZSI6Imh0dHBzOi8vYXNzZXRzLnJibC5tcy8xOTg0MDczMy9vcmlnaW4ucG5nIiwiZXhwaXJlc19hdCI6MTYwNzc0ODIyMX0.jBllwirXa0nxFJ77EgIQx0-tG0spKYTX17P6efxEA7A/img.png?width=980"/> <small class="image-media media-caption" placeholder="add caption..."></small> <small class="image-media media-photo-credit" placeholder="add photo credit..."></small> </p><p>Recently, Central American media company <a href="http://www.claro.cr/portal/cr/pc/personas/">Claro </a>decided that these antenna dishes could go to better use, and set up a project with <a href="https://www.youtube.com/channel/UCakNOy_DgdgI6Pluqdflz1w">Ogilvy Costa Rica</a> to hire local painters to turn them into colorful billboards for start-ups run by women. Previously, many of these women would offer their services for free, but have now learned to utilize their skills to create thriving businesses to help their families. As one woman mentions above, "if you learn to manage money, money attracts money." In addition to providing something neat to look at, "<a href="http://www.designboom.com/art/dish-antenna-billboards-ogilvy-mather-claro-costa-rica-06-03-2015/?utm_campaign=daily&amp;utm_medium=e-mail&amp;utm_source=subscribers">Signs of Progress</a>" has also inspired shops ranging from DIY ice cream parlors to hairdressers to start advertising to the community.</p><p><span class="rm-shortcode" data-rm-shortcode-id="4e2d5cffa7a06bb1199cf2f981421254" style="display:block;position:relative;padding-top:56.25%;"><iframe frameborder="0" height="auto" type="lazy-iframe" scrolling="no" data-runner-src="https://www.youtube.com/embed/7zGDPs0DISg?rel=0" style="position:absolute;top:0;left:0;width:100%;height:100%;" width="100%"></iframe></span></p><p>Below, check out some of the beautiful dishes—and start up businesses—this project helped inspire:</p><p class="shortcode-media shortcode-media-rebelmouse-image"> <img class="rm-shortcode" data-rm-shortcode-id="acb2f8c4b51276198fd77a4727ee7c73" data-rm-shortcode-name="rebelmouse-image" id="9a72f" type="lazy-image" data-runner-src="https://assets.rebelmouse.io/eyJhbGciOiJIUzI1NiIsInR5cCI6IkpXVCJ9.eyJpbWFnZSI6Imh0dHBzOi8vYXNzZXRzLnJibC5tcy8xOTg0MDczNS9vcmlnaW4uanBnIiwiZXhwaXJlc19hdCI6MTY0NjYzNzU0MH0.6KqPvqIfJGihBZ-I4dOBcrFrgS_tFI0UxdX6N6PJT3s/img.jpg?width=980"/> <small class="image-media media-caption" placeholder="add caption..."></small> <small class="image-media media-photo-credit" placeholder="add photo credit..."></small> </p><p class="shortcode-media shortcode-media-rebelmouse-image"> <img class="rm-shortcode" data-rm-shortcode-id="2d491bfb3f0e8676153f08ed2c396bca" data-rm-shortcode-name="rebelmouse-image" id="f0b29" type="lazy-image" data-runner-src="https://assets.rebelmouse.io/eyJhbGciOiJIUzI1NiIsInR5cCI6IkpXVCJ9.eyJpbWFnZSI6Imh0dHBzOi8vYXNzZXRzLnJibC5tcy8xOTg5MTkwNi9vcmlnaW4uanBnIiwiZXhwaXJlc19hdCI6MTY1MTkyMjY2N30.fCAqMQI9Npfumbox4RtiQtbr_bCWk33NlsySot1_098/img.jpg?width=980"/> <small class="image-media media-caption" placeholder="add caption..."></small> <small class="image-media media-photo-credit" placeholder="add photo credit..."></small> </p><p class="shortcode-media shortcode-media-rebelmouse-image"> <img class="rm-shortcode" data-rm-shortcode-id="6d26bc7232bcb99d0f7952e416295982" data-rm-shortcode-name="rebelmouse-image" id="632d2" type="lazy-image" data-runner-src="https://assets.rebelmouse.io/eyJhbGciOiJIUzI1NiIsInR5cCI6IkpXVCJ9.eyJpbWFnZSI6Imh0dHBzOi8vYXNzZXRzLnJibC5tcy8xOTg0MDczNy9vcmlnaW4uanBnIiwiZXhwaXJlc19hdCI6MTYxNzAxODc0N30.ZeEPqnMbo0yVKbYATurloJvciIQ3_UwOFBfvLKh26lM/img.jpg?width=980"/> <small class="image-media media-caption" placeholder="add caption..."></small> <small class="image-media media-photo-credit" placeholder="add photo credit..."></small> </p><p class="shortcode-media shortcode-media-rebelmouse-image"> <img class="rm-shortcode" data-rm-shortcode-id="73019b38767add36cd80a1a9ab2c141e" data-rm-shortcode-name="rebelmouse-image" id="c96af" type="lazy-image" data-runner-src="https://assets.rebelmouse.io/eyJhbGciOiJIUzI1NiIsInR5cCI6IkpXVCJ9.eyJpbWFnZSI6Imh0dHBzOi8vYXNzZXRzLnJibC5tcy8xOTg0MDczMi9vcmlnaW4uanBnIiwiZXhwaXJlc19hdCI6MTYzNDM1Njg0M30.0SiYm-_x7Zt0m9tf1v02BIVdIXiHUUPFEJL1iKSwZHs/img.jpg?width=980"/> <small class="image-media media-caption" placeholder="add caption..."></small> <small class="image-media media-photo-credit" placeholder="add photo credit..."></small> </p><p class="shortcode-media shortcode-media-rebelmouse-image"> <img class="rm-shortcode" data-rm-shortcode-id="b344d63dc112f06be41f673532e8995b" data-rm-shortcode-name="rebelmouse-image" id="8b4c5" type="lazy-image" data-runner-src="https://assets.rebelmouse.io/eyJhbGciOiJIUzI1NiIsInR5cCI6IkpXVCJ9.eyJpbWFnZSI6Imh0dHBzOi8vYXNzZXRzLnJibC5tcy8xOTg5NzY3NC9vcmlnaW4uanBnIiwiZXhwaXJlc19hdCI6MTU5Nzg1OTYyNH0.1OGrX1b6S2vYZiPYMdJ3e7Je7_CQJhvybIP7o6Q1y0E/img.jpg?width=980"/> <small class="image-media media-caption" placeholder="add caption..."></small> <small class="image-media media-photo-credit" placeholder="add photo credit..."></small> </p><p class="shortcode-media shortcode-media-rebelmouse-image"> <img class="rm-shortcode" data-rm-shortcode-id="c54125f2bbe7480e68b156377c58ecb7" data-rm-shortcode-name="rebelmouse-image" id="20349" type="lazy-image" data-runner-src="https://assets.rebelmouse.io/eyJhbGciOiJIUzI1NiIsInR5cCI6IkpXVCJ9.eyJpbWFnZSI6Imh0dHBzOi8vYXNzZXRzLnJibC5tcy8xOTg0MDcyNC9vcmlnaW4uanBnIiwiZXhwaXJlc19hdCI6MTYxMjcxNzU4Mn0.BusCDS4L_VYm0WOzluv3AhWuOnrOoP_vgr4N0nzQ3e4/img.jpg?width=980"/> <small class="image-media media-caption" placeholder="add caption..."></small> <small class="image-media media-photo-credit" placeholder="add photo credit..."></small> </p><p class="shortcode-media shortcode-media-rebelmouse-image"> <img class="rm-shortcode" data-rm-shortcode-id="647796bf3b3d34a03ed7e4e79c051148" data-rm-shortcode-name="rebelmouse-image" id="4b40b" type="lazy-image" data-runner-src="https://assets.rebelmouse.io/eyJhbGciOiJIUzI1NiIsInR5cCI6IkpXVCJ9.eyJpbWFnZSI6Imh0dHBzOi8vYXNzZXRzLnJibC5tcy8xOTg5MTg5MC9vcmlnaW4uanBnIiwiZXhwaXJlc19hdCI6MTY1MzA3MDc0MX0.VZKCcpjr2kU0CdMSY_NhhYS7cs4AI5JgFFNEHhclrxY/img.jpg?width=980"/> <small class="image-media media-caption" placeholder="add caption..."></small> <small class="image-media media-photo-credit" placeholder="add photo credit..."></small> </p><p class="shortcode-media shortcode-media-rebelmouse-image"> <img class="rm-shortcode" data-rm-shortcode-id="3760a55ee8a9797f16a2ed39cd891add" data-rm-shortcode-name="rebelmouse-image" id="3eeb1" type="lazy-image" data-runner-src="https://assets.rebelmouse.io/eyJhbGciOiJIUzI1NiIsInR5cCI6IkpXVCJ9.eyJpbWFnZSI6Imh0dHBzOi8vYXNzZXRzLnJibC5tcy8xOTg0MDcyNi9vcmlnaW4uanBnIiwiZXhwaXJlc19hdCI6MTY1NDk3NTg4OX0.fBR4yOO2TrrHe03t2sFSPDlbdAA5HDv0xIvKbmhEBag/img.jpg?width=980"/> <small class="image-media media-caption" placeholder="add caption..."></small> <small class="image-media media-photo-credit" placeholder="add photo credit..."></small> </p><p class="shortcode-media shortcode-media-rebelmouse-image"> <img class="rm-shortcode" data-rm-shortcode-id="a5d31c1b6111f705984450db5a8a167c" data-rm-shortcode-name="rebelmouse-image" id="8522e" type="lazy-image" data-runner-src="https://assets.rebelmouse.io/eyJhbGciOiJIUzI1NiIsInR5cCI6IkpXVCJ9.eyJpbWFnZSI6Imh0dHBzOi8vYXNzZXRzLnJibC5tcy8xOTg5MTg5NC9vcmlnaW4uanBnIiwiZXhwaXJlc19hdCI6MTY0MDczMDYwMn0.rXNW0jHVH18xb0buqVHVdpj8Q8OpzKoDLrrf8OSoTFM/img.jpg?width=980"/> <small class="image-media media-caption" placeholder="add caption..."></small> <small class="image-media media-photo-credit" placeholder="add photo credit..."></small> </p><p class="shortcode-media shortcode-media-rebelmouse-image"> <img class="rm-shortcode" data-rm-shortcode-id="cae2173a1ddb03a3dbe99af302b120f7" data-rm-shortcode-name="rebelmouse-image" id="79ee2" type="lazy-image" data-runner-src="https://assets.rebelmouse.io/eyJhbGciOiJIUzI1NiIsInR5cCI6IkpXVCJ9.eyJpbWFnZSI6Imh0dHBzOi8vYXNzZXRzLnJibC5tcy8xOTg0MDcyOC9vcmlnaW4uanBnIiwiZXhwaXJlc19hdCI6MTYzMzkzNzgwN30.RdjMSxeXnkTRiaWO1bSf99vVHASBq0O4smUnbvWAelE/img.jpg?width=980"/> <small class="image-media media-caption" placeholder="add caption..."></small> <small class="image-media media-photo-credit" placeholder="add photo credit..."></small> </p><p class="shortcode-media shortcode-media-rebelmouse-image"> <img class="rm-shortcode" data-rm-shortcode-id="b8a66e39d2552a9d5af2ca5bf2198664" data-rm-shortcode-name="rebelmouse-image" id="c3298" type="lazy-image" data-runner-src="https://assets.rebelmouse.io/eyJhbGciOiJIUzI1NiIsInR5cCI6IkpXVCJ9.eyJpbWFnZSI6Imh0dHBzOi8vYXNzZXRzLnJibC5tcy8xOTg5MTg5OS9vcmlnaW4uanBnIiwiZXhwaXJlc19hdCI6MTYyNTI1NDkxNn0.dDtIRDAP9J9O3sZGQIhZqVAqOVRusDkKEg0xlT9FOEs/img.jpg?width=980"/> <small class="image-media media-caption" placeholder="add caption..."></small> <small class="image-media media-photo-credit" placeholder="add photo credit...">One of the dozens of women taking part in the "Signs of Progress" campaign.</small> </p><p class="shortcode-media shortcode-media-rebelmouse-image"> <img class="rm-shortcode" data-rm-shortcode-id="7fcfbc7c027af682e62b41e61e7e9266" data-rm-shortcode-name="rebelmouse-image" id="a2c14" type="lazy-image" data-runner-src="https://assets.rebelmouse.io/eyJhbGciOiJIUzI1NiIsInR5cCI6IkpXVCJ9.eyJpbWFnZSI6Imh0dHBzOi8vYXNzZXRzLnJibC5tcy8xOTg0MDczMC9vcmlnaW4uanBnIiwiZXhwaXJlc19hdCI6MTYxNTMxNjQ2OH0.9TIkNi-2yxcRQgW-uyewYWknPB-isGxkdzziNASy0uQ/img.jpg?width=980"/> <small class="image-media media-caption" placeholder="add caption..."></small> <small class="image-media media-photo-credit" placeholder="add photo credit..."></small> </p><p class="shortcode-media shortcode-media-rebelmouse-image"> <img class="rm-shortcode" data-rm-shortcode-id="a2c768c42e5324e4b438a04385b77c12" data-rm-shortcode-name="rebelmouse-image" id="7b01c" type="lazy-image" data-runner-src="https://assets.rebelmouse.io/eyJhbGciOiJIUzI1NiIsInR5cCI6IkpXVCJ9.eyJpbWFnZSI6Imh0dHBzOi8vYXNzZXRzLnJibC5tcy8xOTg0MDczMS9vcmlnaW4uanBnIiwiZXhwaXJlc19hdCI6MTYzNDI4NDk1NX0.95tb1t69GURWrCOiBvG0NDJv20DQ6Mynabq_zzmD5bo/img.jpg?width=980"/> <small class="image-media media-caption" placeholder="add caption..."></small> <small class="image-media media-photo-credit" placeholder="add photo credit..."></small> </p>