Articles
You know how much energy your car uses. Now you'll finally have similar information about your house. Knowing is half the battle.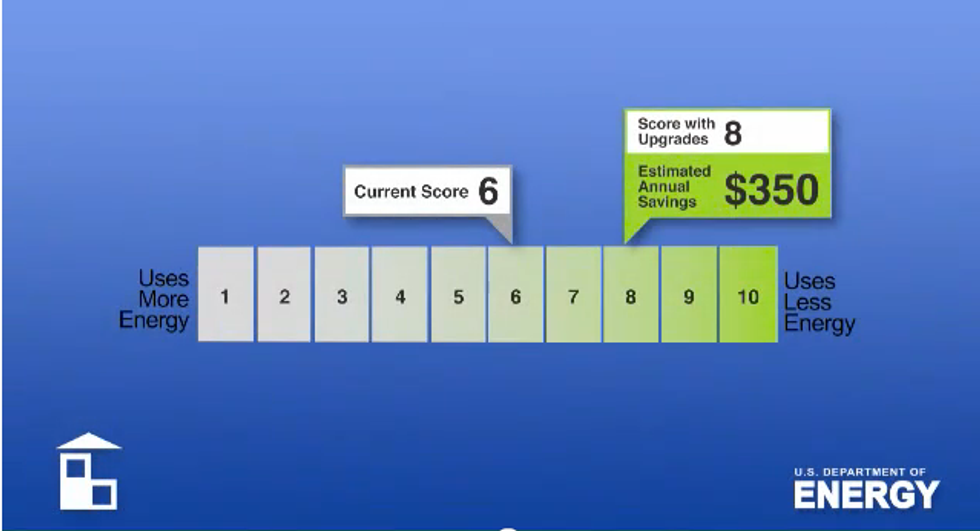 The Department of Energy has
announced an important new tool
—an energy "scoring" program, if you will—that will help reduce our dependence on oil and will help American families save bundles heating and powering their homes. It's called Home Energy Score, and the best way of describing it is that it's like MPGs for your home, as the DOE blog explains:
The Home Energy Score is like a miles per gallon rating—but for your home. It summarizes a home's energy performance on a simple 10-point scale—with a 10 for the top performers, or those that keep the home comfortable with the least amount of energy. The score also comes with a report that recommends customized home energy upgrades and estimates the savings possible from those improvements. Over the next several months, cities like Omaha, Nebraska and Minneapolis, Minnesota will run pilot tests of the Home Energy Score, helping participating homeowners save money by cutting energy costs. After the pilots wrap up, we will refine the program before it rolls out across the nation later in 2011. Then, in one simple, short visit from a qualified specialist, you'll be able to get custom advice on how you can cut your energy bills—in many cases by hundreds of dollars each year.
\n</blockquote><p> Cathy Zoi, Acting Under Secretary for Energy, explains more in this video:</p><p> [youtube]http://www.youtube.com/watch?v=mfQzhb54BV0</p><p> Zoi emphasizes the fact that we simply don't have any idea how energy efficient our homes are, not nearly as good a sense as we do with our cars, even though our homes typically use a heck of a lot more energy. Zoi says, "To put it in perspective, most of you know what mileage your car gets, or should get, and that the higher your MPG rating, the less you're going to spend on gasoline. But what about your home? Do you have any idea what the MPG of your home is?"</p><p> I actually just had a home energy audit done by an EnergyStar certified contractor last week. I'm really curious what my score would be. Alas, the program won't be national for awhile yet.</p><p> And for no reason other to gloat, and to be able to say with some confidence that you really did hear it here first, here's a screenshot from YouTube. Note the number of views:</p><p class="shortcode-media shortcode-media-rebelmouse-image"> <img class="rm-shortcode" data-rm-shortcode-id="c64bddcd70b2e1c268de1908fbcfb25c" data-rm-shortcode-name="rebelmouse-image" id="b6c76" type="lazy-image" data-runner-src="https://assets.rebelmouse.io/eyJhbGciOiJIUzI1NiIsInR5cCI6IkpXVCJ9.eyJpbWFnZSI6Imh0dHBzOi8vYXNzZXRzLnJibC5tcy8xOTkyMjM3Ni9vcmlnaW4ucG5nIiwiZXhwaXJlc19hdCI6MTU5NjE2OTE3NH0.z18wMiHpWsItfhYOfiFyCewUCiPzuiNTy-d2GIzACm8/img.png?width=980"/> <small class="image-media media-caption" placeholder="add caption..."></small> <small class="image-media media-photo-credit" placeholder="add photo credit..."></small> </p><br/>