Articles
Every year, the Goldman Environmental Prize honors six grassroots environmentalists. This year, two have been working for access to clean water.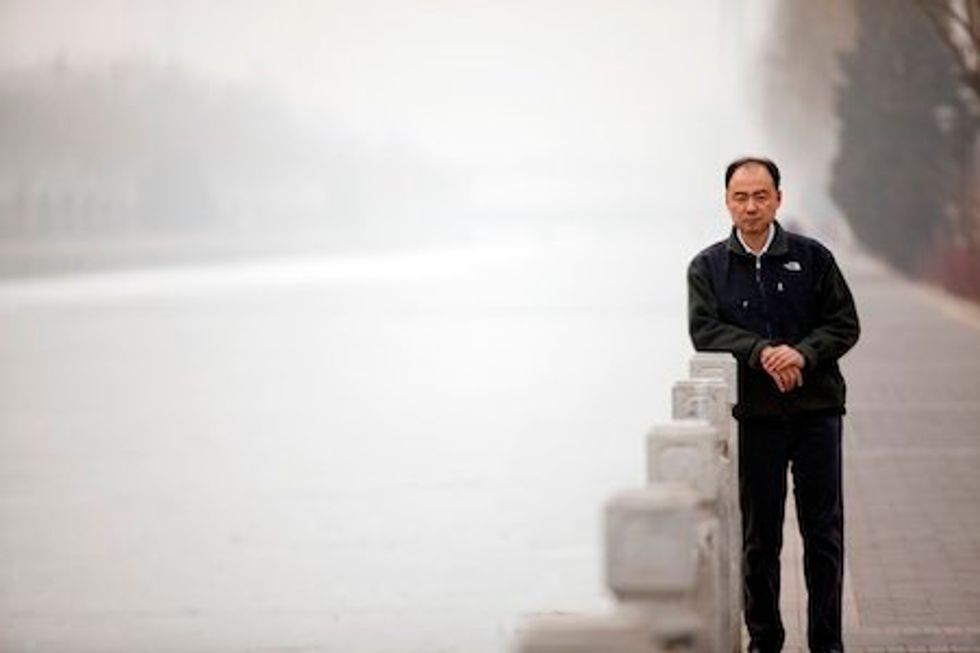 Every year, the
Goldman Environmental Prize
, known as an honor for environmentalists on par with the Nobel or the Pulitzer, picks six grassroots leaders from around the world to celebrate and award for their work. This year's recipients are fighting against a nickel mine, offshore oil and gas drilling, a highway that would bisect a local forest, and agrochemical spraying. And two are fighting for water. In Kenya, Ikal Angelei is
battling a massive dam
that would deprive the community in her arid region of water and of their livelihoods. In China, Ma Jun working to
expose information
about water pollution that has sickened people across the country.
Angelei comes from Kenya, in the region of the Lake Turkana Basin, where people depend on the lake to provide drinking water and to support fishing and farming. The Gibe 3 Dam would drop the water level in the lake by as much as 33 feet in the first five years after the dam goes into operation.
<p class="p1"> "First, when we started, we didn't have a strategy at all," she says. "We were trying to stop something. We didn't know what we could do. But we knew we had to stop it."</p><p class="p1"> The government, she found, wasn't concerned about the people that would be affected, so she focused instead on gaining support within local communities. Later, she realized the key: "We needed to find out who was giving money to this project."</p><p class="p1"> She started focusing on the dam's financial backers—large development agencies and banks. She showed them how the environmental assessment for the dam was incomplete and convinced more than one to withdraw the project from consideration.</p><p class="p1"> For Ma Jun, too, the key to fighting water pollution in China has been finding a faster, better strategy than looking to the government for change. "Local officials put GDP growth ahead of environmental protections," he says. "We need to work on that, but we can't change that overnight. Our environmental situation can't wait for that day to come." </p><p class="p1"> Ma started covering water issues as an investigative reporter before starting an NGO, the Institute of Public and Environmental Affairs, to collect and disseminate information about water pollution violations—tens of thousands of them. He's had success going directly to the polluting factories that make <a href="http://www.good.is/post/apple-ranked-dead-last-on-pollution-workplace-safety-in-china/">IT products</a>, <a href="http://www.good.is/post/low-fashion-h-m-has-a-pollution-problem/">textiles</a>, and more. Hundreds of companies have worked with his organization, disclosing their pollution and working to clean up their factories.</p><p class="p1"> These are two different fights for the same resource. But for both Angelei and Ma, the fight comes back to the people who are affected. Angelei talks about the fisherman who fed her growing up, who threw fish back into the lake to ensure there would be more for future generations. Ma talks about the river running black, and the sick and dying people who'd suffered from drinking from it.</p><p class="p1"> "When we hit some sort of threshold in compiling our data, it's a sort of release to me," he says. "I have finally done my part and can live up to some of the expectations to those who really suffered and who give me such as trust to let me know all their suffering and know their stories." </p><p class="p1"> But he also knows that there's more to be done. "At the end this is still just a tiny drop of water in the ocean," he says. "Each time we feel excited that this polluter could turn around, we understand that we have a lot more work to do."</p><p class="p1"> <em>Photo courtesy of the Goldman Environmental Prize</em></p><br/>